B-Vibe Vibrating Jewel Plug M/L Emerald Review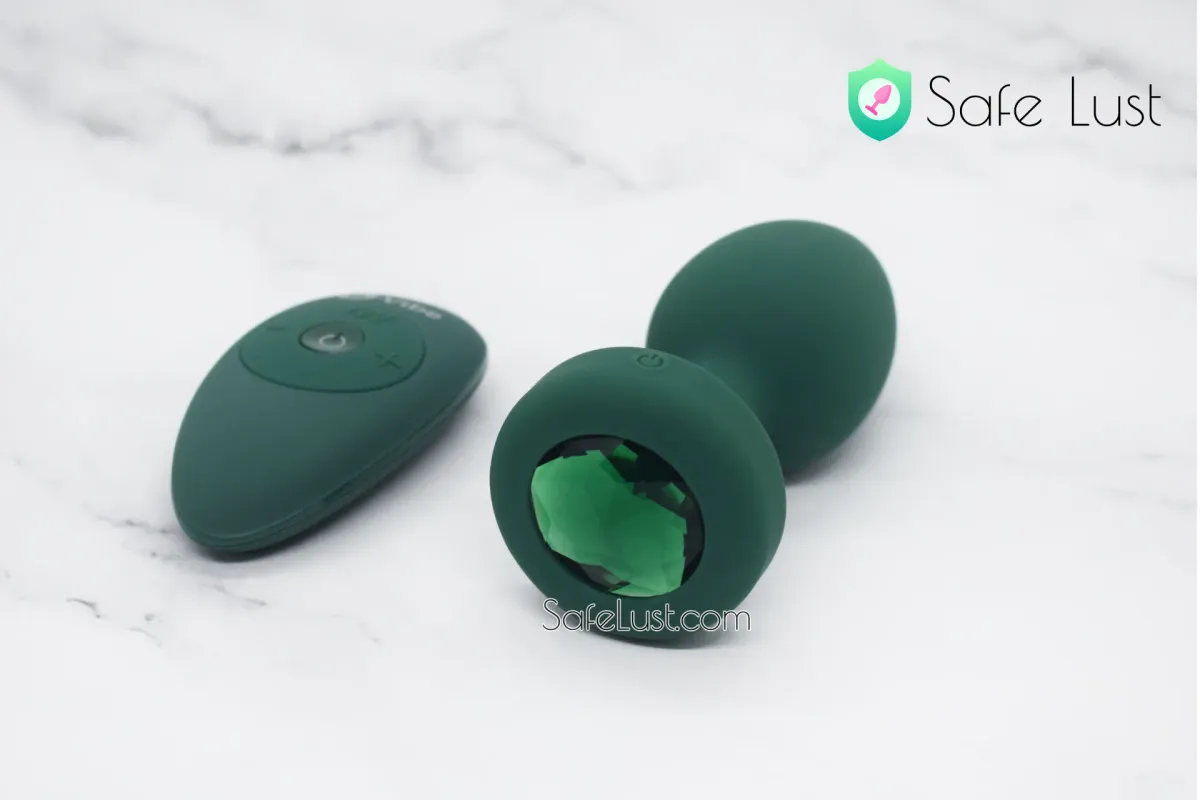 It looks beautiful 💎, does it also feel amazing?
Let's find out 😉
Packaging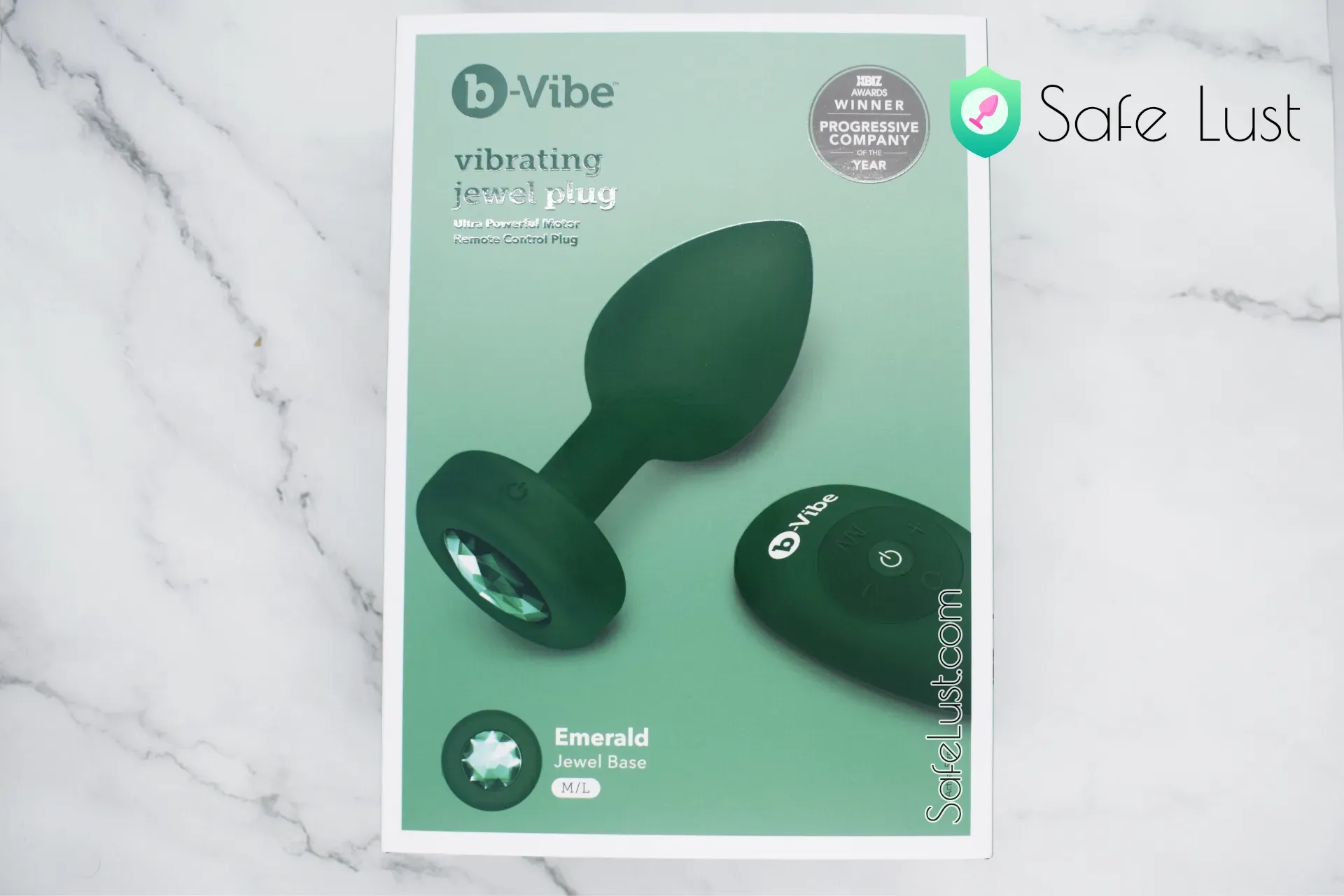 The packaging is as usual with B-Vibe, very beautiful. Similar to my previous review of the b-Vibe Trio plug, the jewel plug is also lacking a hygiene seal. For the price of B-Vibe toys, a hygiene seal is not a luxury.
Every sex toy should have a hygiene seal.
Nevertheless, the packaging is amazing, under the cardboard marketing you'll find the green box (right photo) which has a magnetic seal. I ended up re-using this box for storing charging cables of the many toys. I recommend labeling them if you end up doing the same!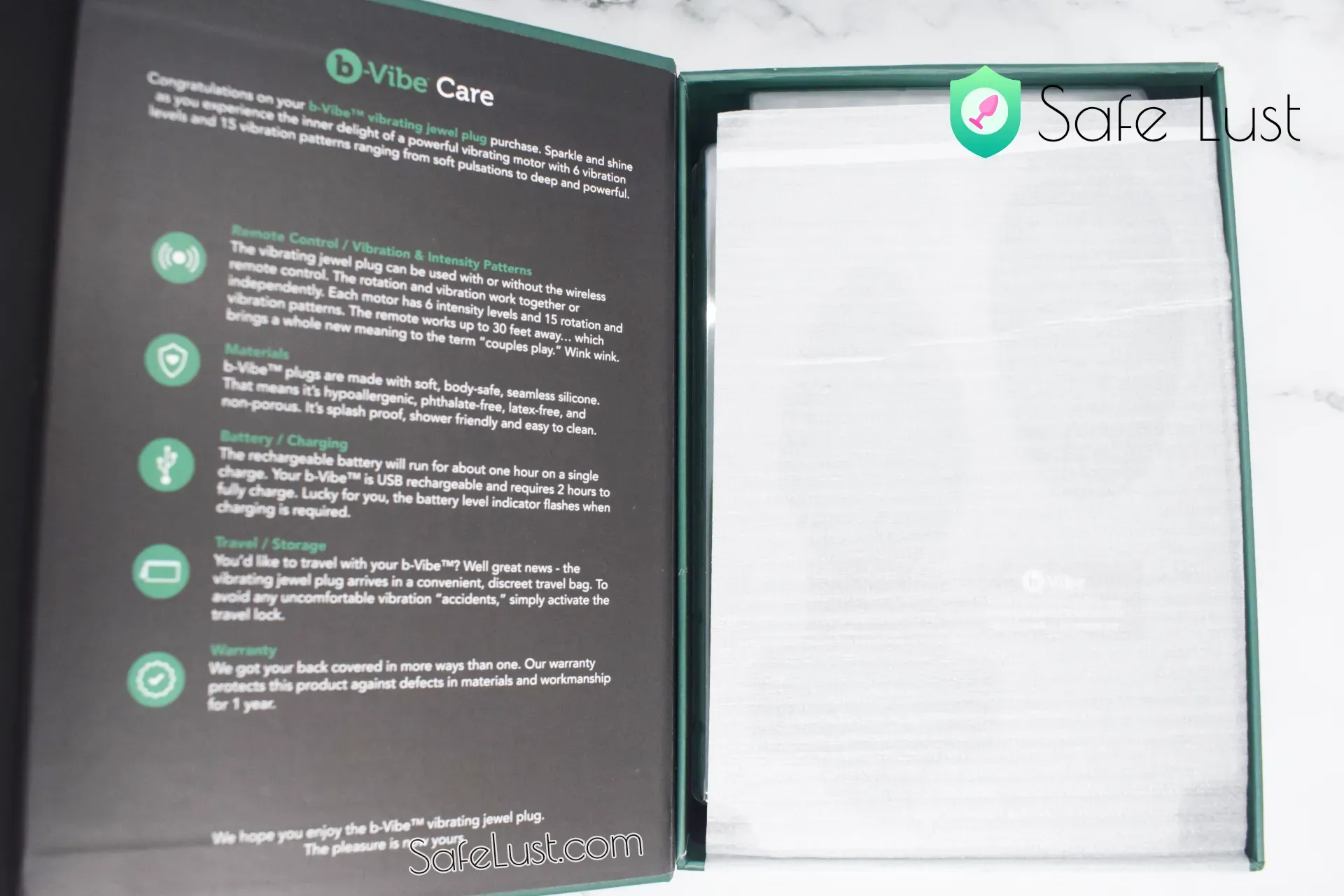 The b-Vibe Vibrating Jewel Plug contains:
The plug itself
The remote control including one CR-2032 battery
A charging cable for the plug
An "anal is magic" unicorn sticker
A guide to anal play
A user manual
A storage pouch
I love b-Vibe for always giving a very complete package with their products 😃. The storage pouch feels nice, however, as it gets bent, it will get permanent "wrinkles", the material is not super durable, but for storing a sex toy it works fine.
Shape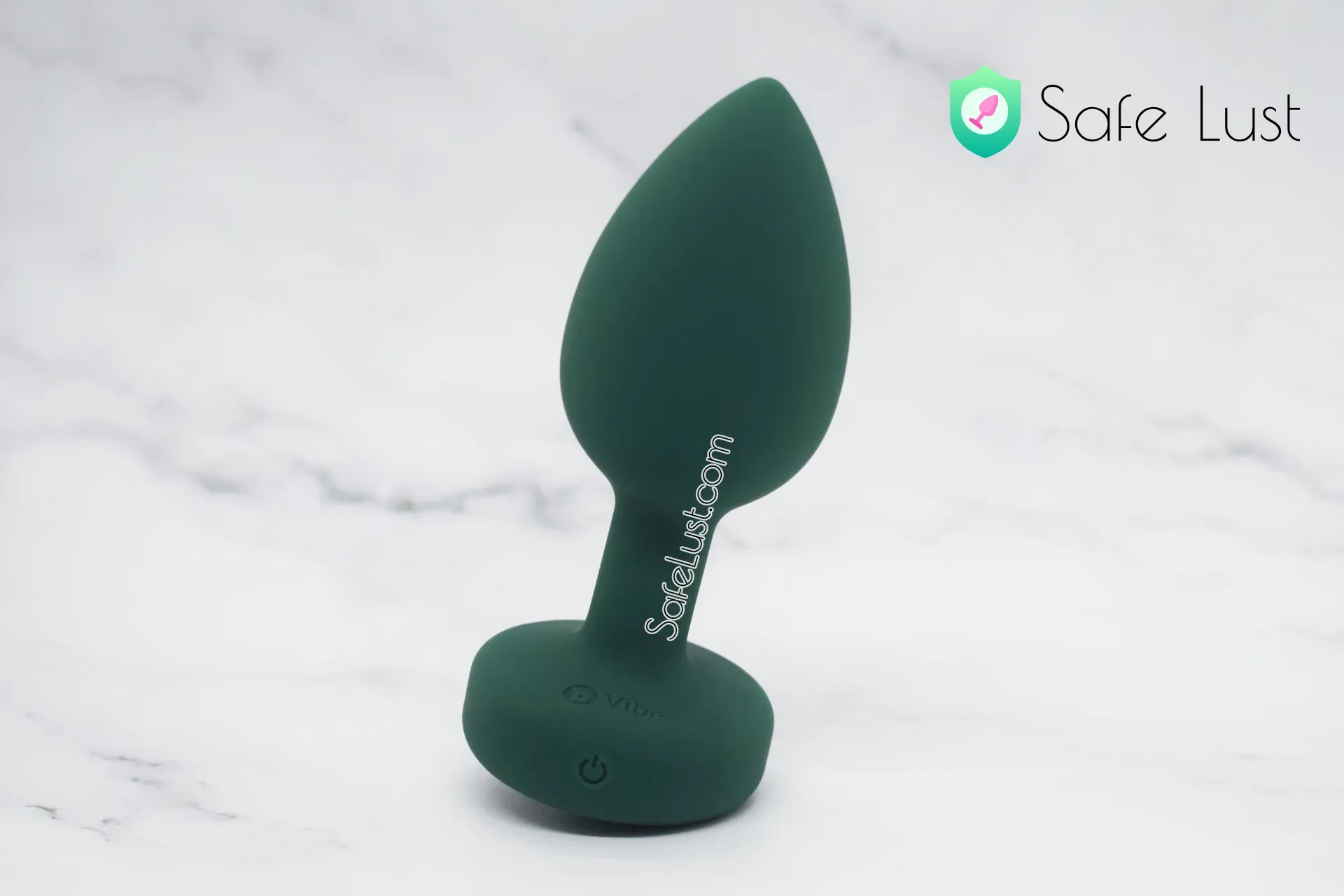 There's a few things to say about the shape. Ideally butt plugs have a large enough base to avoid the plug from being sucked in 😬. I feel the bases used here are right at the limit of what is acceptable. I would feel much more comfortable with a larger butt plug base-to-body ratio.
Unfortunately, this is often the case with jewel plugs. I wish they would make the base of the jewel plugs larger, as there are many many stories online of people who have had a jewel plug sucked in, requiring them to go to the ER.
This butt plug base size feels kind of acceptable, but pay more attention to it so it doesn't slip in.
Size
The B-Vibe Jewel Plug comes in 4 sizes, enough choices to find a size that suits your needs 😉.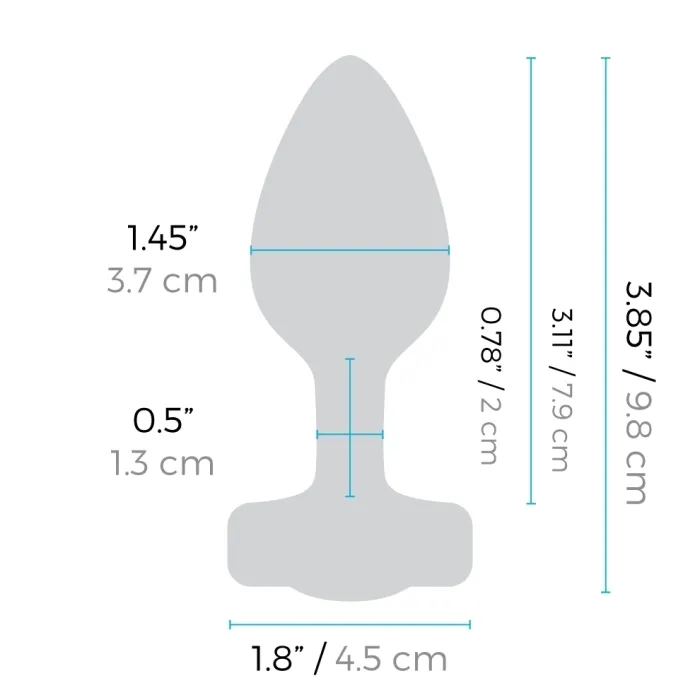 The M/L size is already quite large! If you're doubting, I recommend going a size lower. The M/L is always challenging.
If you want to optimize the body-to-base ratio, the more secure plugs would be the S/M and L/XL, as these have a larger base.
Features
The biggest feature of the jewel plug is well.. the jewel 💎. The jewel shines beautifully, so I have nothing to say about that. It looks amazing in photos, and it looks even better in real 🌟.
Remote Control
As with many other B-Vibe toys, it comes with a remote control. If you've read my other reviews, you'll know I'm not a huge fan of this remote control – but it does get the job done. Why am I not a fan?
It takes CR-2032 batteries which lose their power quickly, you'll have to either remove the battery after every use or put back the "remove before use" tab. Although I put the tab back in place, the battery died in 3 weeks ☹️.
The remote control is not waterproof
My b-Vibe remote control broke down after only a couple of uses and no contact with water whatsoever
Nevertheless, it's still very nice to have a remote control, and definitely better than just a button-operated toy.
✨
@b-Vibe I'd love to see Bluetooth connected toys soon, this would be much easier to control than cell-battery powered remote controls
Operating Button
The b-Vibe jewel plug only has one button, and the button feels a bit finicky, I would have expected a higher quality button on the plug. It's still easy to press, so it's not a big issue.
I do feel accidental clicking of the button by moving around will happen, because the button requires very light pressure to be clicked. Luckily the button is on the side of the plug, and not on the bottom.
Vibration Patterns
It comes with 15 vibration patterns. When using the remote control, you can also control the intensity of some vibration patterns using the + and - buttons.
Steady vibration
Slow-speed pulsating (on-off-on-..)
Medium-speed pulsating (on-off-on-..)
Steady vibration with slightly alternating intensity
Slow-speed pulsating between low-vibration > high-vibration
One long vibration followed by a short pause, a short vibration, a short pause > this in a loop
A rhythm of 5 short vibration pulses followed by a longer vibration
Pulsating slow, then pulsating medium-speed, then pulsating fast-speed
Pulsating for a while, continued with a longer vibration
Very short pulses, followed by regular pulses, and finally a steady vibration
Fast pulses followed by a regular pulses
Fast pulses followed by a steady vibration
Short pulses followed by a steady vibration
Pulsating with a very short pause in between
A vibration pattern that randomly switches from low-to-high intensity vibrations, intense
There's a lot of different patterns which is great 🥰! Next to that, I have to say the patterns are quite unique, and feel more special than butt plugs from other more common brands.
Vibration pattern #10 feels especially good, the super short pulses feel like tiny shock-waves that cause the anus to move in a very comfortable way, like tiny slaps! I haven't had this feeling with other discreet butt plugs.
All in all, while this butt plug doesn't have a remote-controlled app for customizing the vibration patterns, I am really satisfied with the provided patterns.
Noise Level
Sound level measurements right next to the microphone:
?
Background noise: 30dB
Lowest setting: 69dB
Highest setting: 82dB
These measurements can be useful to compare sound levels of different sex toys from our reviews, as these are all measured in the same way.
Since this is a butt plug, it makes even less noise than these measurements once inserted, as your body will insulate the sound. You can compare its performance to other sex toys on the following page: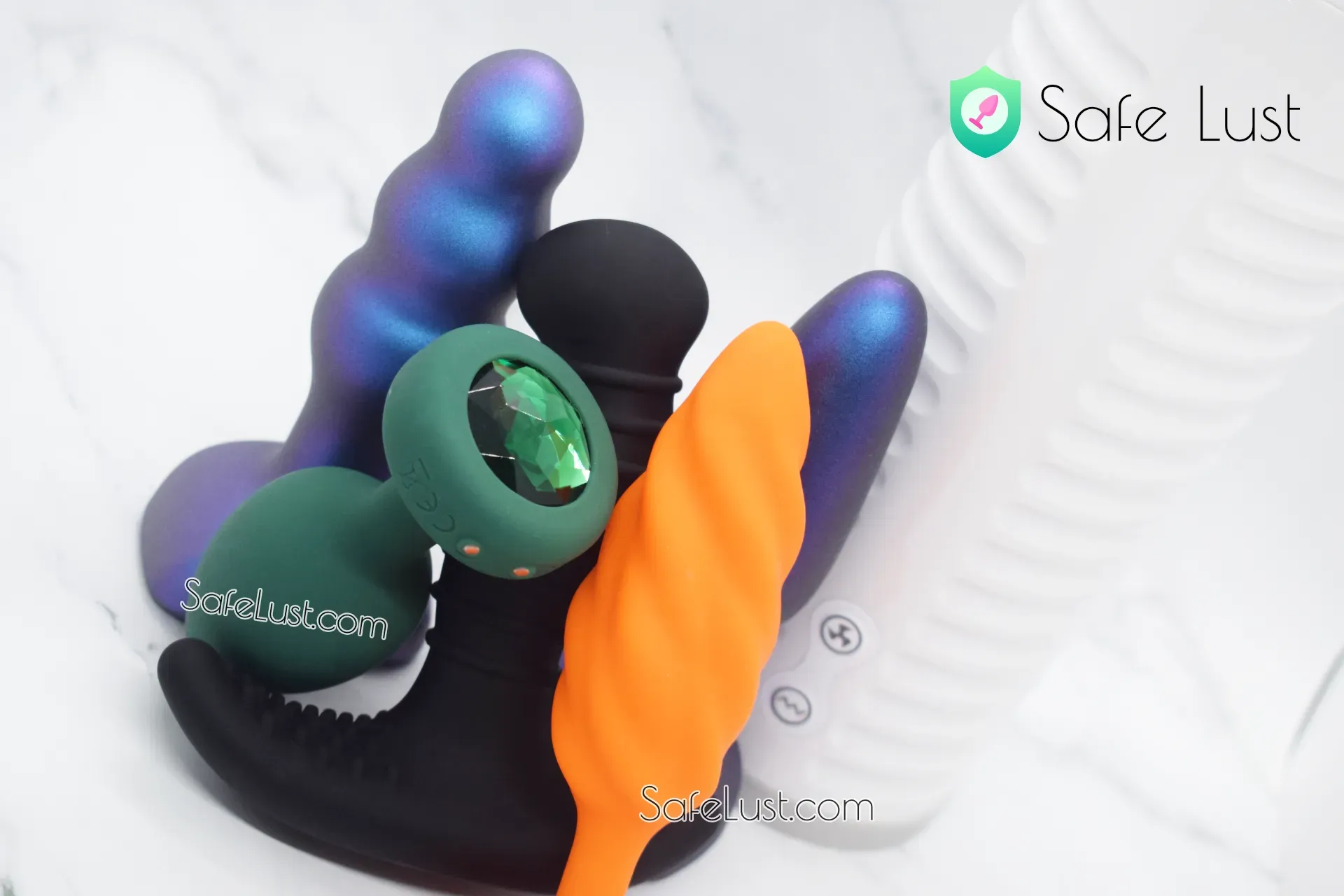 Are the Vibrations Discreet?
On the low vibration setting, it is discreet enough to wear it outside 🤩. However, if people are near you in a smaller room, they might be able to notice it. I tested it at home with my partner, on the lowest intensity she didn't notice the vibrations and didn't even know I was wearing a butt plug. Once I set intensity level 2 she found out 😆.
There are 6 intensity levels, from the 2nd intensity level onwards it is not discreet anymore unless you're in a noisy place like a club.
Long-Term Wear & Public Play
I am surprised! Although the material is quite firm, thanks to the really round bulbous shape and thin neck of the plug, it feels actually very comfortable for long-term wear. This is a well-designed and proven shape.
A round base is usually less ideal than a T-Bar base for long-term wear. While it didn't bother me in my tests, I can imagine that for long-term wearers (hours), this could make you feel sore.
Since it is not a deep plug, it won't really stimulate your p/g-spot. However, thanks to it being less deep, it is much easier and more comfortable for long-term wear or in public 🤭.
The base itself is not very long, thanks to this it is comfortable to sit while it is inserted, which makes it great for wearing out and about.
Material and Texture
The material itself is firm but flexible, and does not feel sharp. The plug is bendy around the base. It feels high quality and has a smooth touch.
How It Feels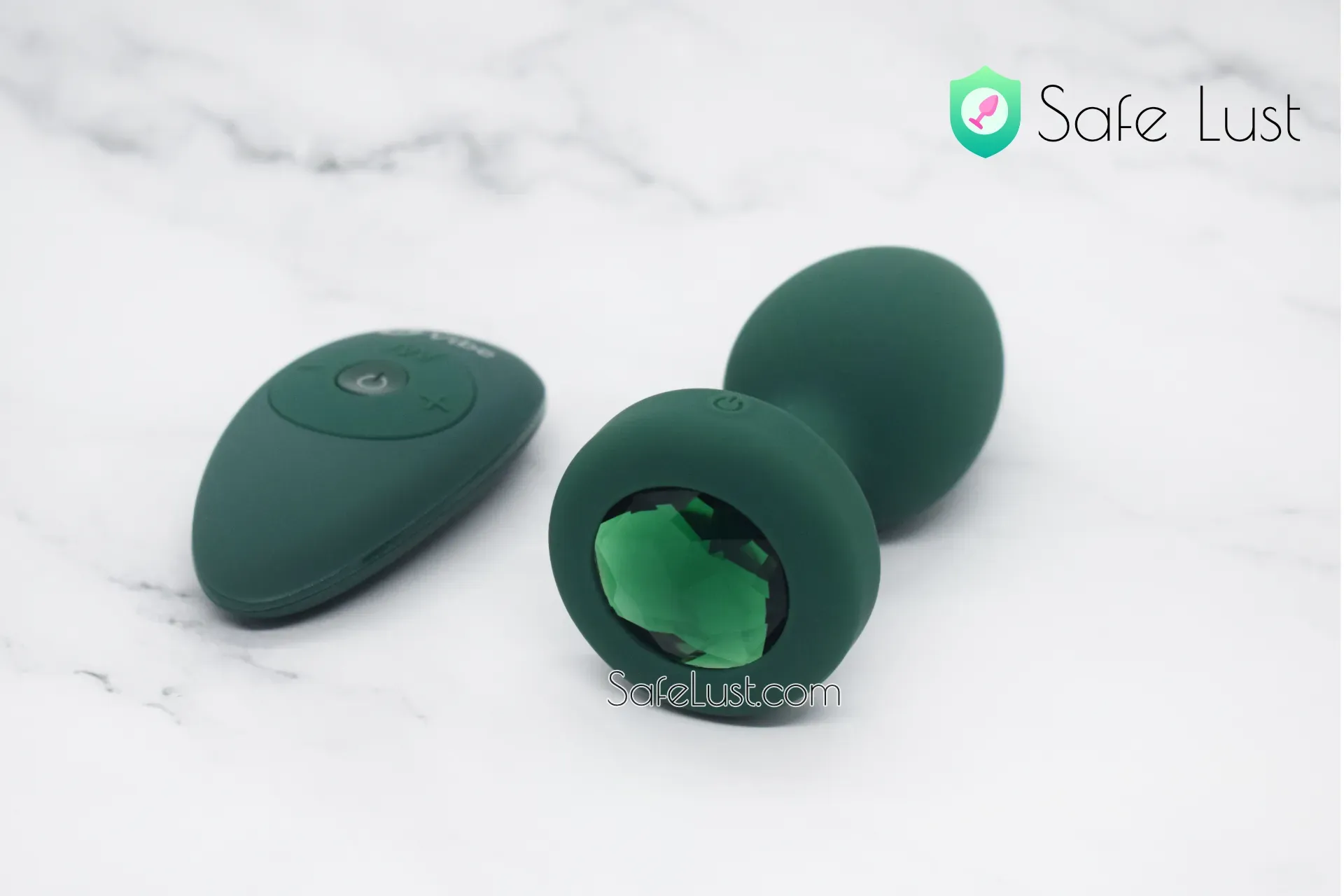 Playing with the M/L sized jewel plug requires a good warmup, at least for me! The M/L is very stretching 🔥, not to be underestimated, so I first warmed up with the Fun Factory Bootie Plug.
Inserting the b-Vibe jewel plug took a lot of lubricant and patience. Depending on your experience, the M/L will give you a good stretching feeling. For beginner to intermediate, S/M is probably a better choice, especially if you want to use it for public play – a comfortable size will be better 😌. After some trials I was able to get it in.
Turning on the plug is a bit fiddly when it's inserted, guessing the orientation of the plug and finding the button can take some touching around. On the plus side, getting the remote control linked with the plug is incredibly easy. First I turned on the plug which let out a short vibration, then I turned on the remote control which immediately worked.
The vibrations are rumbly and feel good. These can be very strong on the higher levels 😎, making your entire bottom shake, although these don't reach deep at all. There was no p/g-spot stimulation.
The b-Vibe Vibrating Jewel plug didn't bring me to a big orgasm 😕, it's more of a comfortable feeling of having it in there, and knowing you have a shiny secret while playing with it in public can be fun. The horniest thing about this plug I would say is the stretch due to its larger size, that definitely will turn you on.
Cleaning & Maintenance
Cleaning the plug is as easy as using warm water and mild soap. Towel dry and you're ready to go. Don't forget to wash it before and after use 🫧.
Should you get it?
If you are looking for a shiny remote-control plug that allows for fun long-term wear or public play, this is a great option, albeit at a higher price tag.
Who is it not for?
If you are looking for:
a butt plug with a more secure base
more interactive options, app-connections
a waterproof remote control
an affordable butt plug
Then the b-Vibe vibrating jewel plug might not be for you.
Alternatives
If you're looking for a full kit, the b-Vibe Anal Training kit is great, featuring a regular butt plug, a vibrating butt plug and a weighted butt plug. This is one of my favorites.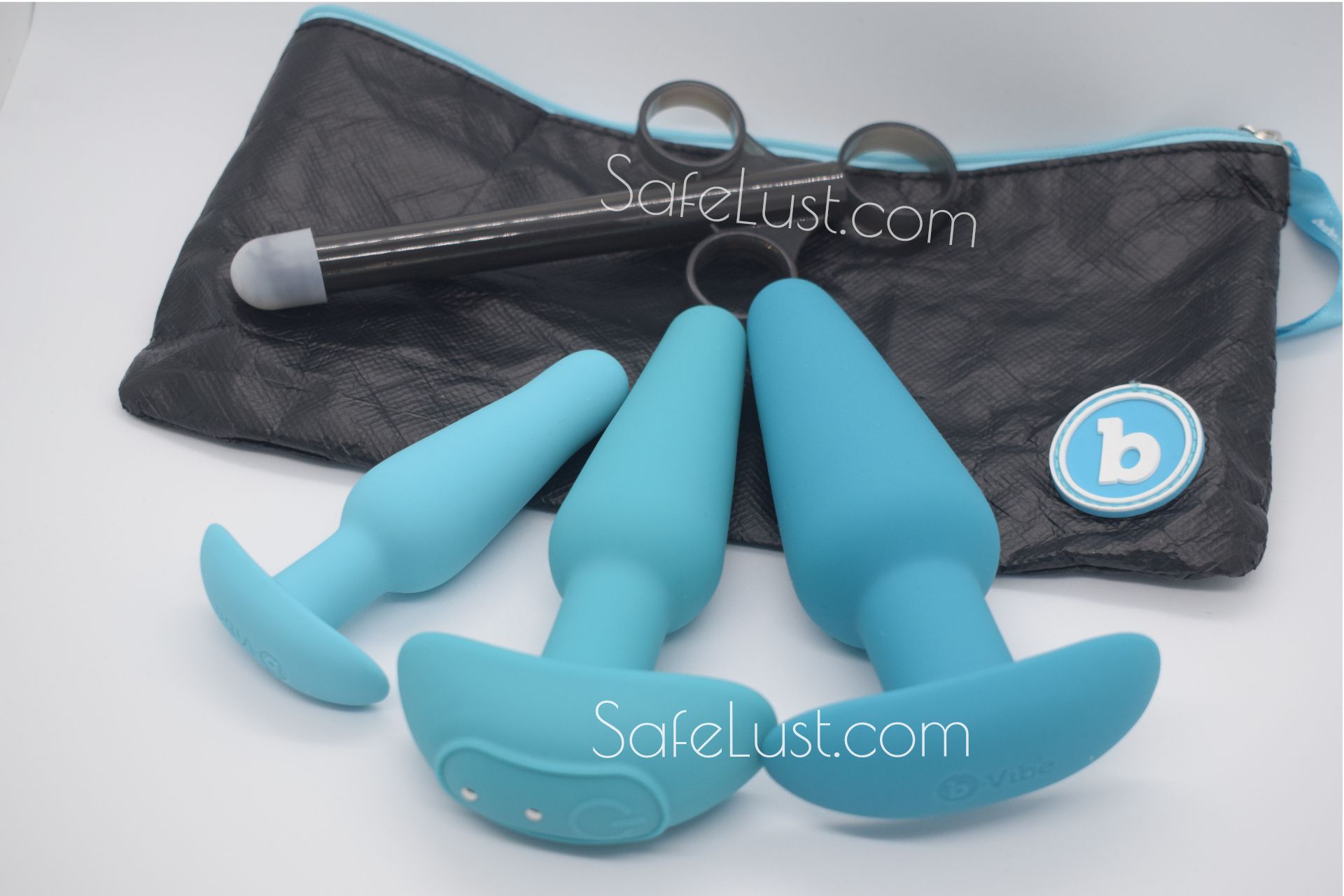 If you're looking for a long-term wear plug with p-/g-spot stimulation, the Fun Factory Bootie is great at that.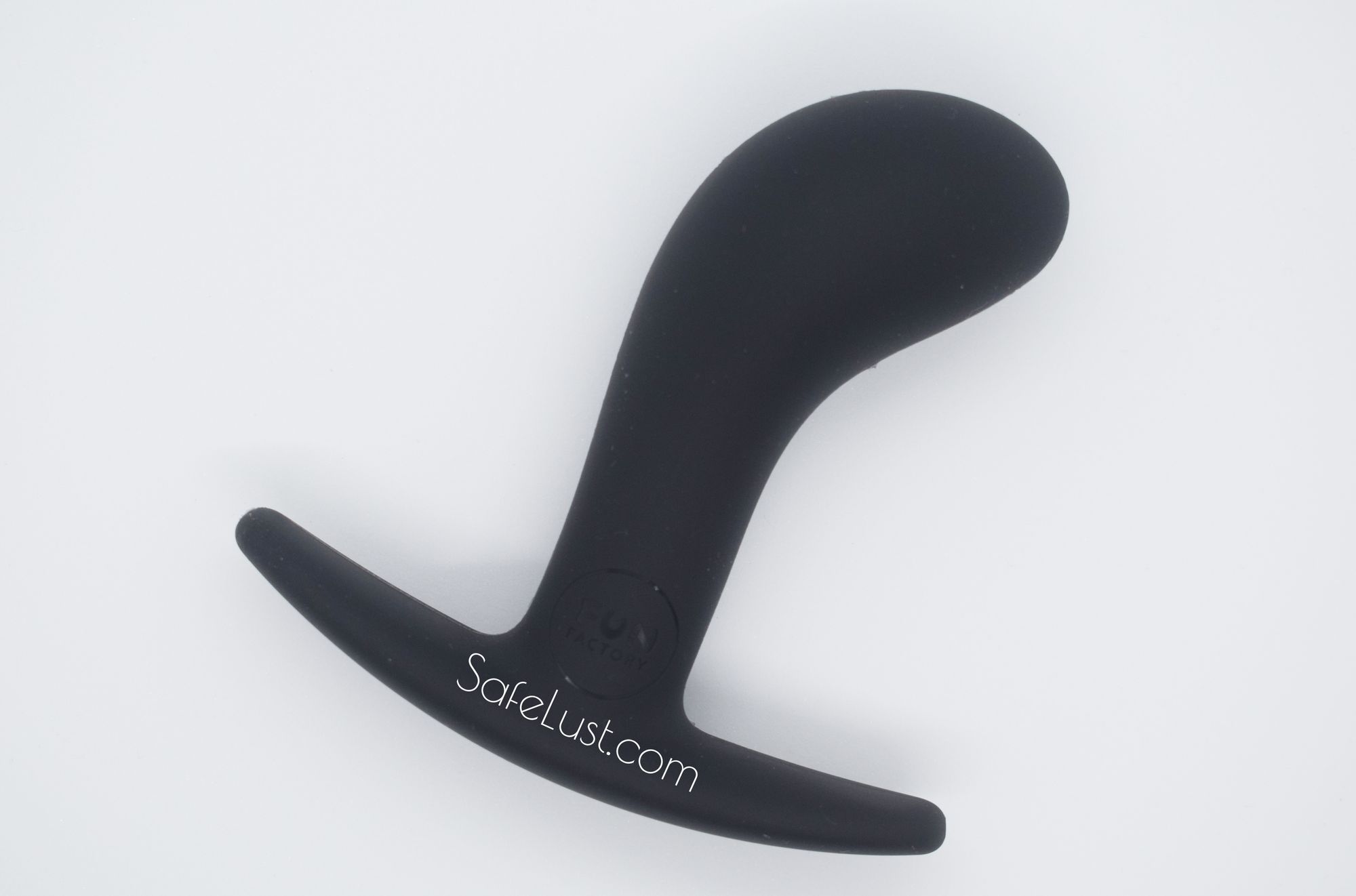 Still looking for more exotic sensations? Try out the b-Vibe Rimming Plug Petite.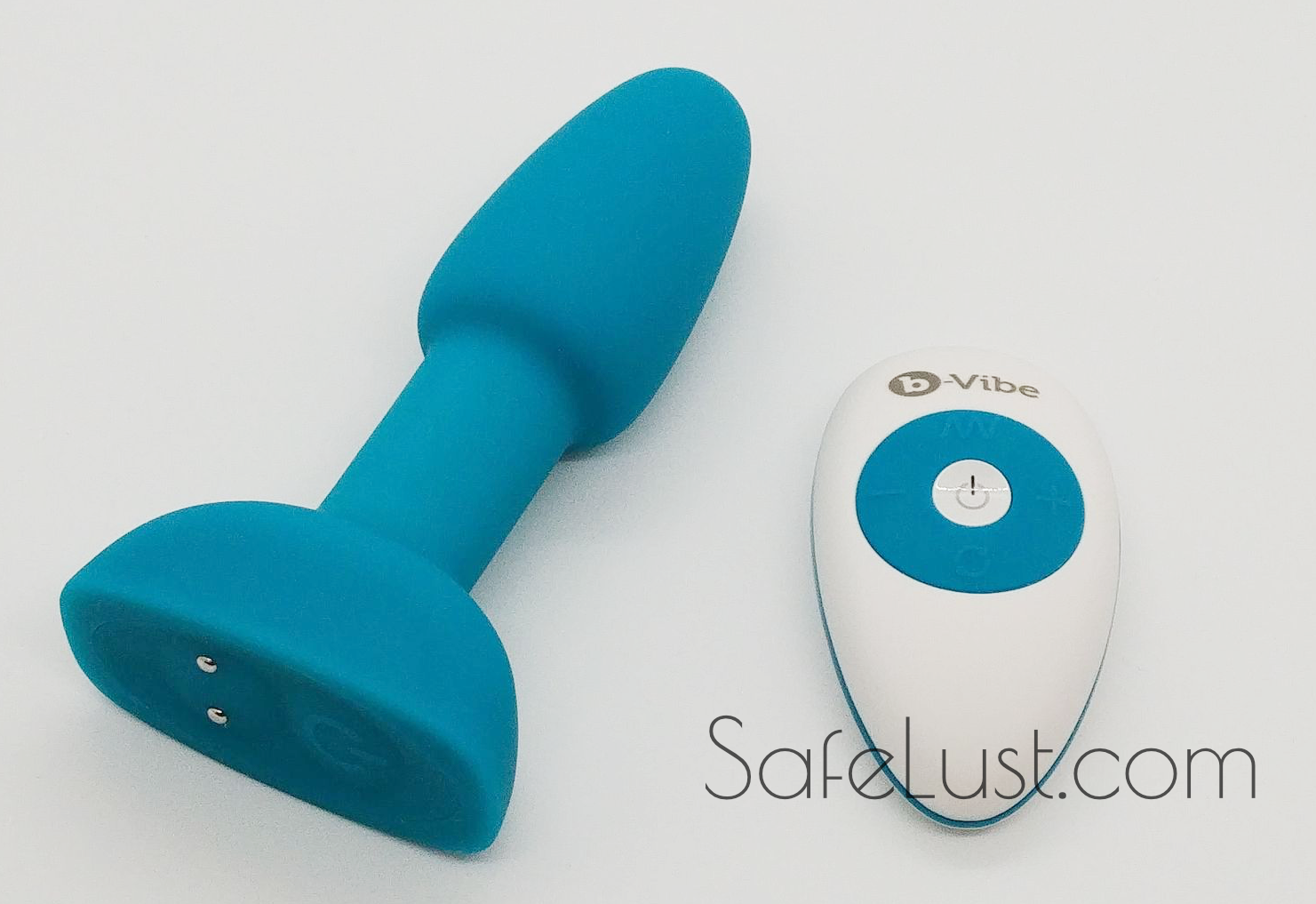 Pricing
You can get the b-Vibe Vibrating Jewel Plug M/L at 130USD/125EUR from b-Vibe. This plug comes at a high price tag for being a solid, fancy vibrating jewel plug. I would expect more for this price.
Summary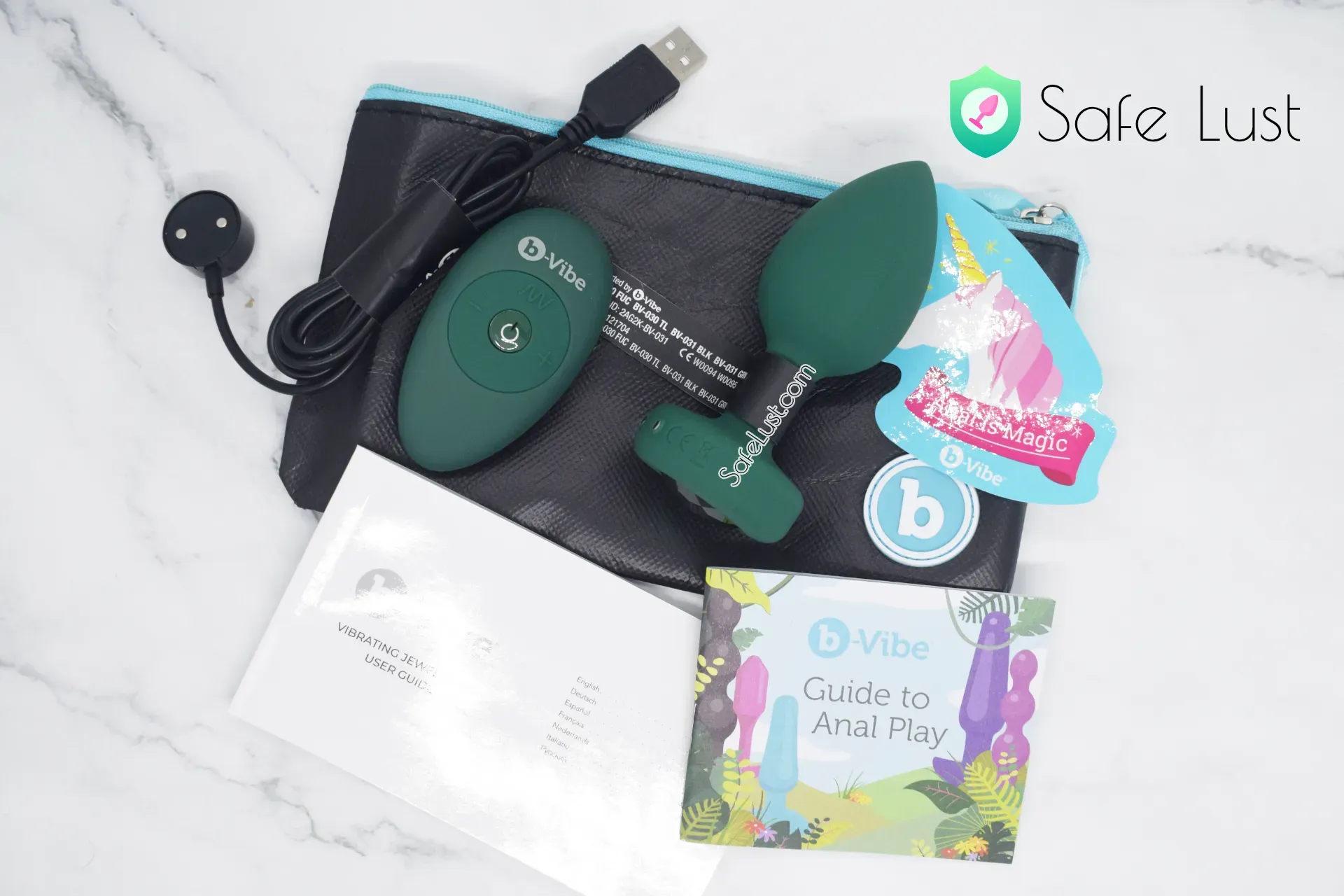 It is a truly beautiful plug with a great amount of vibration patterns. However, it won't bring you big orgasms. It is still a great plug to surprise your partner, or to use for long-term wear in public – if you can afford it.
This plug would get a much higher score if it weren't for its high price, and less secure base.
It's a great plug for long-term wear or public play. The shiny jewel is a plus for your partner. However, don't expect strong orgasms from this toy alone. The plug base could have been larger for a more secure fit and more peace of mind. At this price tag I would expect more. Final score: 6.5/10.
🚀 Never miss new toys 🚀
Sex Toy Reviews straight to your inbox
By subscribing, you agree to the Terms to receive Safe Lust promotional and marketing emails.

No spam. Unsubscribe anytime.