Kiiroo Keon Interactive Masturbator & Sex Machine Hands-On Review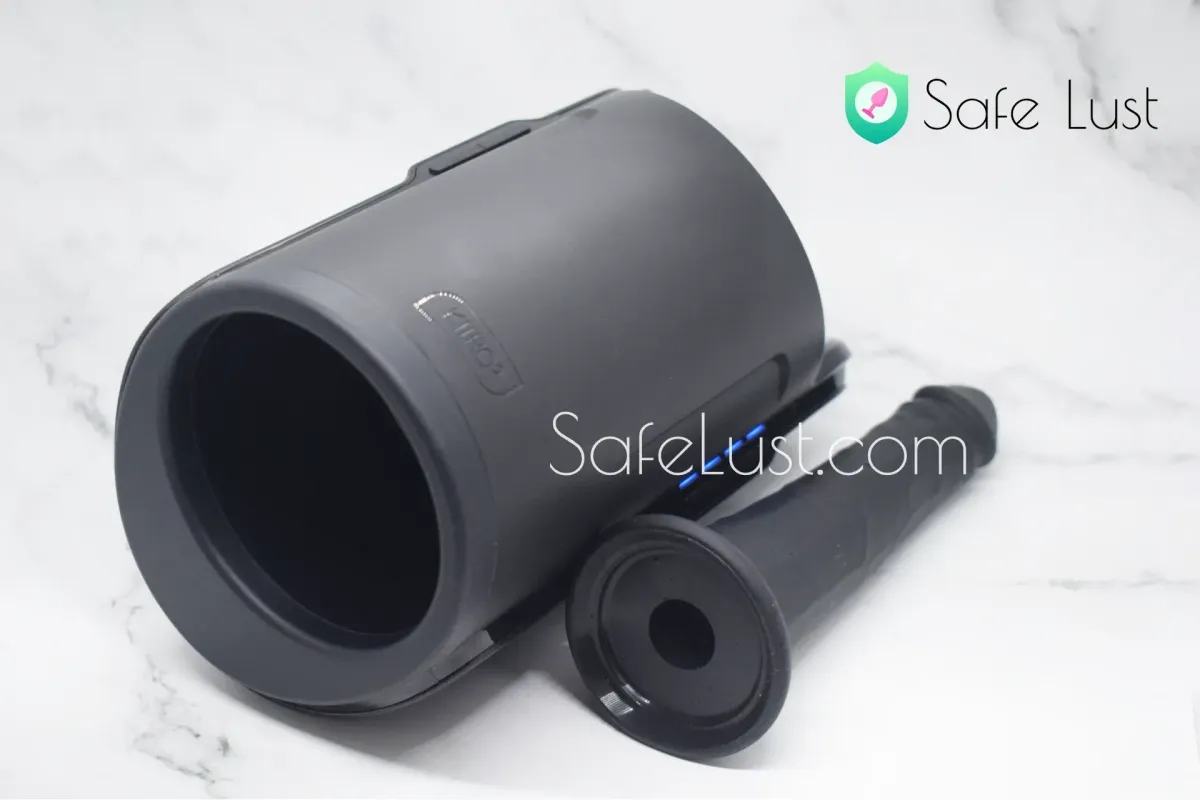 A masturbator and a sex machine? Can it really be that good? 😳
---
Join me in my adventure of unpacking and testing the Kiiroo Keon! You might already know the Kiiroo Keon as being an interactive masturbator.
Kiiroo has recently released an extra attachment, making this not only an interactive masturbator, but also a full-on sex machine 😳! Yes, the kind with a dildo attachment!
Before we start, don't miss out on the Kiiroo Gift Card giveaway! You can find all details below.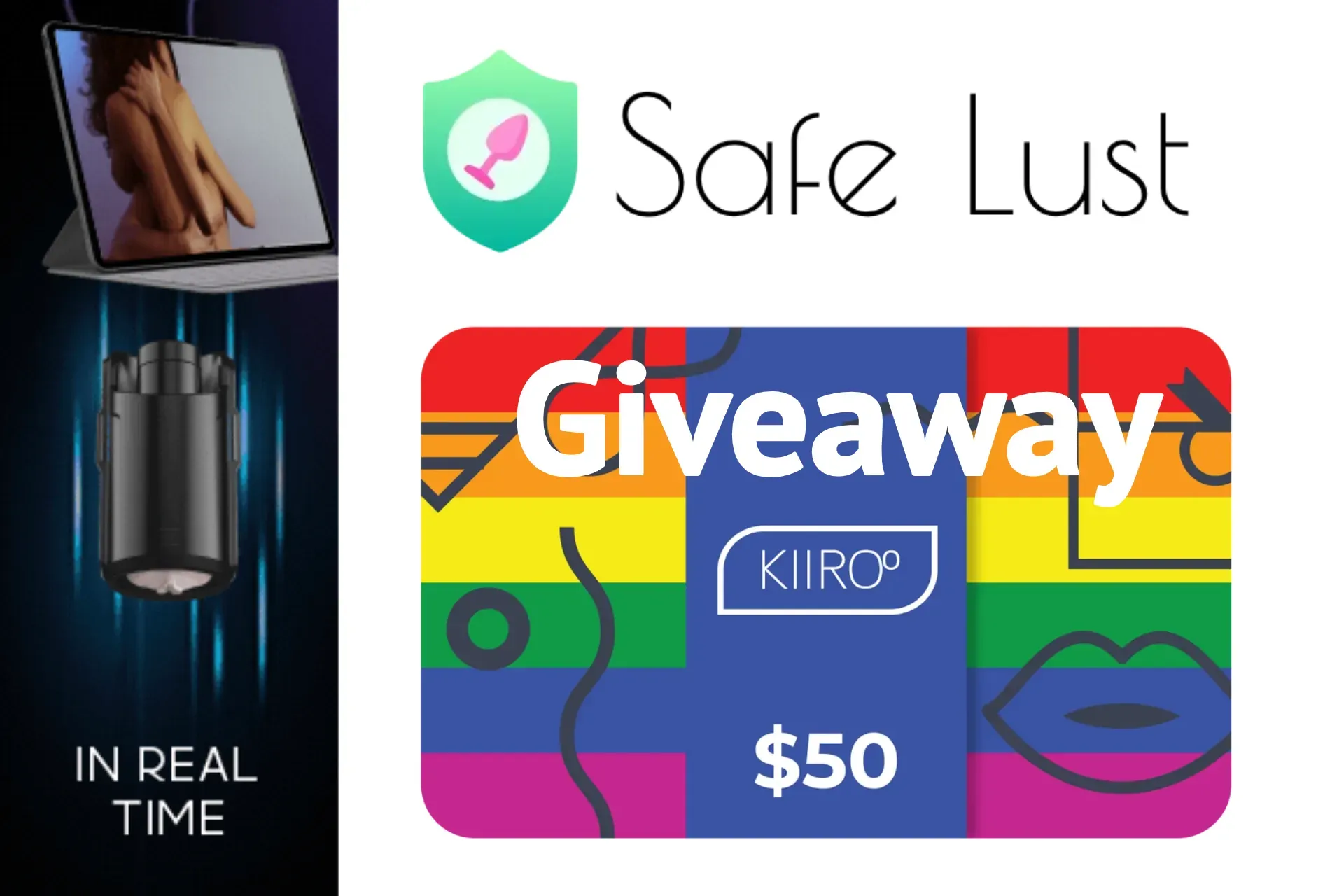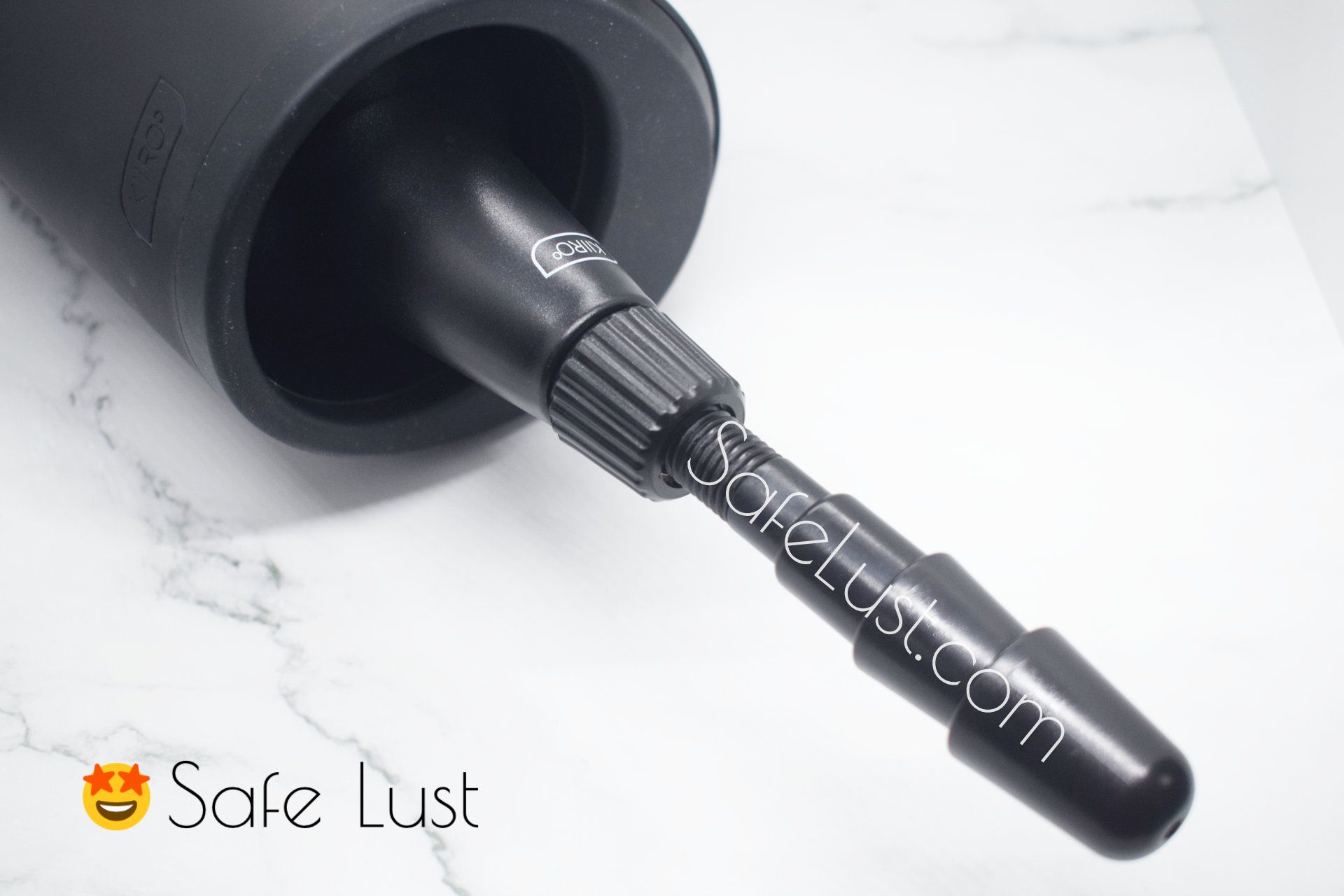 I already had the Fleshlight Launch before ordering the Kiiroo Keon. Considering Keon's price of only 265 USD for getting both an interactive masturbator, and an interactive sex machine – I knew I had to test this one! Is it truly a great deal or is it too good to be true 🧐? Let's find out.
A lot of people already have a Fleshlight Launch – while my goal of this article is to review the device itself, I will also give you a clear view on whether an upgrade to the Kiiroo Keon is worth it 🤞.
Since the Kiiroo Keon has many different features and items to be discussed, this review ended up very big – you can scroll through the headlines to find the parts you're interested in 😉.
Packaging
It comes in a rather minimalist packaging, a small square box along with a USB cable for charging, and a small flyer.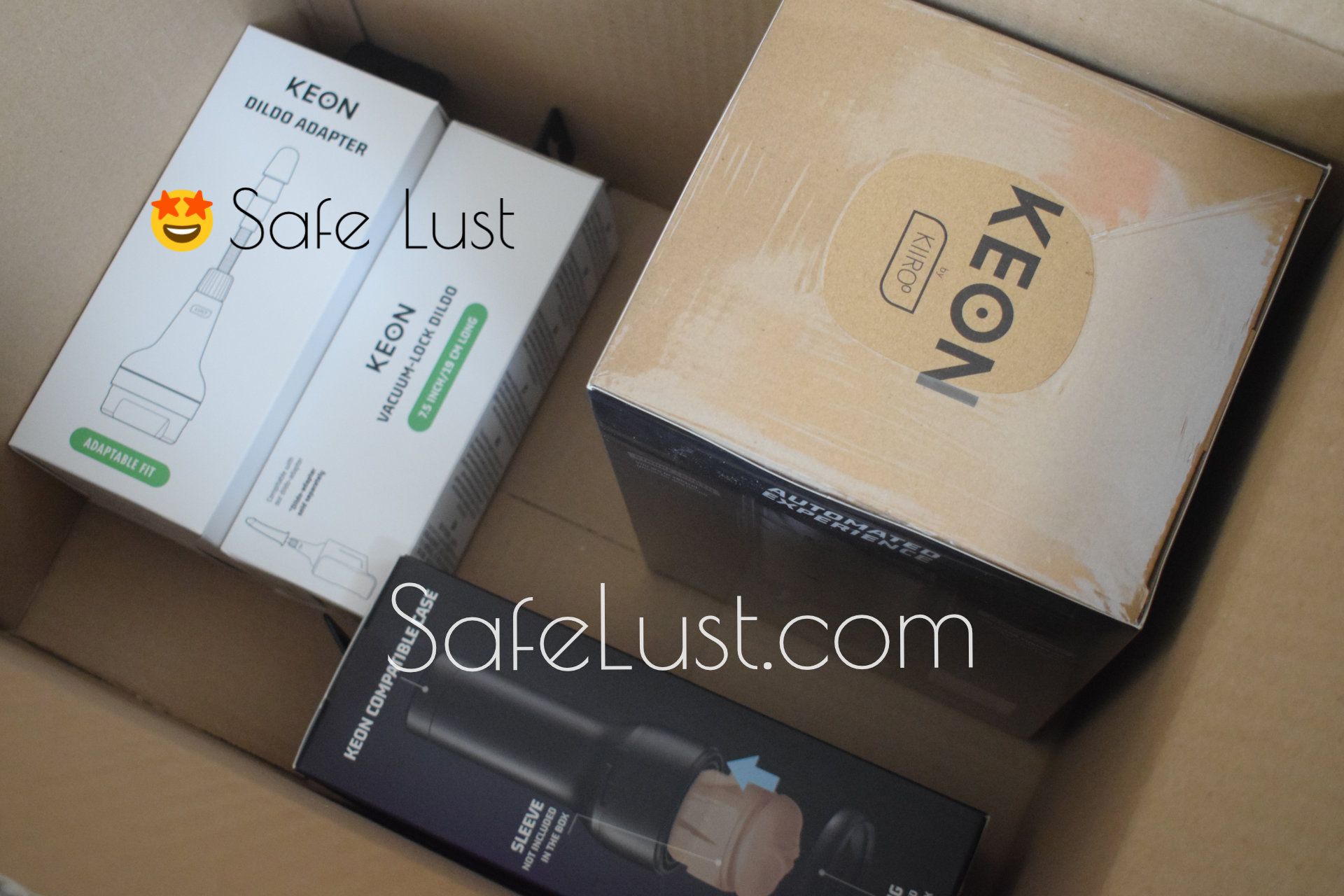 It is easy to unbox, and the original box could be useful for storing it in the future, if desired. I still would have preferred Kiiroo to also provide a protective storage bag with the purchase of the Keon.
Features
The Kiiroo Keon is a Bluetooth, interactive sex toy which can be used in multiple ways. Let's go over the different methods:
Keon Manual Mode
To turn on the manual mode, turn on the Keon by a long press on the power button, then long-press the smaller button above the power button to change to 'manual' mode. The lights will change to a green color.
You can now control your Keon's stroke length and speed manually with the buttons on the left (length) and right (speed).
While this is already very fun to play with, you'll still need to adjust the settings yourself, unless you're happy to leave it on one speed and stroke length.
Keon Automatic/Interactive Mode
To turn on the manual mode, turn on the Keon by a long press ont he power button, the lights will be blinking blue. Download and connect to your Keon with use of one of the apps.
Either you can use the Feel Connect app to control your Keon using your phone, or use the Video Watcher mobile app to synchronise your Keon to a video you are currently watching on your phone/computer.
Feel Connect App
The feel connect app comes with a range of features:
Feelme connect allows you to give control to your Keon to others by sharing a link, or to use pre-recorded patterns.
Feelme connect allows you to make your sex toy sound-sensitive – although this feature works better with vibrating toys
Feelme connect allows you to control your Keon using your mobile phone, as a remote control
Feel Me AI / Video Watcher App
This is where the Keon shines. It is compatible with Feel Me AI. It is an Artificial Intelligence service that translates your videos into Keon stroke movements. It tries to match the movements on your screen, to the movements on your Keon in real-time.
You can sign up for a few days free trial, which I really recommend as you can get an idea of how it works and feels like. While it works on a wide range of websites – it does not work with every single website.
If you'd like to know if your favorite website works with the Video Watcher/Feel Me AI, comment here, I'll test it out and report back to you.
How does the synchronisation feel like? It's a hit or miss depending on the video and its angle. On clear videos with clear angles, this service does great. On other videos, it sometimes goes too fast, even when nothing is happening in the video yet.
Although it does not always give you an exact same experience as the video – I'd say it's still worth the money as it allows you to enjoy videos hands-free, without having to control the Keon.
If you prefer a more traditional and accurate experience with hand-made scripts, you'd better use the Feel Connect app instead which is completely free. I highly recommend experiencing it yourself using the free trial, and making a choice based on that.
?
@Kiiroo I do wish the video browser app would be more evolved, clicking back in the browser closes the app instead of navigating back, and it is not a fully fledged browser with support for bookmarks and so on.
Feel Me AI / Video Watcher Price
The Feel Me AI / Video Watcher service are not free, as it connects to an AI server that also costs money for Kiiroo to maintain.
Here are the prices at the time of writing this article:
ℹ️
Monthly: 10 USD / month
6-Monthly: 7 USD / month = 42 USD / 6 months
Yearly: 5 USD / month = 60 USD / year
Lifetime: 300 USD
The best bargains would be the Yearly or Lifetime purchase, depending on how often you are planning to use it. Using the welcome discount, the lifetime totals 255 USD.
Size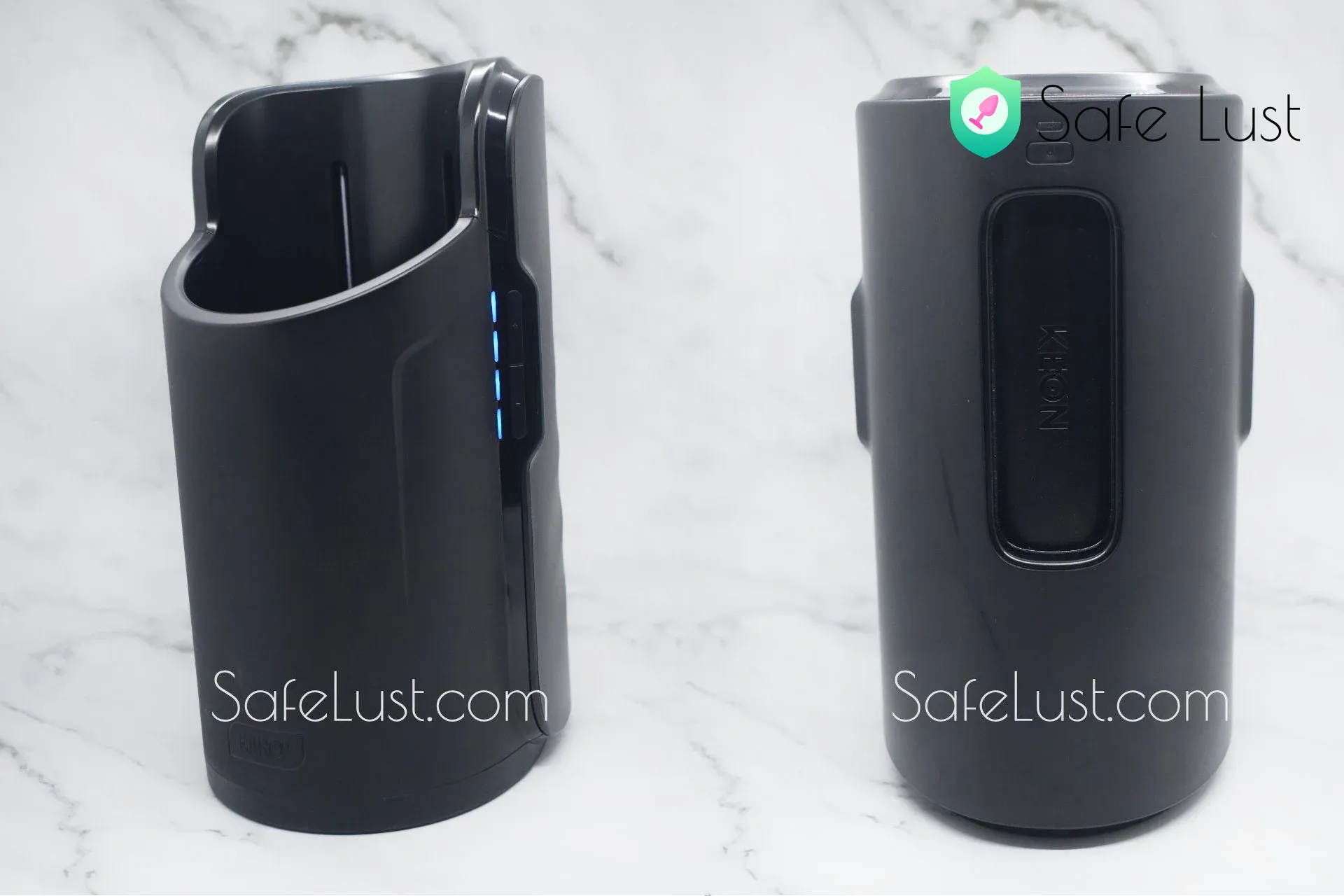 While the Kiiroo Keon isn't necessarily small, there are a few things we need to realize together.
First of all, the Kiiroo Keon is supposed to be an interactive masturbator:
That means, it needs to be able to hold and move a Kiiroo feelstroker, which by itself is not that small.
Secondly, it can be used as a fully-fledged sex machine. Compare its size with other sex machines on the market, and you'll figure out that this is a great size for what it can do. I'm not comparing to other portable sex machines, as those usually have a limited amount of stroke length.
The Keon has a stroke length of ~3 inches or ~7.5cm, which is huge for its size. Most of the portable sex machines – and even the recently released Lovense Gravity – only offer stroke lengths of ~1.2 inches or ~3cm 🤔!
Considering that, we will find that, while the Keon is not "discreet"-small, it is small for what it has to offer, and at this point I'd say it's one of the smaller masturbators and sex machines with such capabilities 👍.
Masturbators and Sex Machines in the Future
I'm expecting masturbators/sex machines to become smaller and smaller in the future with new innovations, and while this is something I'm looking forward to, the Keon does a very great job and is a very modern device. I'm not trying to flatter the Keon on purpose 😳, but I am genuinely impressed 🌟!
Kiiroo Keon vs. Fleshlight Launch Size
Coming from a Fleshlight Launch – fun fact, this device was also made by Kiiroo, although it was branded as Fleshlight – I am very impressed 😎.
On my quest to finding the differences between the Fleshlight Launch and Kiiroo Keon, people mostly said the size difference isn't that big. I have a completely opposite opinion ⚠️.
The Fleshlight Launch is a huge machine compared to the Kiiroo Keon! In this case, a photo says more than a million words! (Writer's note: some delay with the photo – coming soon!).
The Fleshlight Launch is really too big for what it is, not only is it harder to store, it is also harder to use in real due to its large size 😅. Trying to use the Fleshlight Launch hands-free, while lying down on a bed is quite a challenge. With the Kiiroo Keon however? While it is not 100% perfect yet, it is very easy to enjoy it hands-free in this way 👌.
If you are really detailed and want to know the exact dimensions, here they are:
ℹ️
Fleshlight Launch: 12.5 inches (317.5 mm) in length, 4 inches (101.6 mm) in width, and 3.5 inches (88.9 mm) in height

Kiiroo Keon: 8.78 inches (223 mm) in length, 3.46 inches (88 mm) in width, and 3.5 inches (89 mm) in height
The biggest difference is in the length, while the width is also smaller, a very nice surprise.
Noise Level
One important factor, at least for me, is that I don't want a sex toy to be incredibly loud – that would turn me off, and I would probably end up not using it much.
Coming from a Fleshlight Launch, which felt much too noisy for my taste, I was not sure what to expect from the Kiiroo Keon, and there is not much accurate information comparing the sound level of both machines.
I can tell you, I was pleasantly surprised, I was expecting the Keon to be slightly quieter, but it ended being much quieter than the launch when in use!
Here are the sound levels recorded of the Kiiroo Keon, with the Keon being right next to the microphone:
ℹ️
Keon Sound Levels with the Keon being right next to the microphone
Low speed - full stroke length: 50db
High speed - full stroke length: 75db

Low speed - shortest stroke length: 56db
High speed - shortest stroke length: 74db
Do note this is the most extreme measurement of the decibels, since it is with the microphone right next to the device. Measuring 1-2 meters away from the device will be a big difference. It is still useful for comparison with the Launch.
Now, let's dive into the results for the Fleshlight Launch:
ℹ️
Fleshlight Launch Sound Levels with the Launch being right next to the microphone
Low speed - full stroke length: 70db (= + 20db)
High speed - full stroke length: 86db (= + 11db)

Low speed - shortest stroke length: 68db (= +12db)
High speed - shortest stroke length: 84db (= +10db)
The Fleshlight Launch feels considerably more noisy than the Kiiroo Keon in real life use. While the Kiiroo Keon is not incredibly quiet, it feels quiet enough to really enjoy it.  You can compare its noise level on the following page.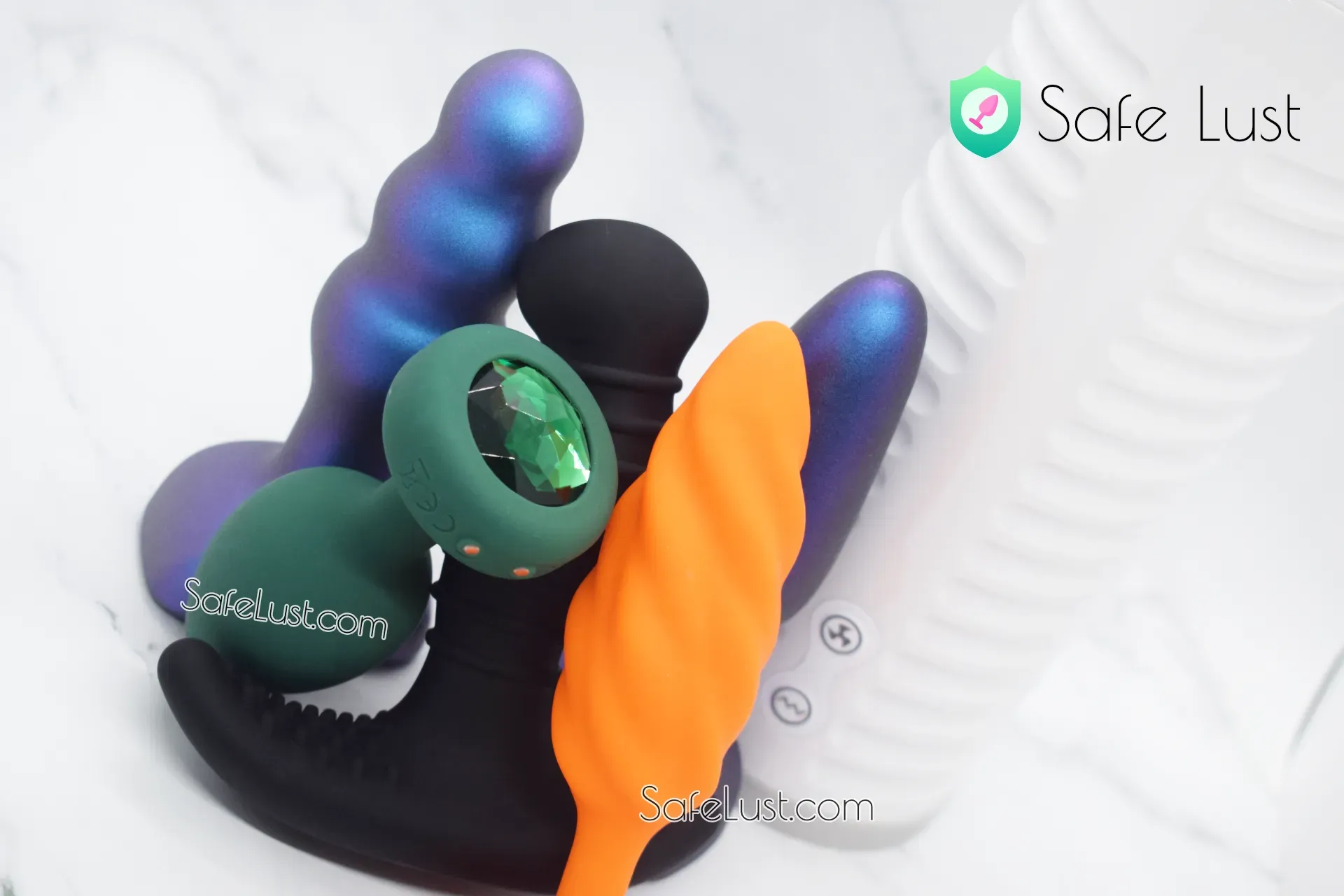 Is the Kiiroo Keon Noise Discreet?
The Keon can actually be used discreetly on its lowest speed settings. However there is a trick if you do want it to speed up without making it too noisy.
The trick is to keep the speed on the lowest setting, and setting the stroke length to the shortest stroke, this will feel faster without increasing the noise level.
This is purely about the noise-level. In terms of storage, you will still need to find a good storage space if you intend to keep it private.
Weight
The weight of the Kiiroo Keon when empty is approximately 1.6 pounds or 0.7 kg. While it is not extremely light, considering its capabilities it is still one of the best on the market.
Let's compare it with the Fleshlight Launch. The weight of the Fleshlight Launch when empty is approximately 3.75 pounds or 1.7kg.
The Kiiroo Keon weighs 142% (=2.2 pounds or 1kg) less than the Fleshlight Launch – this is an amazing difference 🤩. It makes it so much easier to handle and use the Keon, without the feeling that it will break off your personal bits 😣 would you accidentally drop it in a bad angle!
Similar to the size, I do expect such machines to keep improving and drop some of their weight over the coming years. At this moment, while the weight of the Kiiroo could still be lighter, it is still one of the best on the market and it does its job very well 🌟.
What About Other Branded Sleeves?
Next to the Kiiroo Feel Strokers, there is another very popular brand, Fleshlight. If you somehow haven't heard of Fleshlight yet, check out my below article!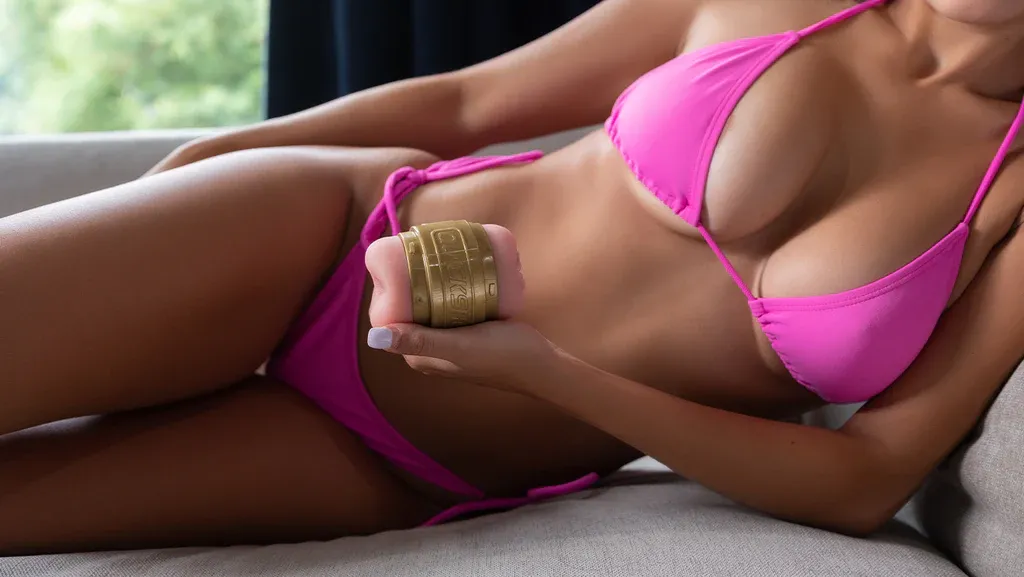 It is indeed possible to use the Keon with Fleshlight sleeves, however, don't start squeezing your bigger Fleshlight sleeves into Keon Feel Strokers just yet!
For just 12 USD, Kiiroo is selling a Keon Compatible Stroker Case – which they mention is compatible with other famous brands sleeves, you can guess which ones. If you're curious about how that looks like, here's a photo: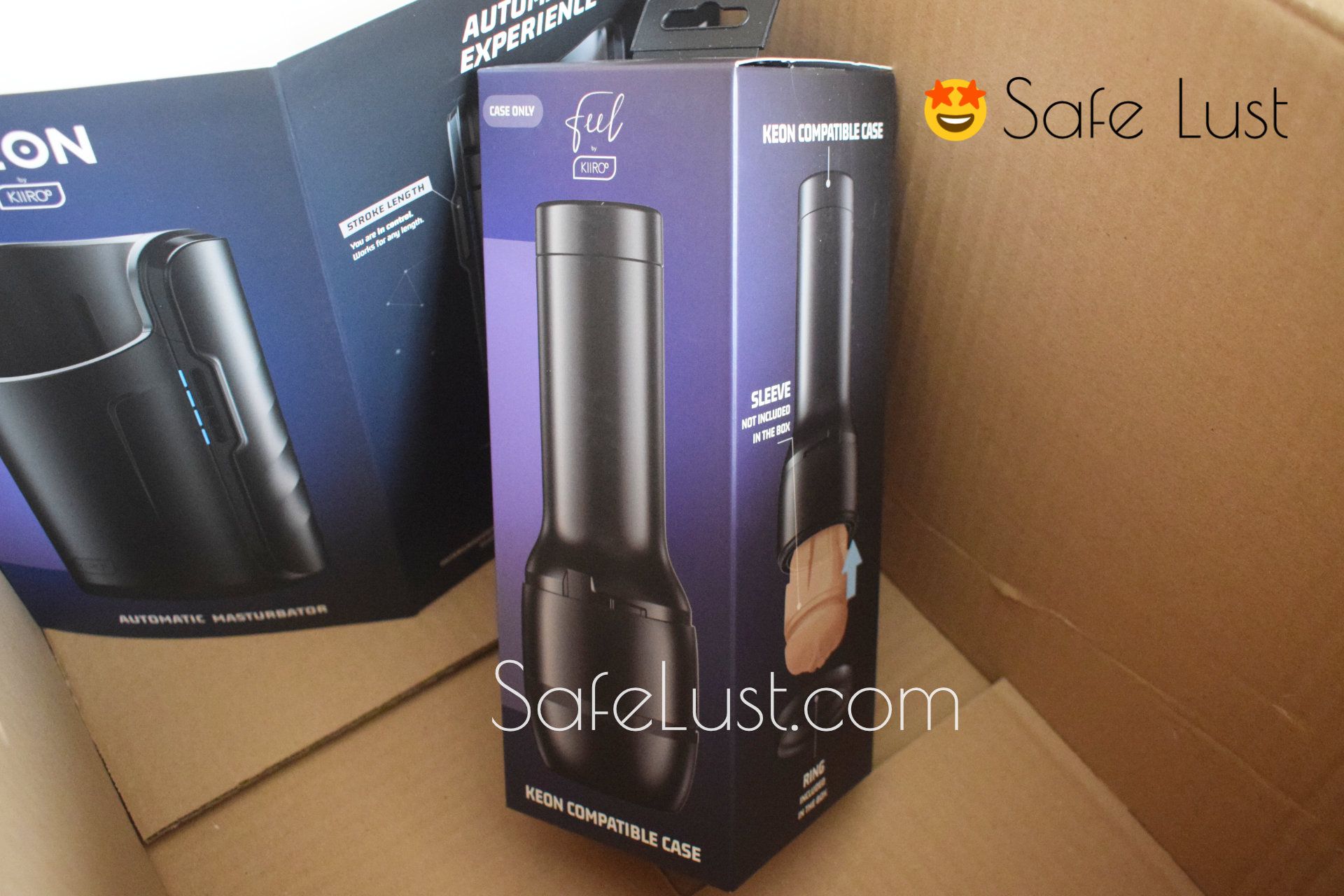 I've tested it with Fleshlight sleeves and they fit well. The only remark is that you'll have to push the sleeve in, and close the case using an extra ring. This ring can make your Fleshlight sleeve feel a bit tighter near the entrance, but it doesn't seem to pose a real danger to your sleeves.
Keon Sex Machine?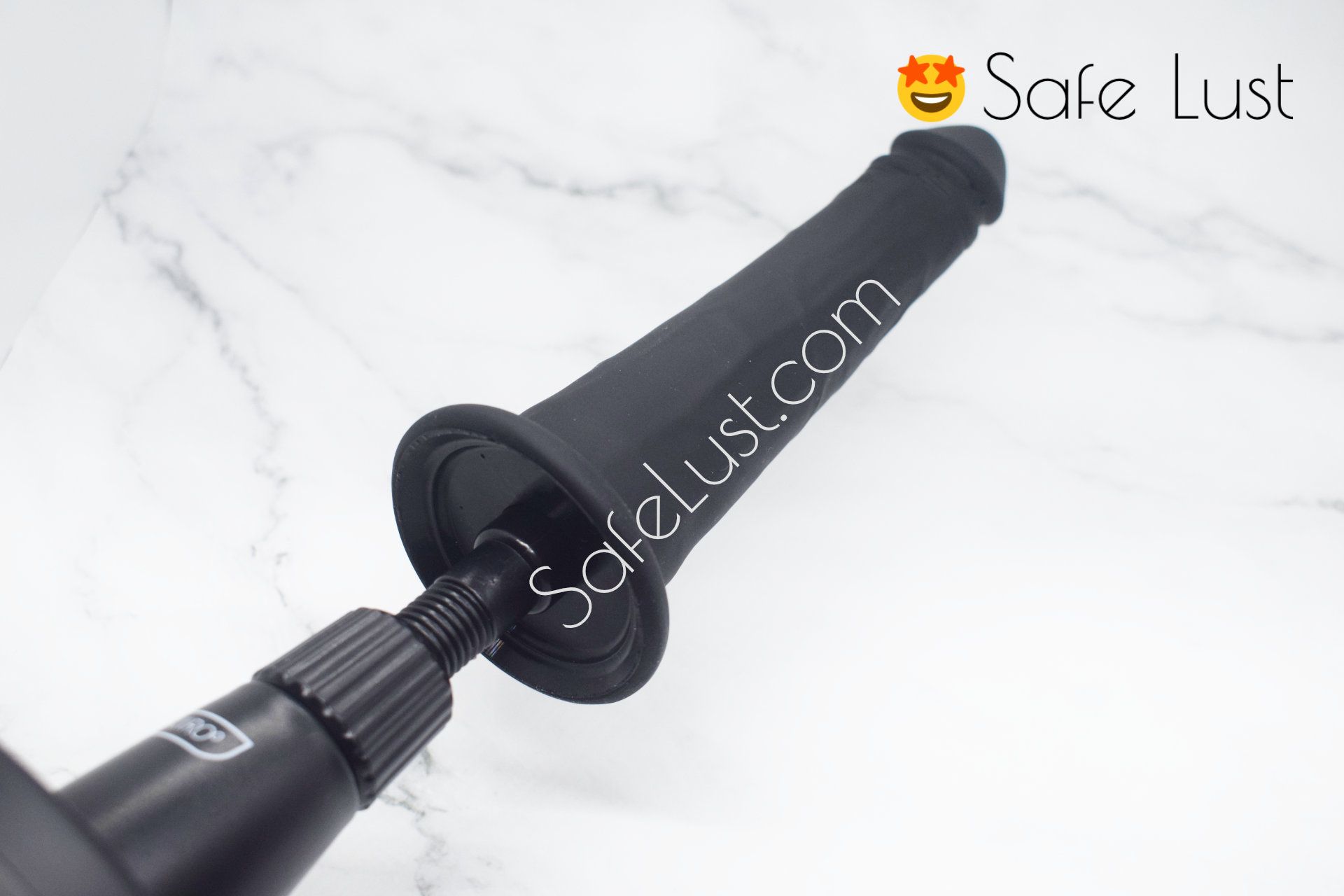 Yes!! Ever since I had the Fleshlight Launch I wondered if it could be possible to attach a dildo to a Fleshlight case, and use it in such a way. I tried it out by putting a suction cup dildo on a Fleshlight case, and while the dildo fell off from time to time, it did seem possible, although the Fleshlight Launch did not feel powerful enough for tighter anal penetration.
I haven't thought about it, or tried more since, but seeing that Kiiroo has now released an adapter to make this a reality, is great news! I ordered the Kiiroo Keon Sex Machine while it was on sale – with a gift voucher sponsored by Elust.
?
Thank you
Elust
for the gift voucher, allowing me to write this review (while also enjoying the Keon ?)!
The sex machine package comes with the Kiiroo Keon, the vac-u-lock dildo adapter, and a vac-u-lock dildo. I was afraid that the Keon would not be powerful enough for tighter penetration, but happy to say that this is not the case. The Keon gets the job done as a sex machine too.
Keon Sex Machine Videos
Take a look at the 3 videos below of the Kiiroo Keon Sex Machine in action at different combinations of speeds and stroke length. Not only can you get an idea of the sex machine, the stroke length and the speed, but also the overall noise of the Keon.
Keon Sex Machine Video: Full stroke length, low speed
Keon Sex Machine Video: Full stroke length, fast speed
Keon Sex Machine Video: Short stroke length, fast speed
Vac-u-lock dildos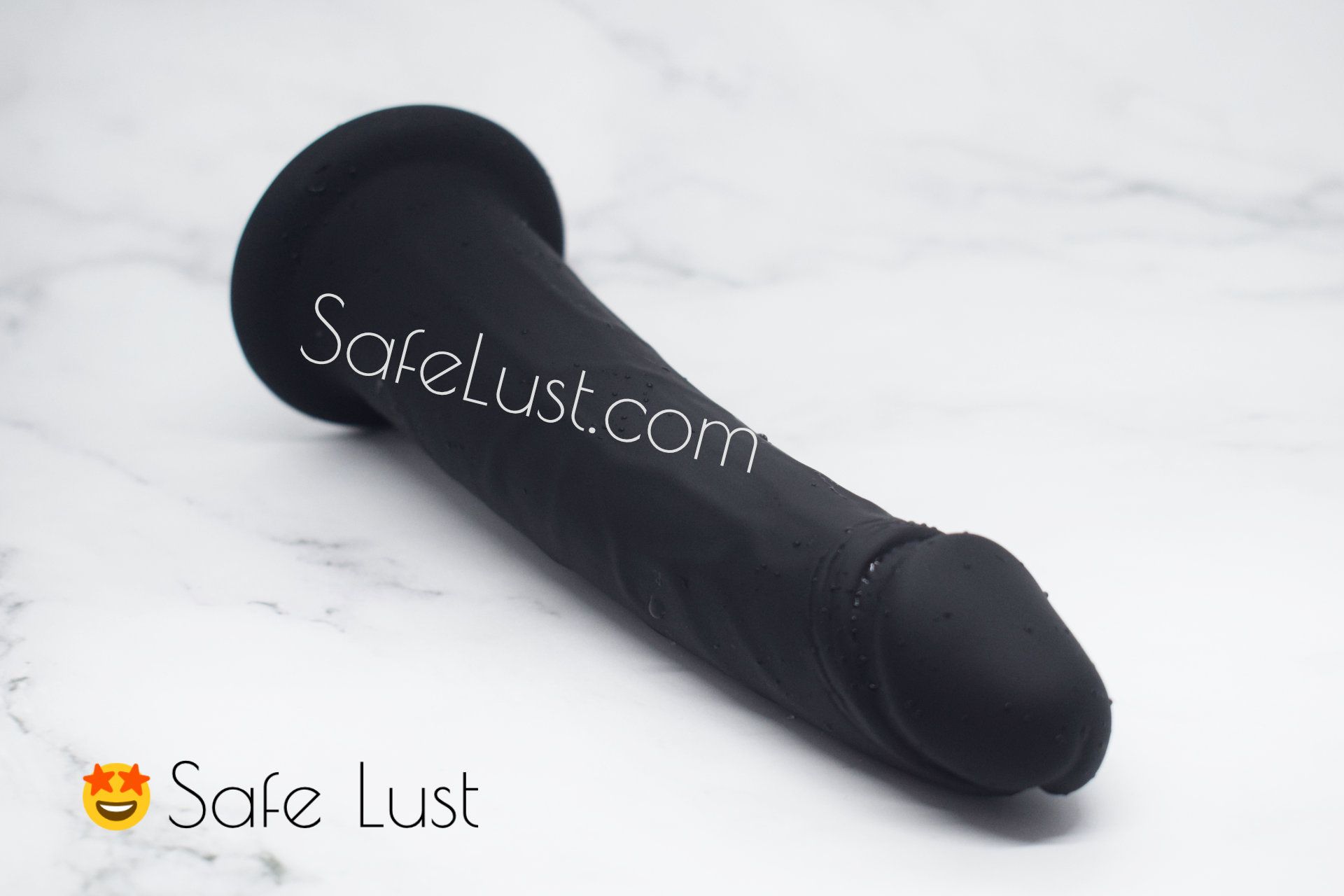 You might have alarms ring a bell here – did you hear it right, vac-u-lock? Yes that's right. Doc Johnson's vac-u-lock system for attaching dildos by creating a sort of vacuum. At SafeLust, I can only recommend safe sex toy brands, and Doc Johnson is unfortunately not one of them, seeing that they still sell jelly sex toys which are known to be toxic. Due to this I cannot recommend their products.
This does mean that the choice of dildos to use with the Keon sex machine is quite limited. I have been searching, and haven't found any other brands with good vac-u-lock dildos. At this time, this limits us to the Kiiroo dildo, and Kiiroo currently only sells one 🥲.
🤚
@Kiiroo we are (im)patiently waiting for more vac-u-lock dildos to use on the Kiiroo Keon! Please fix this ?.
The good news is, the Kiiroo dildo is entirely body-safe, and very well-made. However, for those out there like me who would prefer a non-realistic dildo, there is currently no solution but to request Kiiroo to make more options 🙃.
On the other side, all of the other features of the Keon still work as a sex machine! That means the Keon becomes an interactive sex machine, which you can let other people control via the internet, or synchronise to online videos.
For pegging fans, that means you could synchronise a pegging video to your Keon while using it as a sex machine – this works great.
How Does the Keon Feel Like?
I had three main purposes with my purchase of the Kiiroo Keon:
Truly hands-free masturbation ✅
Synchronization to online videos ✅
Its use as a sex machine ✅
First of all, using it with a masturbator feels amazing. It feels exactly like you'd imagine, your Feel Stroker or Fleshlight moving by itself. This makes it 100% possible to achieve hands-free masturbation, and it feels great at that. My first goal of truly hands-free masturbation is achieved 🌟.
The synchronization to almost any online videos with Feel Me AI works, but is not the most accurate. It might not replicate the video 100%, but it's a great effort and the best tool we have so far, without needing any hand-made scripts and limiting which videos you can use it with. For me, that is a win 👍.
Third, using the Keon as a sex machine – it works, and it even excels at it. It's one of the most portable sex machines with a great total stroke length. Sure, its speed might not be as fast as other toys, but it honestly does the trick unless you are into very rough play – at that point you might consider a more expensive and bigger sex machine such as a Hismith or Lovense Sex Machine. Another big win for the Kiiroo Keon 🎉.
Kiiroo Keon Review Summary
Phew! This was a big review – I'll do my best to summarize my thoughts for you:
The Kiiroo Keon can be used in many different ways:
Masturbator, Sex machine, interactive synchronization to videos using scripts or AI, manual mode, online friends mode, and so on!
The Keon is one of the lightest, smallest machines with such capabilities. While I expect improvements in size, weight and noise in the future, the Keon is still very comfortable in use, not too heavy, not too big, and OK noise-levels. It can be used discreetly in the lower speeds.
As a sex machine, it is strong enough, has a nice and long stroke length and speed – although it cannot compare to more expensive and bigger sex machines like the Lovense Sex Machine and Hismith Sex Machines.
Should you get the Kiiroo Keon?
If you are doubting to get this, whether as a first interactive masturbator/sex machine, or as an upgrade from another similar machine – I would not hesitate as this is currently one of the best, if not the best out there.
Unless price, storage or noise is an issue for you, there are really no reasons not to buy it if you are looking for an interactive masturbator/sex machine. If you do have more budget, and storage/noise levels are not an issue – you could go for a fully fledged Lovense Sex Machine or the Hismith Sex Machines.
Should you buy a Kiiroo Keon to upgrade from Fleshlight Launch?
The answer here is, yes, yes, yes. It is much lighter, much smaller, and more quiet. That while offering faster stroke speeds, Keon: 230/min, and Launch: 180/min.
Purchase Options
The best place to buy the Kiiroo Keon is from the official Kiiroo shop.
If you're interested in the sex machine – you can use the below link.
These are affiliate links and help me maintain the running costs for Safe Lust under control, without influencing my reviews.
Finally, don't miss out on our Kiiroo Gift Card giveaway below.
Considering all of these factors and other currently available devices , I give the Keon a solid 9/10.
Accessories
The Keon can be used in combination with even more toys. Definitely check out the PowerBlow for automatic, app-controlled suction.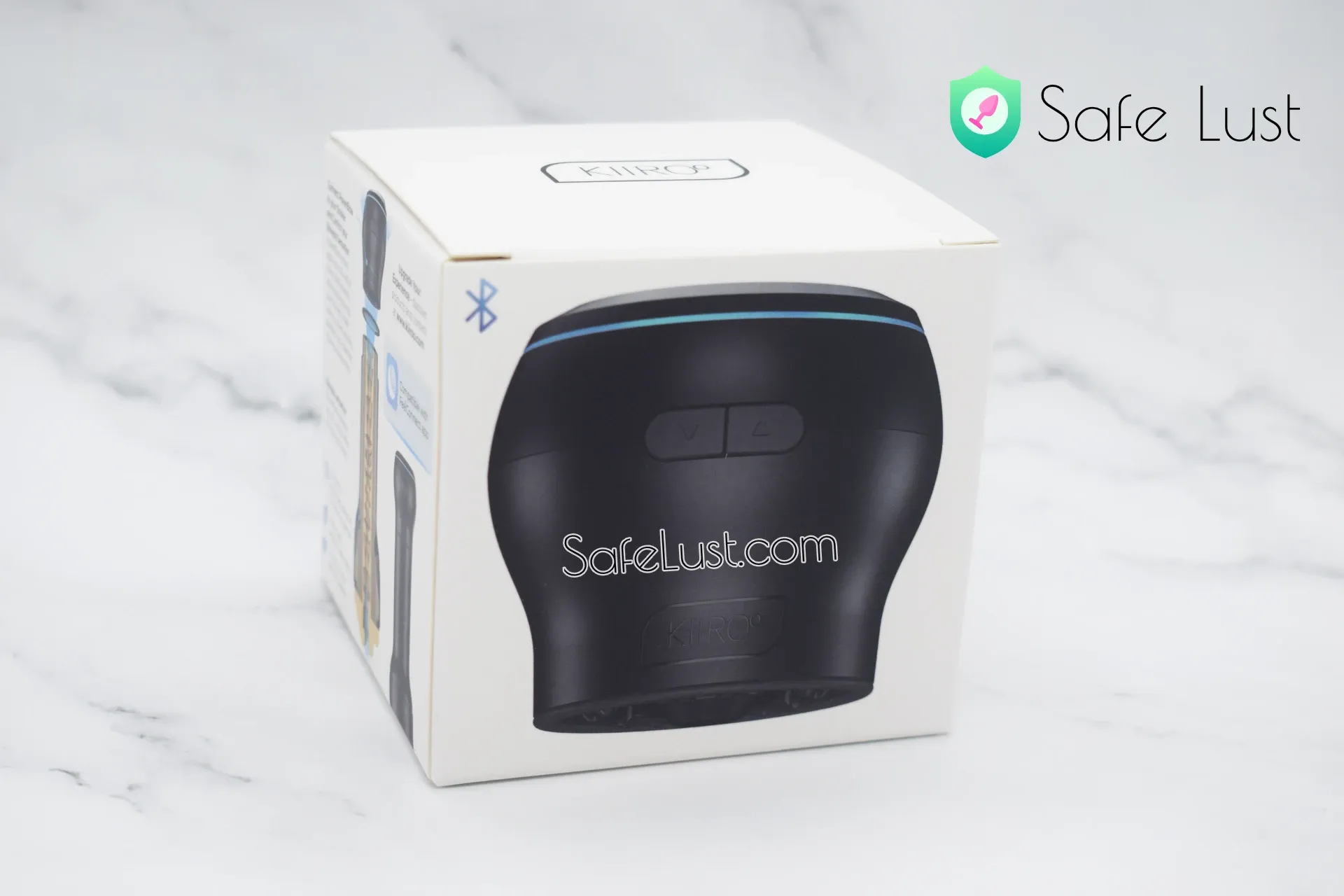 The PowerBlow works great with the FeelSensation, a more discreet FeelStroker.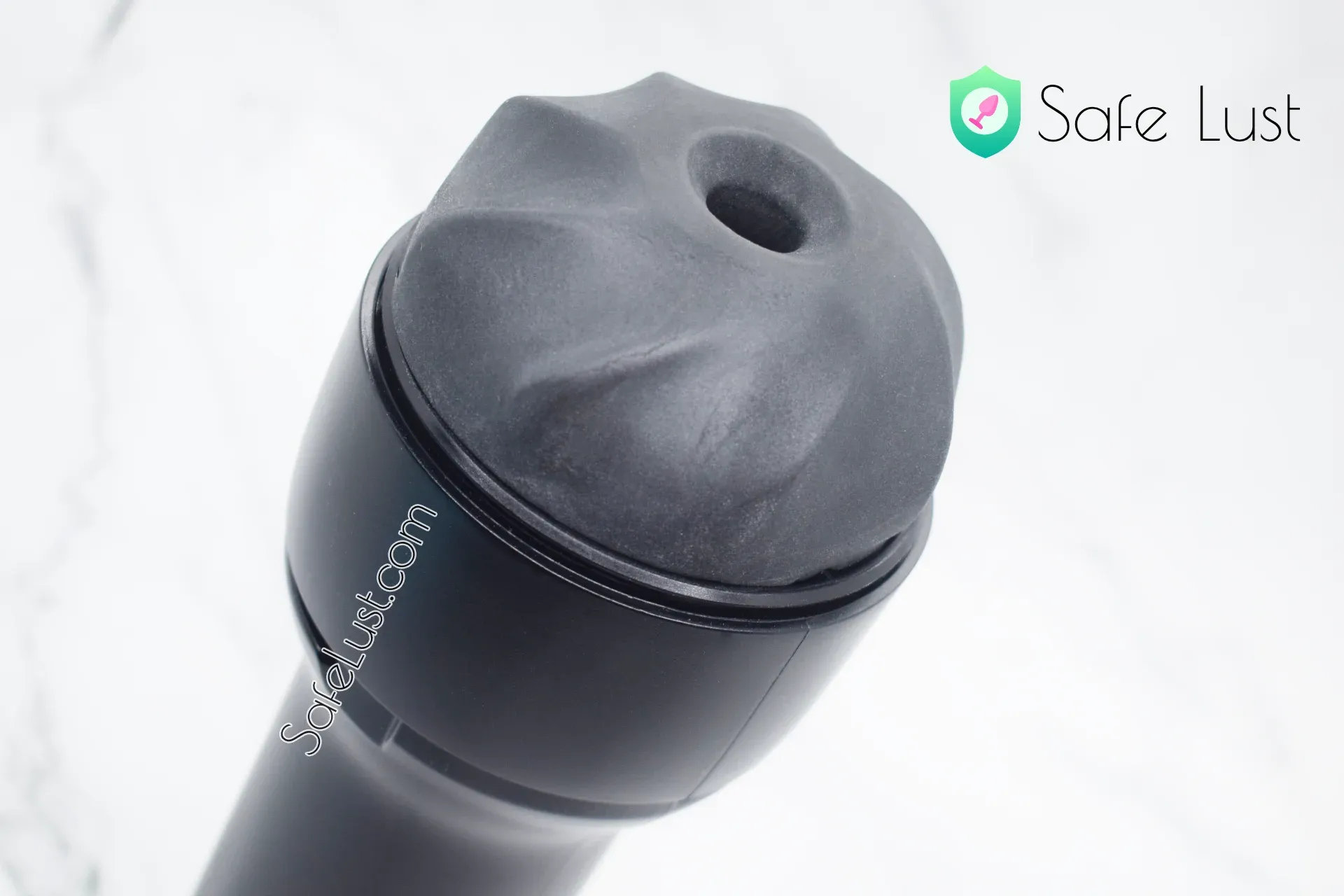 🚀 Never miss new toys 🚀
Sex Toy Reviews straight to your inbox
By subscribing, you agree to the Terms to receive Safe Lust promotional and marketing emails.

No spam. Unsubscribe anytime.