Kiiroo PowerBlow Blowjob Stimulator Review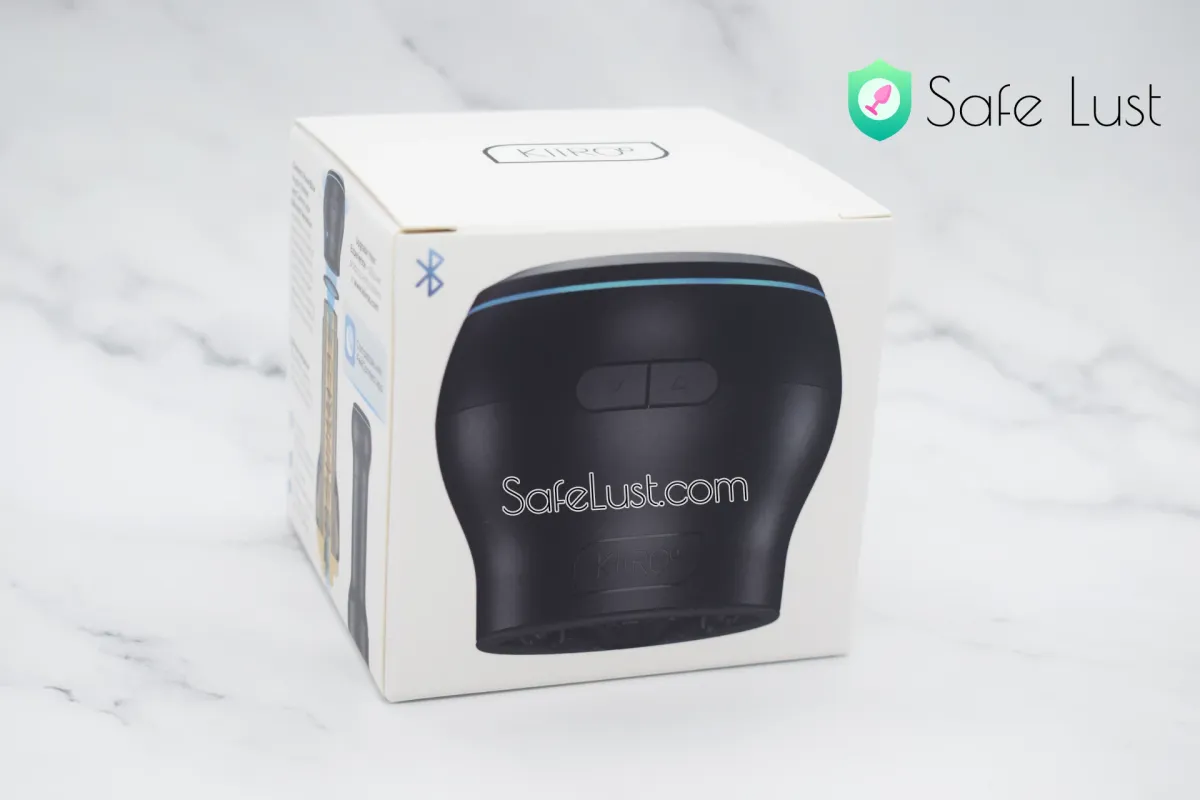 Let yourself get pulled in, deeper and deeper. 😌
Who doesn't love blowjobs and nice, strong suction? Now you can get blowjobs on demand 🫢! The PowerBlow provides app-controlled suction which literally sucks you in. There's a reason why it sold out twice 😎.
The PowerBlow works with the Keon, so you can have automatic suction, with your automatic stroker – all combined 🔥. No way I could pass up on that! It's definitely a revolutionary device for the sex toys community.
This is one of those reviews that took me longer to get out, I took my time, multiple weeks and many sessions to be able to give you an honest factual review!
In this review, I explore the PowerBlow along with the FeelSensation stroker – tested with and without the Keon.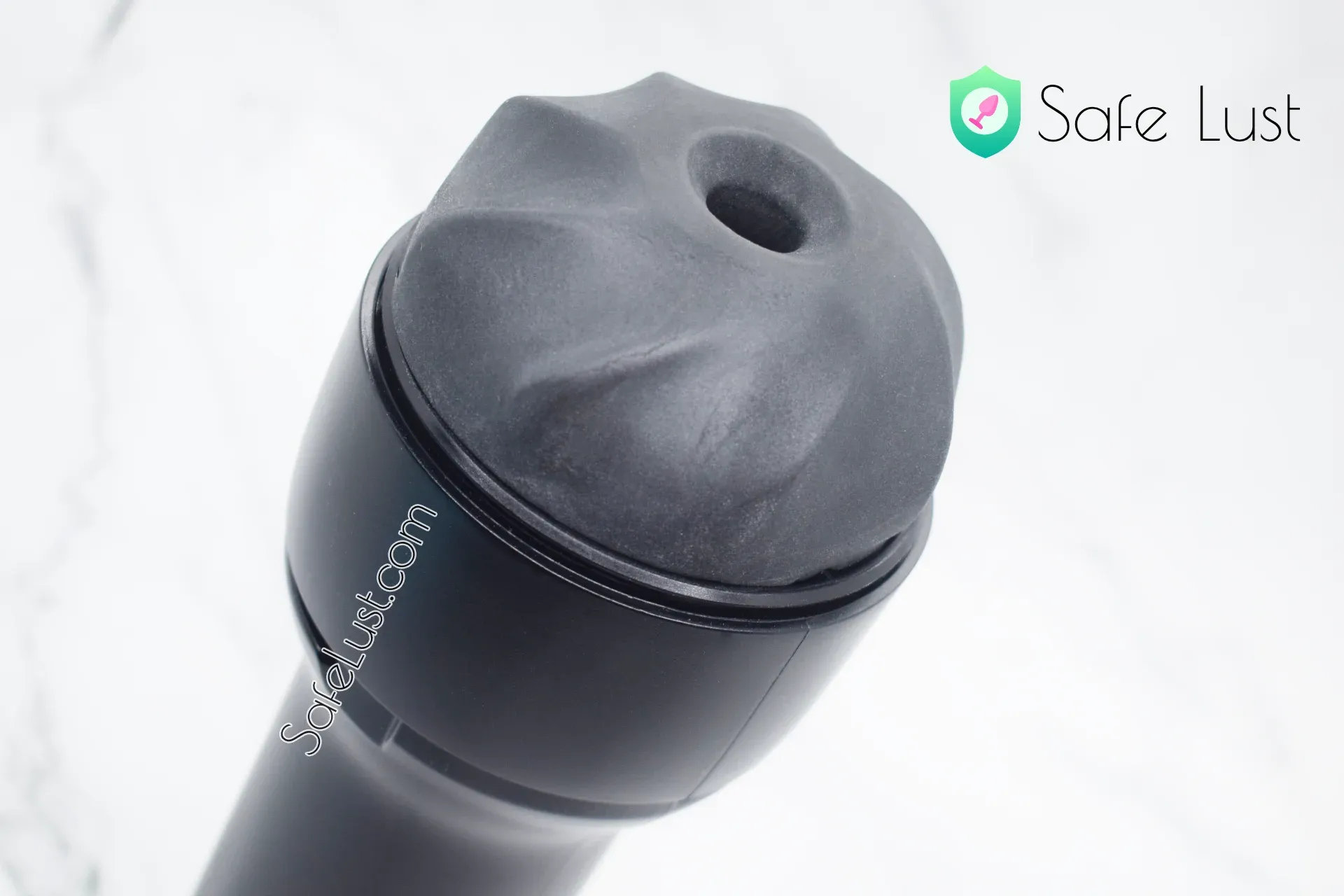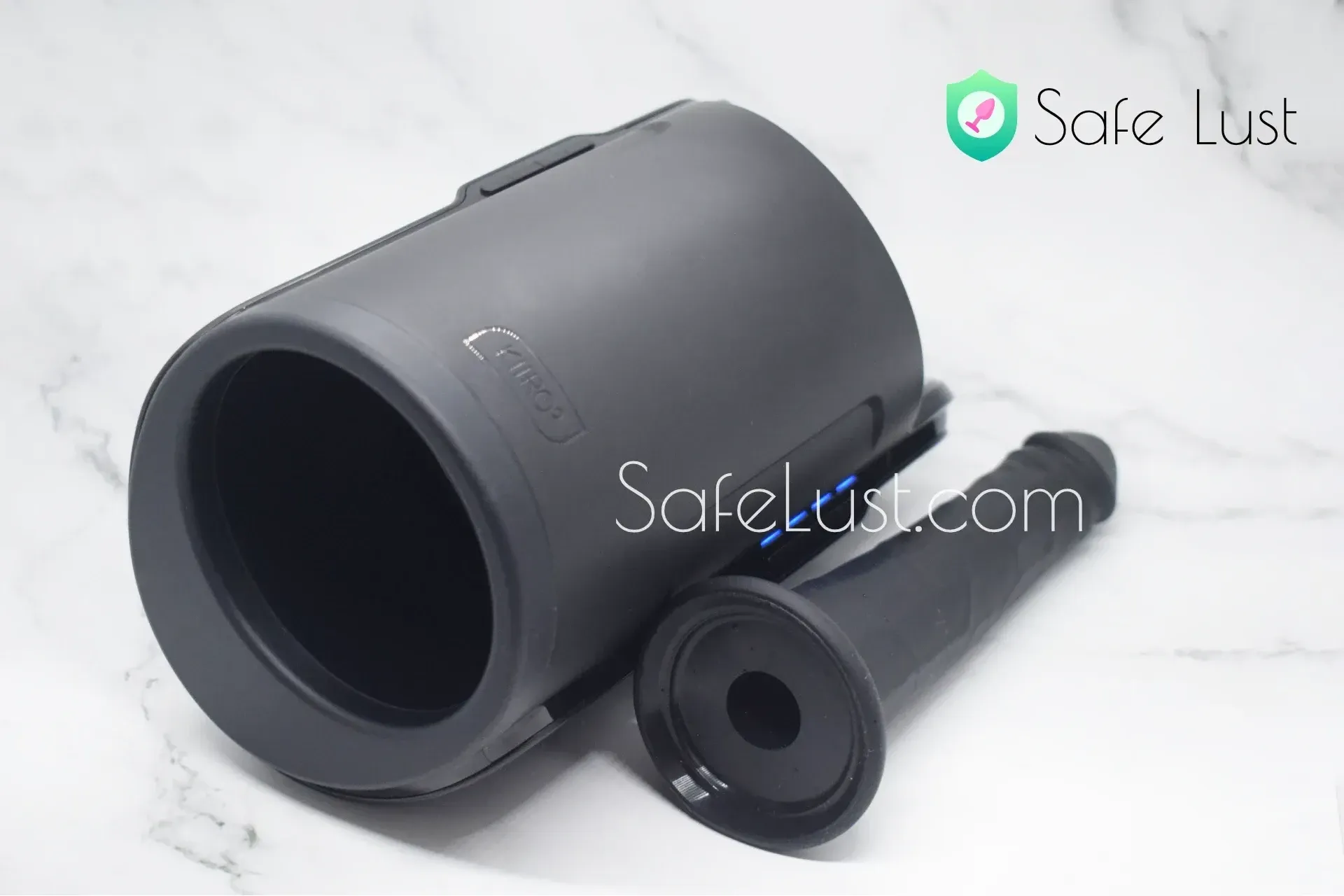 Kiiroo has been kind enough to provide the FeelSensation in exchange for an honest review. Affiliate links in this review help support me with running costs, as always – I am truly grateful for your support.
Packaging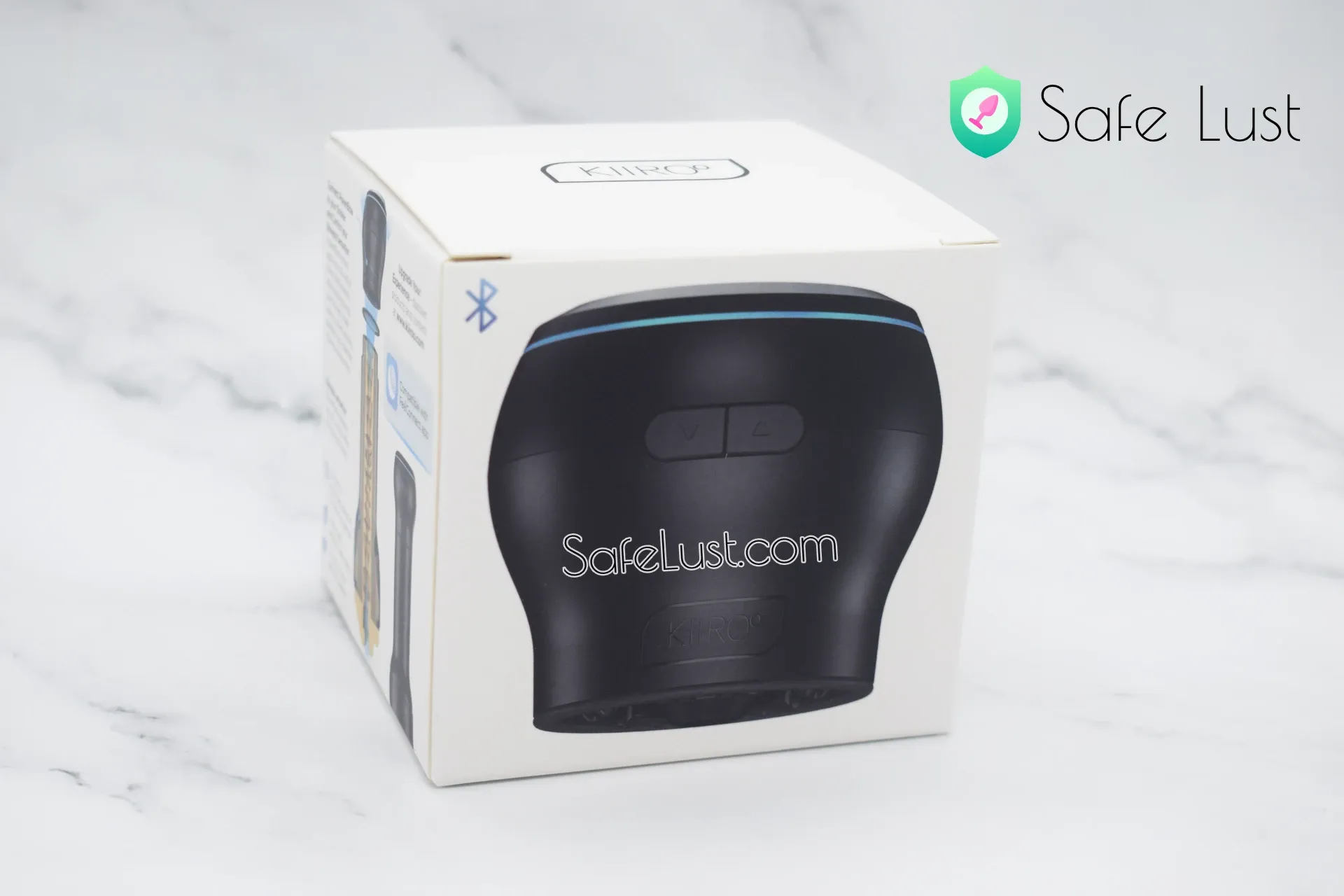 The PowerBlow is a relatively small accessory, coming in a perfectly sized small box. The box is sealed with plastic foil, although there is no hygiene seal sticker.
The PowerBlow comes with
A USB-C cable
A user guide
A FeelMe AI leaflet
A replacement foam ring
A seal ring
An insert for the FeelStroker case
A replacement foam ring that absorbs any dripping lube
⚠️
Don't throw out the foam ring! At first I thought it was a foam ring to protect the PowerBlow during shipping, but it's actually a replacement foam ring for the inside of the PowerBlow.
The PowerBlow doesn't feel too heavy, weighing 6.9 oz / 0.44 lb / 198 g. Being an accessory that plugs in at the end of the FeelStrokers, it was smaller than I expected for a device which can create suction on demand!
Kiiroo did a great job at keeping it light and compact 😎👍.
Setup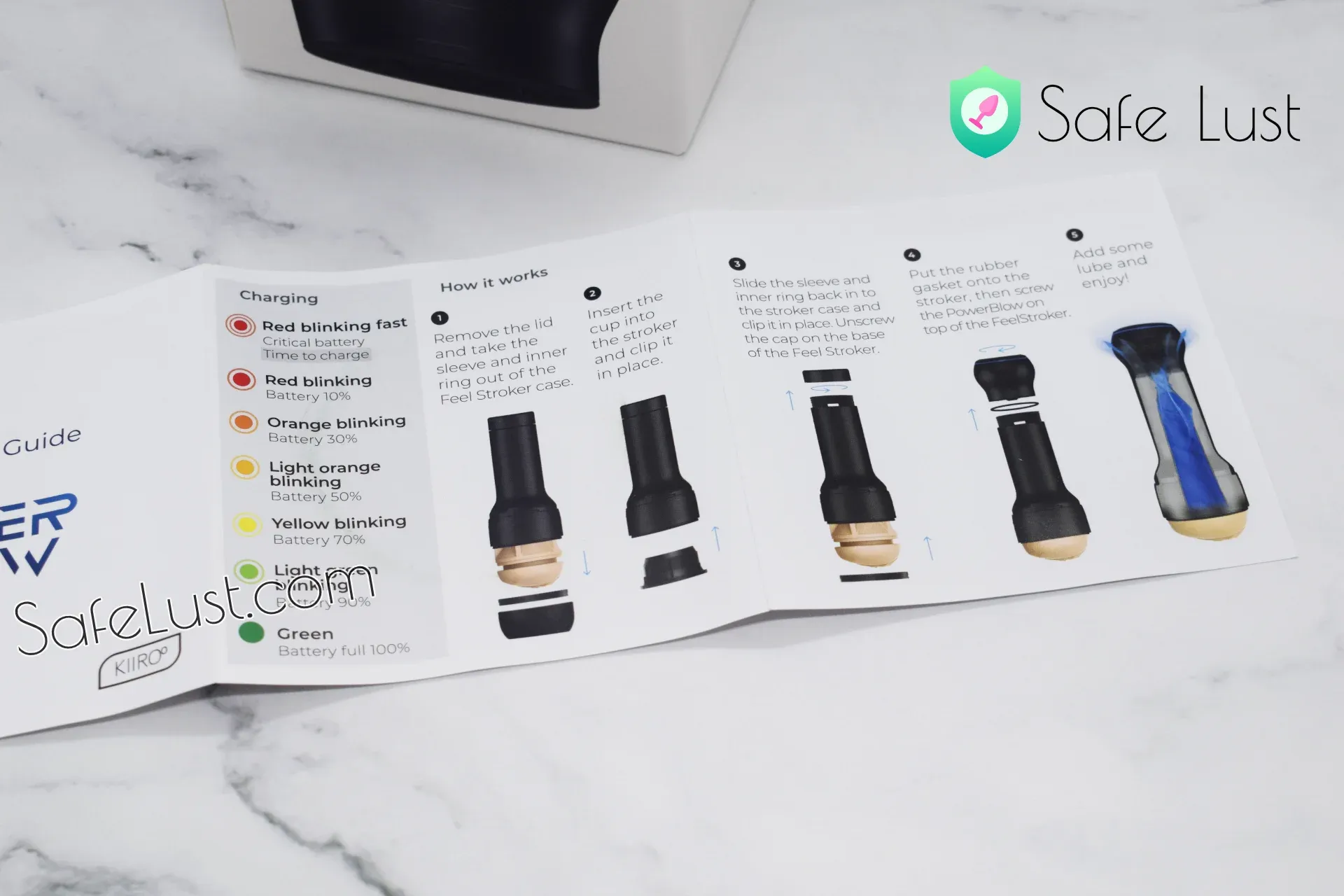 How to use the Kiiroo PowerBlow? It took some figuring out at first, but once you're setup, you're ready to go!
1- Remove the inner ring of your FeelStroker case. Yes, with force! The ring of my sleeve was stuck and very difficult to remove – with some focus I was able to remove it.
2- Insert the PowerBlow cup insert into your sleeve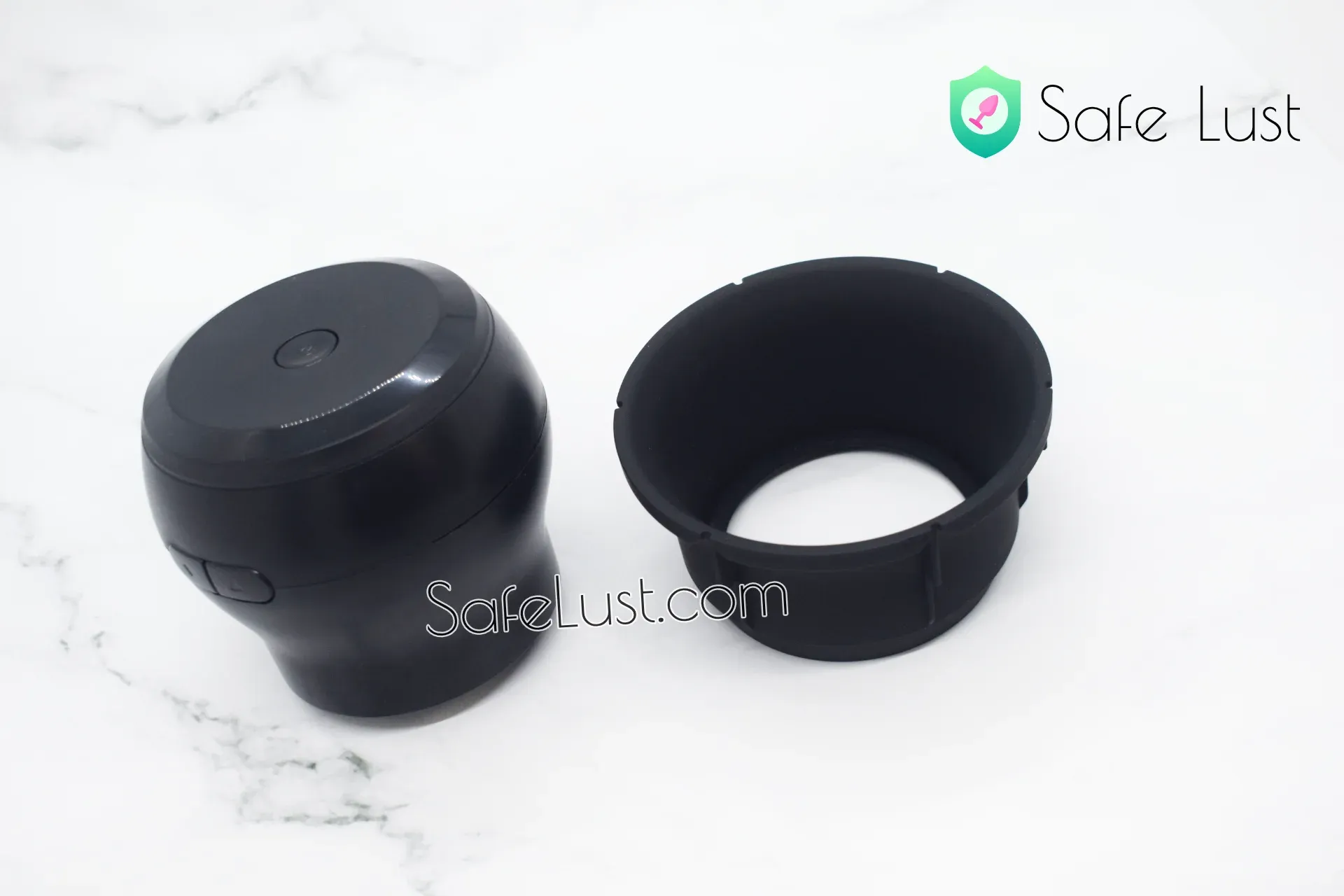 3- Push the inner ring of your FeelStroker case back in
4- Remove the cap of your case. Add the seal ring and screw in the PowerBlow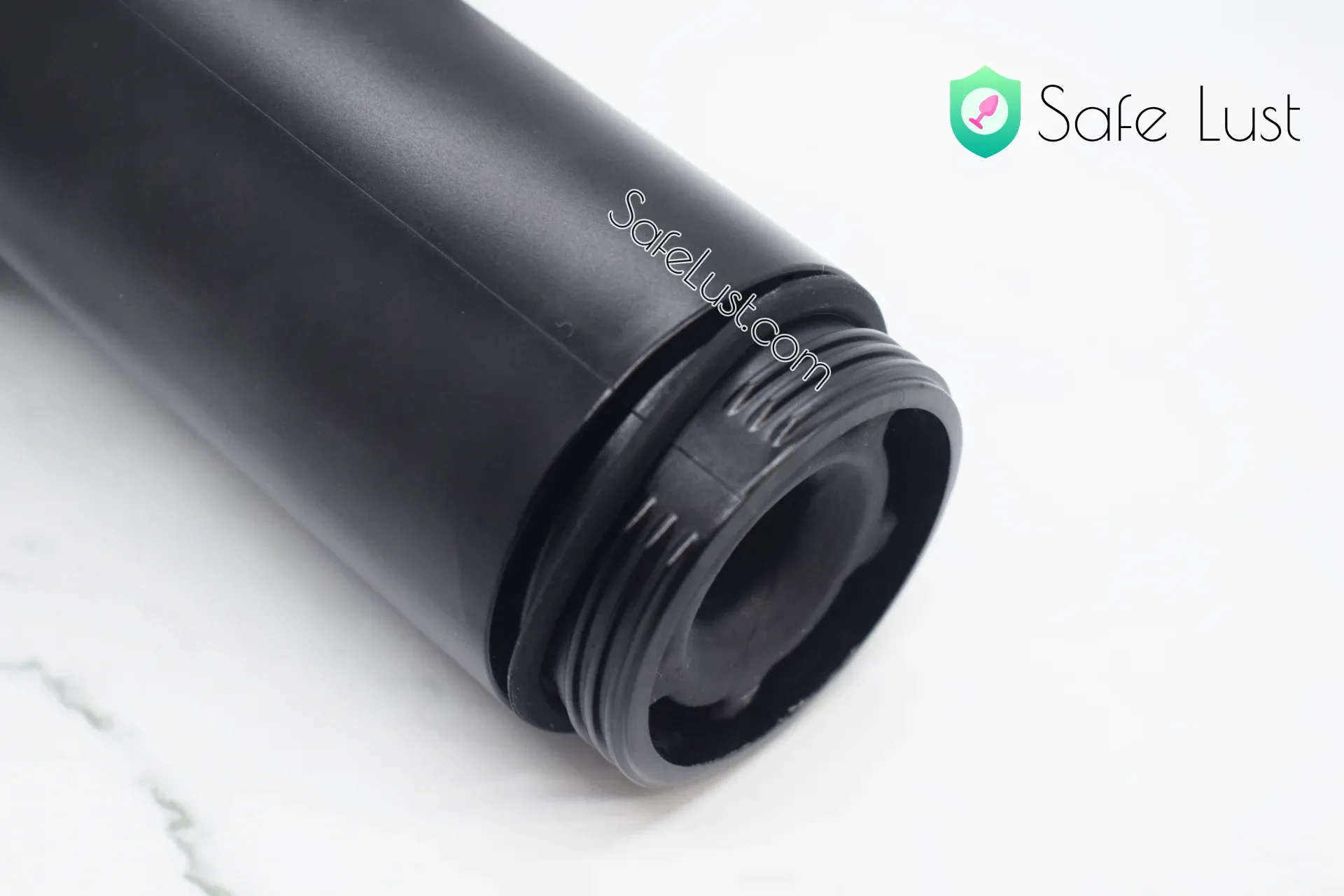 Still struggling? Here's the owner manual PDF for the PowerBlow.
You should end up with something similar to below photo, ready to go 😎!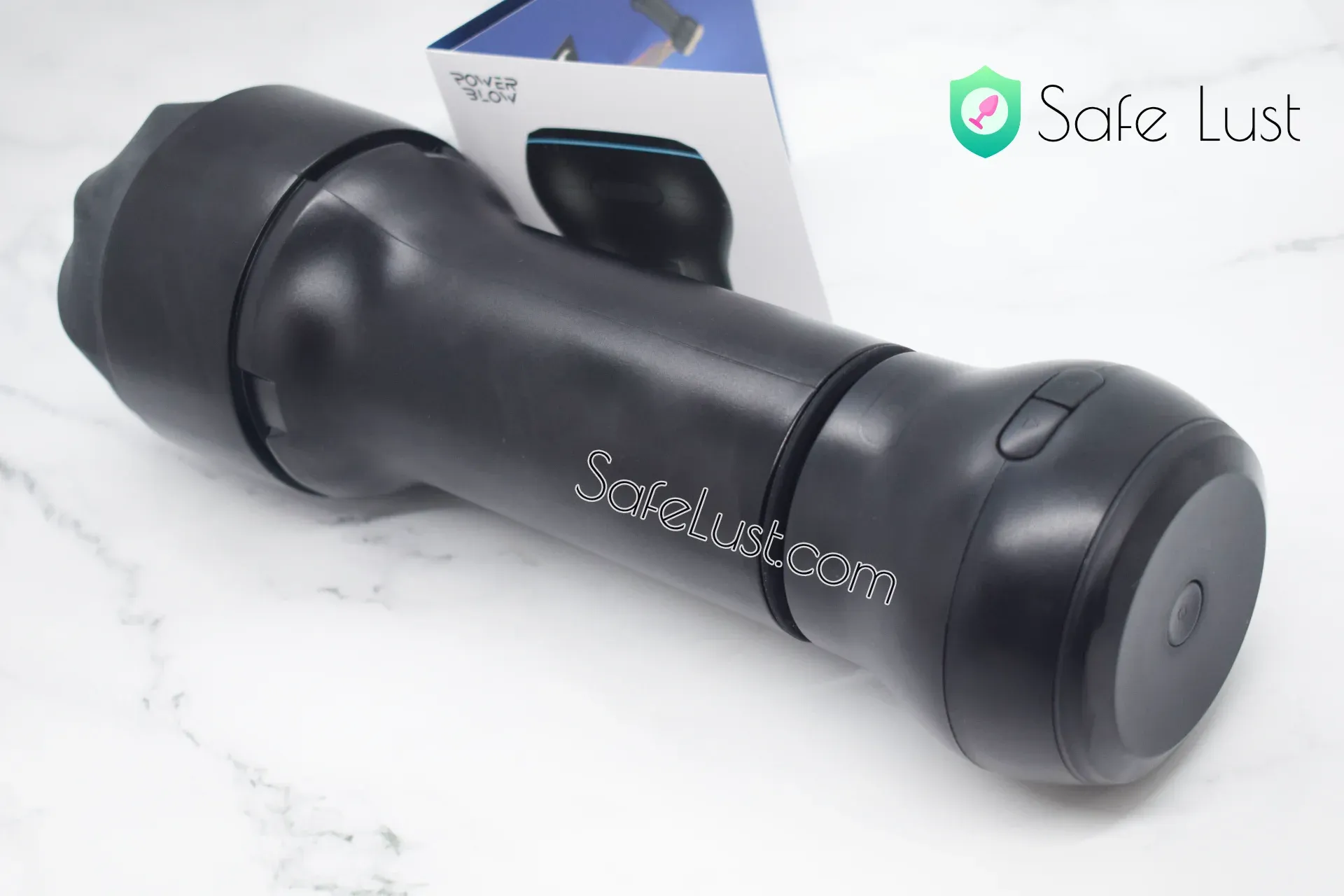 Status lights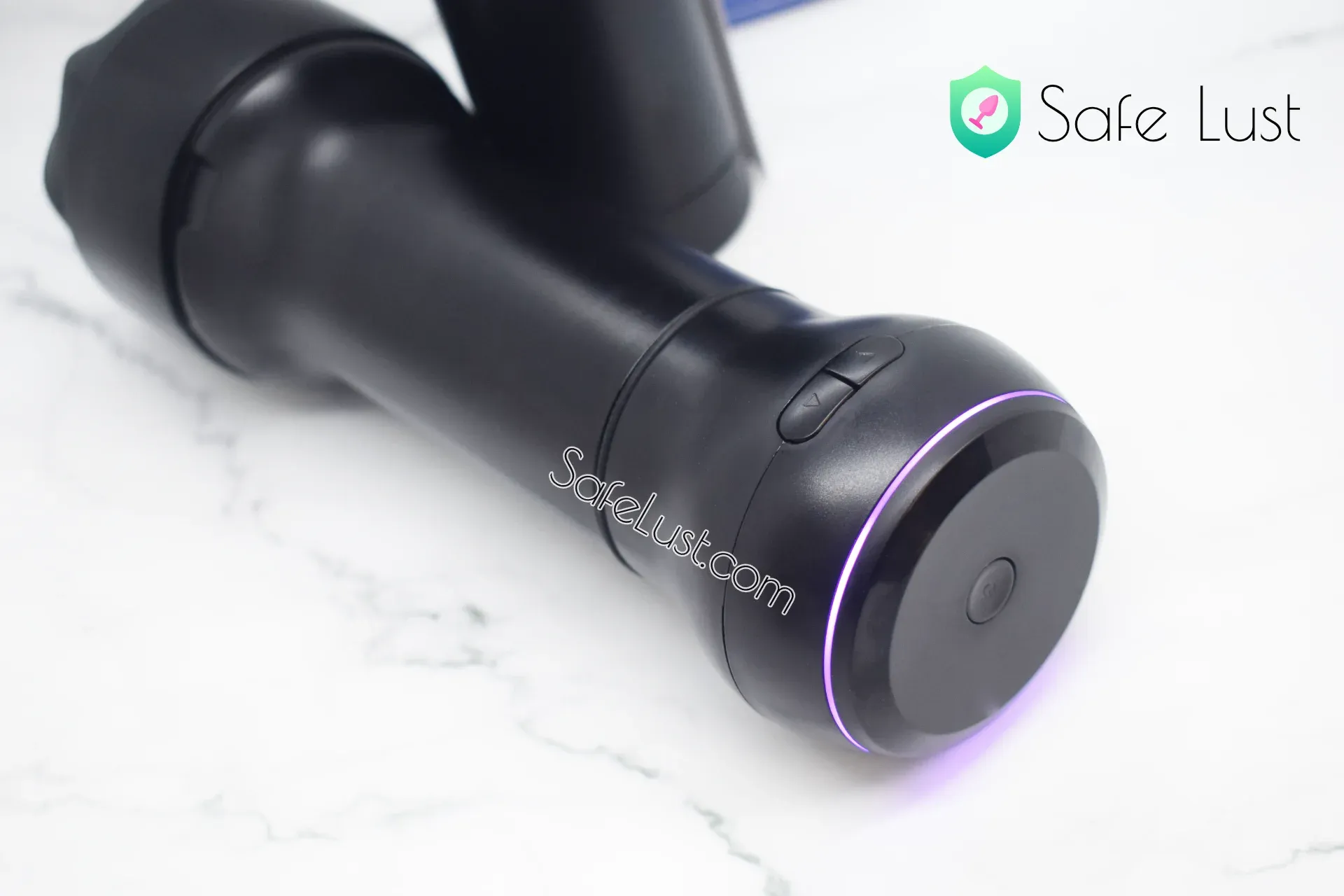 Turning on the PowerBlow you'll see different kinds of lights for the different modes. At first this confused me, it took me some time to get used to what each color means.
To turn it on: hold the power button until it turns green.
To switch between modes: hold the power button for 2 seconds.
To pause: a short press on power button.
To turn off, very long press until it blinks with a white light.
🔵 Interactive mode (Bluetooth, app-controlled)
Blinking until connected via Bluetooth
🟣 Blinking purple: Paused
Press 1x to pause/unpause
👚 Pink light: Automatic mode: automatic pattern that repeats itself
Use up and down arrows to change intensity
⚪️ Solid white: manual mode
Use up and down arrows to control the suction manually
Compatibility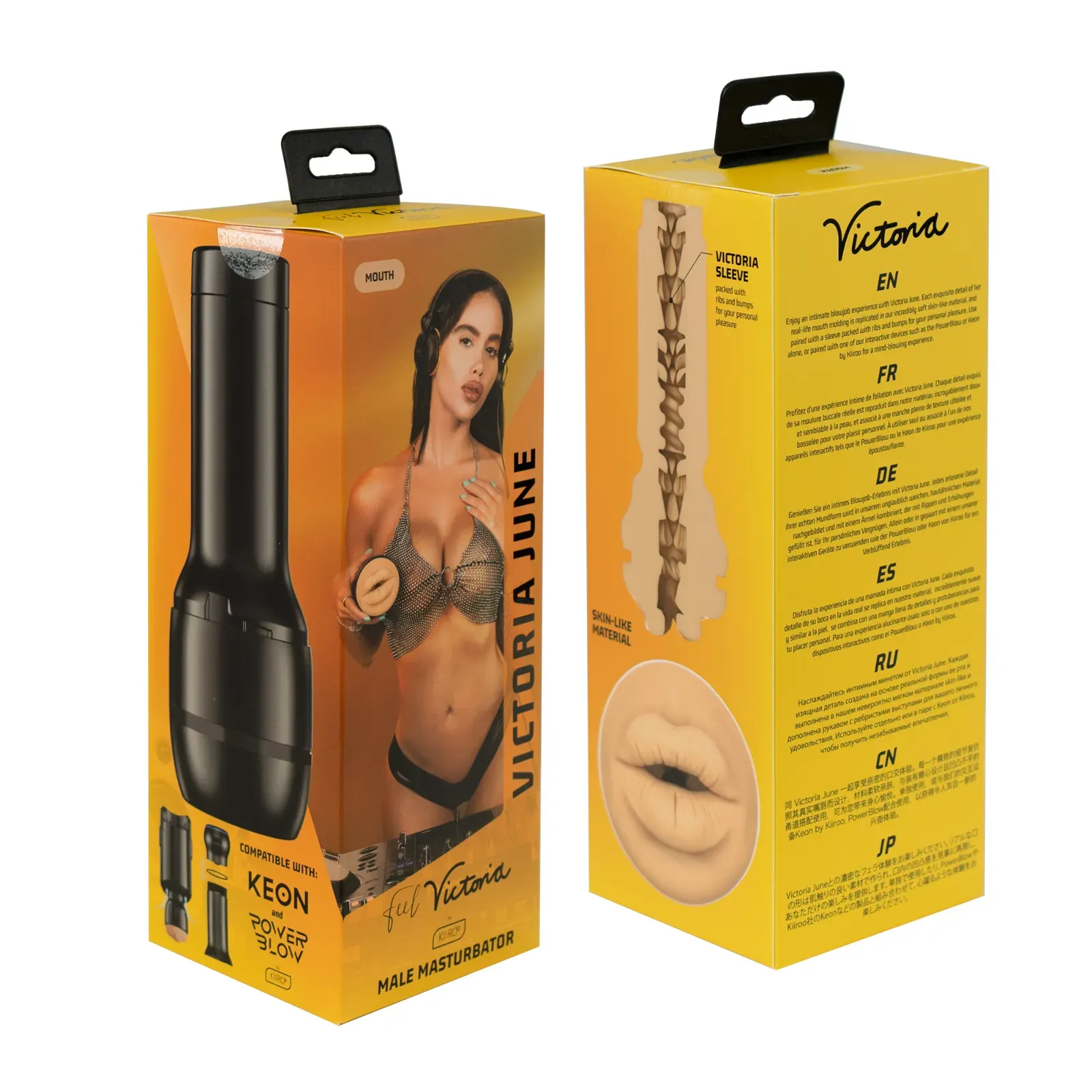 The latest Kiiroo FeelStrokers are compatible with the PowerBlow. Here's a list of PowerBlow compatible strokers:
FeelSensation – With a more discreet orifice, and natural sensations, great for Keon Porn Marathons 😎
FeelVictoria Mouth – which looks amazing for a more realistic blowjob simulation
And newer strokers
It's not that it won't necessarily work with other sleeves, but it's not designed for it, and it won't give you that ultimate strong suction experience. The compatible sleeves are designed with the PowerBlow in mind to create a good seal for strong suction.
Obviously if you're looking to recreate a blowjob experience, the FeelVictoria Mouth looks amazing!
How It Feels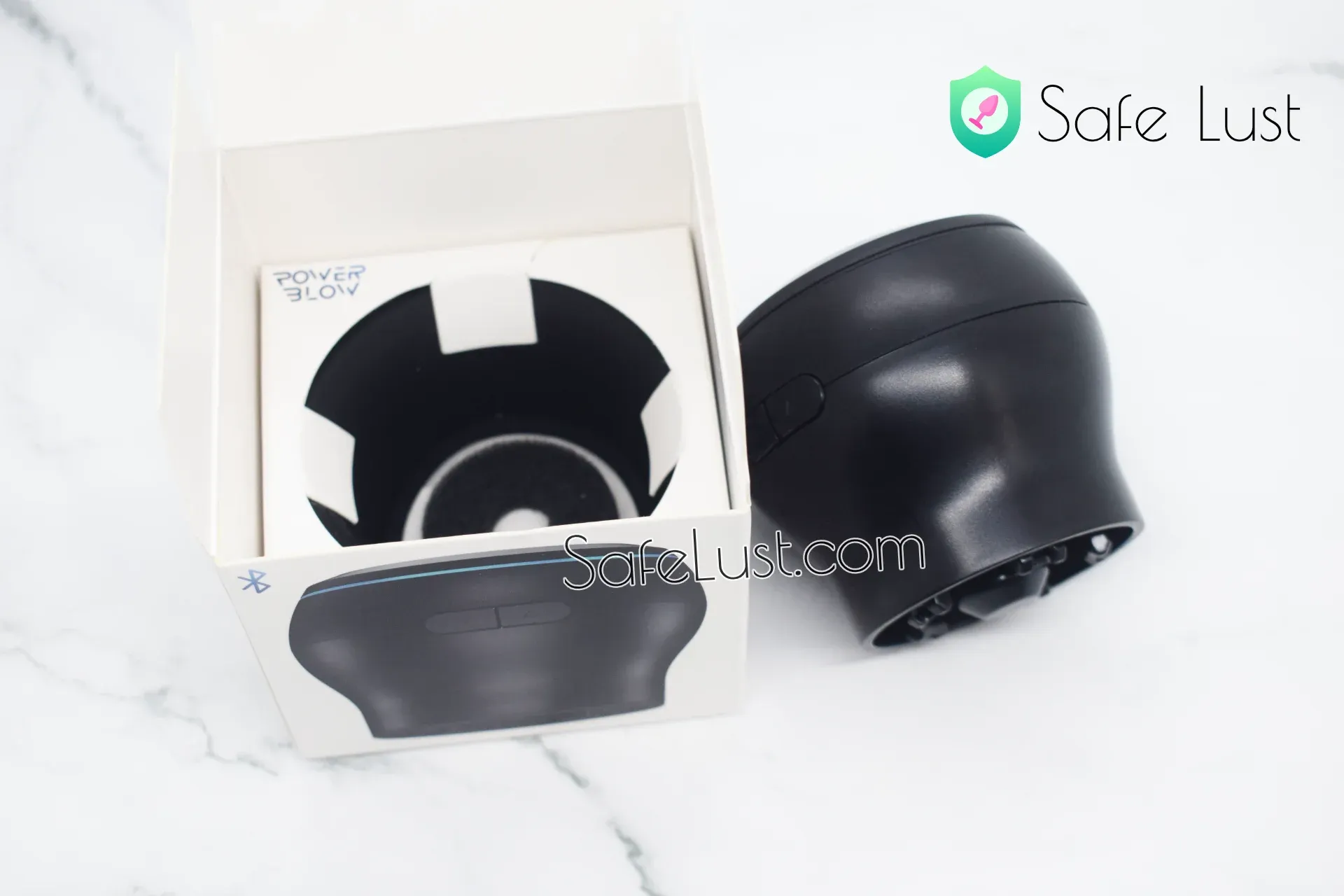 I was literally blown away by the PowerBlow 🔥🫦. I read some mixed reviews on Reddit so I wasn't sure what to expect, now I have a much better picture, let me explain why this little device is so revolutionary.
Using a FeelStroker by itself is a nice experience, however you might be looking at ways to make it even more exciting, and automatic. That's one of the reasons people get a Keon 😏. However, what if you could enhance your pleasure simply by adding a small device to your strokers?
The PowerBlow is so much smaller than a Keon, and jeez, it delivers real pleasure when used right.
How the PowerBlow feels like with the FeelSensation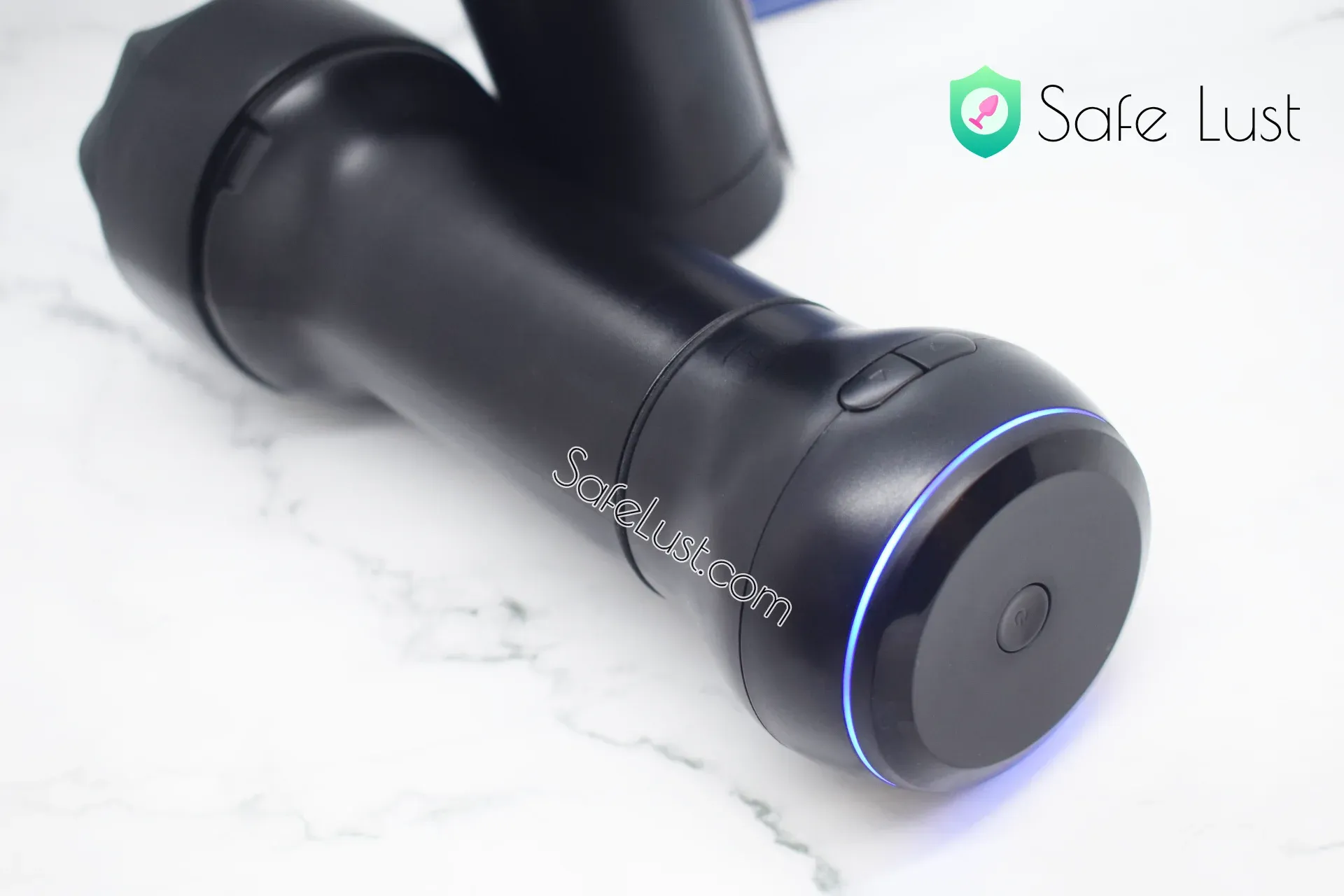 Entering the FeelSensation, instantly I could tell the sleeve felt much tighter 😳. That's due to the cup insert you have to add to the case which allows it to create a good vacuum.
Friction during penetration
There was more friction when penetrating with the PowerBlow, so I had to use much more lube. This made it feel tighter as well. If you try to penetrate deeper while the PowerBlow is maintaining its suction, it won't let the excess air out. This makes it harder to penetrate it deeply.
However, this is completely normal 😌! Think about the Tenga CUPs, if you put your finger on the vacuum hole, it will be almost impossible to push your way in. That's how vacuum suction works. What you'll want to do instead is, either lower the strength of the suction so you can penetrate it more easily, or time your penetration so you go in deeper while it is sucking you in and letting air out.
The suction aspect is strong and realistic 🔥
With that out of the way, while the FeelSensation does not feel like real lips, a real tongue and a real blowjob, the suction aspect itself is quite realistic. After all, suction in a blowjob, is the same as in the PowerBlow, just suction!
Being bound with a PowerBlow during a pegging session 🔥
On the stronger settings, the PowerBlow clearly pulled me in deeper and deeper, almost working it all by itself. This makes for a great, easy-to-setup milking machine. I mean, imagine being bound with a PowerBlow 🫦 during a pegging session 😏? Granted, it's not for everybody, but that sounds super hot 🔥. Lots of options for solo or partner play.
Double hands trick
Here's a trick: try holding your FeelStroker with both hands during penetration, this way you will have a better grip and it makes it easier to penetrate with the strong suction going on. Do this at a fast pace, and it'll be hard to last long, it's 🔥.
Using the PowerBlow manually with a FeelStroker means it's easier to control your rhythm along with the suction. My FeelSensation+PowerBlow session felt much better than a FeelSensation-only session. It looks like the PowerBlow is in for some heavy use 😎.
This small device has a powerful pleasure-effect, and I can easily recommend it unless your FeelStrokers already feel too tight, or you need a super discreet toy, as there is some extra noise involved.
Noise level
I've read some reviews mentioning the PowerBlow to have regular noise levels, and some others mentioning it is super loud. I was afraid it would really be that loud, but I was pleasantly surprised.
Everybody's standards about noise is different. I'm happy to say the PowerBlow doesn't feel loud to me. I've tested many toys, and even mapped their noise levels. The PowerBlow is well in the average of what is normal for sex toys.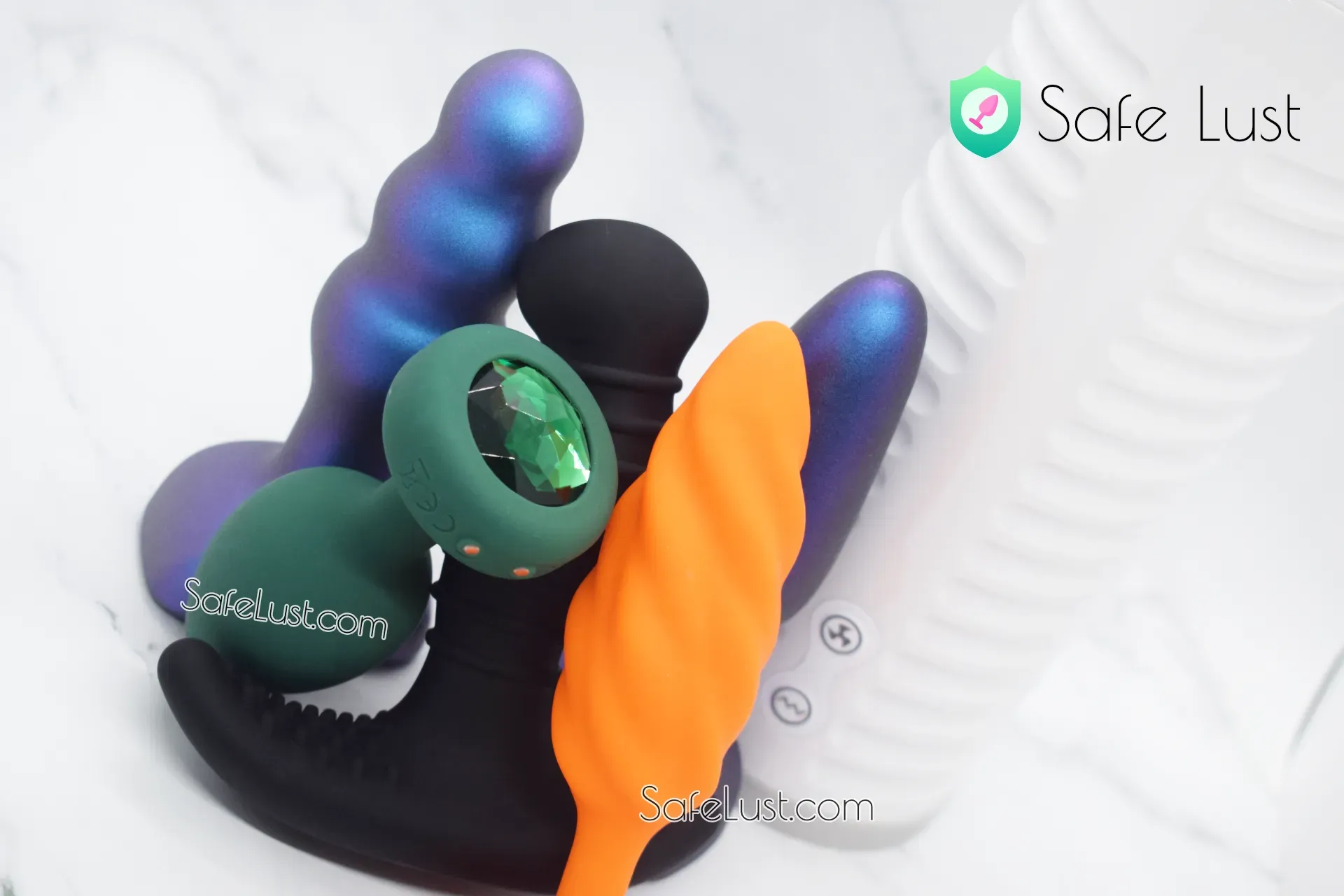 Another sex toy I reviewed with an air pump is the Lovense Max 2 – it is very noisy, much noisier than the PowerBlow. The PowerBlow feels so quiet compared to it. I don't know how Kiiroo pulled it off, but great work!
Even if you feel it is noisy at 80-90% power, you can simply reduce the power level to 40-50% which still feels amazing, and it really is a very acceptable noise level. If you live in a dorm? The lower power levels should do the trick as it is similar to very low-level vibration noises from other toys.
That's it for the PowerBlow device noise itself, but the PowerBlow does make penetrating the FeelStrokers noisier. There's more sloshing sounds going on with the lube inside the suction area. Think of it as wet masturbator sounds. With slower penetration you should be able to avoid too much noise.
How the PowerBlow feels like with the Keon
Okay Kiiroo, I have to say I'm really impressed so far. The FeelSensation+PowerBlow combo really is 🔥🫦. What if we put it to the test with the Keon?
There are multiple ways to link the PowerBlow and the Keon together. The recommended way is to link the PowerBlow as a secondary device of the Keon through the FeelConnect app. That way when the Keon moves, the PowerBlow also magically reacts.
FeelMe AI
Unfortunately that doesn't work for FeelMe AI just yet, so you'll have to use the automatic or pattern mode for PowerBlow while having the Keon reacting to FeelMe AI. I hope to see the PowerBlow also being supported with FeelMe AI in the future.
My experience with the Keon
How was my experience with the Keon? To be honest, mixed, and more tricky to get right! While the PowerBlow is holding the vacuum, it is difficult to penetrate with the higher power levels. In turn this translates to the Keon pushing away from your body, ending up with less penetration.
I'm exaggerating it here, but this does happen. That means you'll have to use some strength in your arms if you don't want the Keon to move away from you. There's an easy fix though! Lower the power on the PowerBlow to around 40-60% and it will work fine. That's still enough for it to feel great.
Custom Patterns
Still want more power? There's another way to make it work. Create your custom pattern that matches your rhythm. You can define how long you want it to suck, how long you want it to hold the vacuum, pause, and so on. It took some trial and error, but in the end I was very satisfied with this combo.
Overall, more first time setup is needed when used with the Keon to get it just right, but when you do get it right, it's a very welcome addition to the Keon. There's a learning curve.
PowerBlow standalone or with the Keon? 🌟
Do I prefer the PowerBlow standalone or with the Keon? The suction effect feels better when used standalone, as you have more control on the rhythm of the suction and stroking. However, if you do have a Keon, I'd still recommend using the Keon+PowerBlow combo. Sure, you won't reach the maximum potential of the suction pleasure, but it is worth it to have the automatic stroking at the same time.
One thing is sure: the PowerBlow is worth it, with or without the Keon. And if you don't have a Keon, it will be a huge improvement 🔥.
Automatic balls tickling 😆?
We have automatic stroking, automatic suction, what is next, automatic balls tickling 😆? I can't wait to see what Kiiroo brings out next. They are really innovative and pushing the boundaries of the sex toys market.
Bluetooth App-Controlled Suction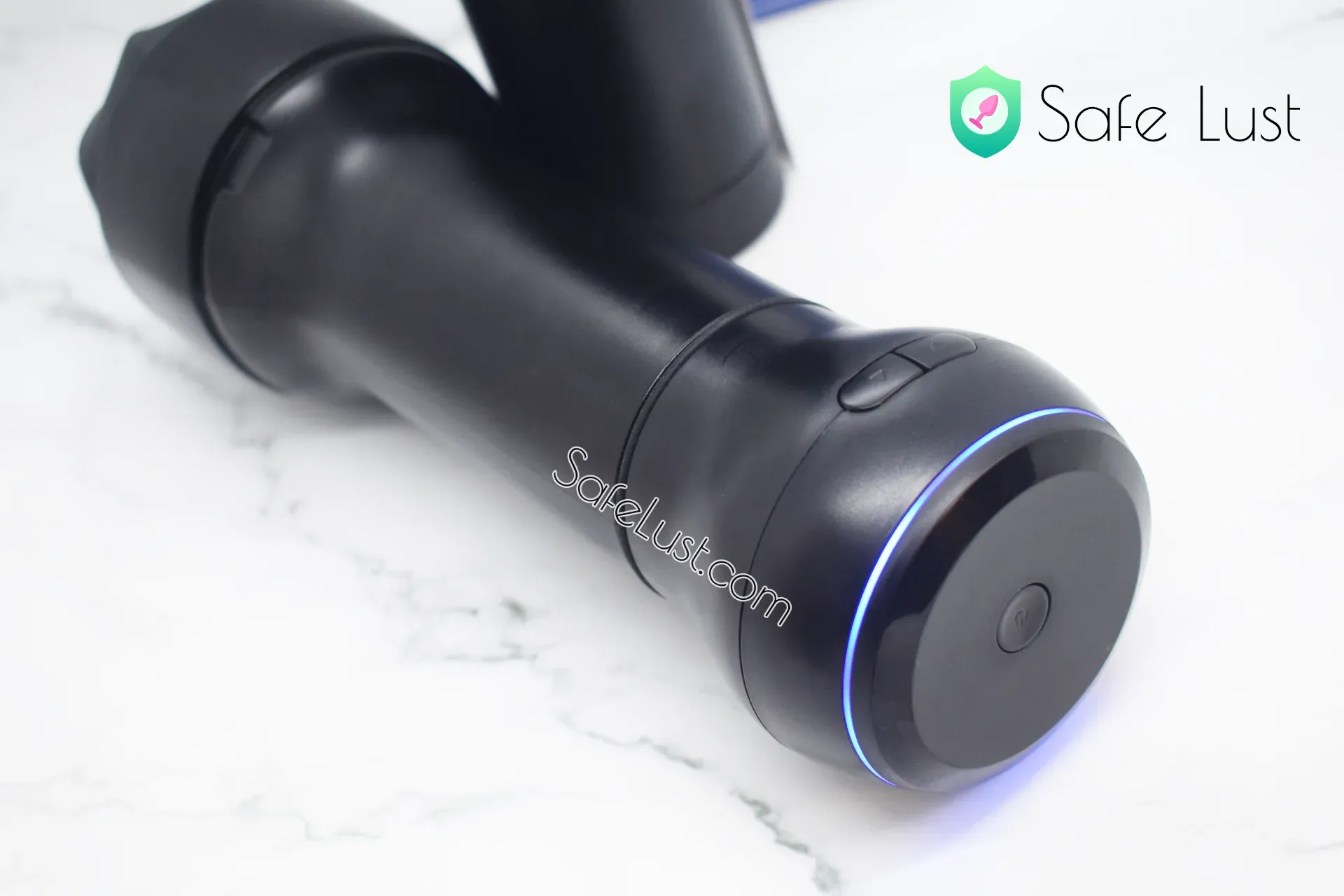 The FeelConnect app works wonders with the PowerBlow. Custom patterns are easy to make and have lots of pleasure potential.
You can also sync it to music, just like with the Kiiroo Lumen. However, it isn't clear to me how that exactly works. It seemed to have a constant amount of delay between suctions. I don't see too many uses for syncing it with music so far.
The strength is in the patterns making, you can customise the suction power, suction time, vacuum hold and pause time. Experimenting with these settings can give some great, very pleasurable patterns.
Cleaning & Maintenance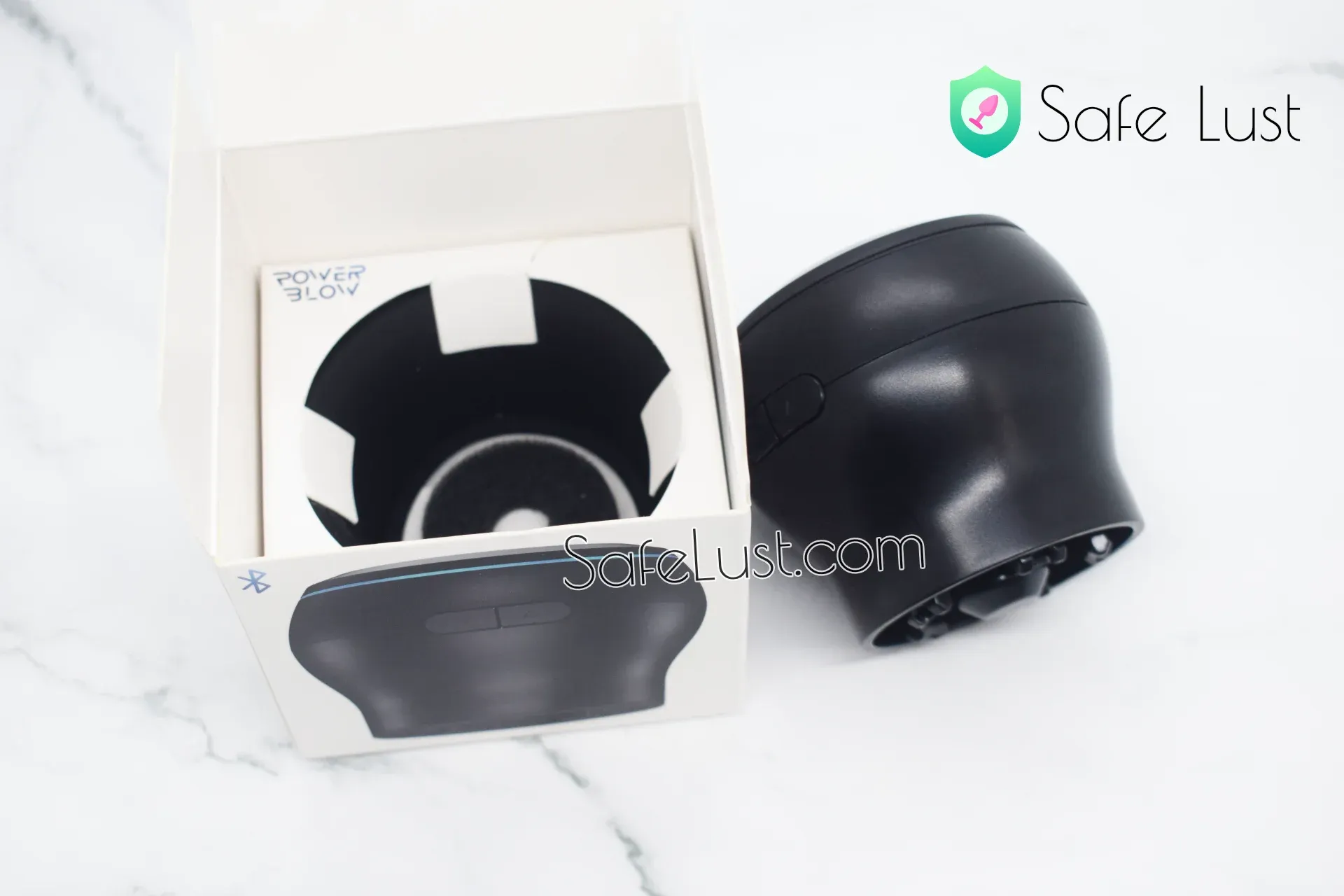 Well.. which cleanup? There's almost no cleanup involved at all 🌟.
With the FeelSensation, even when I was adding tons of lube, there's very little that actually dripped to the base of the PowerBlow. That means I cleaned up the FeelStroker as usual, and the PowerBlow didn't even need any cleanup 🥰!
Out of the many trial sessions, I did end up one time with exactly one tiny drop of lube that got to the PowerBlow. It was so easy to clean with a tissue.
The PowerBlow does have a foam ring inside. Unscrew those plastic spikes on the insides and you can replace the foam ring if needed. It's there to absorb any lube that escaped. So far, at least with the FeelSensation it didn't have to absorb anything.
Should you get it?
The PowerBlow is a clear recommendation. It will strongly enhance the pleasure of your FeelStroker sessions. Think of the Tenga Vacuum CUPs' amazing suction, but then app-controlled with custom patterns and re-usable. It's small, with average noise levels, and very powerful 😎.
Don't have a Keon yet? That's fine. I found the PowerBlow has a very strong impact when used without Keon 🔥. With a Keon, it will also enhance pleasure, but not by as much as it would when used standalone.
For a more realistic blowjob feeling 🫦
If you're into blowjobs, and suction, the PowerBlow is a no-brainer. Definitely also get the Victoria Mouth stroker if you want a more realistic blowjob feeling 🫦.
I recommend that you first find a PowerBlow-compatible FeelStroker that suits you. If you feel comfortable in it, not too tight, it should work out great for you.
However, if your FeelStroker already feels too tight for you, the PowerBlow might not work out as it will get even tighter – which can end up uncomfortable.
Who is it not for?
If the PowerBlow-compatible FeelStrokers feel too tight for you, skip the PowerBlow as it will only get tighter!
It's a machine so some noise is to be expected. The noise is very acceptable on lower levels, and it is less noisy than the Keon. If you need 100% complete silence, then the PowerBlow might not work out for you.
The PowerBlow does make the penetration sounds with your FeelStrokers slightly louder, think of it as sloshing, lube sounds 💦.
Alternatives
Looking for masturbators with strong suction? The Tenga CUPs have a hole which you can cover with your finger to create very strong vacuum suction. I would say its vacuum suction – while not being automatic/app-controlled – is almost on-par with the PowerBlow.
The Tenga CUPs suction barely allows you to move, but do not worry, the amount of suction the PowerBlow gives is more than enough and gets pretty close.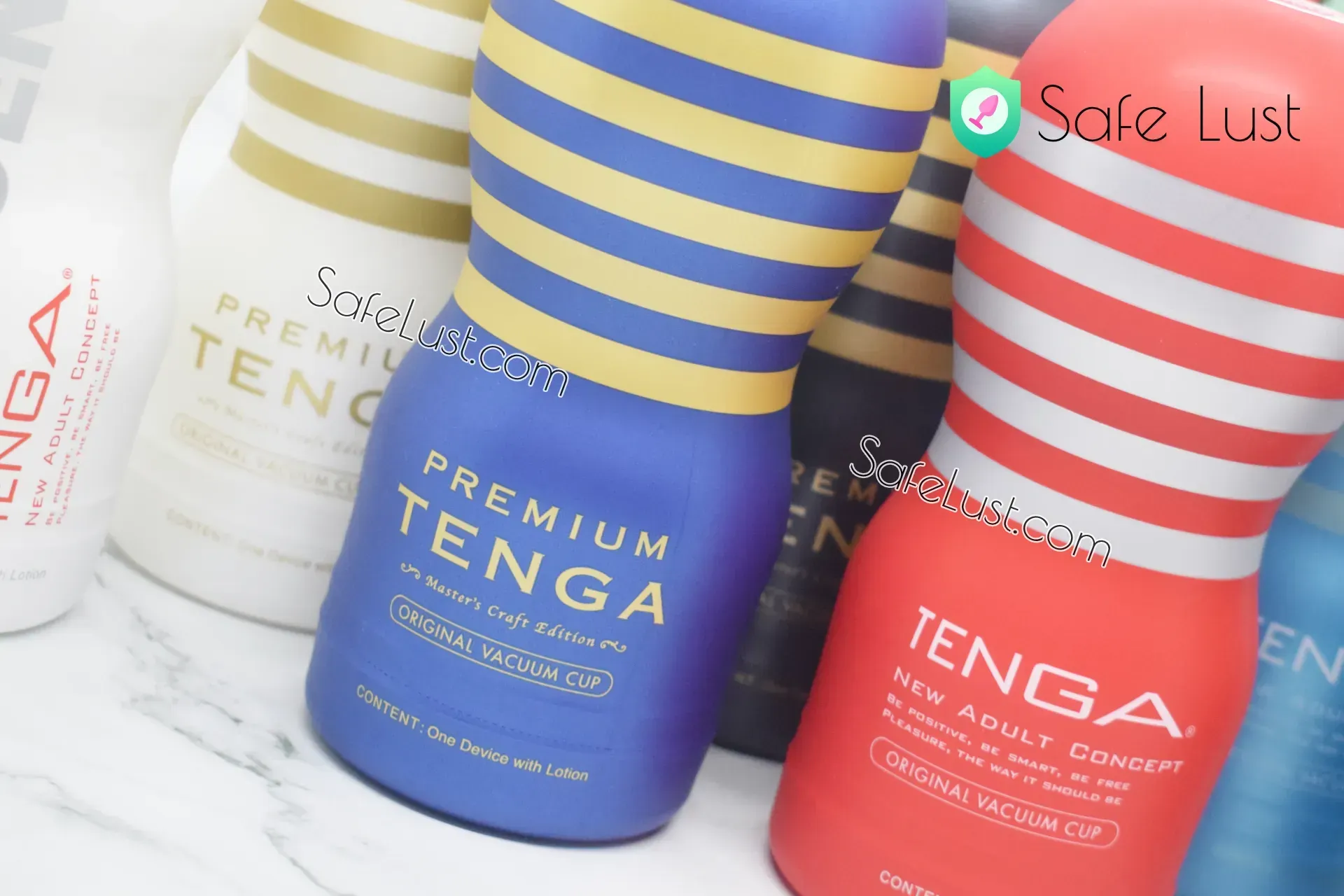 Not sure which FeelStroker to get? Here's a FeelSensation stroker review – it is compatible with the PowerBlow and it can help you understand whether the FeelSensation would be right for your needs.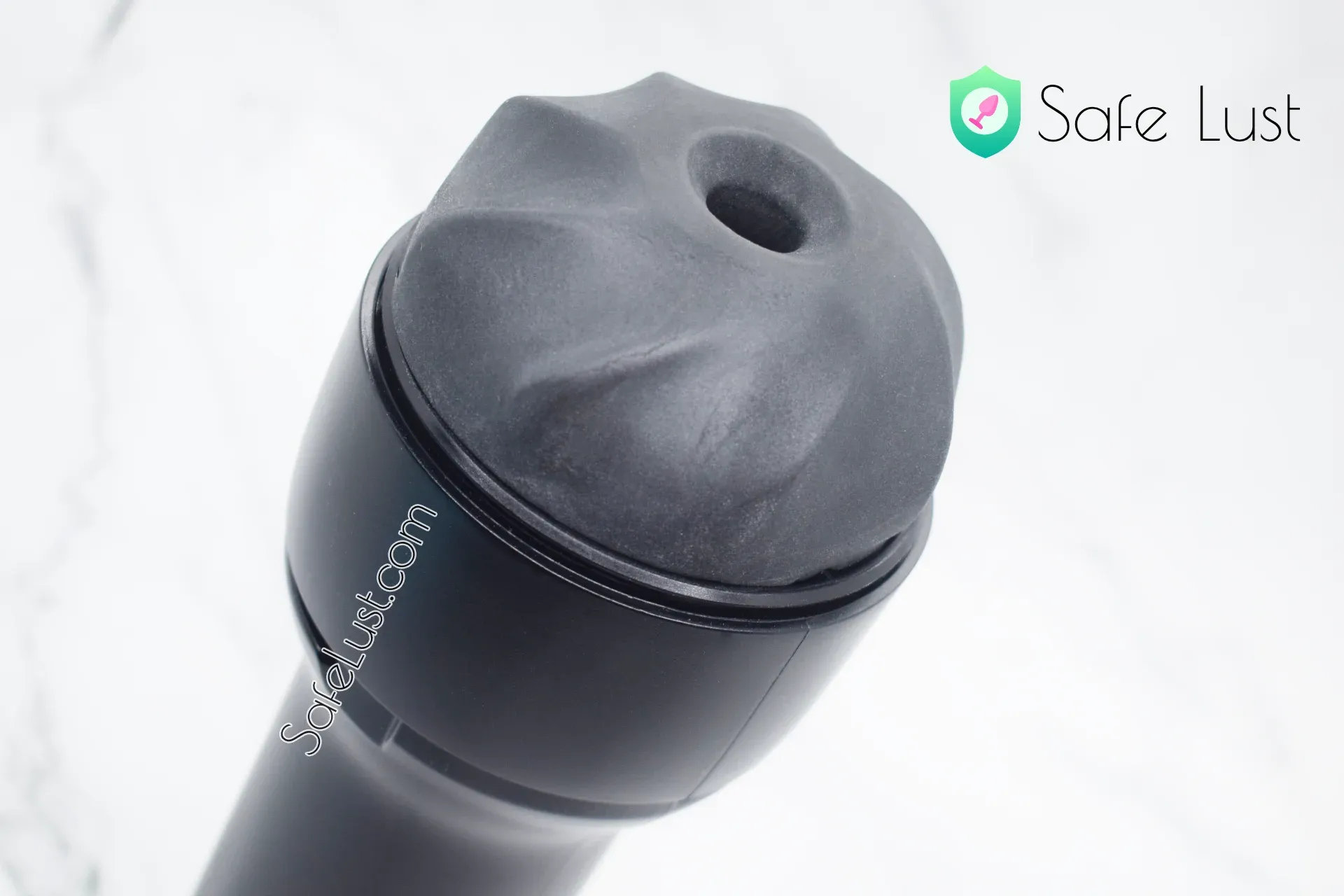 If you want a FeelStroker with lips, go for the Victoria Mouth which was released roughly at the same time as the PowerBlow.
Pricing
The PowerBlow comes in at around 70USD/67EUR. That's a fair price for a smart, app-controlled device with an air pump which delivers great results.
💸
Save some money on your purchase with discount code during checkout:
SAFELUST

Thanks Kiiroo for providing this discount to our readers!
Summary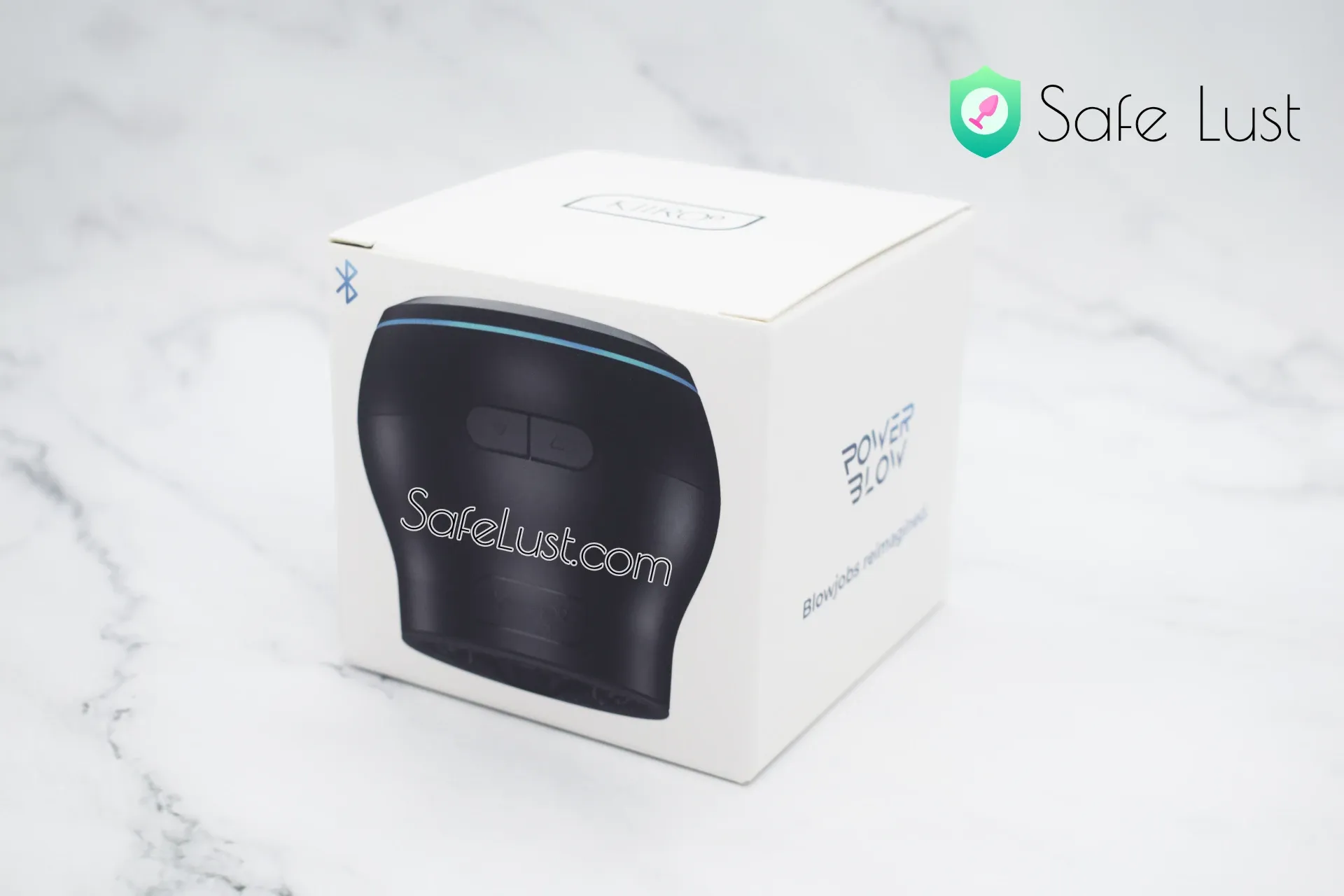 The PowerBlow sure surprised me. Its vacuum is stronger and less noisy than I expected. It gave me some of the feelings that come with real blowjobs. Paired with a FeelStroker or with the Keon, it feels great and I'll use it again.
I'm very excited to see Kiiroo once again pushing the boundaries of the Sex Toys market with more innovations.
🚀 Never miss new toys 🚀
Sex Toy Reviews straight to your inbox
By subscribing, you agree to the Terms to receive Safe Lust promotional and marketing emails.

No spam. Unsubscribe anytime.