Fun Factory Manta Male Masturbator Review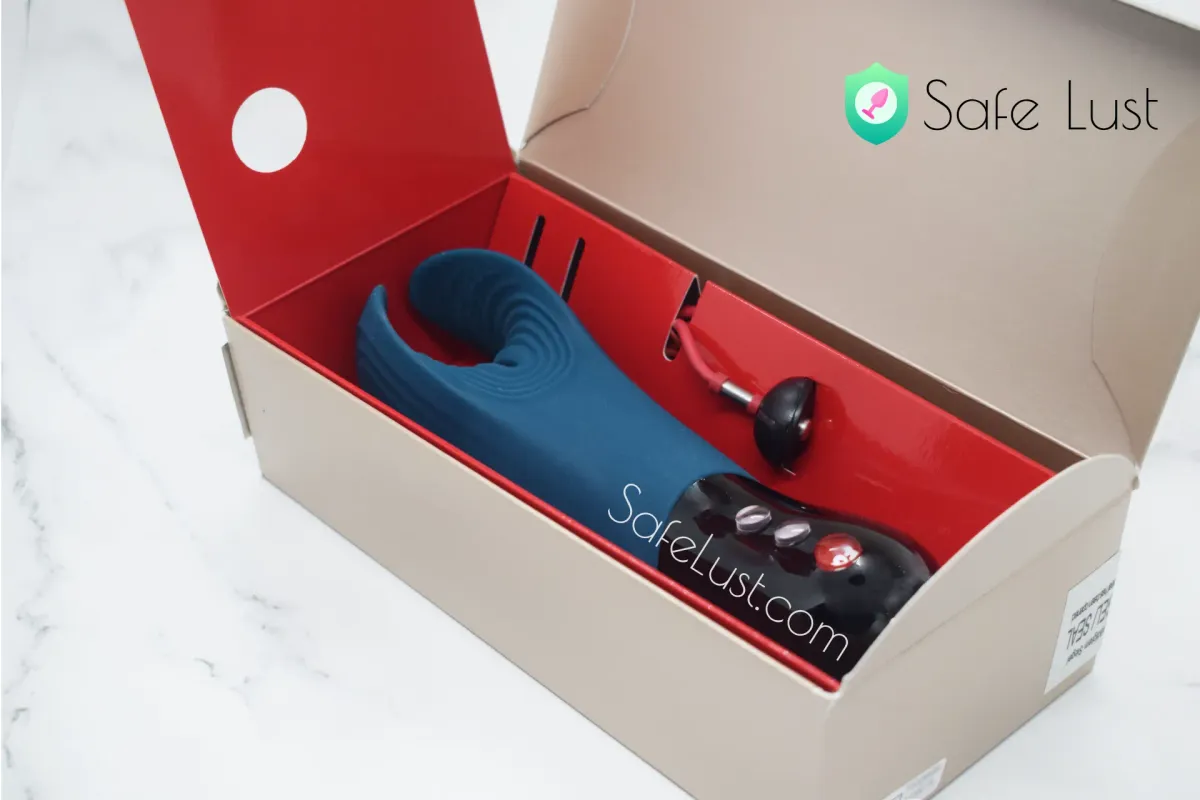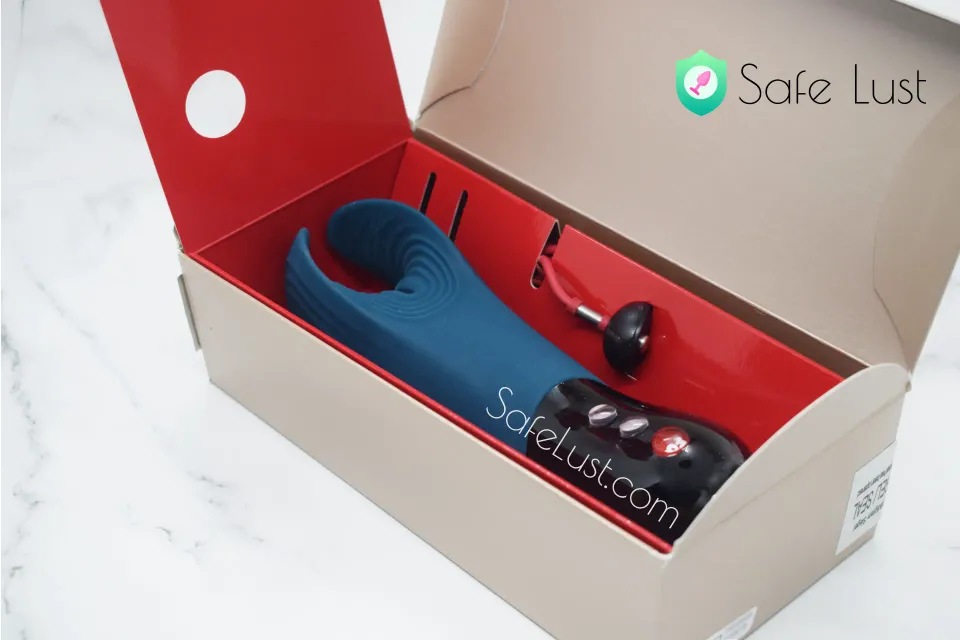 The Manta is a strangely shaped male masturbator 😜. I was even doubting at first whether I should get it! That's at least until I figured out the following... 💡
There's one big annoyance with typical male masturbators – that's the clean-up. Nobody wants to spend more time cleaning up after they enjoyed themselves.
What about the Manta? Well, there's no interior parts that need to be cleaned. It's waterproof and silicone (not TPE!) means it's easy to wash and dry, as easy as a dildo 👌! Rinse with soap, wipe, and you're done.
Does it really feel as good as internal masturbators though? A vibrator for penis owners? Well it turns out, it can feel really good, even when you're not focusing on penetration.
Packaging
The Manta comes in 3 colors: black, deep sea blue, and moss green. I bought the deep sea blue version. It comes in a typical fancy Fun Factory packaging.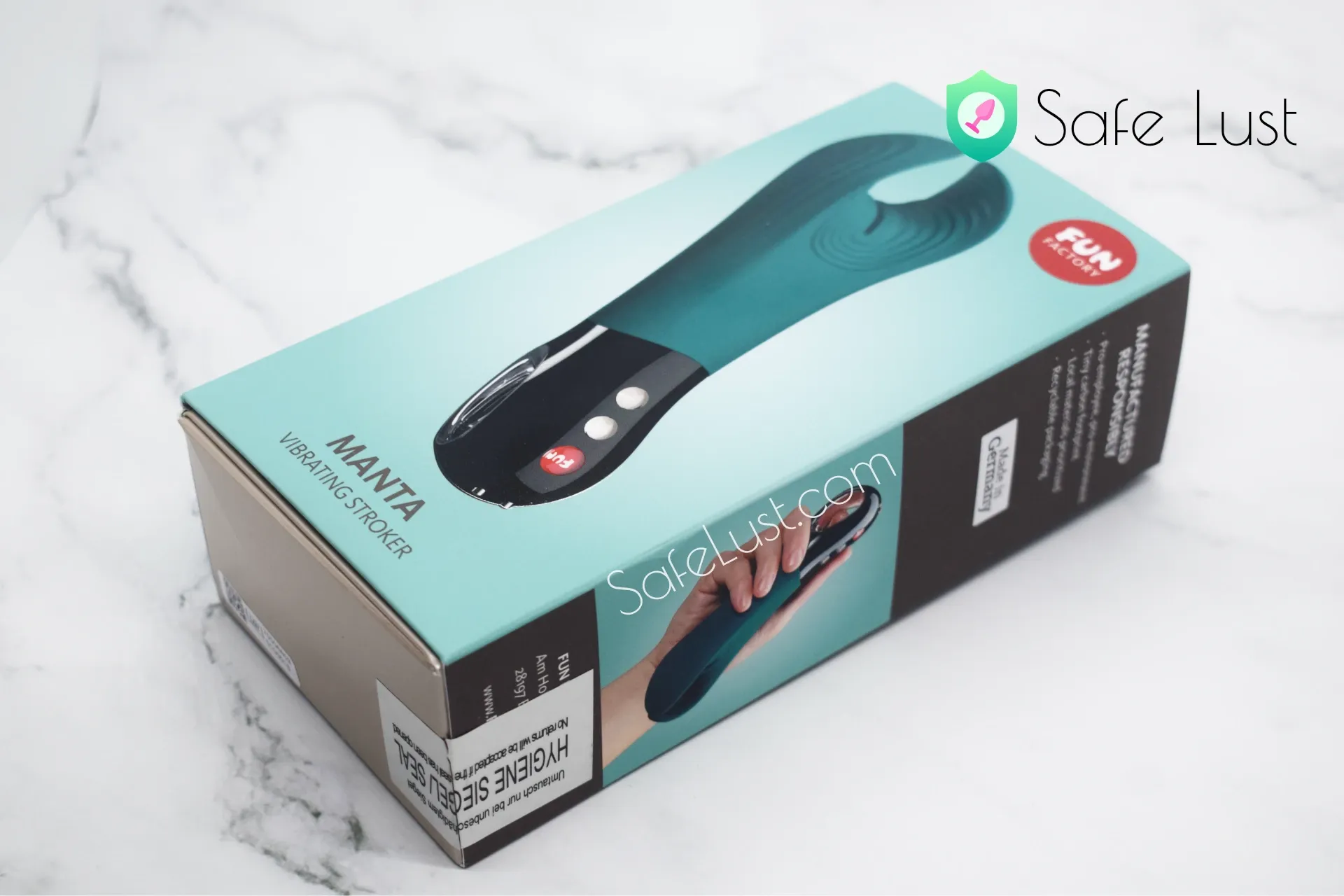 Inside the packaging, you'll find:
A welcome guide to the Manta along with some suggested sexy games
The Fun Factory Manta (obviously)
A magnetic USB charging cable
I have to say, many other sex toys have beautiful packaging, but the Manta is on another level 😎. The experience of unboxing and viewing the Manta for the first time feels very luxurious. Up to the moment you hold the Manta in your hand, you can feel the heft of its weight – it feels like pure quality sitting right in your hand. The unboxing is a strangely erotic experience by itself with the Manta 🫢!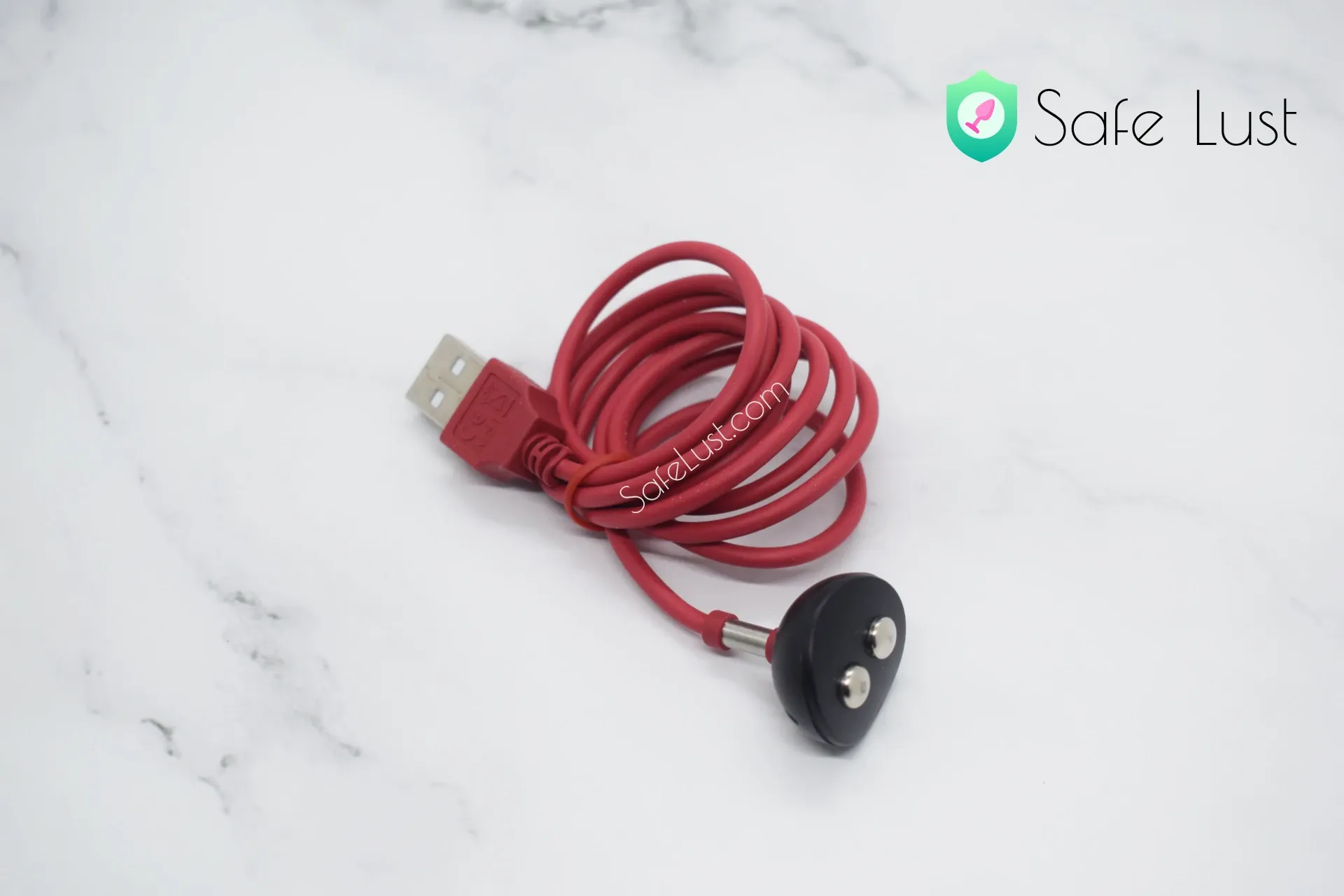 Even the magnetic USB charging cable feels luxurious.
Hygiene Seal
This is something I'm hammering on in every review. Adult toys are hygienic products, they need to have a hygiene seal! Props to Fun Factory – so far, all their sex toys always had a hygiene seal 🏆. Fun Factory is really cool for making this a standard for all their products 😎!
The hygiene seal here is in the form of a sticker that sticks against two edges of the box.
Shape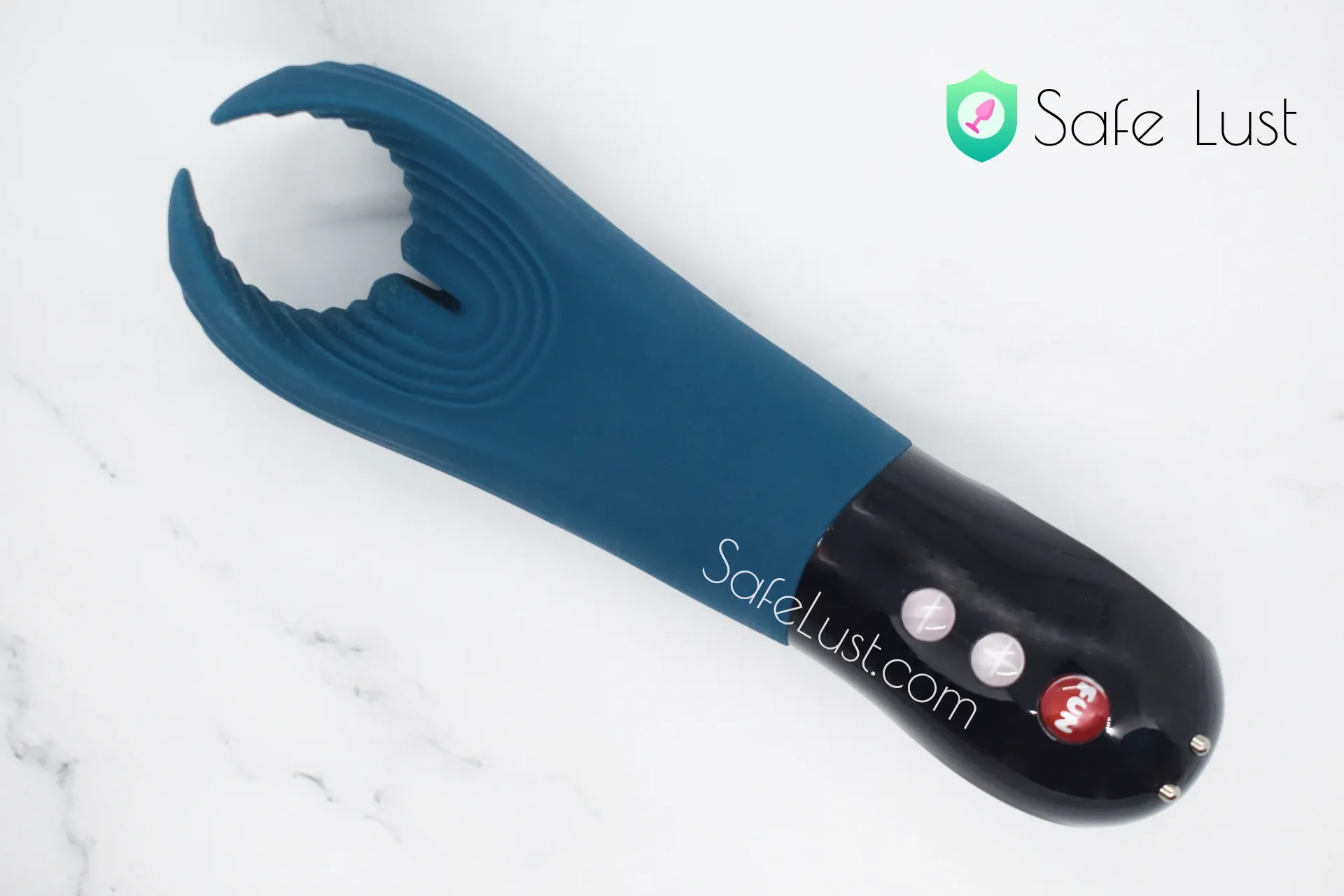 Where do I even start 🤔? The Manta has a very unique and weird shape! It has two wings which somehow remind me of a crab. Along with the wings, there are many ridges with the purpose to keep the lubricant on the toy.
Looking a bit further there is also a gap between the two wings. My theory is this has 2 purposes . First, it allows the left and right wings to move/vibrate in a stronger way as these are less linked to each other. Second, it allows you to have pinpoint vibrations on your frenulum.
We didn't talk about frenulum vibrations yet, right? Let's keep that for later, because - let me tell you, those are damn good!
Size
Apart from the clean-up, the size is a huge advantage of Fun Factory Manta. Since it has two open wings, it can fit a wide range of penis sizes without a problem 🤩. This is very unlike masturbators such as the Fleshlight, where the toy must be able to fit your penis size 😣.
Personally, I do struggle with finding the right size Fleshlights as some textures are too tight. If it's a Fleshlight Girl sleeve from a favorite pornstar, I'll still use it whether it's too tight or not. The good news is, with the Manta, you don't have this issue at all 😌.
The Manta will fit your penis size – you don't have to worry about it unless your penis is as large as your leg 🧐.
Features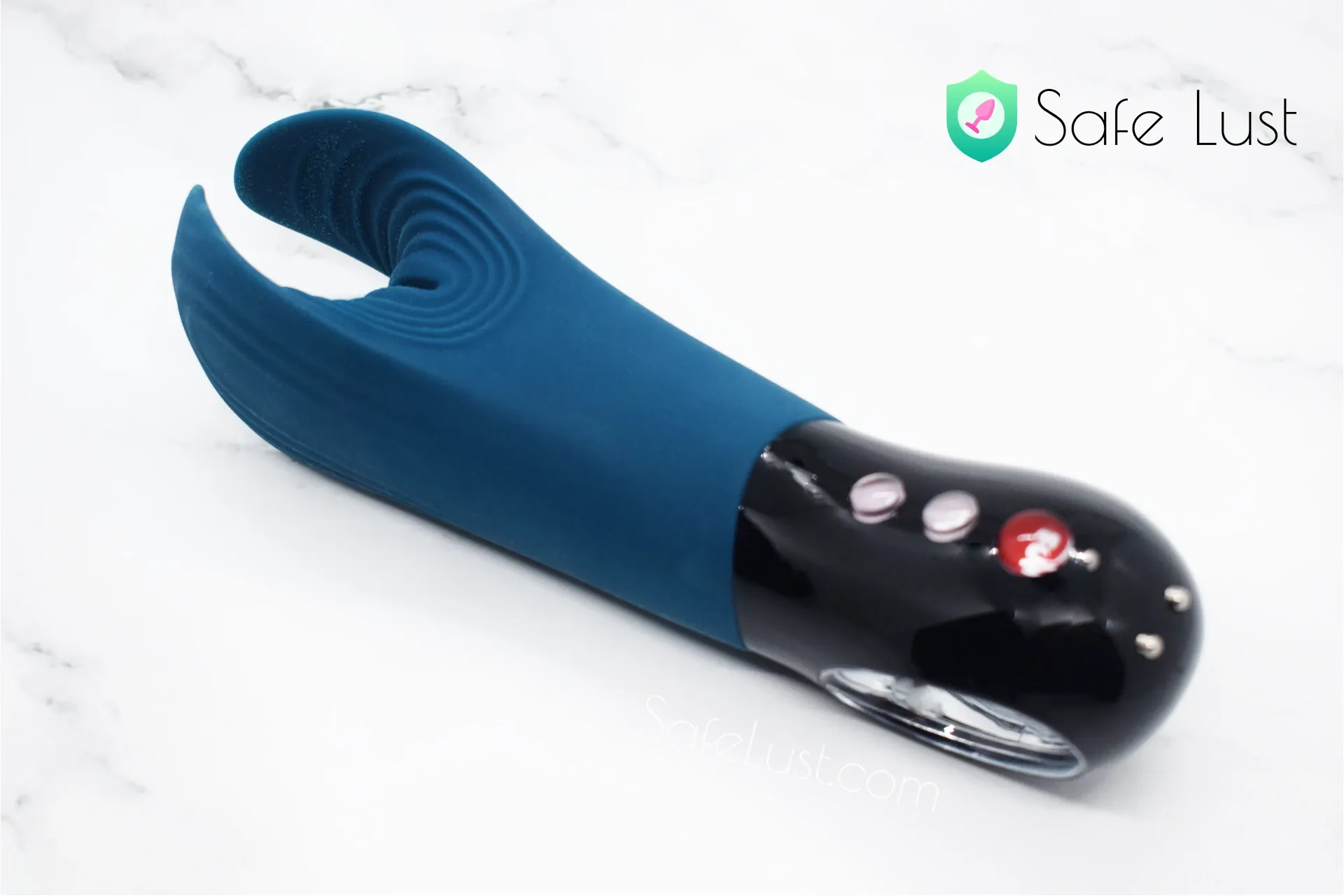 Fun Factory Manta Buttons
The Manta buttons are different from most toys. There are three buttons:
MINUS: Previous steady vibration pattern (kind of – see next part)
PLUS: Next vibration pattern
FUN: Press for a short time to turn it on. Press shortly to turn it off.
The minus and plus buttons are confusing at first 😐, as the way I see it, they're more reset/next vibration pattern buttons. There's no way to actually choose one vibration pattern and lower the vibration intensity. Instead, you can change to another softer vibration pattern.
The minus button will be more clear when viewed with the vibration patterns.
Vibration Patterns
I've carefully compiled all the vibration patterns into the image below. Vibration patterns 1-4 are constant vibrations that range from low to high intensity.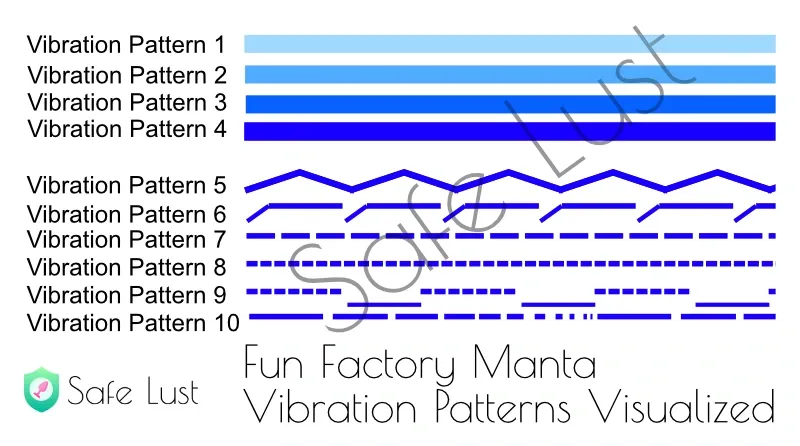 There are two kinds of vibration patterns. 1-4 are steady vibrations, while 5-10 actually have their own unique pattern. When pressing on the + button of the Manta, you'll go to the next vibration pattern.
The minus button however works differently:
Pressing minus on vibration pattern 8, you will end up on vibration pattern 4 (reset to the steady vibration pattern group)
Pressing minus on vibration pattern 3, you will end up on vibration pattern 2 (one level less intense)
The reasoning behind this could be that the minus is an easy way to get to a more discrete vibration intensity in case somebody is nearby! Since there is no real previous button there is a chance you'll find yourself cycling through all of the patterns to find your favorite.
It is a more complicated design that allows the Manta to be used with only 3 buttons 🥲.
Travel Lock
Here's a feature every sex toy should have – a travel lock 🌟! Press the MINUS and FUN buttons at the same time for two seconds to engage the travel lock. To unlock it, press the PLUS and the FUN button at the same time for two seconds.
This way, you don't have to worry about your Manta randomly vibrating during your flight or train ride. That could spark awkward conversations 🤭.
How It Feels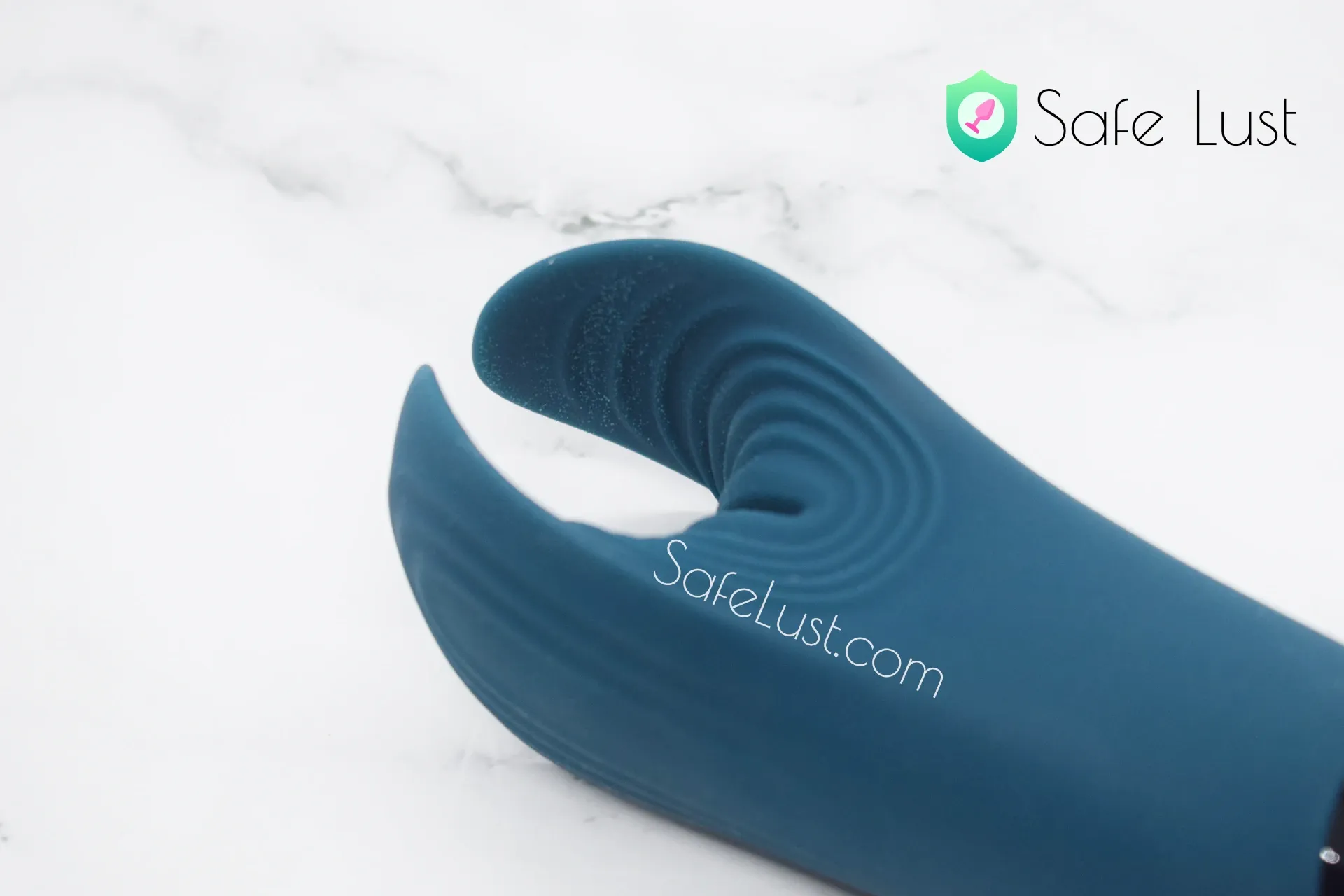 There are different ways to masturbate with your hand – I hope you've figured that out by now 😉! There are two common ways: 1- stroke your penis, or 2- softly press and release on your penis with your hand while your penis rests against your body. Haven't tried that yet? Give it a shot.
The traditional Fleshlight focuses on option 1, while the Manta focuses more on option 2.
The stroking motion is not the highlight of the Manta, rather the vibration on the shaft, glans (the head of your penis), and frenulum (the skin that connects the foreskin to the glans) feels like fire 🔥. The glans and frenulum specifically are very delicate and sensitive to these kinds of vibrations which heightens the sensations.
Now this depends from person to person. During any kind of masturbation session, I really enjoy any kind of frenulum stimulation. And masturbating in the second way described above is something I can enjoy. If you're not into this, the Manta might not be for you – or you might have to learn to enjoy it 😏.
The first few times using the Manta, I wasn't sure of the best way to enjoy it, and that's normal. The Manta is a toy that takes time to get used to. There are so many ways you can use it!
Use it as  a vibrator around your desired area
Stroke with the Manta while it vibrates
Let your frenulum get between the gap and enjoy frenulum vibrations 🔥
Leave the Manta around the base of your penis during any kind of sex with a partner – with oral sex, this can give a deep-throat feeling 🥰
How I enjoy the Manta
The Manta is a toy that really needs lubricant, otherwise stroking with it is tricky! Since the toy is waterproof and easy to clean, I love using it while in the shower.
First I give it a good wash with mild soap, then I add lots of lubricant around the wings and the gap. I then spread the wings and allow my penis to be hugged by the Manta. Turning on the vibrations gets me on fire. The rest is a combination of frenulum stimulation and stroking, all while enjoying the different vibration patterns. Once done, simply wash away with mild soap and towel dry.
The vibrations are very strong and rumbly (that's a good thing 😉), so lasting for a long time with the Manta can be a real challenge 🤭. You can make it even more challenging when using it in combination with anal toys!
I've used it many times already and I don't get tired of it!
Does it replace traditional masturbators?
Not at all. It's an alternative way of stimulation, and I honestly love both. However, if I'm in a lazy mood, the Manta is much more attractive thanks to its incredibly easy clean-up.
Material and Texture
What can I say, the Manta feels really luxurious 😎. The silicone feels top-notch, the buttons click perfectly and the toy has a good weight.
The silicone at the wings of the Manta is textured with small dots. You can see it on the photos in this review – yes that's not dust, it's actually the silicone texture ;). I assume this is to have more grip on the foreskin during stroking? You can see this on the next image.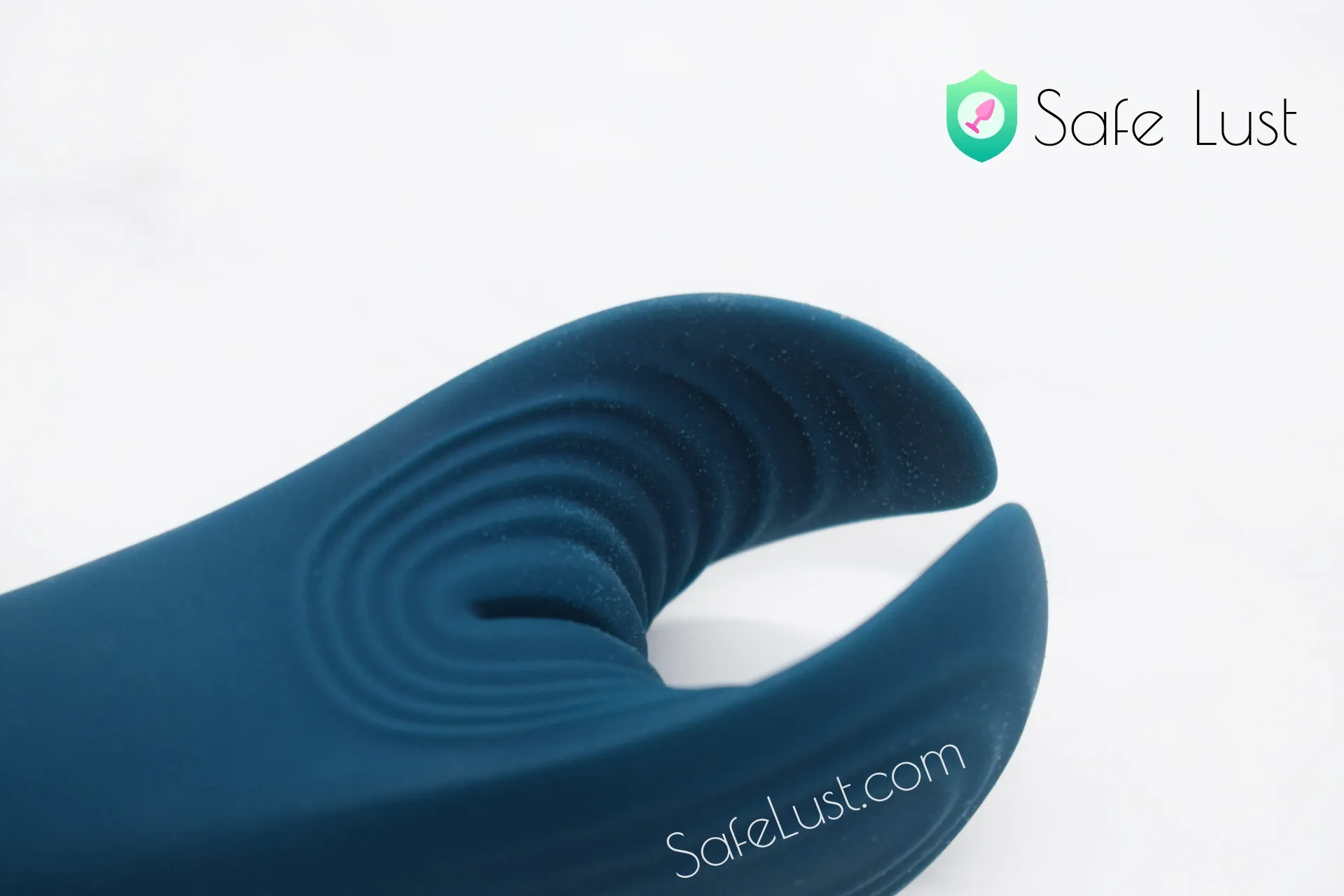 Male masturbators often come with TPE material which is harder to fully clean. I like that this is a silicone masturbator, silicone is one of the cleanest and safest materials for sex toys. Not sure what TPE is? Find out on my safe sex toys guide below. Everybody should know which materials their sex toys are, and whether these are body-safe.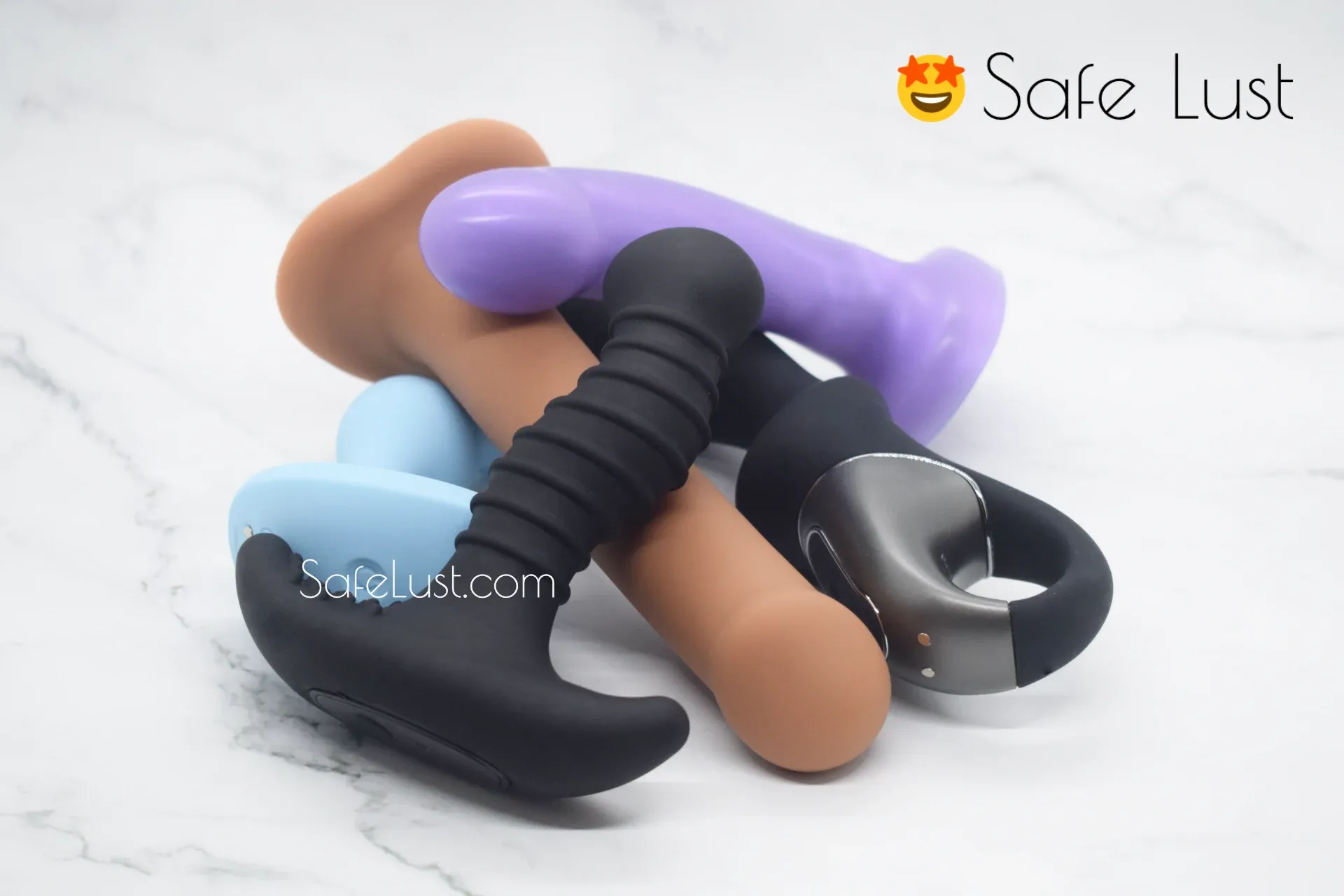 Cleaning & Maintenance
This must be one of the easiest clean-ups for male masturbators. Wash with mild soap, rinse, and towel dry. 😌
The only warning ⚠️  I want to give you is to be careful drying between the gap of the Manta. I've read cases on Reddit where the silicone breaks due to extreme stretching of the Manta's wings.
Modular Design
Fun Factory has a smart design related to the handle of this toy. The handle is called the Fun Factory G5, and it is what powers all the vibration patterns. They re-use this handle with multiple toys.
Fun Factory Big Boss G5
Fun Factory Patchy Paul G5
Fun Factory Tiger G5
And I believe there are even more toys re-using this G5 handle than I can find. As a consumer, this doesn't matter at all, because this is really a handle full of quality. Re-using it lowers their production cost, which in turn allows us to get it for a fair price 👏.
Should you get it?
If you think you could be into a more vibration-focused masturbation session, I recommend trying it out 😏. The Manta might not work for everybody, but it is a high-quality male masturbator and you do get what you pay for.
Check with your partner if they'd like to use it together, as this is one of the big advantages of the Manta. You can use it either solo or as a couple.
Who is it not for?
If you don't like vibrations, frenulum stimulation. If you are expecting a stroking-based masturbation session, then this toy might not for you. You'll need to be open to trying new things for this sex toy to work out 👌.
Alternatives
Still prefer a more traditional way of masturbating? Check out my complete guide to getting started with Fleshlight.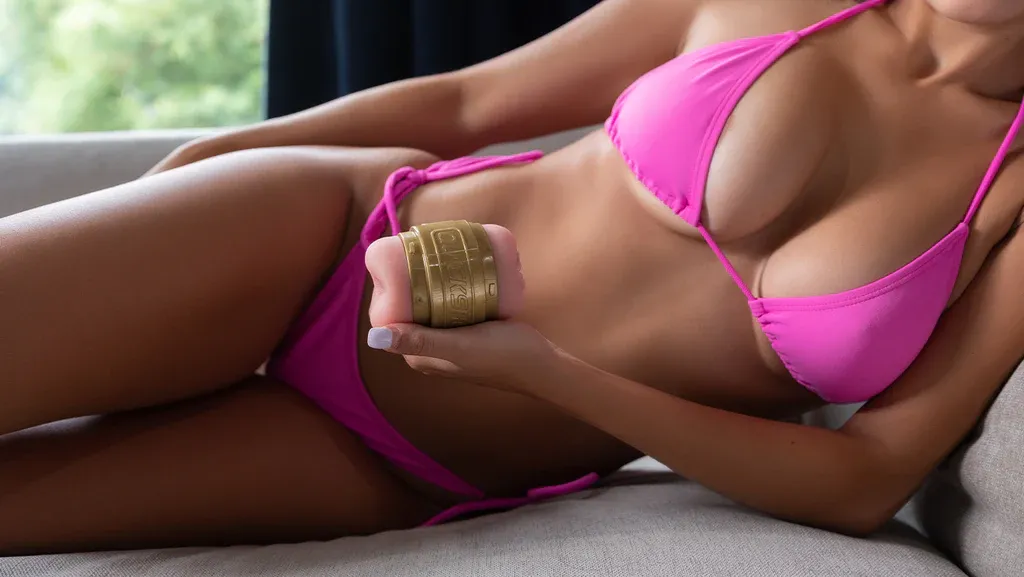 Instead, are you ready to dive into some anal pleasure with a good anal starter kit? Check out the B-Vibe anal training kit which I fully recommend.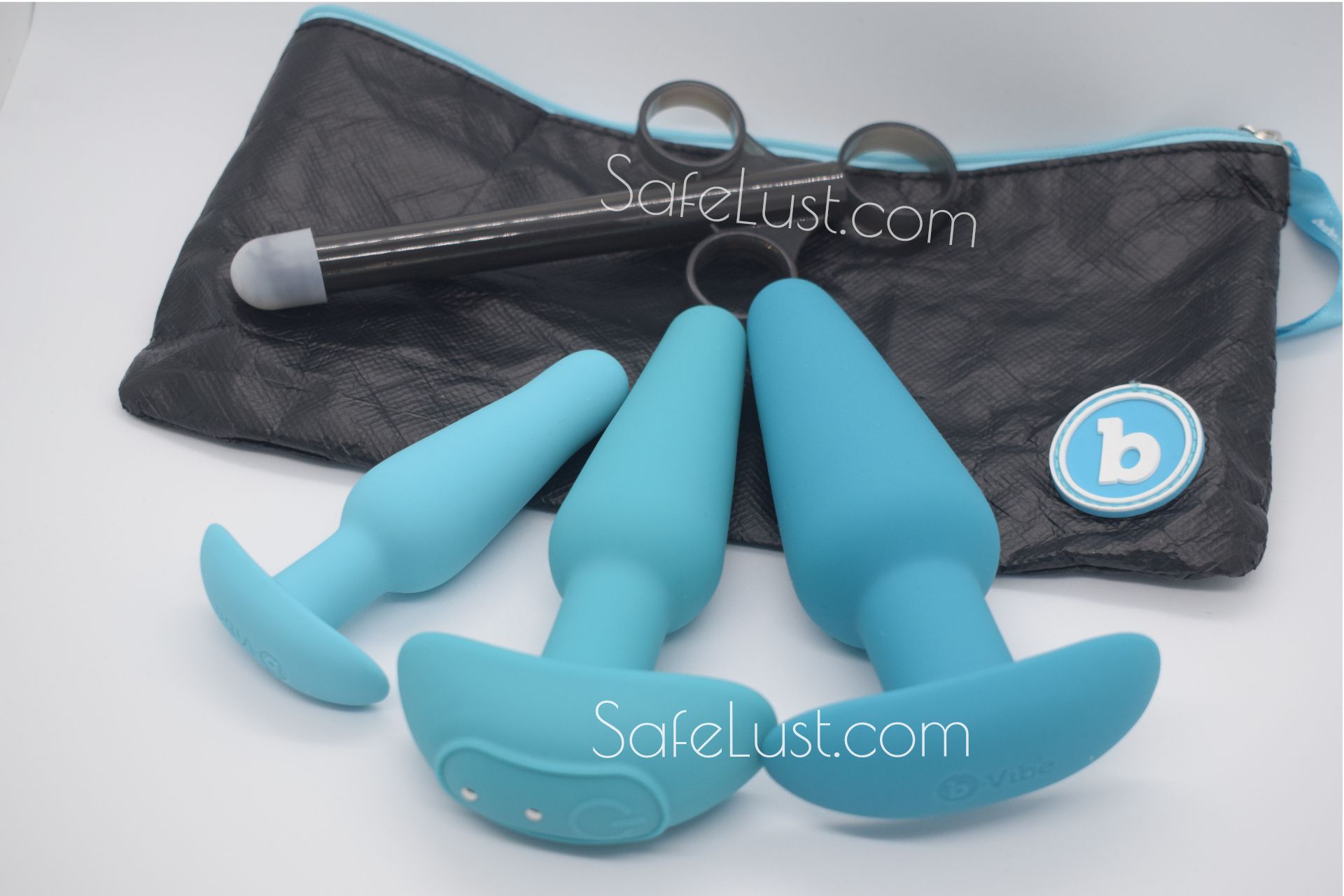 Pricing
The Manta comes in at 139.99 USD or 99.90 EUR on the official website. You can often find sales at your reputed sex toy store.
It is not the cheapest sex toy, but you really get what you pay for. High-quality materials, incredibly strong, rumbly vibrations, magnetic USB rechargeable, and a luxurious finish 👌.
Summary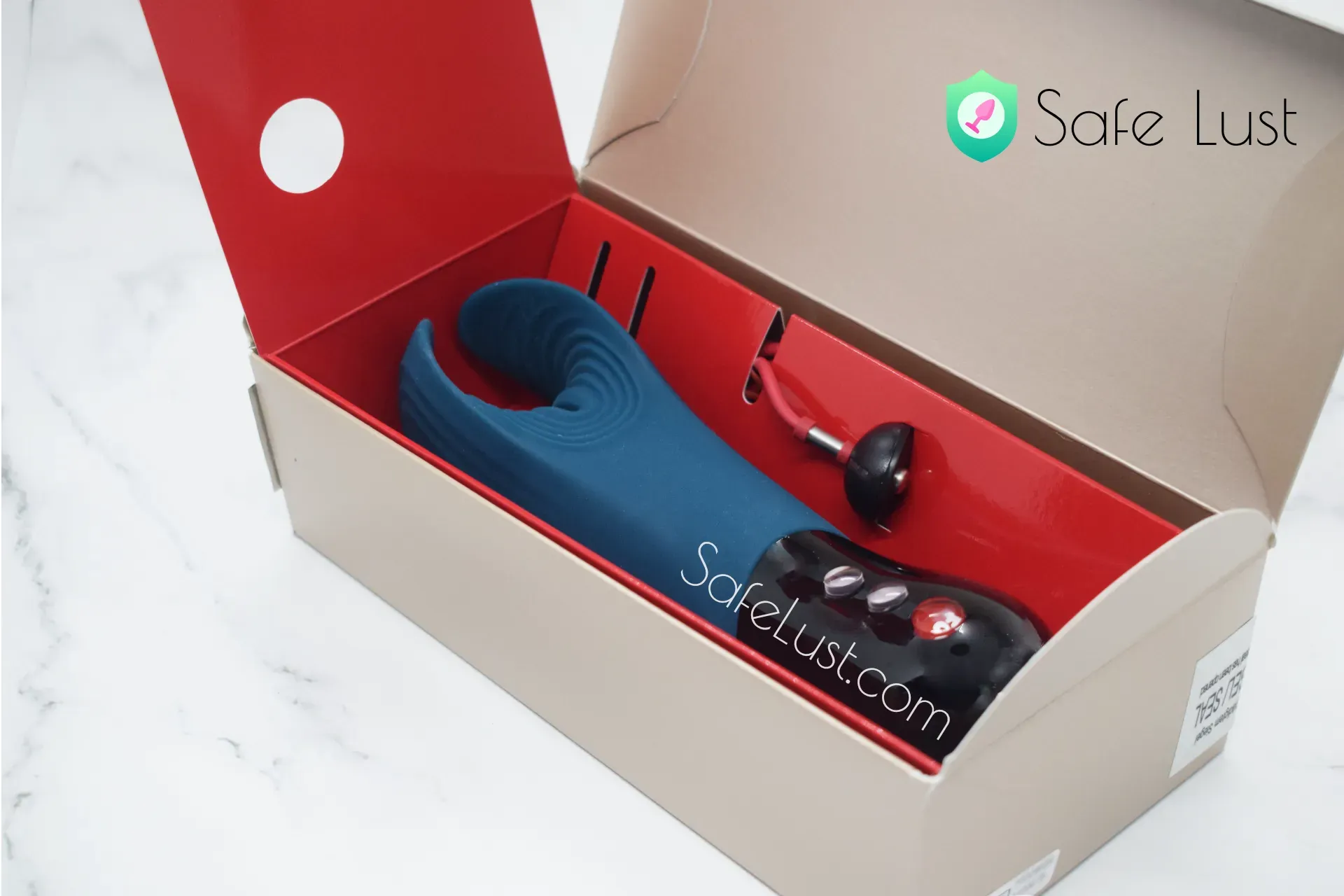 The Fun Factory Manta is not your typical male masturbator. It's truly a vibrator for penis owners, and that makes it unique. It takes some getting used to, but once you know how to use it, its powerful rumbly vibrations will blow you away 🔥.
Final score: a solid 9/10. The Manta is a great oy that I can only recommend. At first it seems weird, as you get used to it, you'll find it can give you great pleasure with minimal clean-up.
🚀 Never miss new toys 🚀
Sex Toy Reviews straight to your inbox
By subscribing, you agree to the Terms to receive Safe Lust promotional and marketing emails.

No spam. Unsubscribe anytime.