Strap-On-Me Hybrid Dildo Plug - Beads Review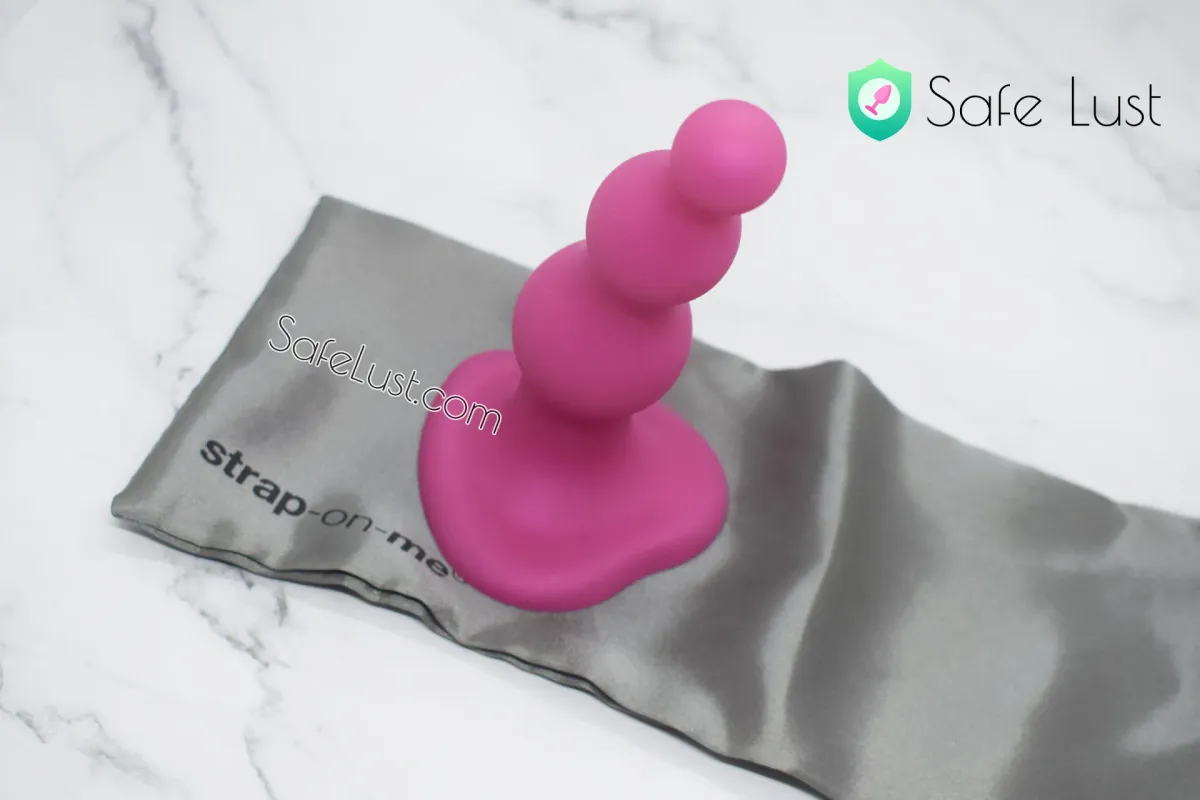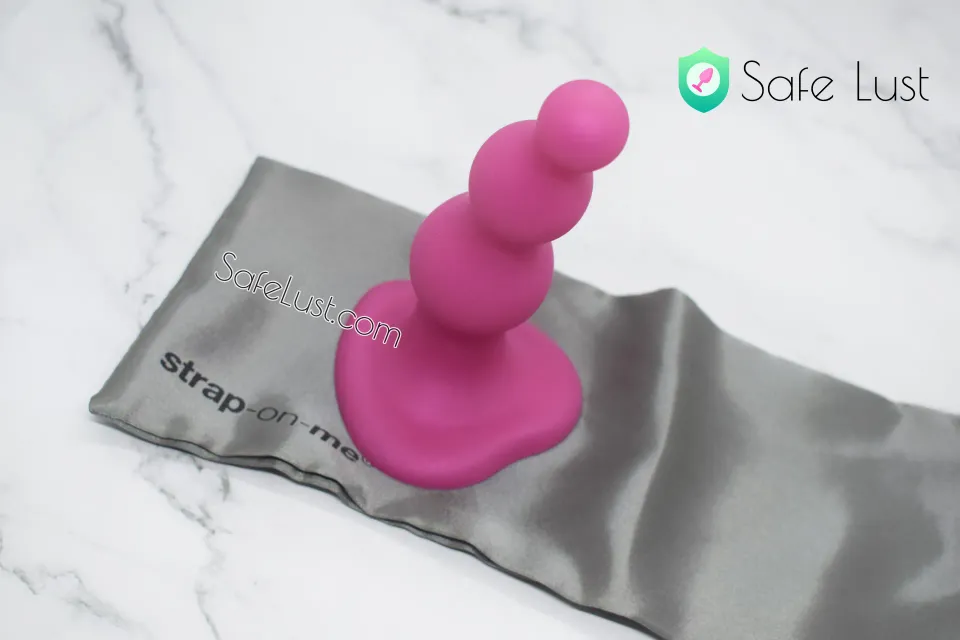 A stretching challenge.
I've always been a fan of Strap-On-Me's products. Why? They only sell body-safe silicone toys which feel high quality and have a pleasurable design. When I found they released a new line-up of hybrid dildo plugs – to be used either as a dildo or as a butt plug – I knew had to get it ?.
In fact, the Strap-On-Me Dual Density Silicone Dildos is one of my first reviews on Safe Lust!
Packaging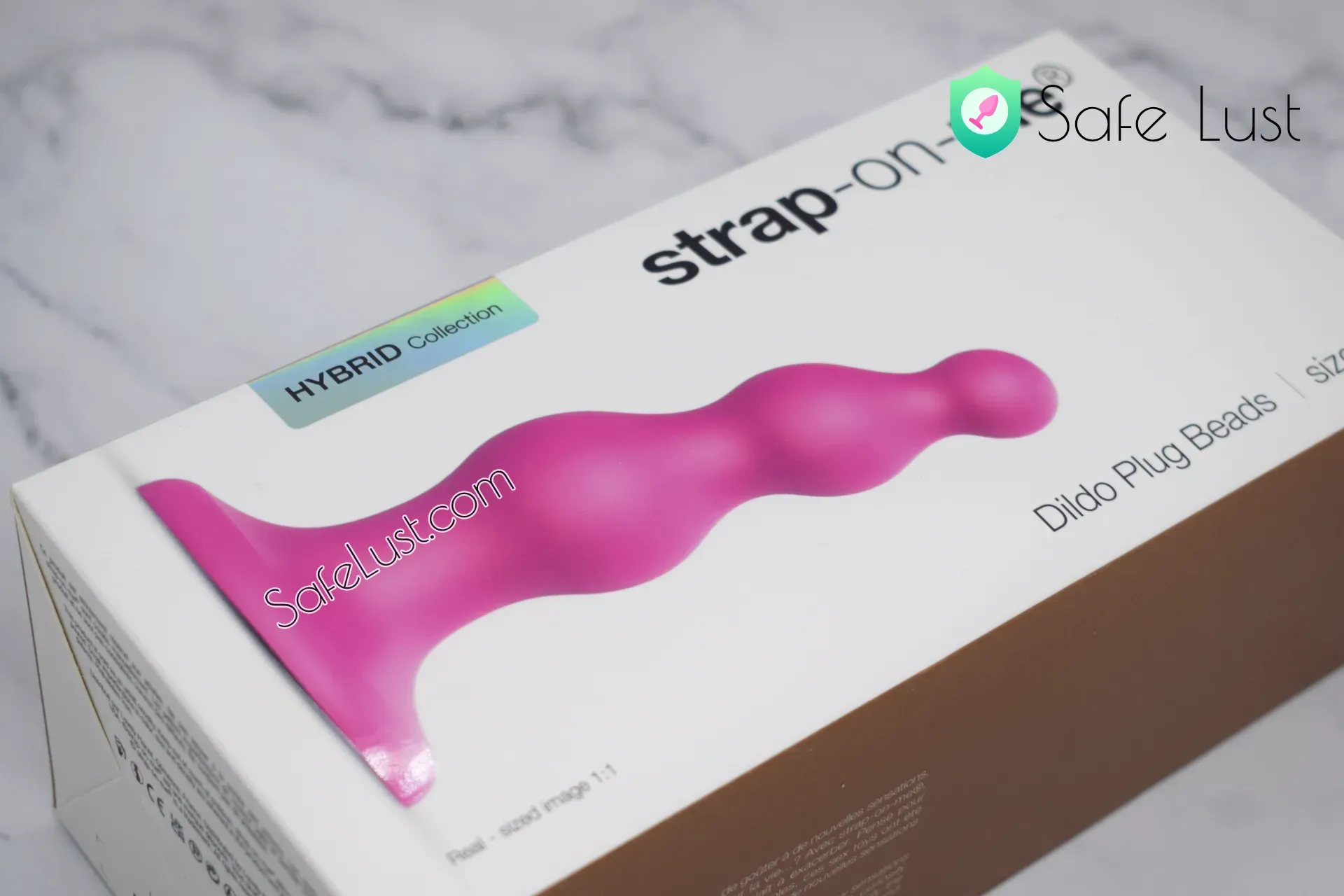 It comes in the typical Strap-On-Me box. The hybrid collection label has got a nice shine to it, making it feel fancier. The packaging is nice, but the box could have been made much smaller to save space and materials.
I'm not a huge fan of those plastic molds where they put the plugs in (photo on the right). They take up unnecessary space – also when recycling, and it's not like we need more plastics ?.
?
@Strap-On-Me: I would love to see more minimal, eco-friendly packaging.

Of course, the packaging should still draw attention, but the plastic shape inside the box feels unnecessary.
Contents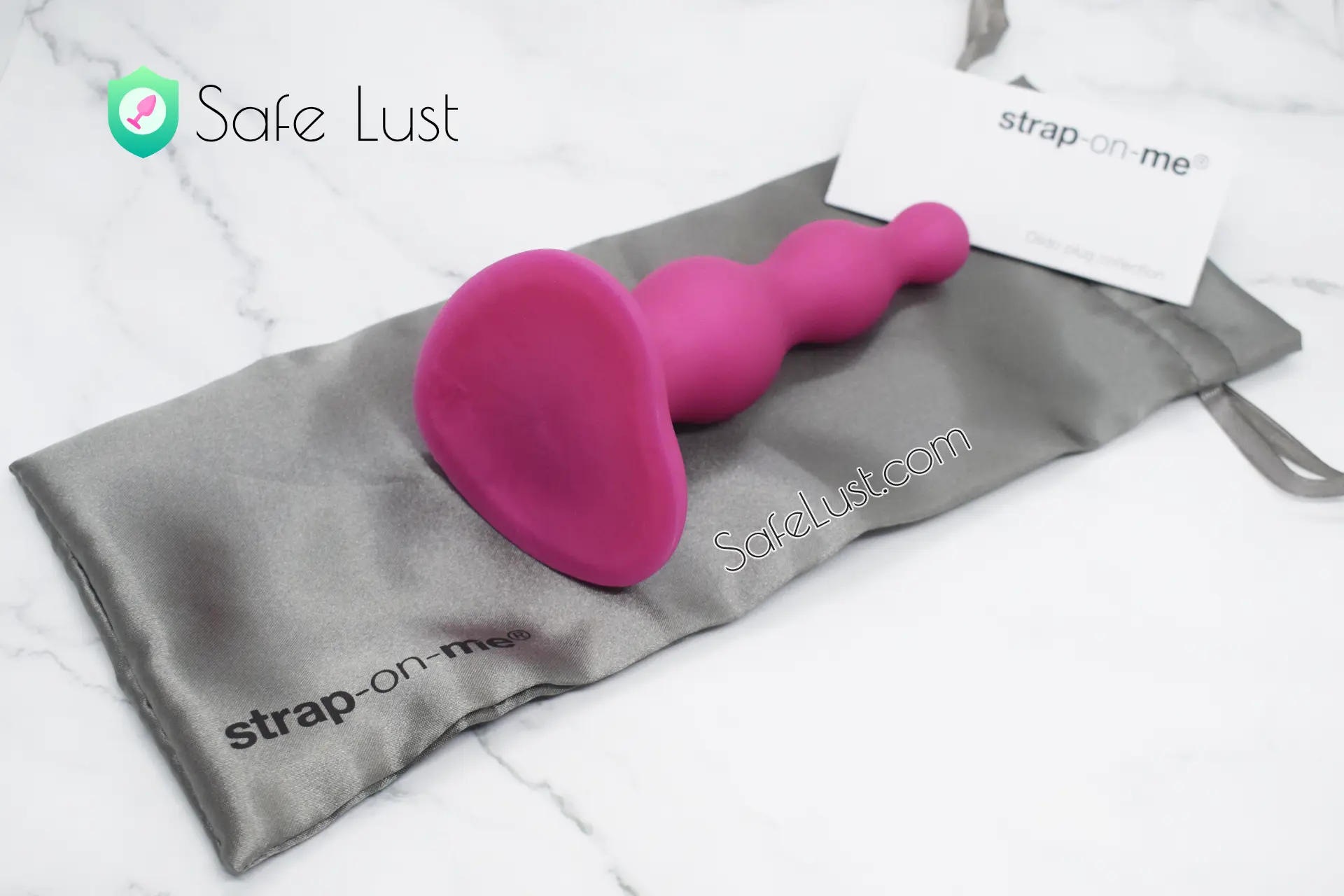 So what's inside the box? You'll get:
The dildo plug itself
A beautiful Strap-On-Me storage pouch
An instruction booklet
Size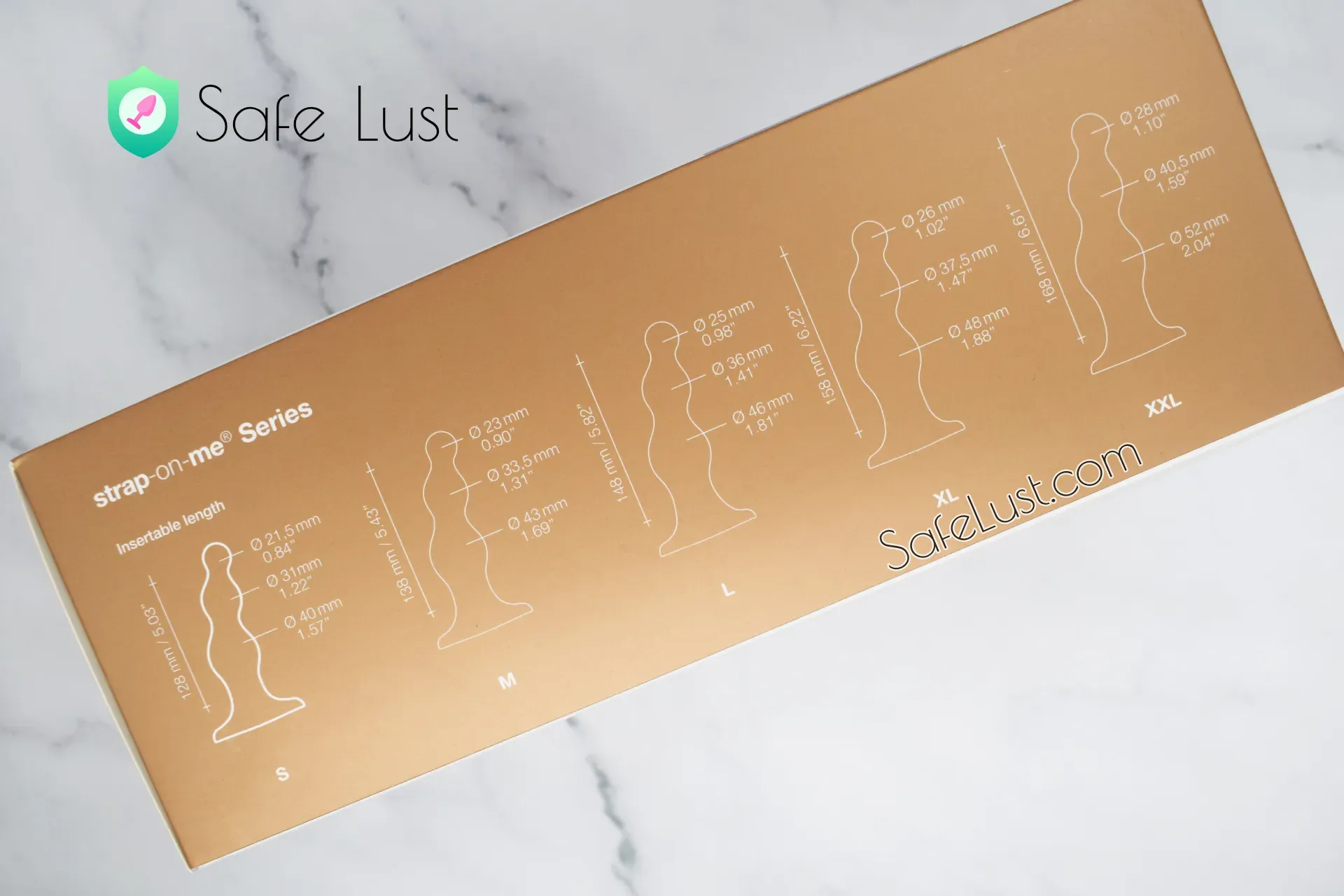 The small size starts with a 1.57"/40mm max diameter! Wow ?! It's clear what they wanted with this toy – stretching and stretching!
If this is your first anal toy, the S size WILL be too large, there are no doubts. You'd be able to get one, max 2 beads in, but that third bead will be a huge challenge. I'd recommend other toys if you are just getting started.
From the second bead to the third bead, there's a jump from 1.22"/31mm to 1.57"/40mm – that's a gigantic jump! Clear to say, this toy will need some preparation.
The different sizes are very fine-grained, the jump between the S and M for example is not a large difference.
Seeing these large sizes, I got the S size which was definitely stretching enough!
How It Feels
I lubed up the Beads plug ready for insertion. The first bead came in without too much effort. The second bead took some more warm-up.
Getting the third bead in, however, took much more effort. The more you play with the plug, the easier it gets. In general, you don't want to force it in to prevent injury. I did find myself having to push quite a bit to get it through.
A rough stretch
Getting to the third bead gives a really nice stretching feeling, although I'd argue the gap is a bit too much. It's not a toy that you can use comfortably without some preparation and warm-up. Although, that's probably also the point of this plug! A rough stretch.
Once I reached the end of the plug, the shape felt nice and there was some good prostate stimulation involved ?. It's not a plug you can keep in by itself though. The diameter near the base is too large, so it'll easily pop out by itself. You'll have to hold it in place somehow.
When you get to the end, you'll very likely feel the base bending around your butt cheeks, as there is not much space between the last bead and the base. The base is very bendy.
Using it as a dildo
That's my experience using it as a plug. I can't imagine using this as a dildo though ?, possibly this is a level above me, although I'm using the smallest size they offer. You'd need tons of warm-up to use it comfortably as a dildo.
Technically, you can use it in a strap-on harness – although with this shape, that wasn't for me. The Strap-On-Me Hybrid Balls Dildo Plug would be a better fit for this.
Long-Term Wear
I didn't succeed in having the plug stay in place. It might work with some tight underwear or a thong, then again, a fair amount of force is required to keep it in.
Due to this, I can't recommend it for long-term wear.
Double Dildo Play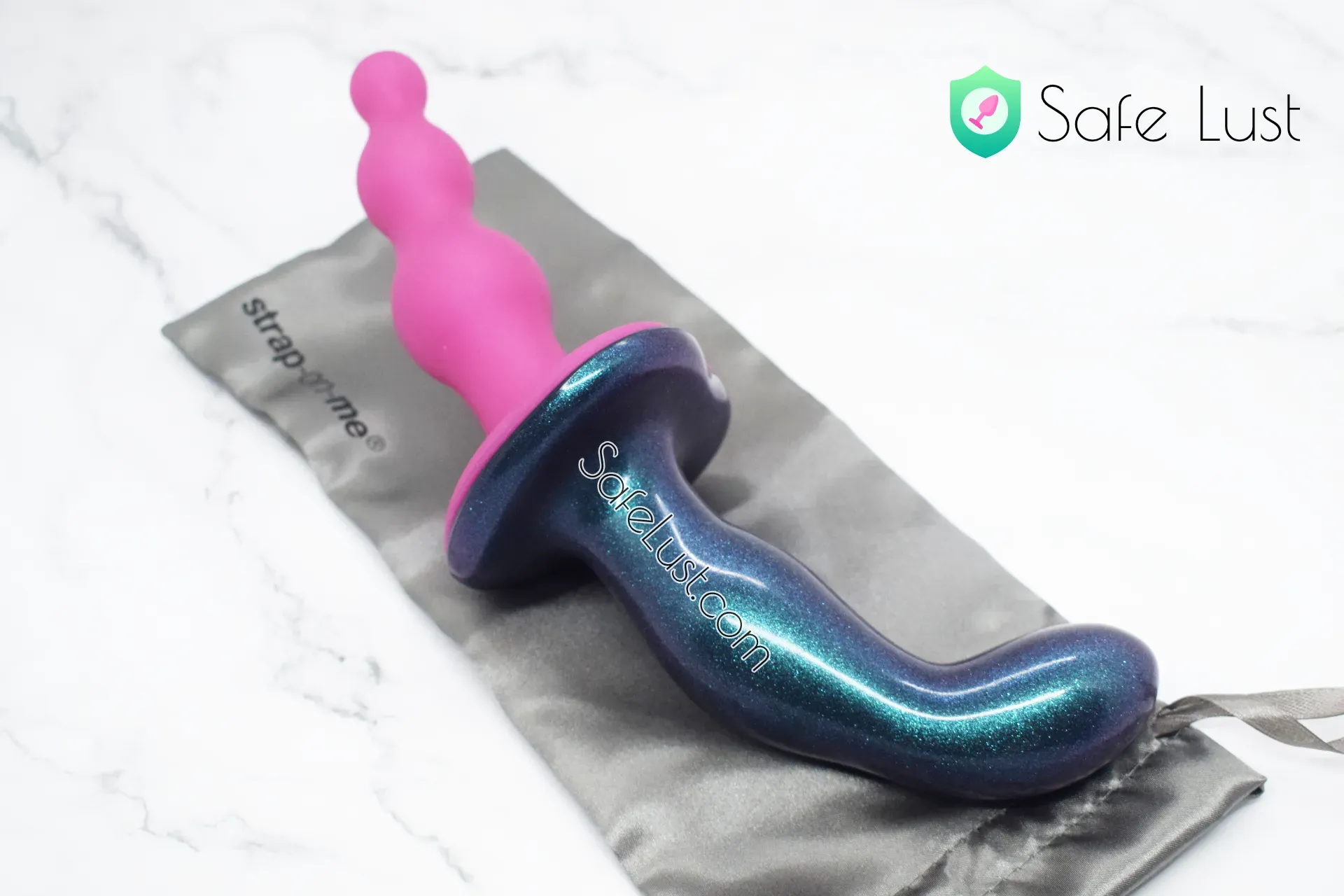 With some creativity, I found out you can easily link two Hybrid dildo plugs together. Their suction cup base is incredibly strong, once linked, they won't go anywhere.
This makes it more hygienic as you're not sharing the exact same toy with your partner this way. But there's more! You can actually switch it up and choose another dildo plug depending on your mood, while your partner can also choose their preferred dildo plug independently.
This line-up has a huge potential to be used as a customizable double dildo.
Material and Texture
It is made from 100% silicone which is largely considered body-safe. Since silicone is non-porous it is very hygienic and easy to clean.
Want to learn more about sex toy materials? Check out my article on sex toys safety: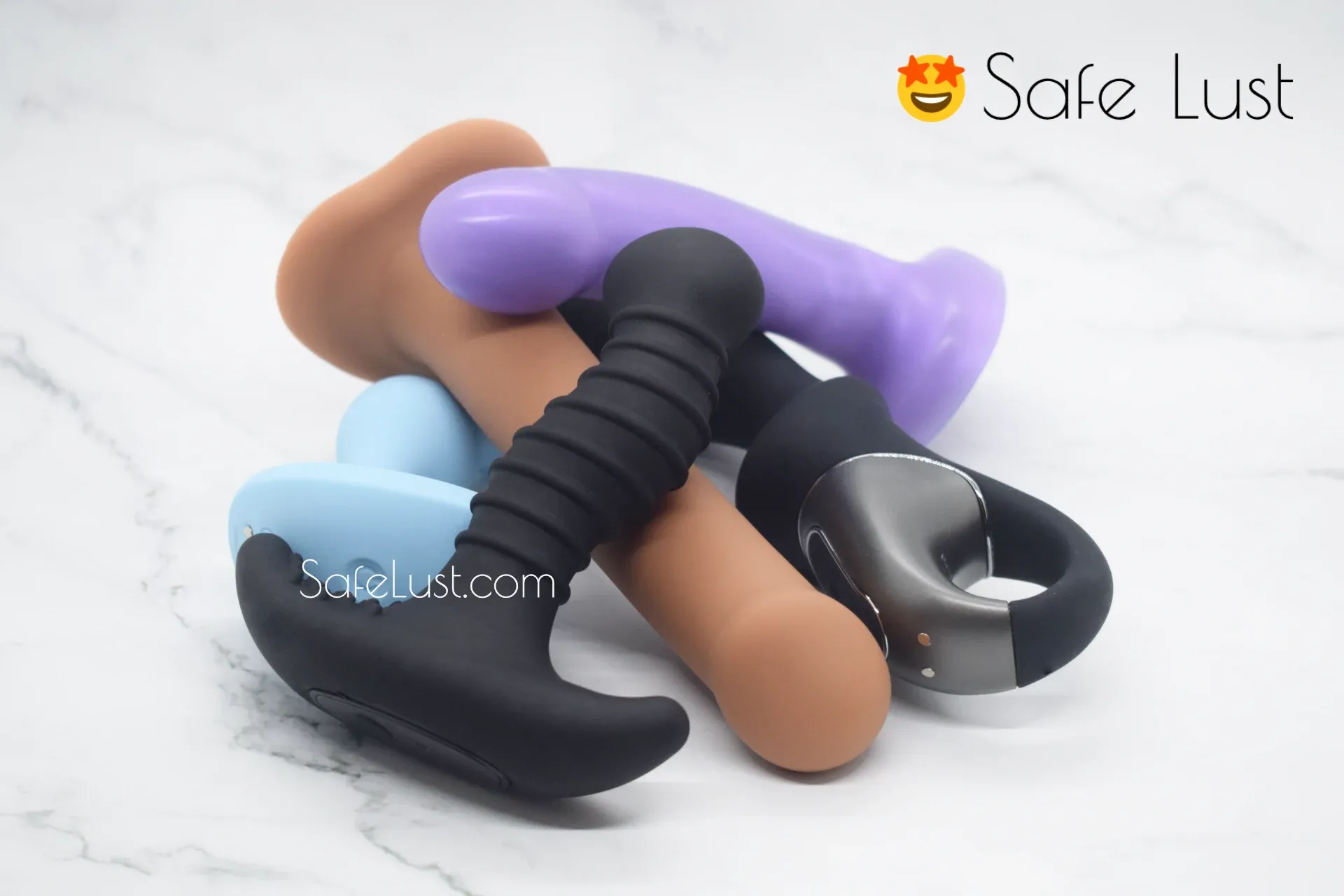 Cleaning & Maintenance
Warm water and mild soap is all you'll need to clean it up. Give it a good rinse, towel-dry and you're ready to go.
Should you get it?
If you're looking for a beaded dildo/plug with lots of stretching challenges bead by bead, you're at the right place.
The dildo plug feels high quality, just like the other sex toys from Strap-On-Me.
If you feel up to the challenge to use it as a dildo with a partner, you can use it in a strap-on.
Who is it not for?
If you're just starting out – please get a more gradual sex toy. The small size is too large for starting out, and the large difference in size between the beads could be too much of a challenge.
If you're looking for a butt plug that stays in place, you'll be better off looking for alternatives instead.
Alternatives
If you're just starting out, the Tantus Ripple small is a great alternative that is not too challenging while still offering a nice beaded experience: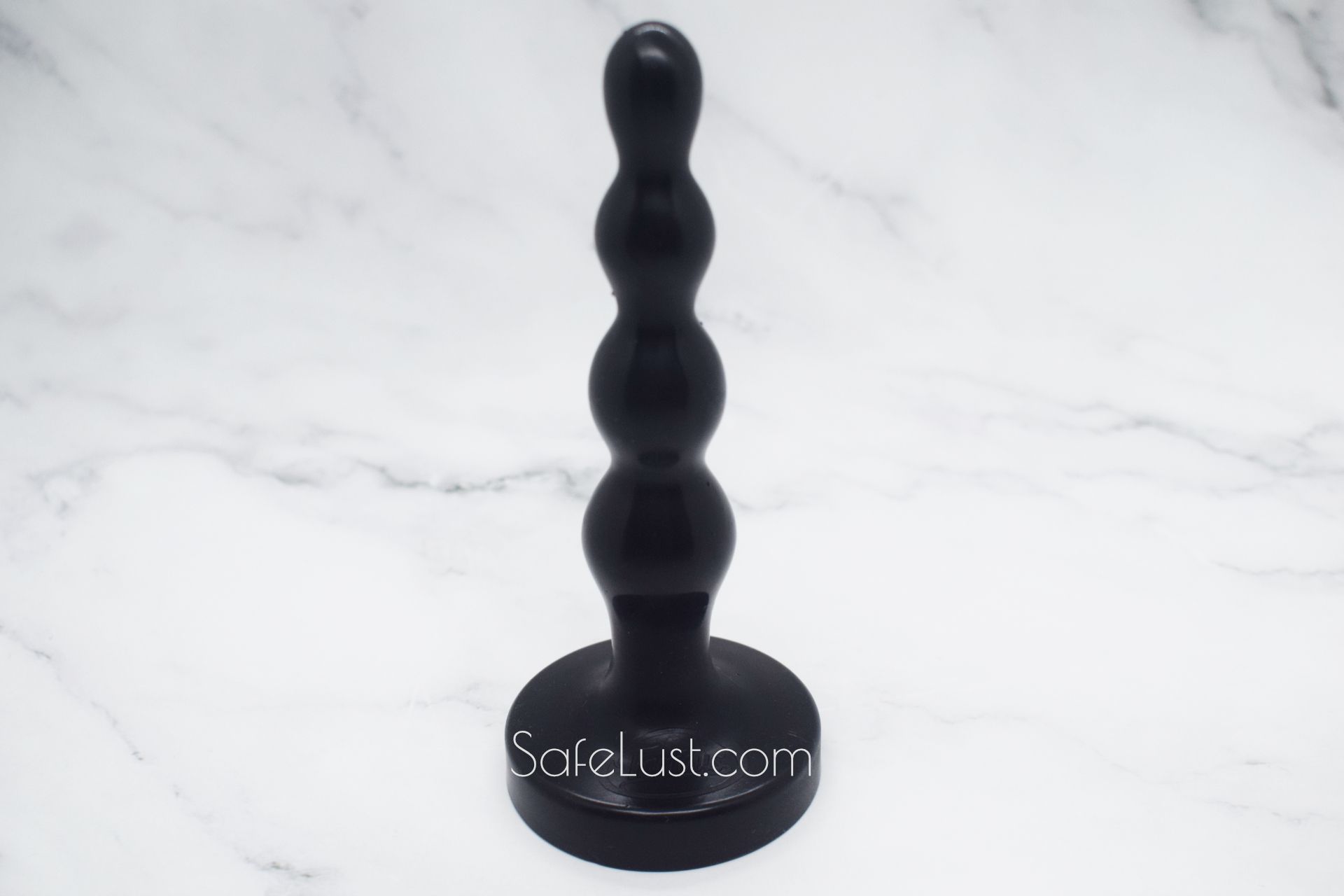 If you're looking for a more spicy experience, check out this beaded thumping butt plug: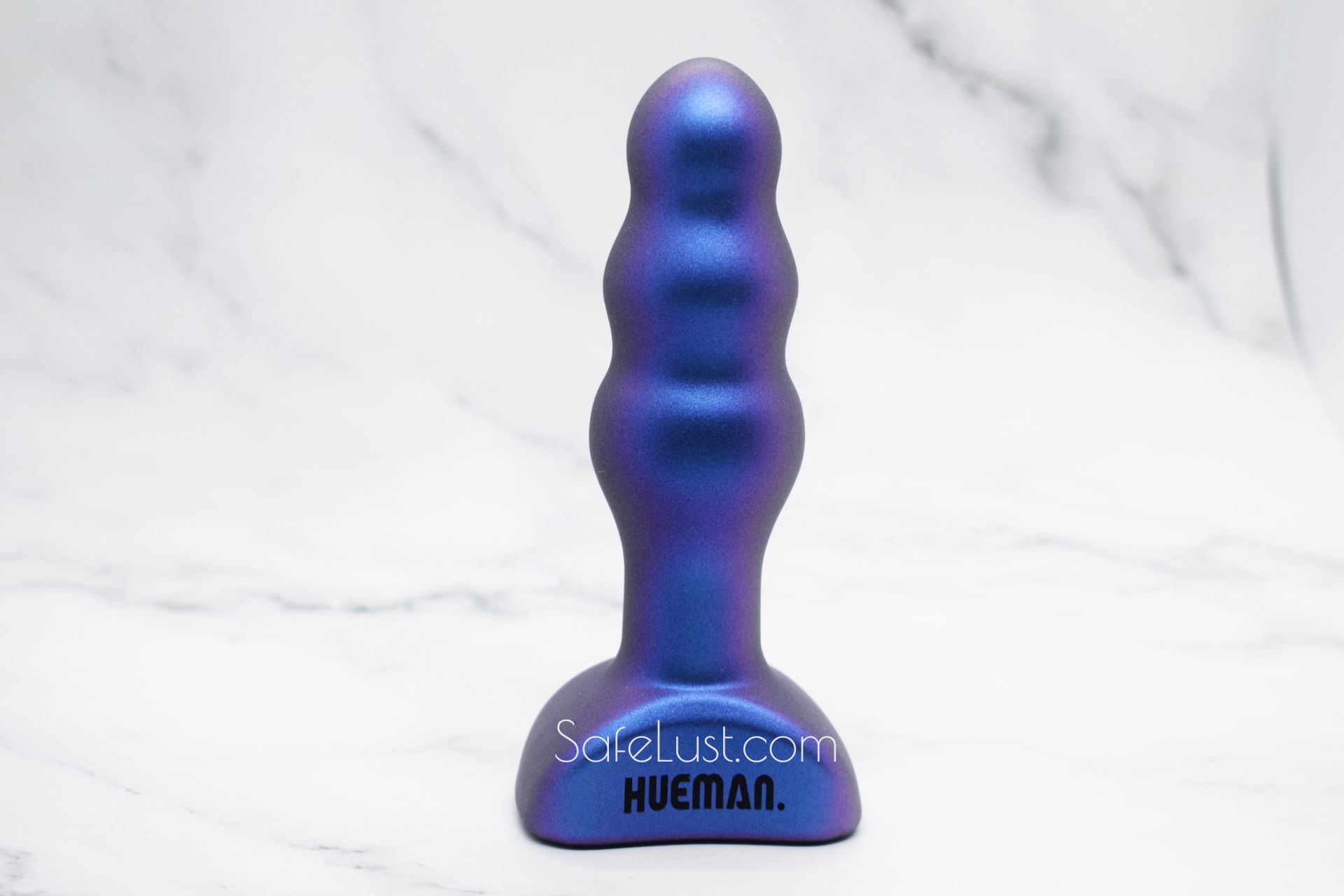 Just looking for a solid strap-on experience instead? The dual-density silicone dildos from Strap-On-Me are unbeatable.
Pricing
You can get the Hybrid Beads Dildo Plug from 45USD/40EUR.
If you're patient enough, you could likely get it during one of the next Strap-On-Me seasonal sales.
Summary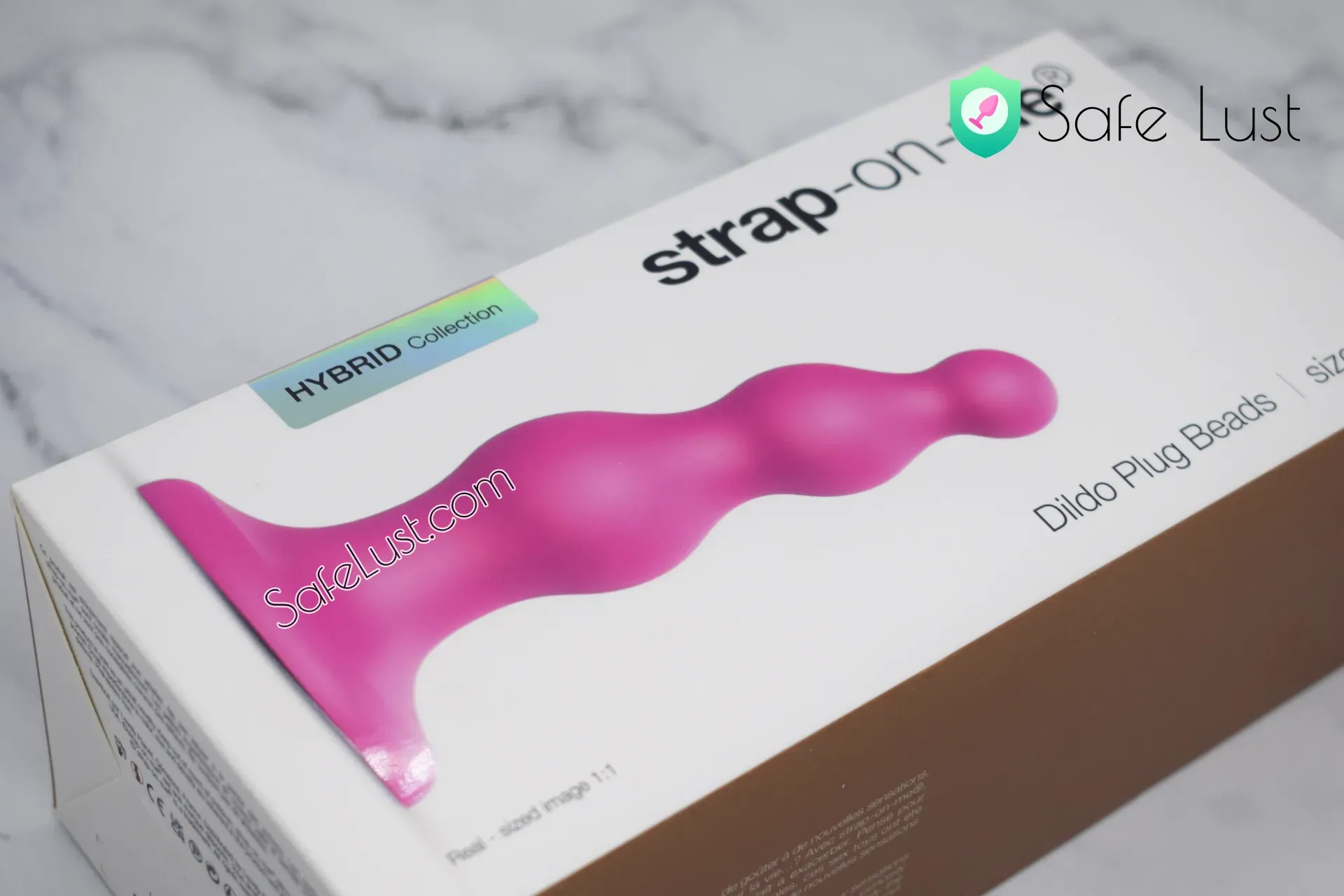 The Beads dildo plug is a solid option if you're into some serious stretching, or if you just want to challenge your partner.
It's made from high-quality materials, and is strap-on compatible, making it a great option.
It provides a good amount of stimulation – including prostate stimulation – while nicely stretching you out.
🚀 Never miss new toys 🚀
Sex Toy Reviews straight to your inbox
By subscribing, you agree to the Terms to receive Safe Lust promotional and marketing emails.

No spam. Unsubscribe anytime.