Hueman Space Invader Thumping Butt Plug Review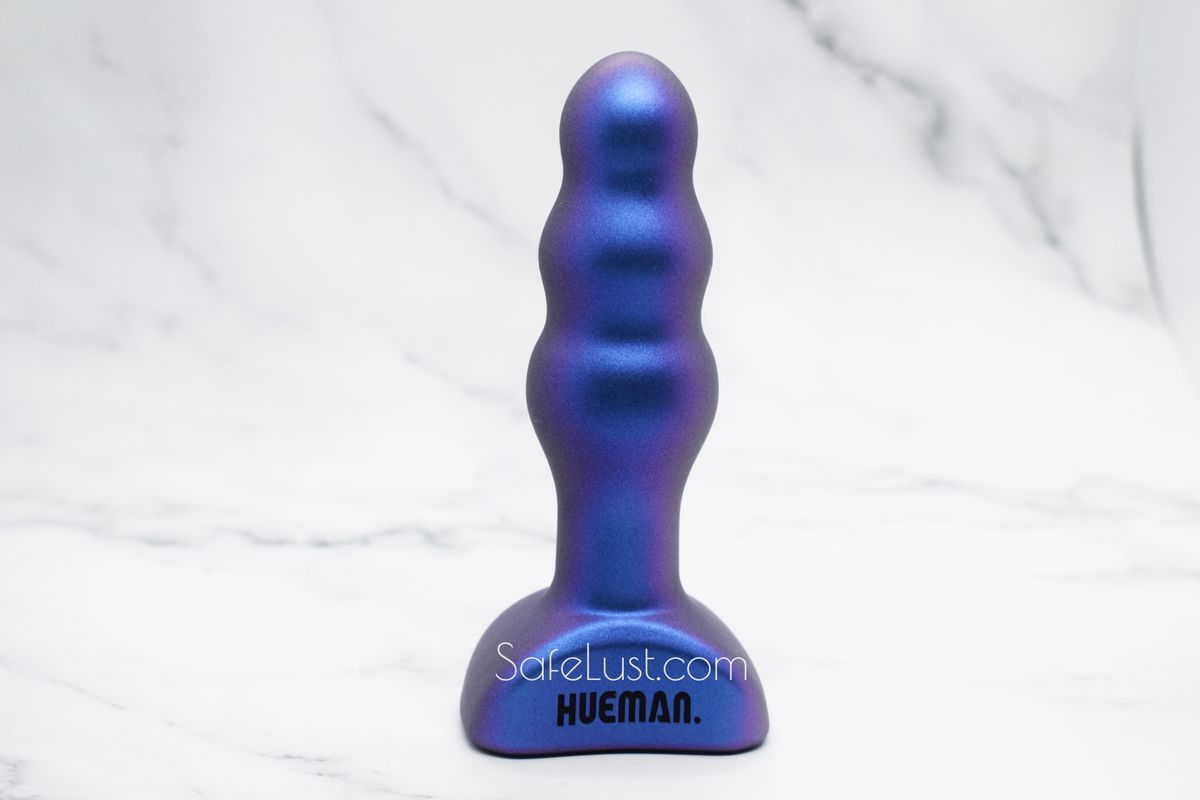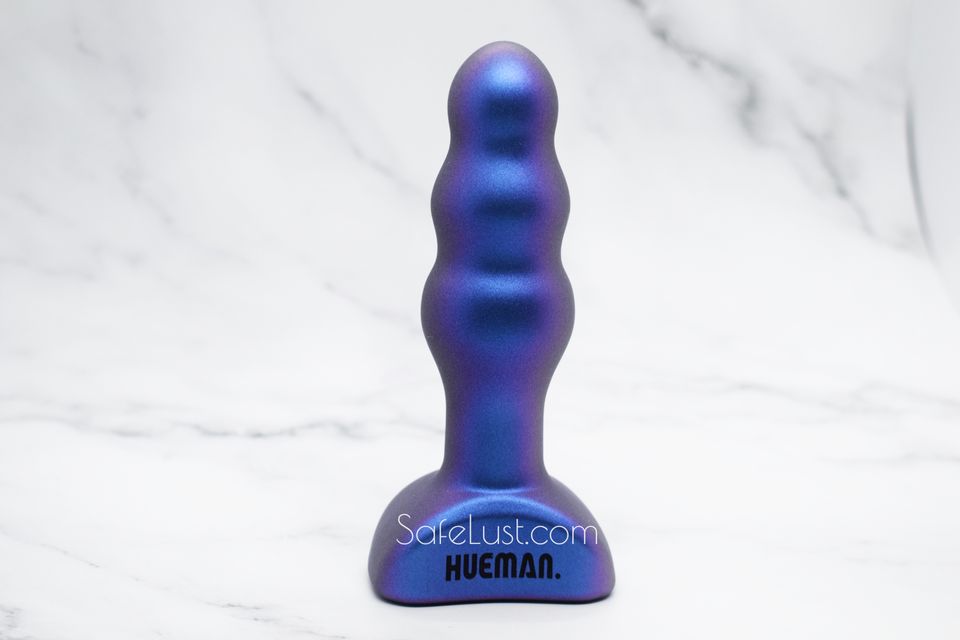 A shiny purple thrusting beaded butt plug that looks like outer space? It seems like yet another sex toy I couldn't pass on! I had to try it out to know what it feels like.
If you are looking for the full dimensions of this butt plug, read on since there is a lot of misinformation regarding its size.
Packaging
The Hueman Space Invader comes in a nice and simple package. It's a sealed white plastic bag with an excellent design that is shipped inside a box. If you've read my other reviews, you know I particularly like hygiene seals on sex toys – these should be a standard for every single sex toy.
Do note that while the packaging itself is nice, it is not very discrete as the butt plug is printed on the box itself!
I've owned this butt plug for a while so unfortunately, I couldn't take a photo of it, here are some photos of it online instead.
Shape
The Hueman Space Invader's shape is a cross of anal beads and a butt plug. The beads gradually get larger until you reach the neck of the butt plug.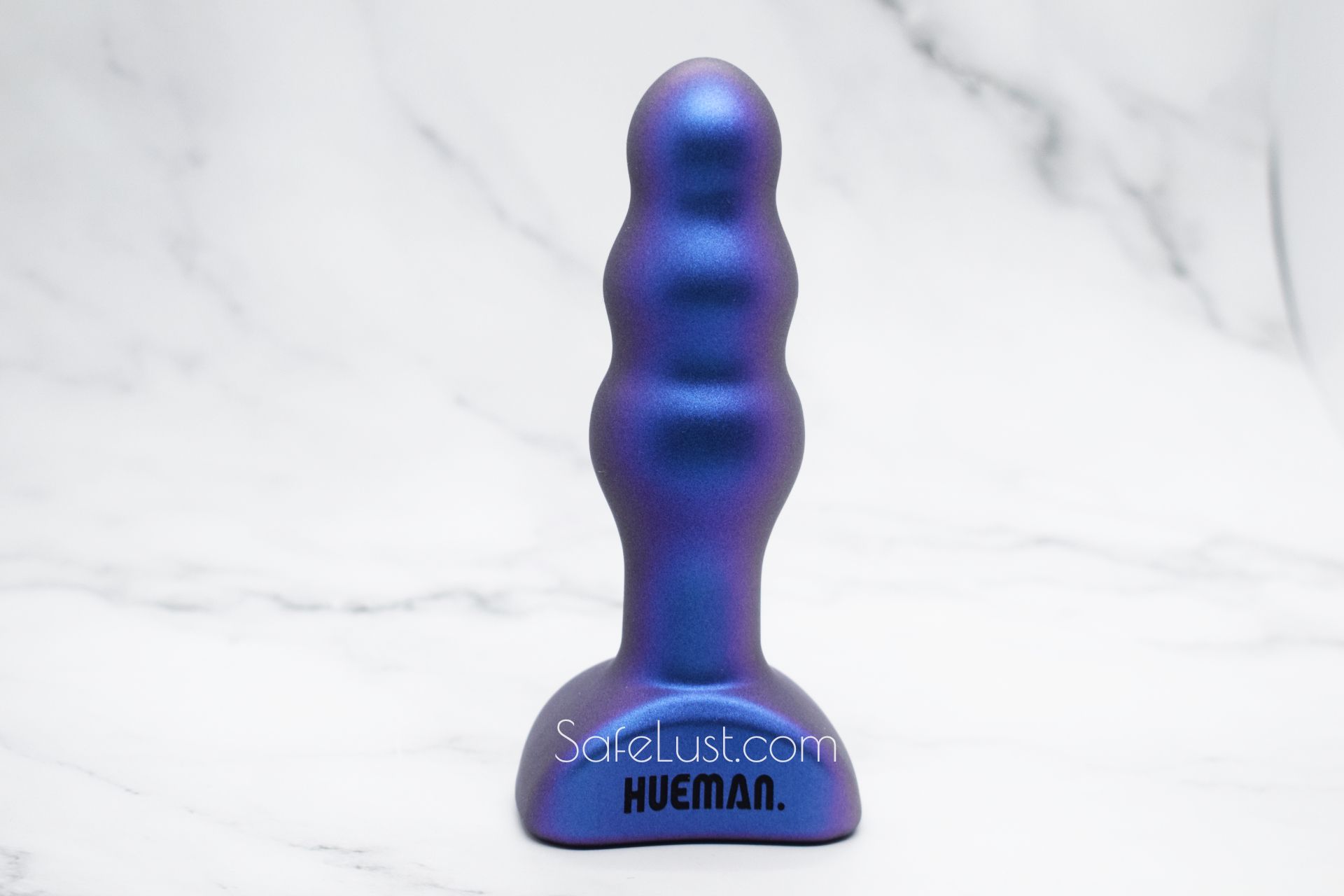 Size
The Space Invader is not a small toy, here are the size specifications:
Max diameter: 4cm / 1.57in
Total length: 13.9cm / 5.47in
Insertable length: 11.5cm / 4.52in
There's a lot of misinformation on the actual size for this specific sex toy, so I've hand-measured the above specifications, those are the correct ones.
Here are the diameters per bead, which I've also hand-measured:
First bead max diameter: 2.9cm / 1.14in
Second bead max diameter: 3.6cm / 1.42in
Third bead max diameter: 4cm / 1.57in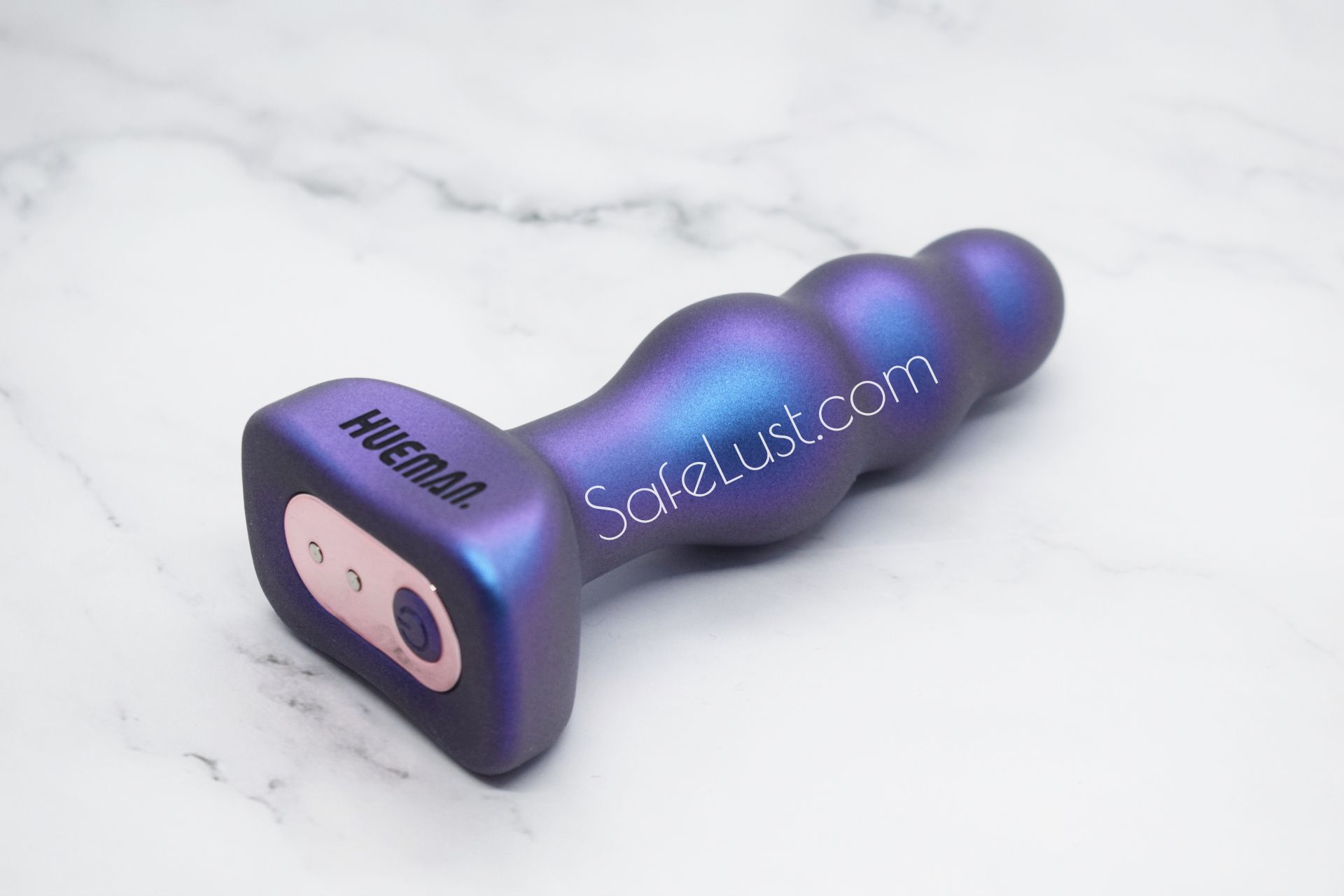 The Space Invader definitely isn't a small toy. If you're just starting with anal toys, I'd say, wait to get to similar diameters first. While this toy is great, it's important to avoid injury and take your time with anal toys.
Features
Thrusting / Thumping
The main feature of the Hueman Space Invader is its thrusting / thumping feature. There are magnets inside the toy which will move in a certain way, causing it to jerk forwards and backward quite quickly. It does not thrust far or deeply, but it does provide a thumping, pushing feeling.
The Hueman Space Invader comes with 3 thumping settings, low, medium and high. In this regard, I would've expected some more settings and patterns.
The thumping feeling is very different from the typical vibrating toys, and I'm happy to say I like it and 100% recommend it! You can feel something trying to push in slightly deeper, like a digging feeling.
Depending on your position during use, it will feel different as well. I recommend lying down so that it can thrust by itself, with the butt plug's weight lying on top of you. The feeling when standing straight is quite different as you'll need more effort to keep the toy in while it keeps jumping by itself.
Long-term wear
It's great during masturbation or sex, but the thumping is not something you could use with long-term wear. The thumping motion is very sudden and "shock"-like. There's a big chance it could fall out, I don't recommend using it while going out, unless you're ready for a sudden drop of a butt plug!
You could still wear this butt plug for long-term wear without the thumping. The butt plug has a T-bar shape which is comfortable for long-term wear. The base itself is quite deep, so sitting down you will definitely feel the plug getting pushed inside.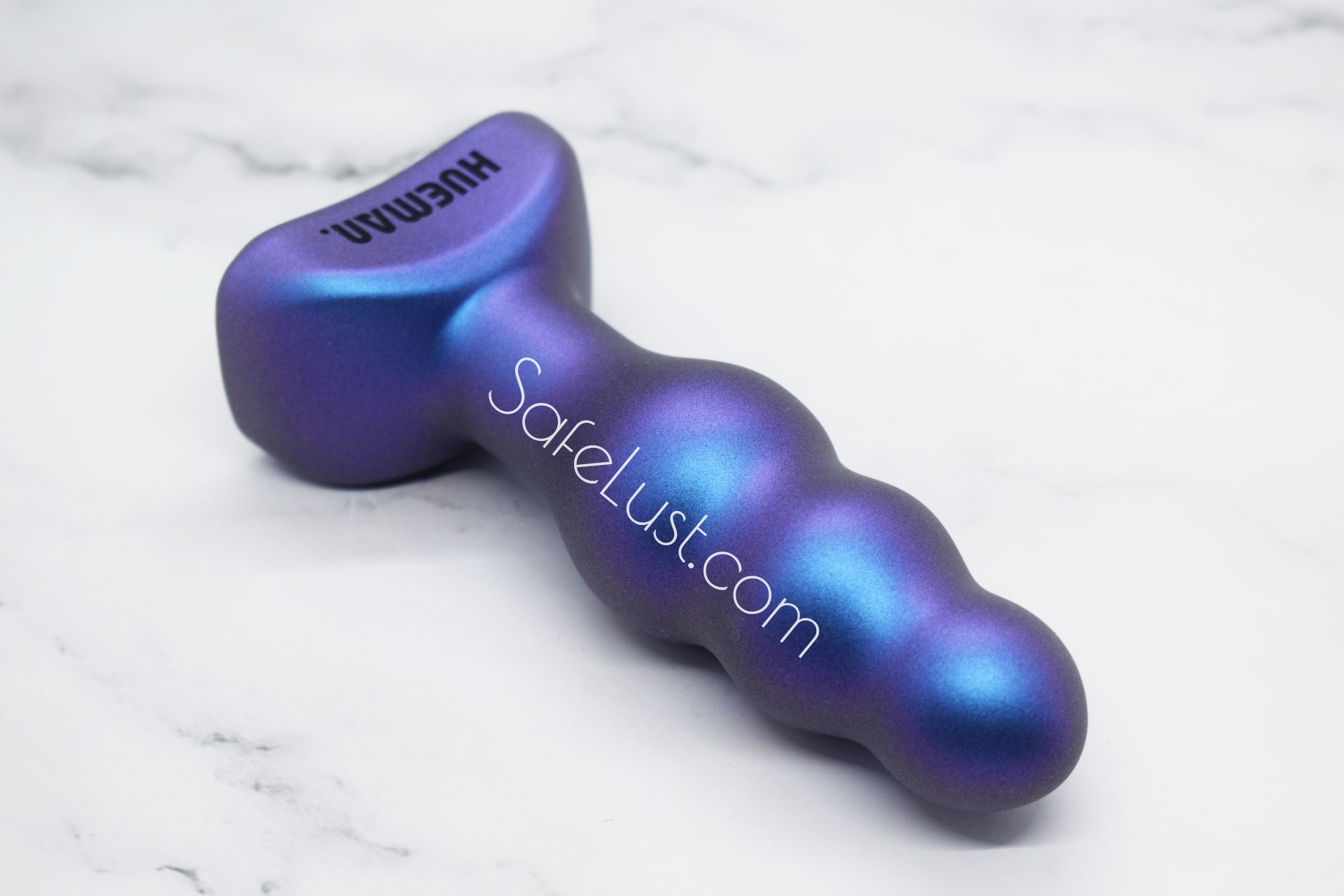 Magnetic Charger
The butt plug comes with a magnetic USB charger. The magnet is not very strong so you'll have to delicately position it for it to charge.
It is advertised to last 45 minutes on a full charge, which is more or less what I experienced.
Waterproof
The Hueman Space Invader is waterproof and can be used in the shower and cleaned easily with water and mild soap, I haven't had any issues doing so myself.
Material And Texture
The Hueman Space Invader is made from soft, body-safe silicone. The silicone layer is thick enough to have some give to it when pressing down, it doesn't feel too rigid.
The combination of soft silicone and the beautiful shiny purple makes this butt plug feel luxurious.
The beads themselves are rigid, in the sense that they can't be bent. The neck of the plug is still flexible and can be slightly bent compared to the beads.
How It Feels
You can clearly feel the beads popping in and out during insertion, which is a great feeling. With this diameter, there is quite a stretch getting the last bead inside. It gives a really full feeling, and that combined with the thumping mechanism makes for quite an overpowered feeling – which is not necessarily bad, it just means that you'll need enough time to prepare for this plug. After all, that's common with larger anal toys!
The thumping is a unique experience that I'd recommend anybody who is looking for a more thrusting/thumping feeling, just know that it's not really 'thrusting', but more of a jumping thumping instead. For a real thrusting stimulation you'd need a sex machine, like the Lovense sex machine.
Should you get it?
If you are searching for
A beaded butt plug
A butt plug with thumping/thrusting feature
A beautiful shiny purple butt plug
Then this butt plug is for you.
Who is it not for?
This butt plug is not for beginners due to its rather large diameter. Apart from that, I don't see any reasons not to get this butt plug!
Alternatives
So far I haven't seen any alternative beaded butt plugs with thumping, so that's a great sign!
I also can't recommend any other thumping butt plug, as I haven't found a better one than this one so far!
If you are interested in another shape, I recommend taking a look at the Hueman Space Force butt plug.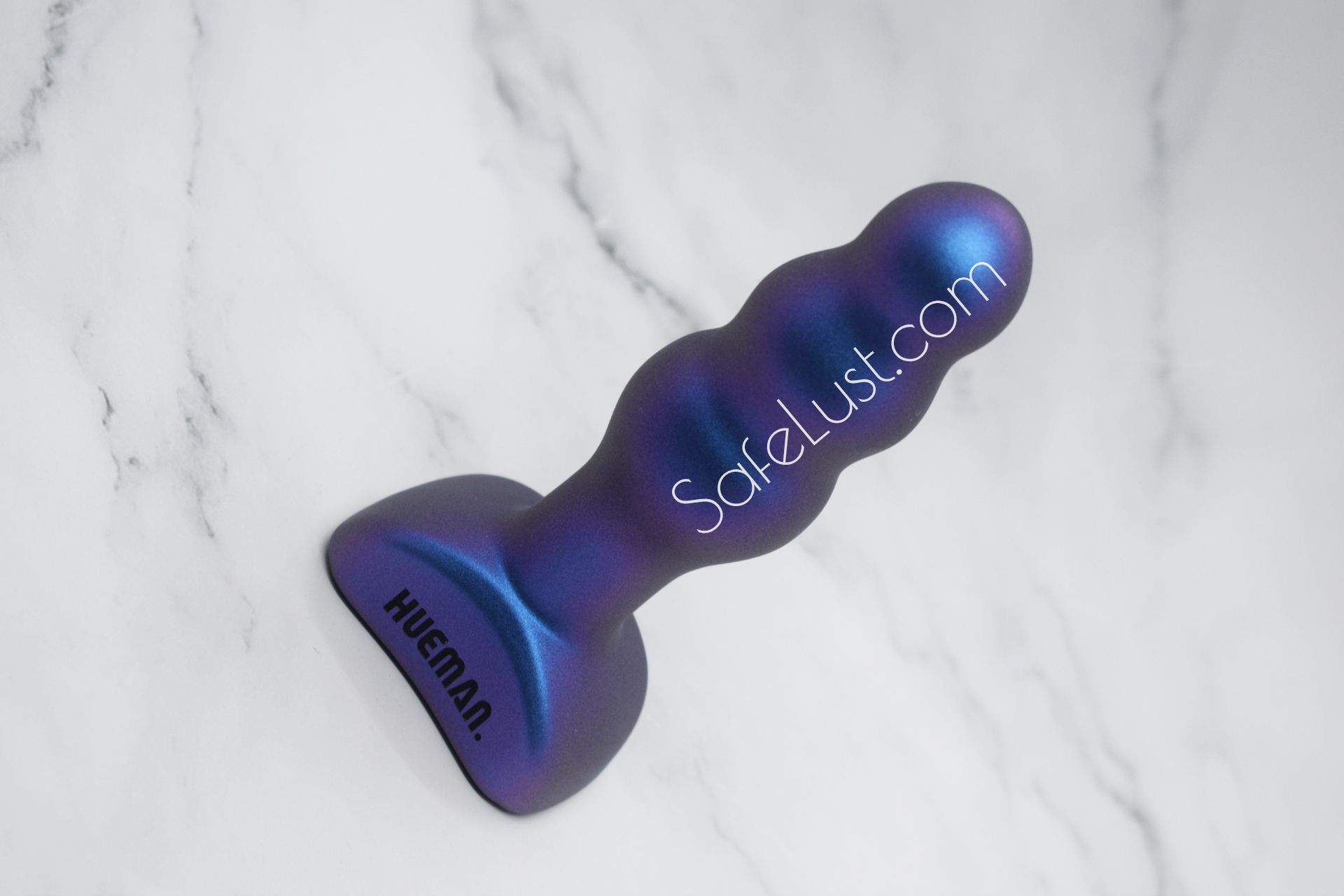 Summary
Hueman Space Invader Thumping / Thrusting Butt Plug Review Summary
Pros
Body-safe silicone with a unique beaded shape
The thumping/thrusting functionality is unique and feels great
Waterproof
Cons
Slightly shorter battery life at 45 mins
No thumping/thrusting pattern options, only low/medium/high
Final Score: 8.5/10
The unique thrusting/thumping feature is a must-try, I only wished they'd have more patterns to play with. I totally recommend this butt plug, if you are still considering a purchase, there is no need for doubting as the uniqueness of both the shape and the thumping makes it worth it.
🚀 Never miss new toys 🚀
Sex Toy Reviews straight to your inbox
By subscribing, you agree to the Terms to receive Safe Lust promotional and marketing emails.

No spam. Unsubscribe anytime.