Mantric Rechargeable Vibrating Butt Plug Review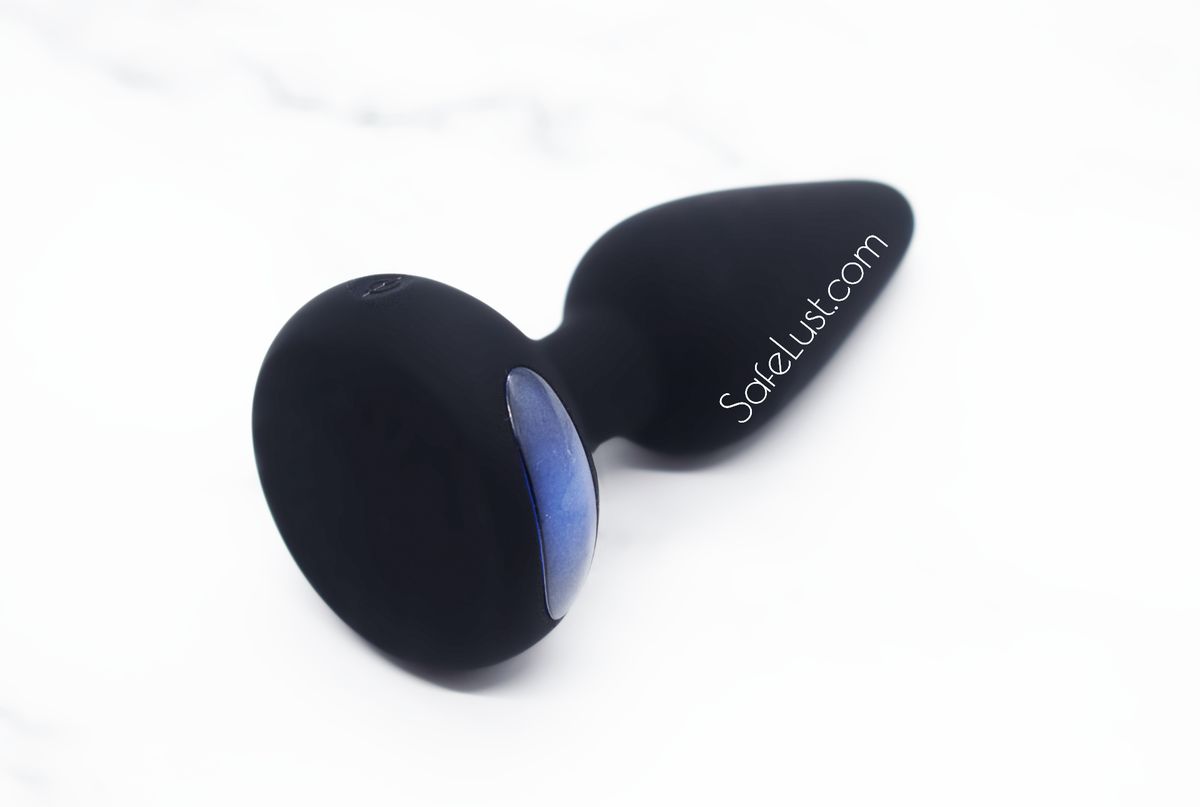 The Mantric butt plug is one that I've had for a few years and is worth a review! Let's get into it.
Packaging
The Mantric butt plug comes in a discreet gray package, with a hygiene seal! This is not only a plus, but every sex toy should come with a hygiene seal, that way you can have the peace of mind that it is definitely a new toy. Don't have a seal? Then check with the store you bought it from as that is not normal.
Inside the box, there is a soft foam around the toy, a lovely presentation - unfortunately I don't have a photo of the packaging anymore as I've had the Mantric butt plug for a while.
Shape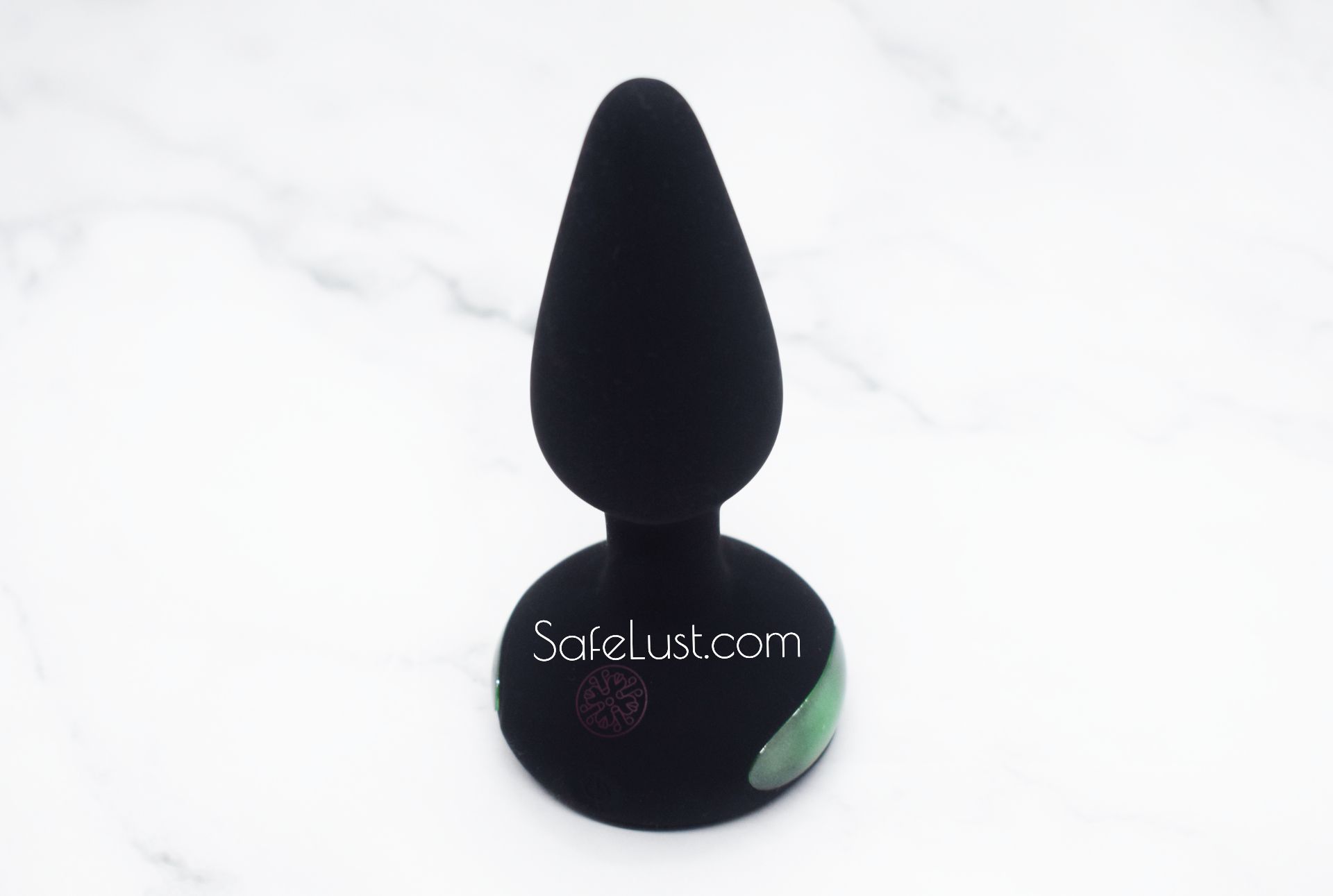 Size
Diameter: 3.44cm / 1.35in
The diameter gives you a nice stretch, especially since the butt plug has a fast taper to the max diameter, it takes some preparation to get it in.
Insertable length: 8.89cm / 3.5in
This insertable length is too short to give me p-spot stimulation, nevertheless, this butt plug has other qualities to enjoy, such as its portability due to its smaller size.
The base of the Mantric Butt Plug
The Mantric butt plug comes with a hard round base.  Round bases are less comfortable for long-term wear than T-bar bases. In this case especially so, since the butt plug is quite rigid. When wearing the butt plug and moving your legs, it will push on the round base, causing the butt plug to move inside as well, either to the left or right side.
Some people might even enjoy that the plug will move during use, however, I find this butt plug to be slightly too pointy and rigid to enjoy it.
In general, I'm more a fan of T-bar bases, but it's nice to have a round base in my collection as well as it does give a very different feeling, with more pressure on the cheeks.
This plug seems to mimic the shape of the typical metal gem butt plugs, with one difference. The round base feels large and secure enough to avoid any potential accidents with the plug getting sucked in. The metal gem butt plugs usually have much too small bases causing them to get sucked unwantedly.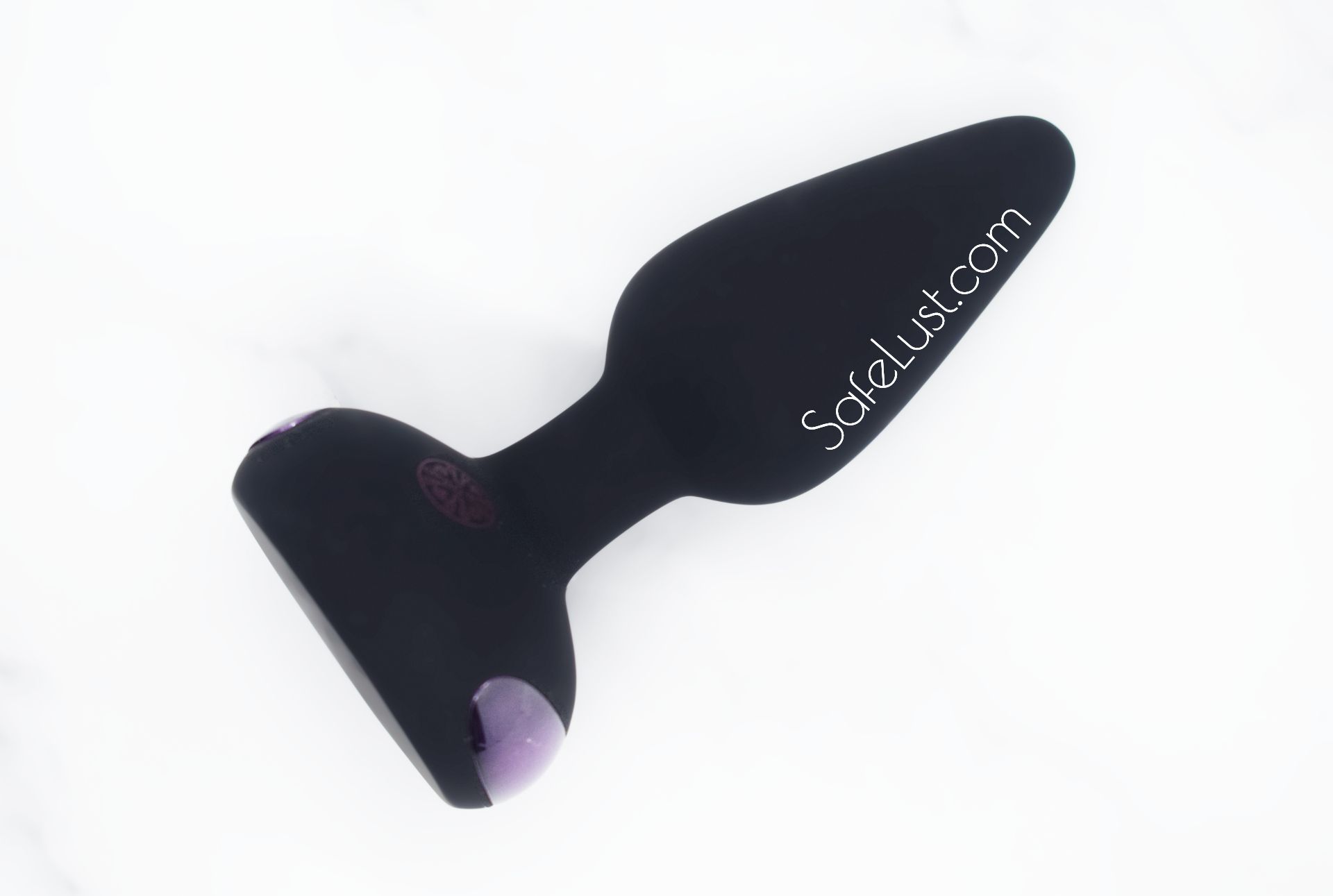 The head of the Mantric Butt Plug
The head of this plug is a bit different from the typical butt plugs. Instead of having a gradual taper, this butt plug tapers pretty quickly to its max diameter of 3.44cm / 1.35in. You will definitely feel the stretch upon initial insertion, which feels good.
Once past the biggest diameter, it slides in by itself due to its big diameter difference between the neck and the head, also called the head-to-neck ratio. This butt plug feels very secure once in place thanks to its thin neck.
The neck could have been slightly longer in my opinion, but it's not a big deal.
Features
Like other Mantric products, it comes with the typical LED lights on the side during use. The LEDs change color when changing the vibration patterns, which is a nice plus.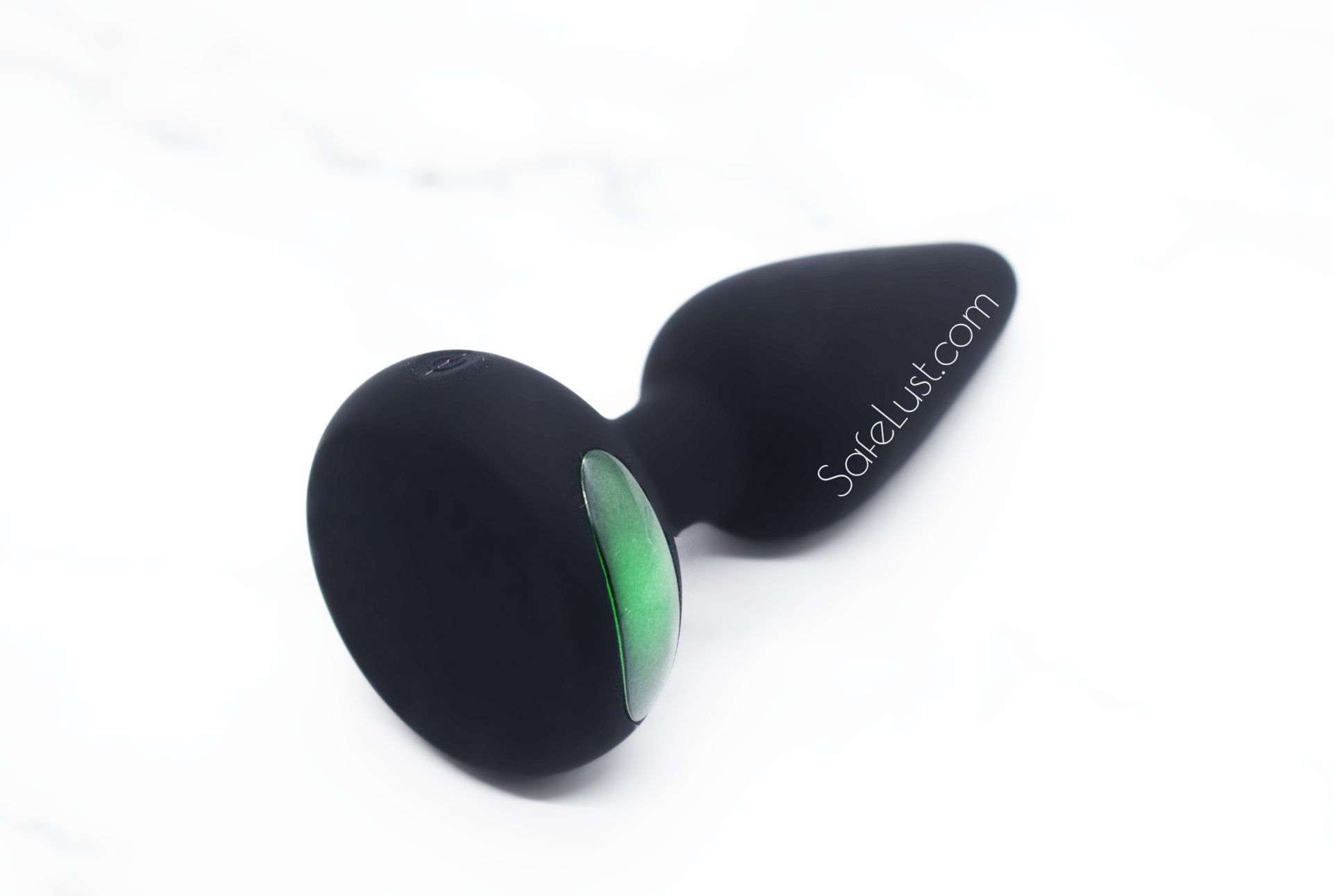 Vibrations, Discreet?
The vibrations of the Mantric butt plug are strong and feel deep! Unfortunately, the vibrations are quite noisy too, so I wouldn't recommend this for discreet play. Some websites claim "whisper-quiet" vibrations, I don't agree. Even the lowest vibration setting comes with a noticeable hum.
Also, the button to turn on the vibrations is on the base of the butt plug, and is quite hard to press! With it being a round-based butt plug, you also never know in which direction the button is facing! Good luck pressing that button discreetly.
As a plus, the button is not easy to accidentally press as it requires a hard push.
Vibration Patterns
The Mantric butt plug comes with a range of vibration patterns, we tested them out, and here they are:
low
medium
high
medium pulsating
medium pulsating fast
two buzzes and fast gradual climbing
from low to high, gradual climbing
low to high to low gradually
repeat of 3 pulsations with one longer vibration at the end
from low to high, slow climbing
While the variety is fun, none are really discreet.
Vibration Control
To control the vibrations, there is only one button. Press to turn on once, the LED lights on the side will turn on. Press again to turn on the vibrations, and press again to cycle.
There is no way to change the intensity of a particular pattern, you'll have to follow the order of the available patterns by repeatedly clicking the one button.
Waterproof and Charging
The Mantric butt plug is waterproof and can be used in the bath or in the shower. I tested this many times and I can say it's true. I've never had any issues, even when submerging it in water for cleaning or during a shower.
The Mantric butt plug comes with a typical USB-to-pinhole charger, which keeps the butt plug waterproof. I haven't found any issues with this, it's easy to use and it just works.
I've found the battery to last longer than 1 hour, although I couldn't say the exact battery time as I haven't measured it accurately.
Material And Texture
The Mantric butt plug has a silky smooth silicone outer layer, covering a very rigid core. The outer layer is made from a 100% silicone material, which is recommended as it is easy to clean and body-safe.
Should you get it?
The Mantric USB-Rechargeable Vibrating Butt Plug is for you if you want:
a butt plug with a safe base and body-safe materials
a rigid butt plug for short-term play
a shorter, more portable butt plug that does not give p-/g-spot stimulation
an intermediate butt plug that gives a stretch
you want to play with a good range of different strong vibrations and patterns
you don't mind the vibrations being rather loud and the control button being hard to reach and press
Who is it not for?
If you are searching for:
a butt plug for long-term play
a butt plug with g-/p-spot stimulation
a discreet, quiet butt plug
an easy-to-control vibrating butt plug
Then the Mantric USB-Rechargeable Vibrating Butt Plug is not for you.
Alternatives
While the Mantric vibrating butt plug is a great butt plug for short playing, there are some better alternatives depending on what you are looking for:
Do you want more control on vibrations, app-controlled, and don't mind a slightly longer length? Try the Lovense Hush
Do you want a similar-shaped butt plug that is also comfortable for long-term wear and comes with a remote control? Try the Nexus Ace (review coming soon)
Do you want a softer material butt plug? Try the Oxballs Ergo (review coming soon)
Do you want a thrusting butt plug with a similar shape? Try the Hueman Space Force (review coming soon)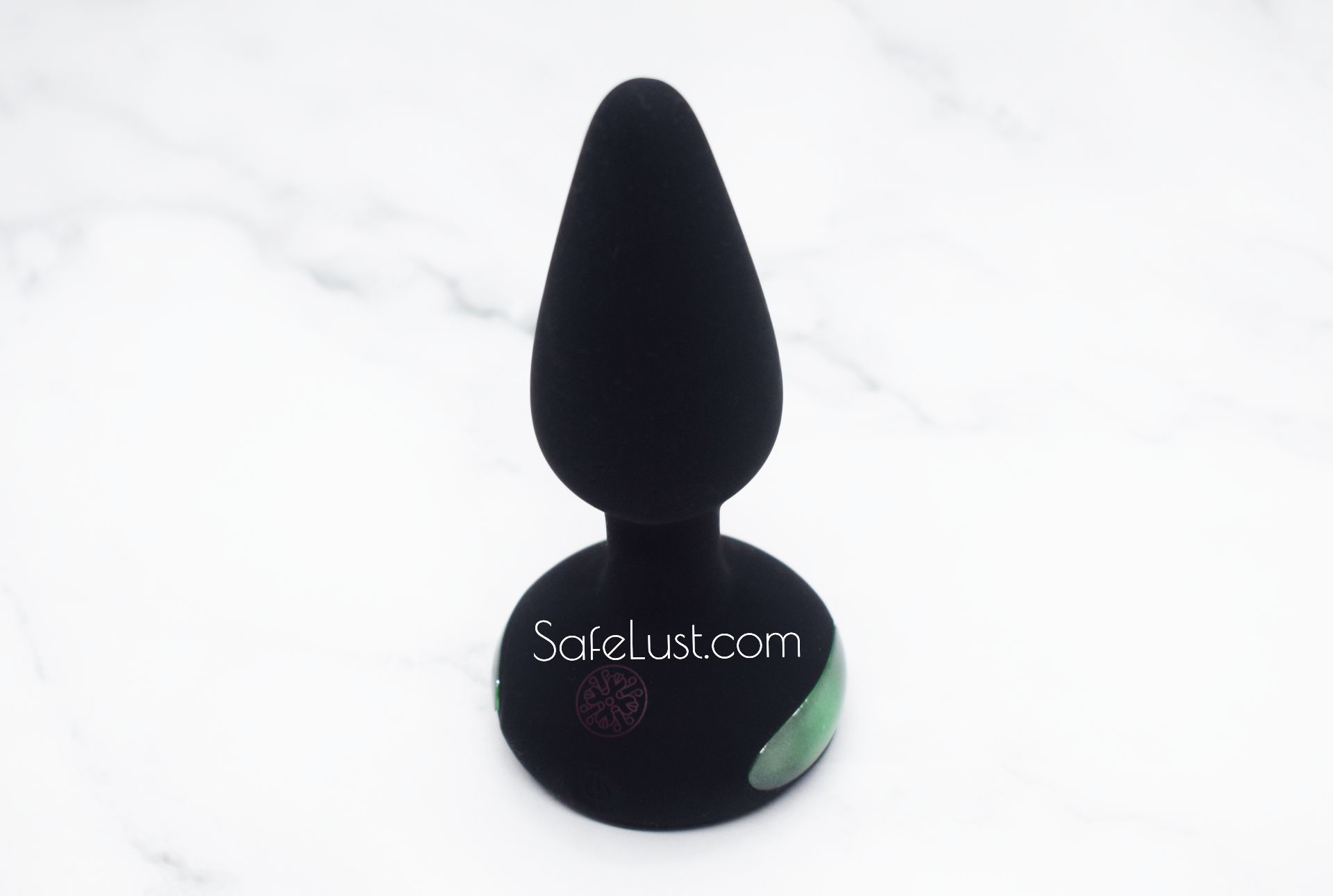 Summary
Mantric Rechargeable Vibrating Butt Plug Review Summary
Pros
Discreet packaging with hygiene seal
Made from body-safe silicone material, with a secure base
USB-rechargeable, does not require any batteries
Waterproof, can be used in the bath or shower and easy to clean
Strong vibrations and a range of different patterns and vibration intensities
The smaller size makes this butt plug more portable
The colorful LEDs on the side are a unique feature
Cons
The butt plug is very rigid, it puts slightly too much pressure on the sensitive areas
The butt plug is not discreet, the vibrations are loud
The round base doesn't make it fit for long-term wear
The button to switch the vibrations is hard to find, and hard to press
The shorter length means it won't reach the p-/g-spot
Final Score: 6.5/10
While not perfect in every area, it's still a fun butt plug to play with, and I'd recommend it if you can get it for a good price. I recommend it mostly for short-time play at home.
🚀 Never miss new toys 🚀
Sex Toy Reviews straight to your inbox
By subscribing, you agree to the Terms to receive Safe Lust promotional and marketing emails.

No spam. Unsubscribe anytime.