Shots Plug & Play Hollow Core Butt Plug Review
A creative butt plug with a hollow core! How would that feel? Jump with me into the honest review of this butt plug and let's understand exactly how this feels.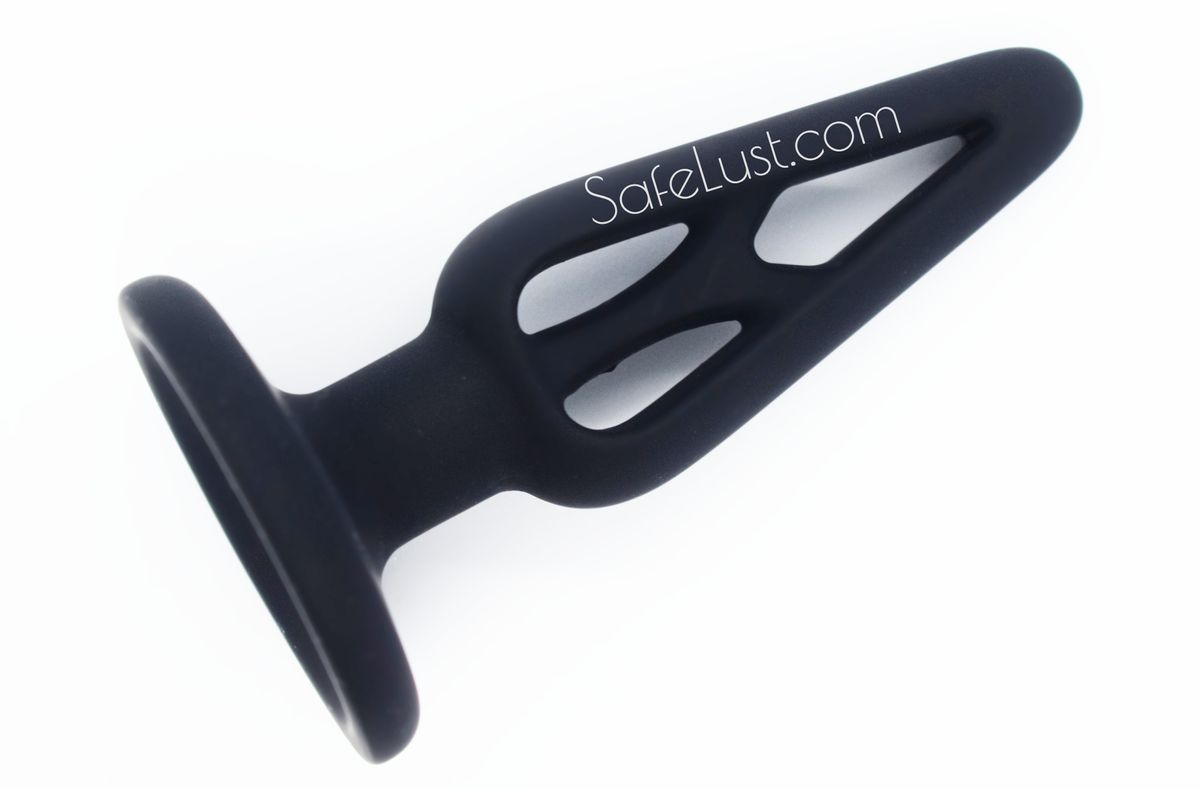 Seeing the Shots Plug & Play hollow butt plug, I knew I had to try it. I hadn't seen any butt plug with a hollow core before, apart from tunnel plugs.
Was it a good decision? Let's find out!
Size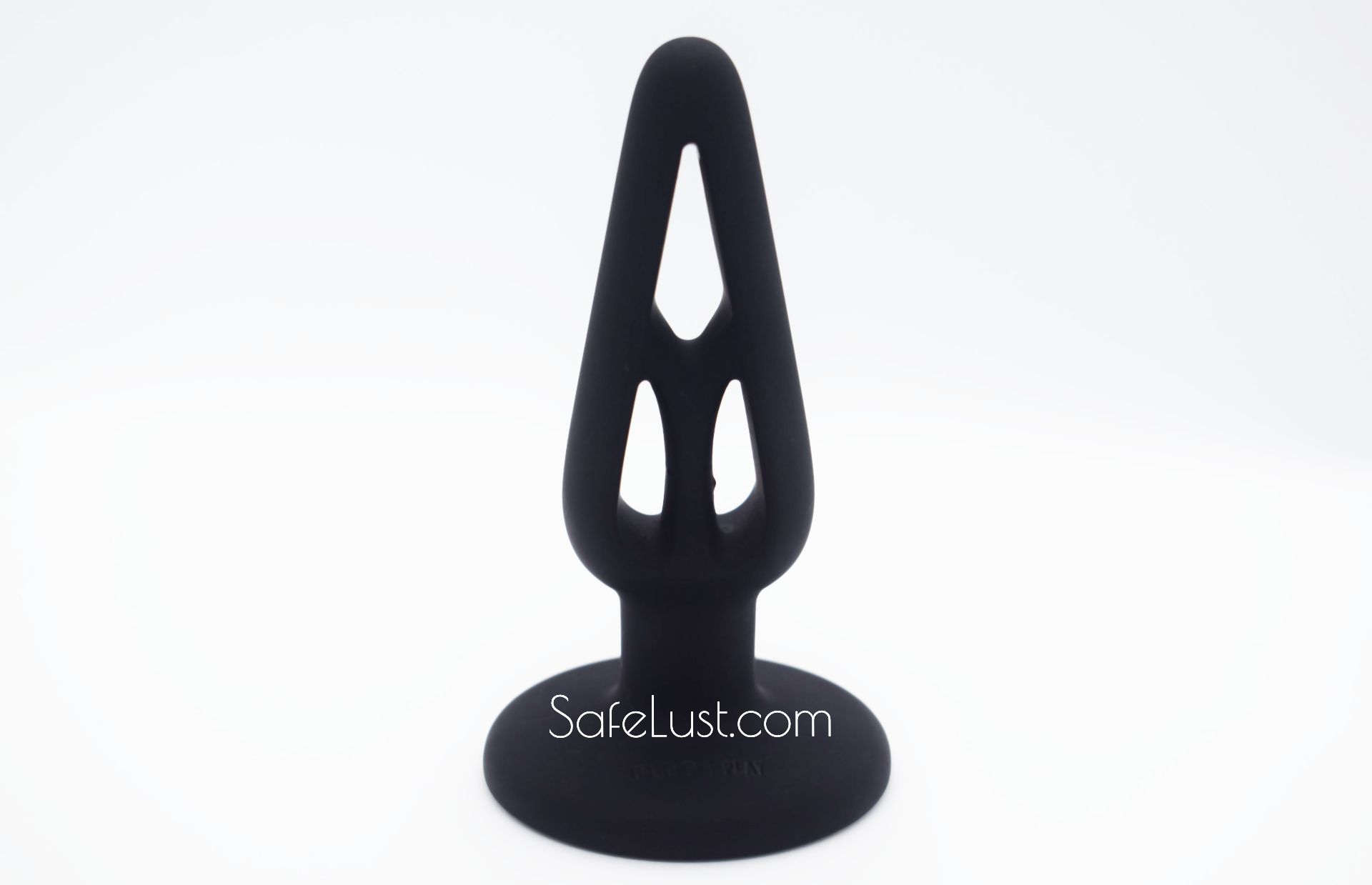 The size of this plug was a bit harder to find! The product page had incorrect measurements according to a review, and I couldn't find any information on an official page.  I measured it so you can know its real size. The plug & play plug has a max width of 3cm / 1.18in. The insertable length is 9cm / 3.54in.
Shape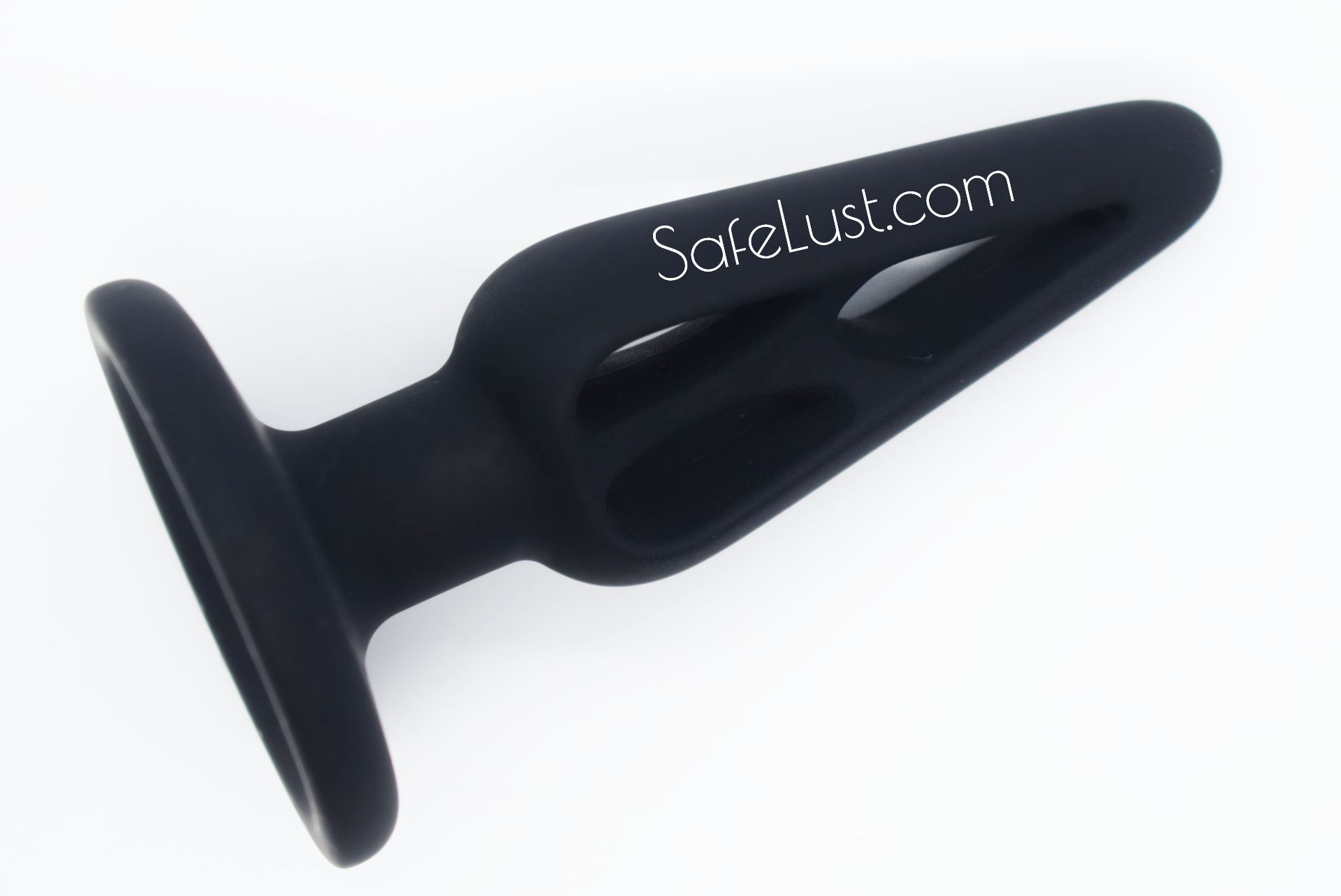 The shape is of the traditional butt plug cone, but it looks like a part has been sliced off on the sides, exposing three empty chambers within the butt plug!
This is very creative, and I'm not sure what the idea was behind this, to increase friction, or add extra sensations during insertion? Looking at the photo, I had no idea what feeling to expect from inserting this toy. How would you imagine it feels?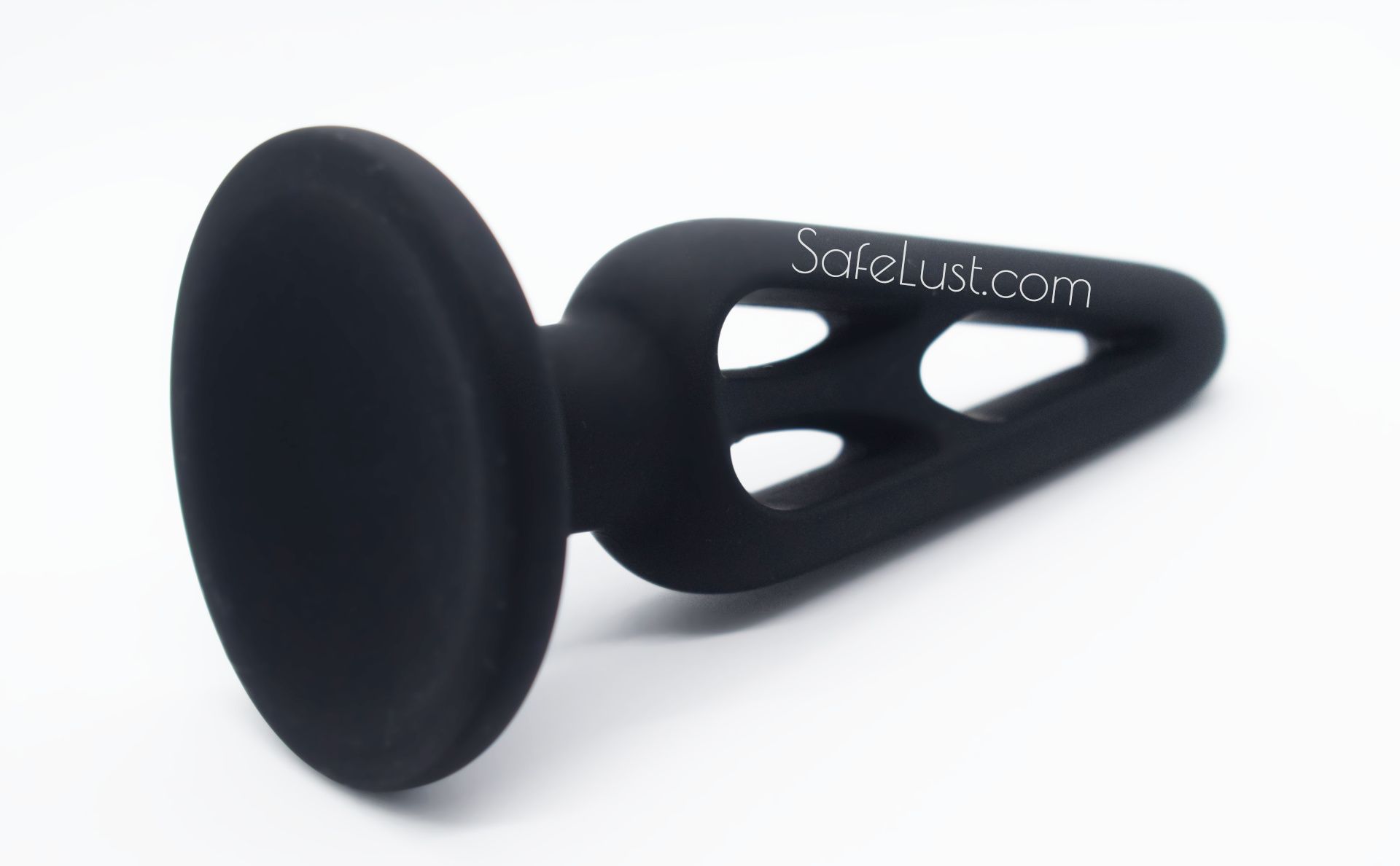 The neck itself is quite short, measuring around 2cm / 0.78in. A longer neck would have been more comfortable. Using it with such a short neck, there is not enough room for your sphincter to grab onto the neck, causing the circular base to press onto your butt too tightly. The base of the plug is big enough to feel secure, you won't have to worry about the toy getting sucked in.
The plug has a suction cup on the bottom, and let me say; this is a pretty strong suction cup! You can pull all you want, it just stays suctioned! While the suction cup works well, it is a bit incompatible with the shape of the plug.
I'm not sure what the purpose of the suction cup would be, as there isn't much length to play with considering the plug's length is shorter, and even the neck is too short. Using this with the suction cup, you'll have to press your body so much towards the floor or wall that your butt is squeezed onto it. Unless you only want to insert the very tip, the suction cup is not usable.
Material And Texture
The Shots Plug & Play Hollow butt plug is made from silicone, which is one of the best body-safe materials to use for sex toys.
I want to put a disclaimer here. While this specific butt plug is body-safe, some other toys sold by Shots toys are not. They are also selling rubber toys which are not body-safe. I don't support this, especially with all the information we have against using those materials. Make sure to only buy body-safe toys! I'll write a guide on sex toy materials in the future.
I was surprised to see that this butt plug does not have any seam! That's always a plus, and I still wonder why a high-quality butt plug like the Fun Factory Bootie plug has a seam.
I would describe the silicone's hardness as 8.5/10. It is pretty firm by itself. However, the hollow core allows the silicone around the plug to bend more easily, giving the impression that the butt plug is softer, while it is pretty firm.
Here is where my worries start. I was afraid the silicone edge around the hollow core would put too much pressure and feel too hard during use. Feeling it by hand, I can already tell this edge feels quite hard. Let me illustrate using a photo which part I mean: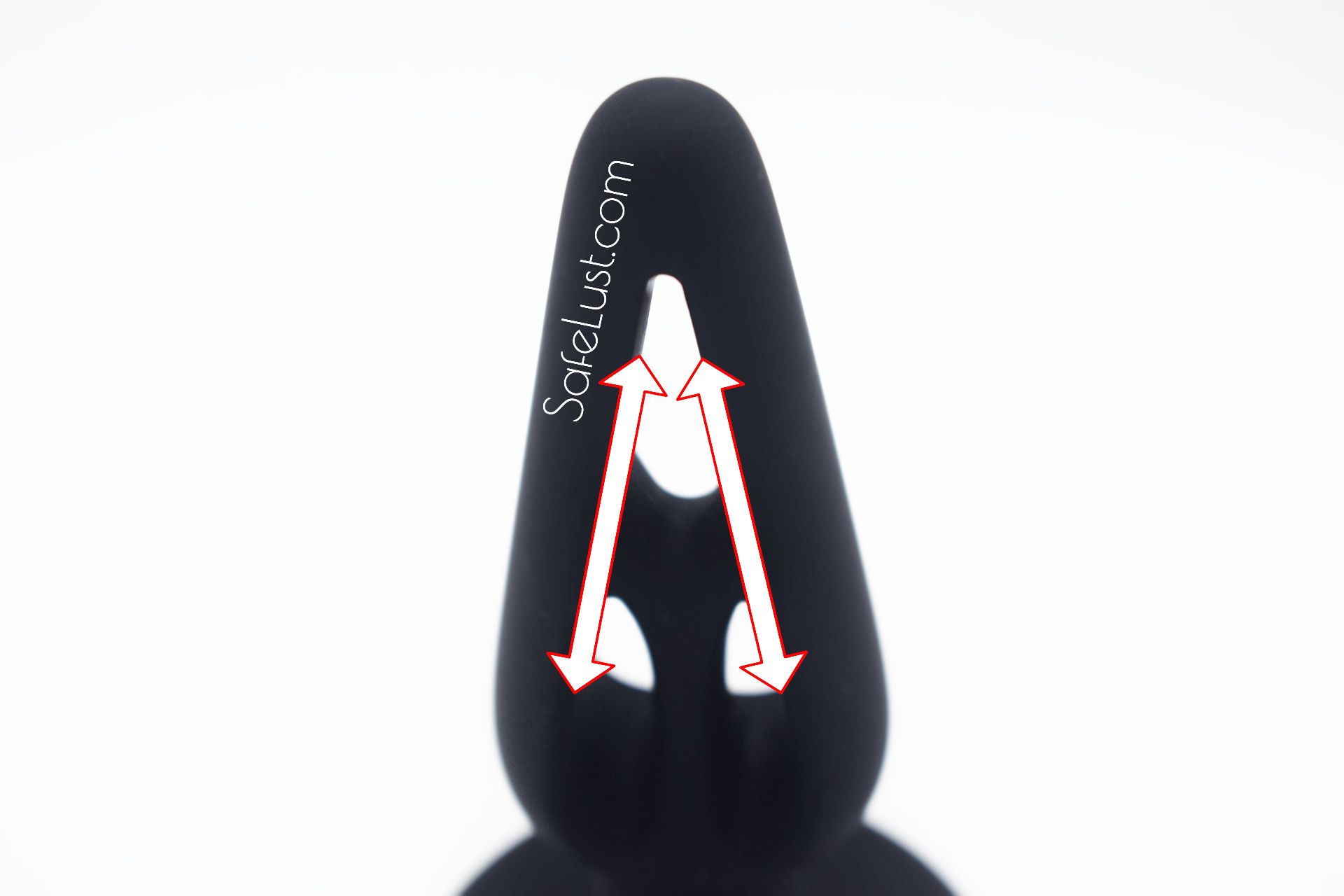 This hollow core shape means it's also harder to clean and dry. Getting some mild soap between those 3 chambers is quite hard, let alone trying to wipe the inside dry.
How It Feels
The Shots Plug & Play hollow core butt plug is easy to insert due to its small tip and the flared butt plug shape. The insertion goes smoothly although the hollow core feels very uncomfortable – as if something very firm with a strange shape is dragging around your sphincter. It's not pleasant, and I don't think you could ever get used to such a feeling unless you enjoy pain.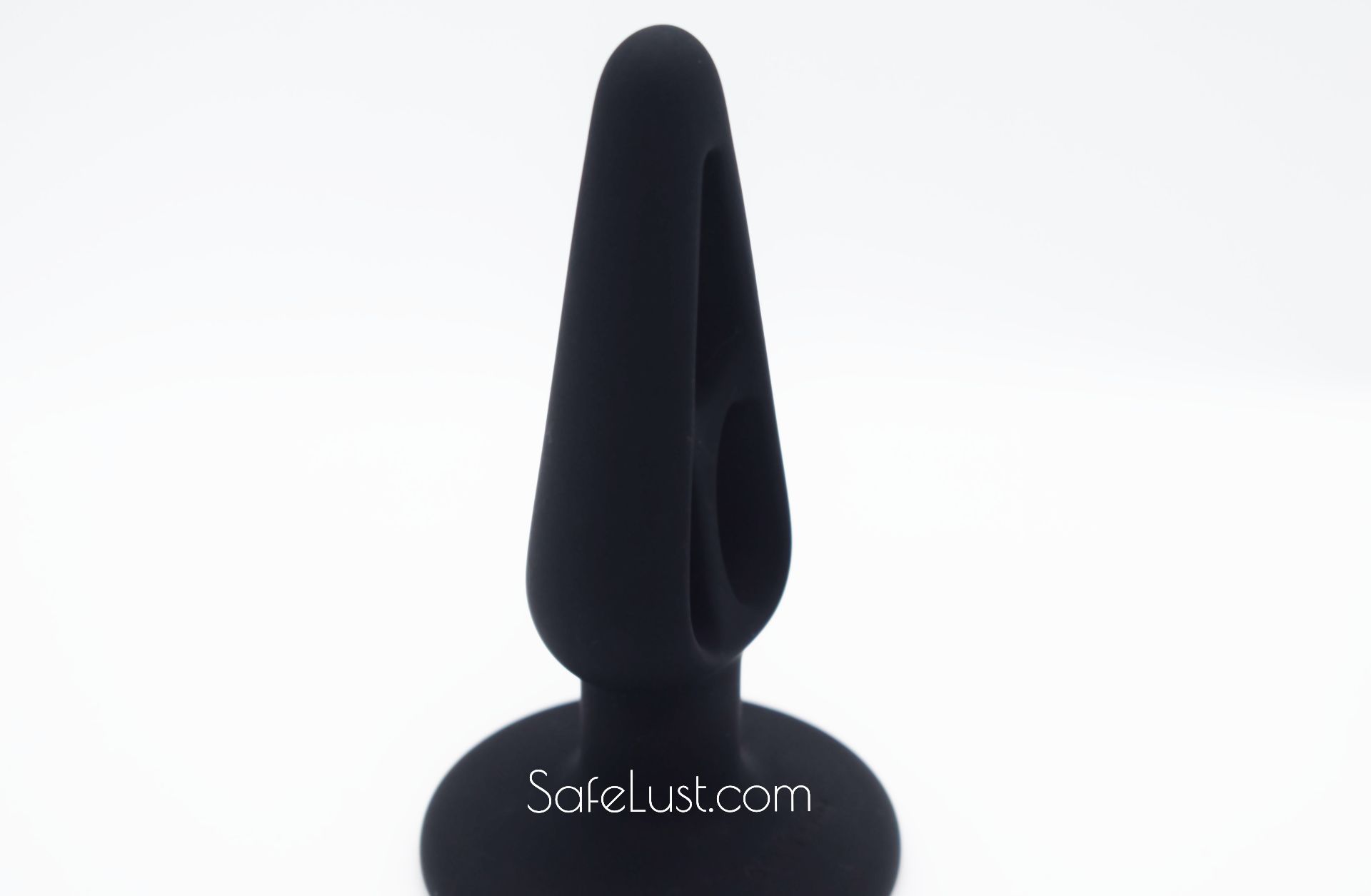 Once it's in, there's an unpleasant feeling from the edge of the hollow core putting pressure on the insides. That's exactly what I was worried about. Oh well, I learned my lesson, and I hope this review can prevent you from making the same mistake I did! The creative design lured me in, but this creativity is not fit for practicality.
The plug is quite short, so it won't reach any p-/g-spot locations, instead, it will just sit there providing a slightly full feeling, while the hollow core is causing unpleasant pressure.
I gave this plug multiple chances to make sure I'm writing an honest review, and unfortunately, the results did not change.
I don't see how this hollow core design could benefit somebody's pleasure, apart from using the butt plug as part of your art collection, as a luxury design door handle or door stopper. If you have any other creative ideas on how I could be using this (not as a butt plug), give me a shout!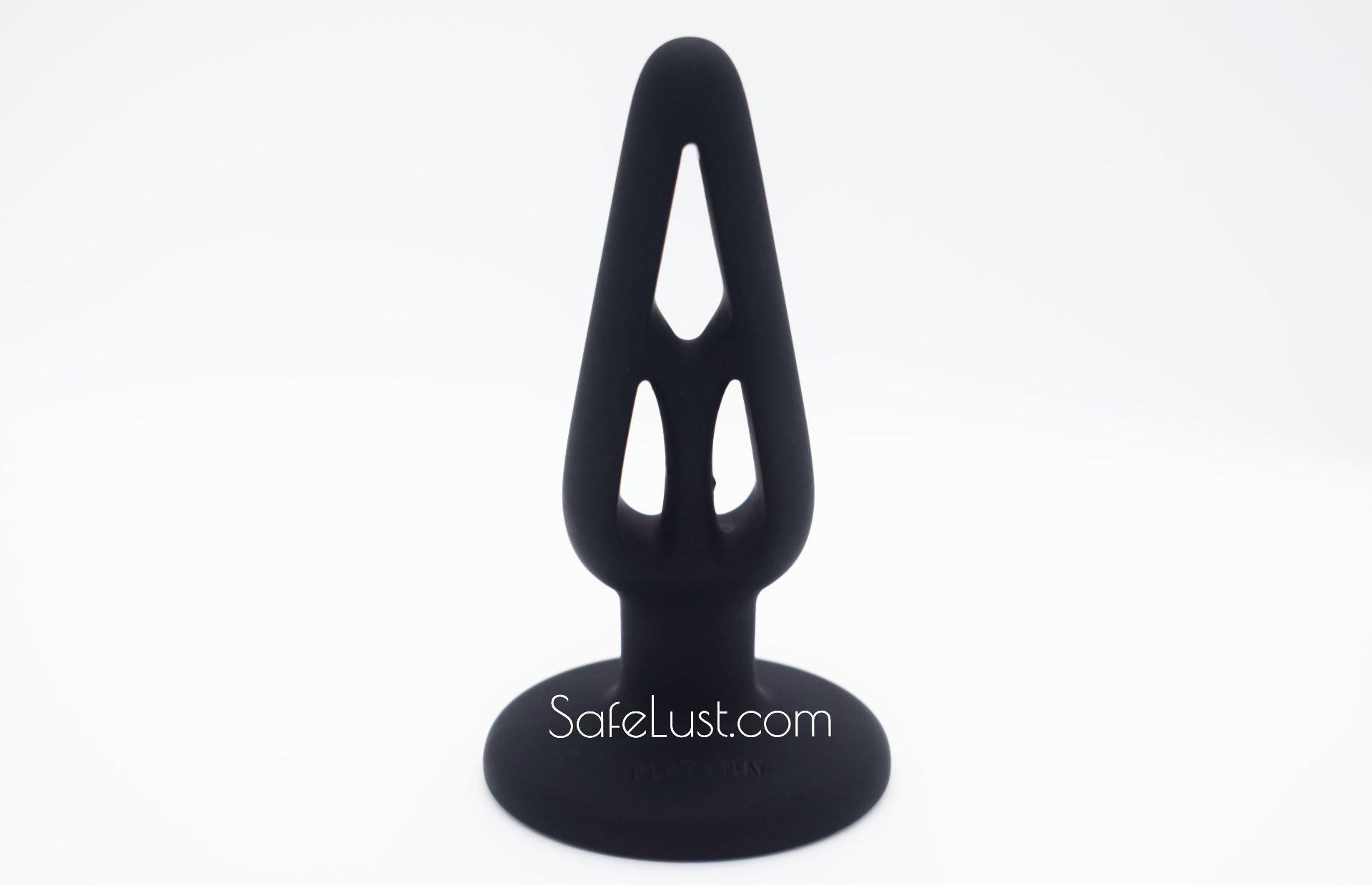 Summary
Overall I can't recommend this plug. The hollow core is uncomfortable and doesn't bring any added pleasure. I gave it multiple chances by trying it out a few different times, but the result was always the same. I think this butt plug was meant to be an art collection item.
Shots Plug & Play Hollow Core Butt Plug Review Summary
Pros
Great suction cup
Body-safe silicone material, quite firm
Creative hollow-core design, great for your art collection
Cons
The suction cup is more of a gimmick as the plug itself is too small to use with its suction cup.
The hollow core causes firm edges to press on your sphincter and insides during use, it's creative but it does not feel pleasant
The hollow core makes it difficult to clean and dry
Final Score: 2/10
Do I recommend it? Unfortunately not. Unless you like the pain hollow core plugs cause, I don't see any reason to buy this product.
Nevertheless, the manufacturer (Shots toys) did produce a very good suction cup, they can use that skill to leverage more enjoyable products.
🚀 Never miss new toys 🚀
Sex Toy Reviews straight to your inbox
By subscribing, you agree to the Terms to receive Safe Lust promotional and marketing emails.

No spam. Unsubscribe anytime.