Nexus Anal Starter Kit Butt Plugs Review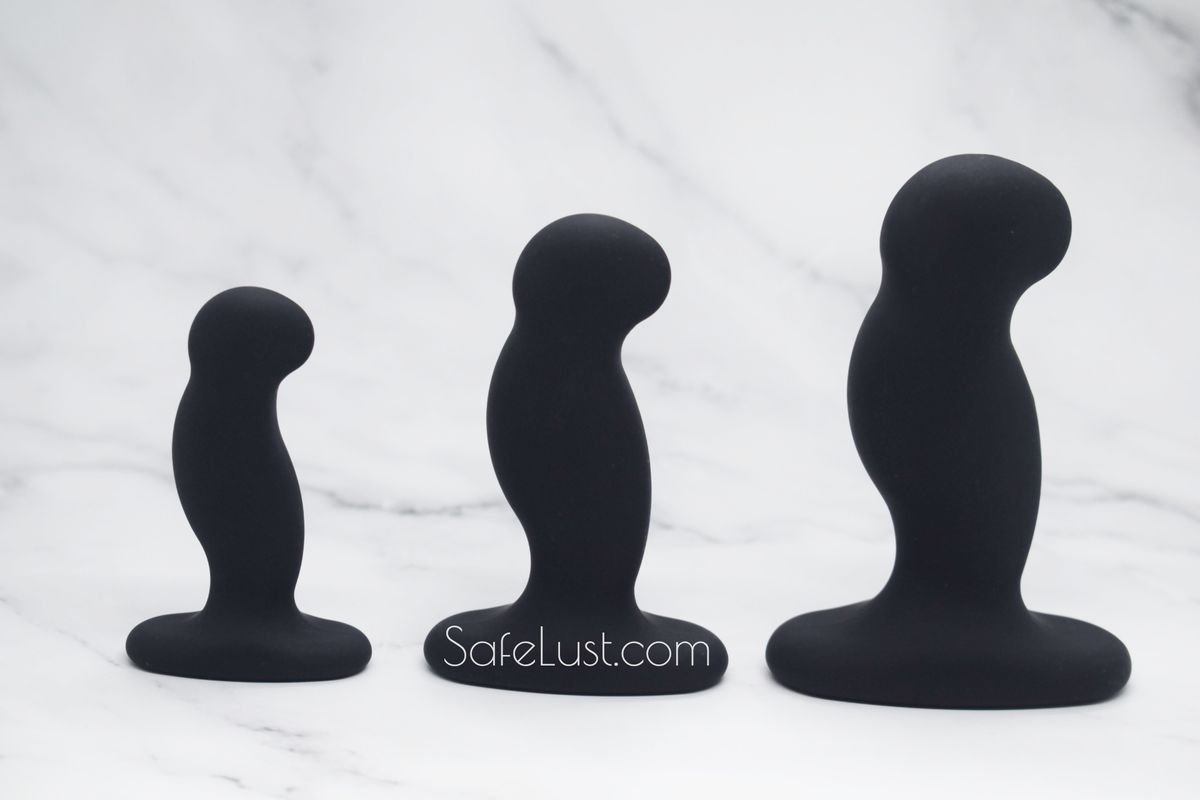 An anal starter kit, featuring g- and p-spot stimulation? As my adventure continues, this is yet another sex toy product I had to try out and see for myself. Let's jump into the review.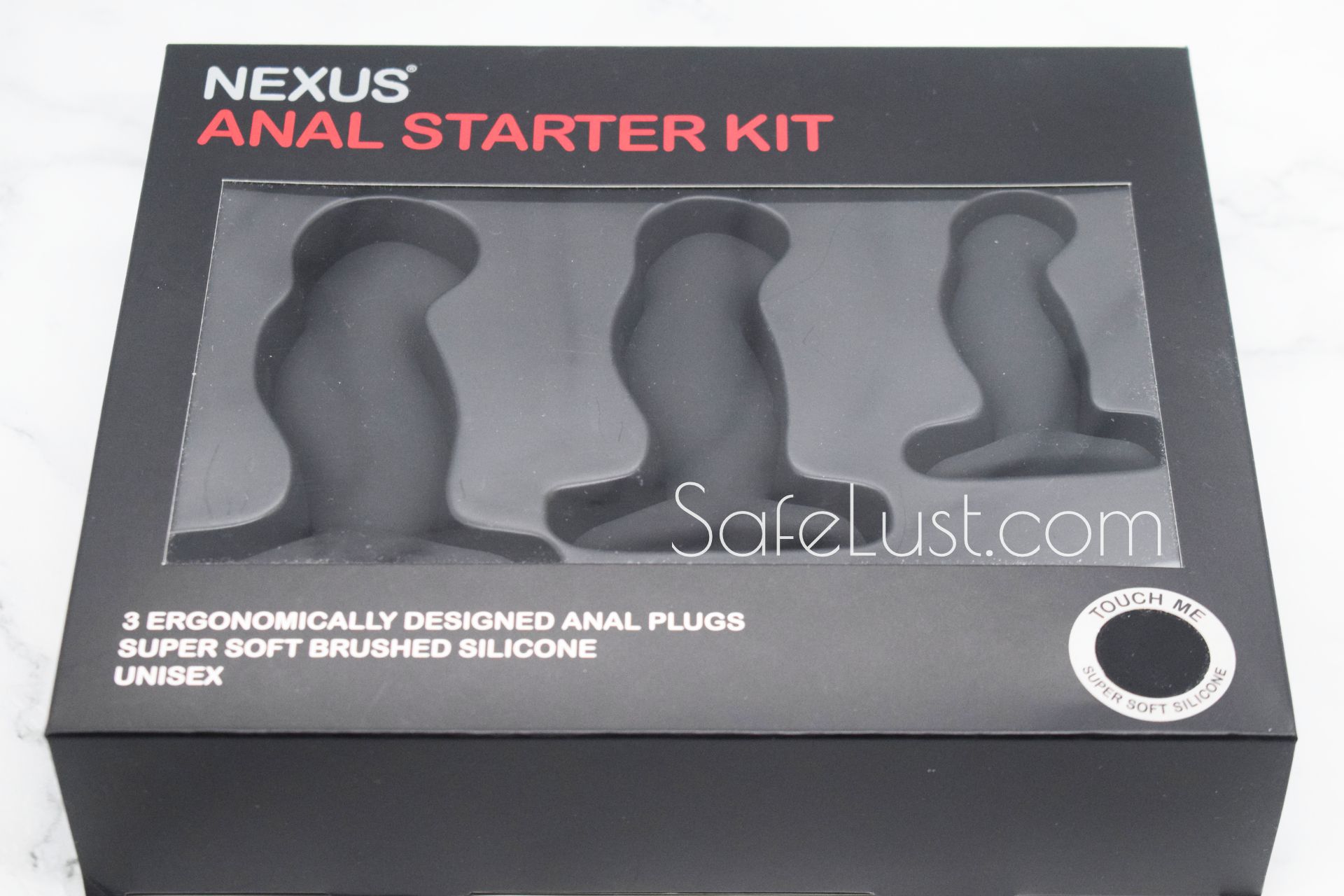 The Nexus Anal Starter Kit
An anal starter kit featuring 3 butt plugs of graduating sizes, targeting the p- and g-spots.
Packaging
The packaging of the Nexus Anal Starter Kit looks nice, but in practice is a bit disappointing. It's a cardboard box with a plastic window displaying the three butt plugs in a fancy way.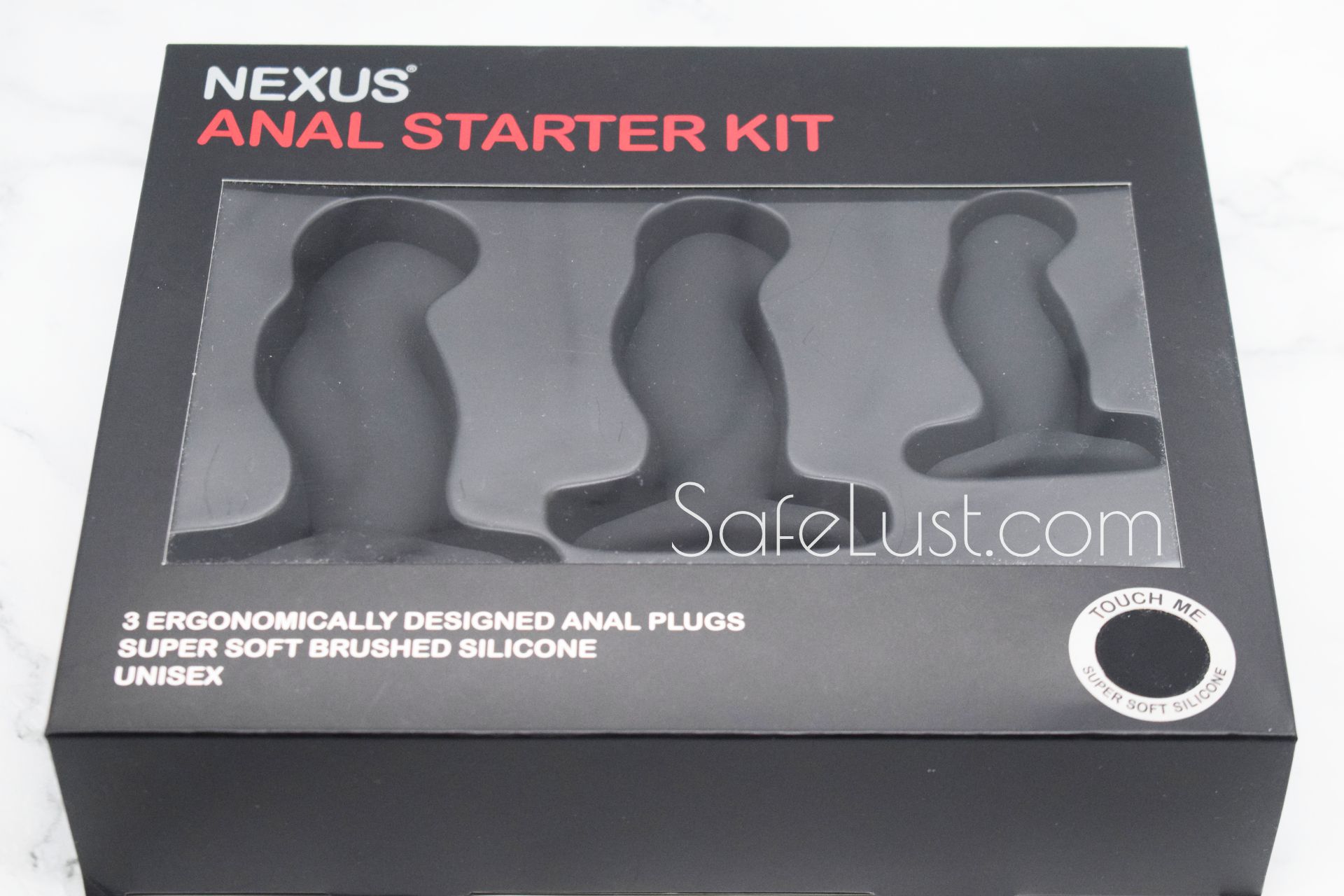 The box could have been much smaller, avoiding packaging waste. However, there is another thing I can't let go of. It's the fact there is no hygiene seal on this intimate product.  How do I know the product I bought wasn't used and returned?
Nexus is a good brand for sex toys, and if they care about their consumers and hygiene – which I'm sure they do –, this should be a must. An example of a great hygiene seal are the products from Fun Factory, which always have such a seal on every single product.
📣
@Nexus please include hygiene seals in with all your products! Your products are high-quality, so we expect high-quality consumer-friendly packaging too.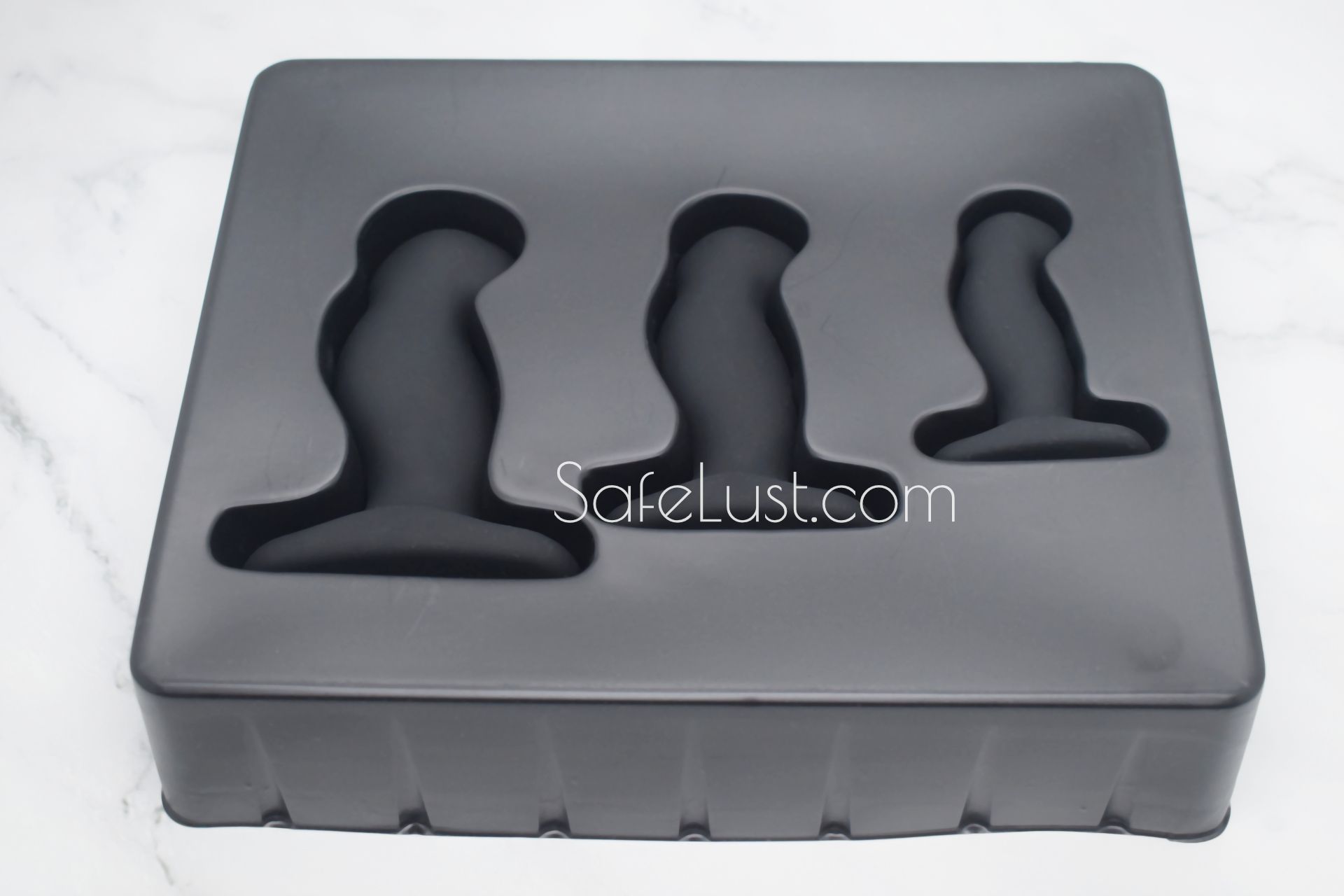 Shape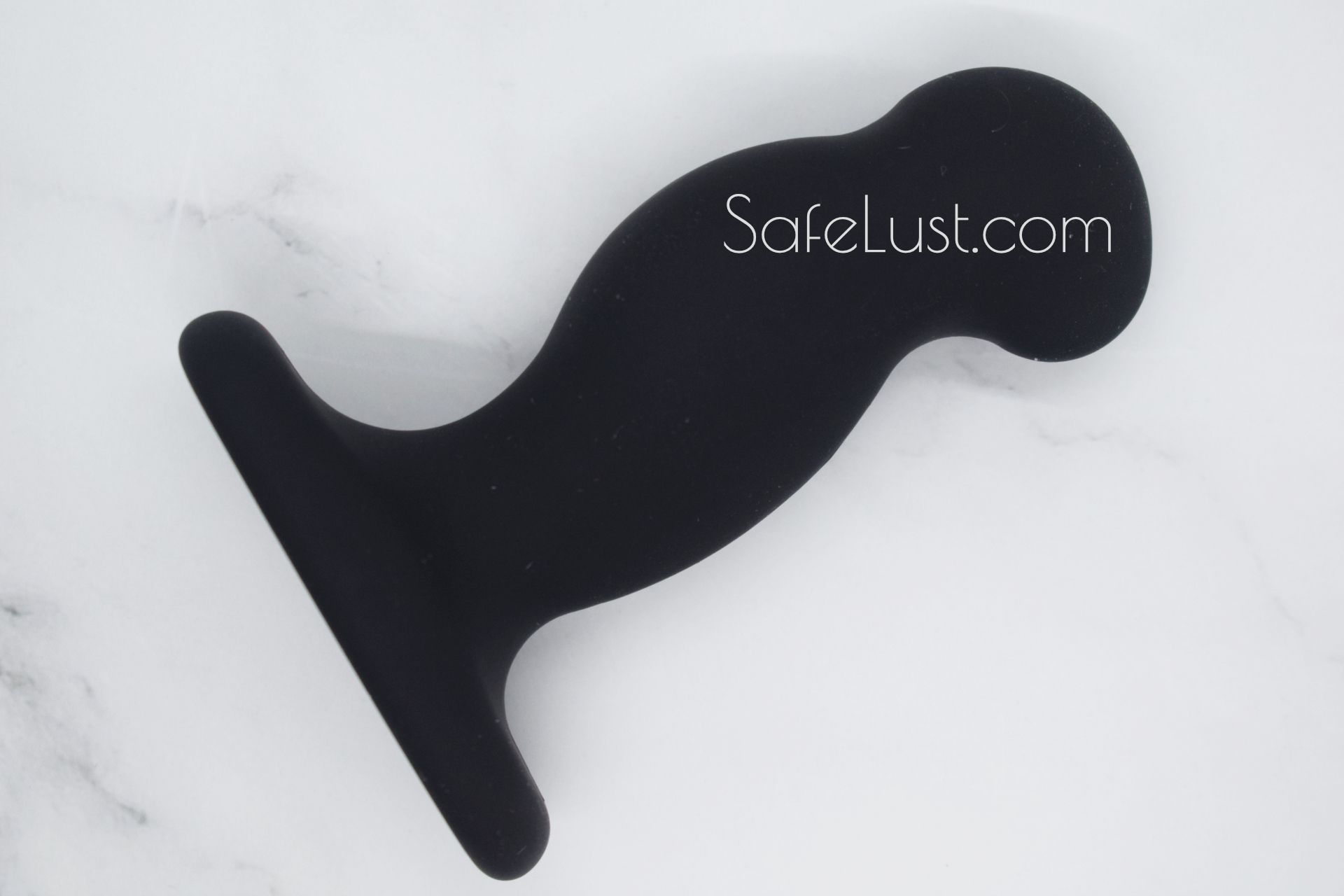 The shape of these butt plugs is the typical Nexus shape for p-spot (prostate) and g-spot stimulation, with a nub at the tip of the butt plug, for pressure on the p-/g-spot. This design is very effective at that, and I totally approve of this shape as I'll explain in the next section of this review.
The tip of this plug is immediately quite large since it needs to put pressure on the p-/g-spot. This is noticeable during insertion as you'll immediately get to the max diameter.
Another product sold by Nexus is the Nexus G-Play which has a very similar if not the same shape but includes a vibrator inside. If you prefer vibrations, go for that one - there is also a kit available from Nexus including the three vibrating G-Play butt plugs.
Size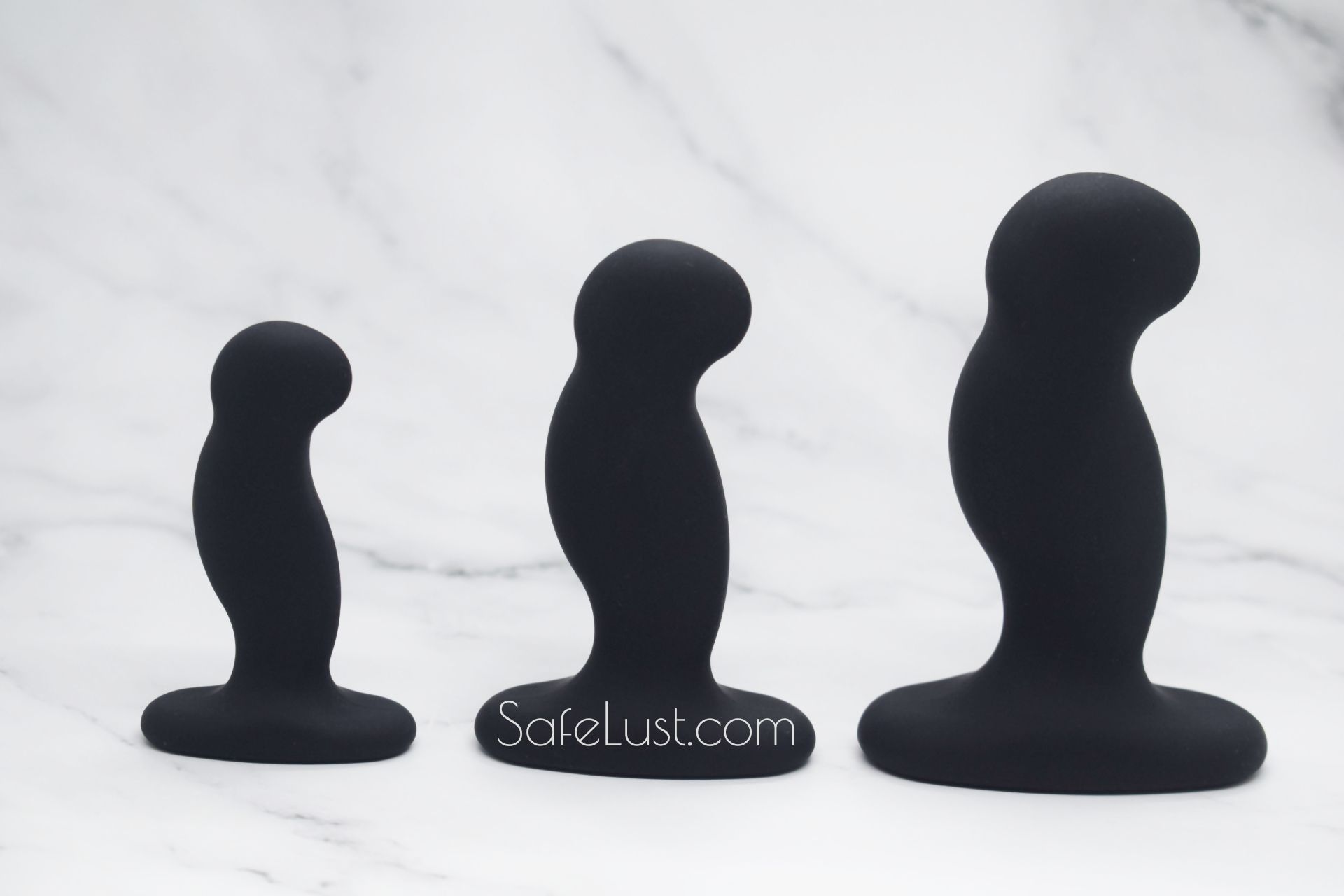 The kit contains three different butt plugs, let's go over their sizes. There are some mistakes about the sizes of these on some websites. Below are the actual correct measurements.
The below length refers to the length of the shaft of the butt plugs.
Note that because these butt plugs are not round, we can't measure them with diameter, instead, we use max width. As you can see in the photos, one side of the butt plug is very thin, while the other side is wider. This max width is only on one side of the plug! Meaning that a max width of 4cm / 1.57in can be much smaller, and less stretching than a max diameter of 4cm / 1.57in!
A photo says more than a thousand words, so here's a comparison of the round Nexus Ace small butt plug with 3cm / 1.18in max diameter and the Nexus Anal Starter Kit Small butt plug with 3cm / 1.18in max width.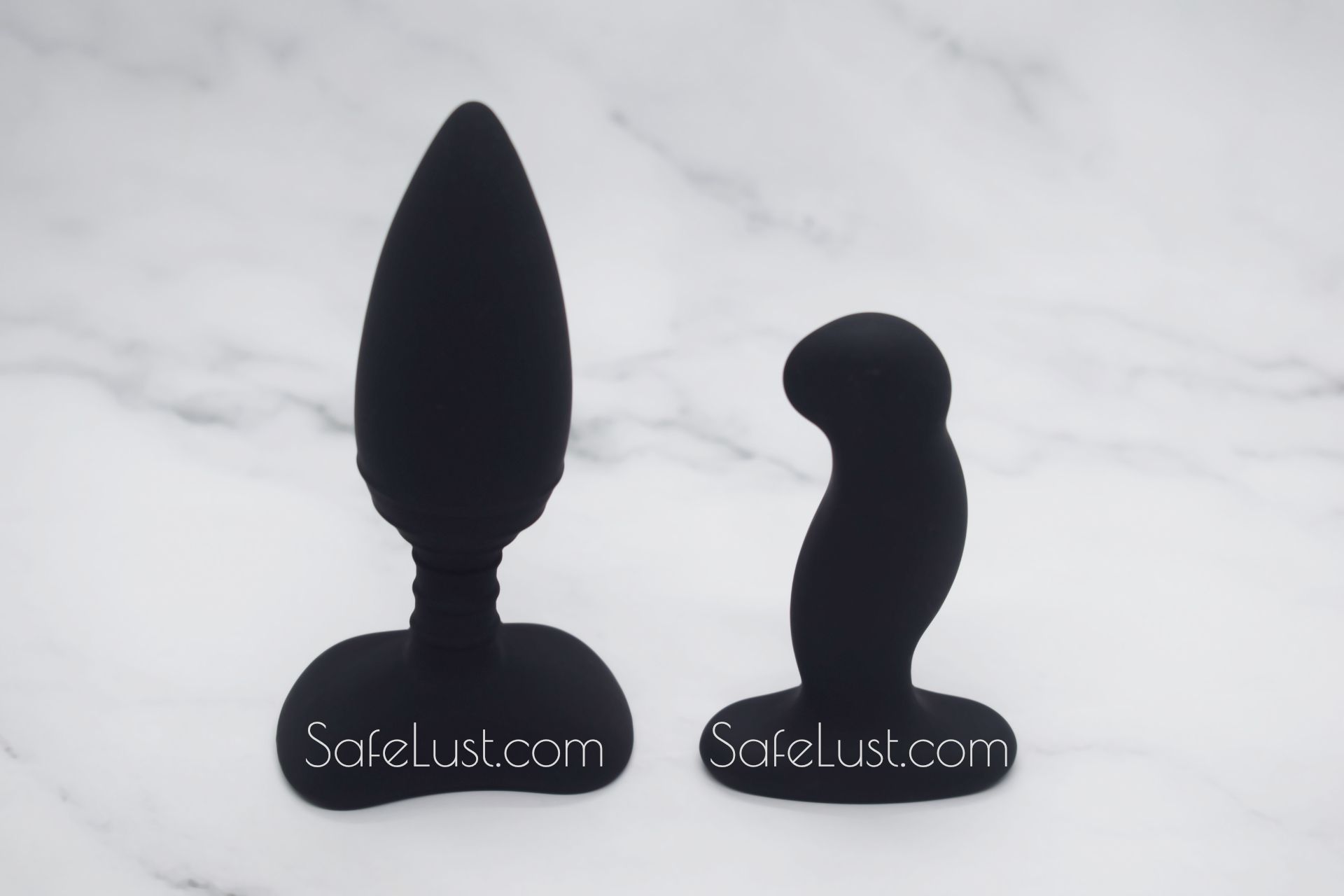 With that cleared up, let's jump into the actual measurements:
Small butt plug: width: 3cm / 1.18in - length 6cm / 2.36in
Medium butt plug: width: 3.5cm / 1.38in - length 7cm / 2.36in
Large butt plug: width: 4cm / 1.57in - length 8cm / 3.15in
ℹ️
I will add the circumference details to these measurements soon!
Again, due to these being measured in max width, they seem larger than they actually are. I was surprised as these are actually quite small in real! The small one is similar to the size of a finger. It should be easy to take in the large butt plug with little experience.
Sizes can be very different from manufacturer to manufacturer, in this case, the sizes are obviously more on the small side. Large butt plugs are usually around at least >3.8cm / >1.5in diameter, while here the large butt plug has a max width of 4cm / 1.57in, but a much smaller total circumference.  
The small butt plug is indeed, very small, similar to a finger! I have to be honest, I skipped the small one during my initial test. In the end I did try it out, to be able to give a complete review. This might be a downside for more experienced players, but if you're just starting out, I can really recommend this kit for having small-sized butt plugs, these are very easy to get into the world of anal play and butt plugs, and you'll be wanting that large plug in no time!
The great thing is, while the butt plugs are small, their shape press on all the right spots, so they will still feel great. I can't highlight it enough, these have an amazing shape.
Features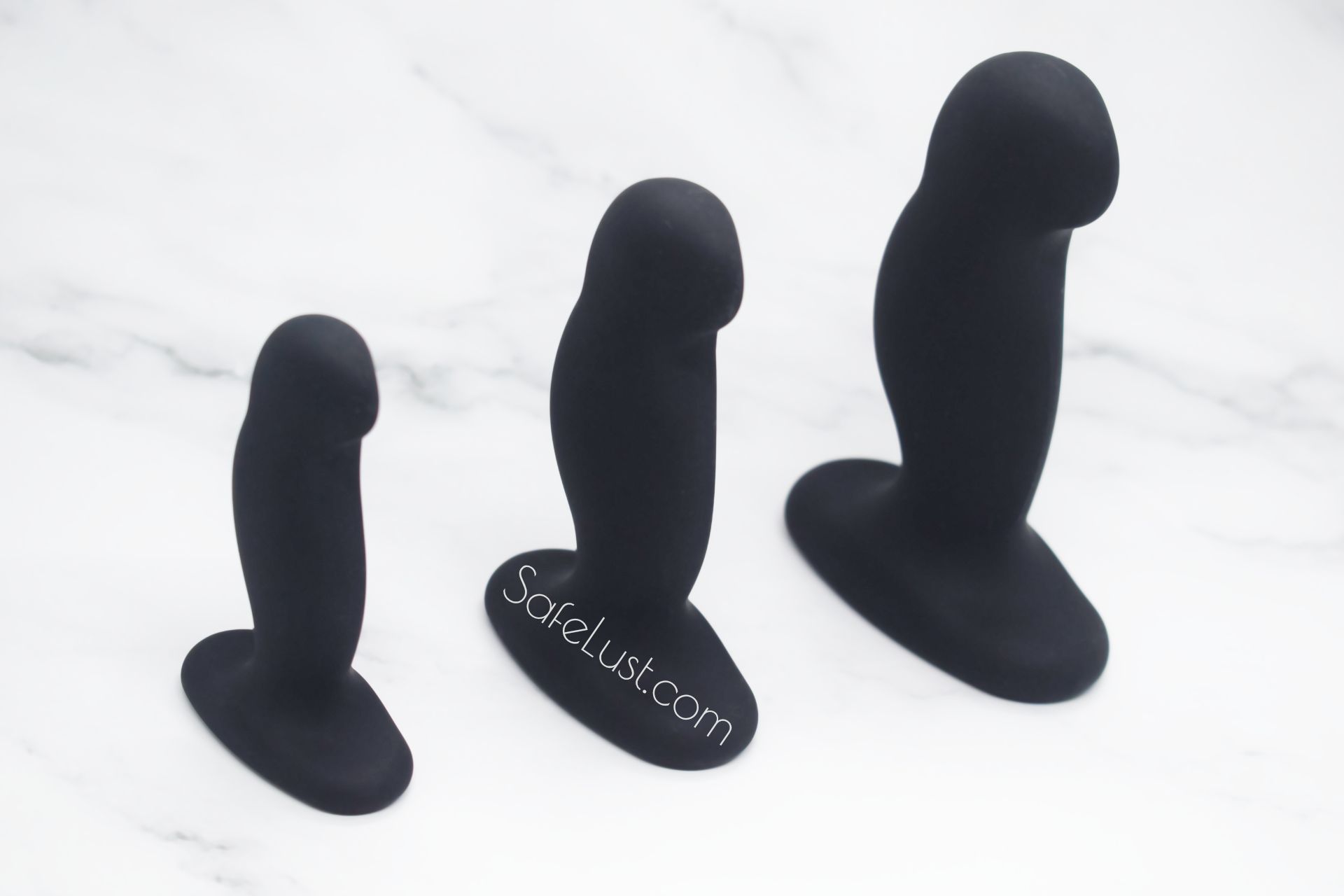 Long-Term Wear
These butt plugs can work for long-term wear, except for the small size - more on that later. These are comfortable, and have a secure, comfy base to keep it from sliding in. One thing to note is that the neck of the plug isn't much thinner, so it's easier for these butt plugs to pop out. So while you could use it for long term-wear, there are better options, such as the Fun Factory Bootie Plug which will stay in no matter what, and the Oxballs Ergo which has super soft material that adapts to your body's shape.
Another thing to consider is that these "pack a punch", in the sense that they really stimulate the g- and p-spot well, and with the rigid silicone you will definitely feel the plug being in there. It's hard to focus while wearing these!
I feel the small butt plug's base is too small to feel safe if you have more experience or if you use it for long-term wear, as your butt could naturally relax over time. If you are just starting out it is probably fine, but I still wouldn't recommend it for long-term wear. It's probably no big deal, once you make the jump to the medium size, you could use that one for long-term wear play.
"Adult Novelty"
I am disappointed to see the following disclaimer on the box: "Sold as an adult novelty". From what I understand, this means the product will have less strict regulations as it is not classified as an official sex toy. For a high-end brand like Nexus, I'd expect them to do the necessary here to at least classify these as sex toys.

In the end, it's obvious these are sex toys and will be used in such a way. Are there people who just buy these to display them on their nightstands? While I have a large collection, I don't display them like that, unless I ever build a sex toy museum 😉.
I expect a good sex toy brand to be confident and classify their sex toys as they are – sex toys.
I wonder if this is just a leftover as this particular sex toy has existed for quite a while? I couldn't find its exact release date, but I did find a review made in 2015 about this exact toy. In the end, it's just a disclaimer I don't like seeing on sex toys.
Material and Texture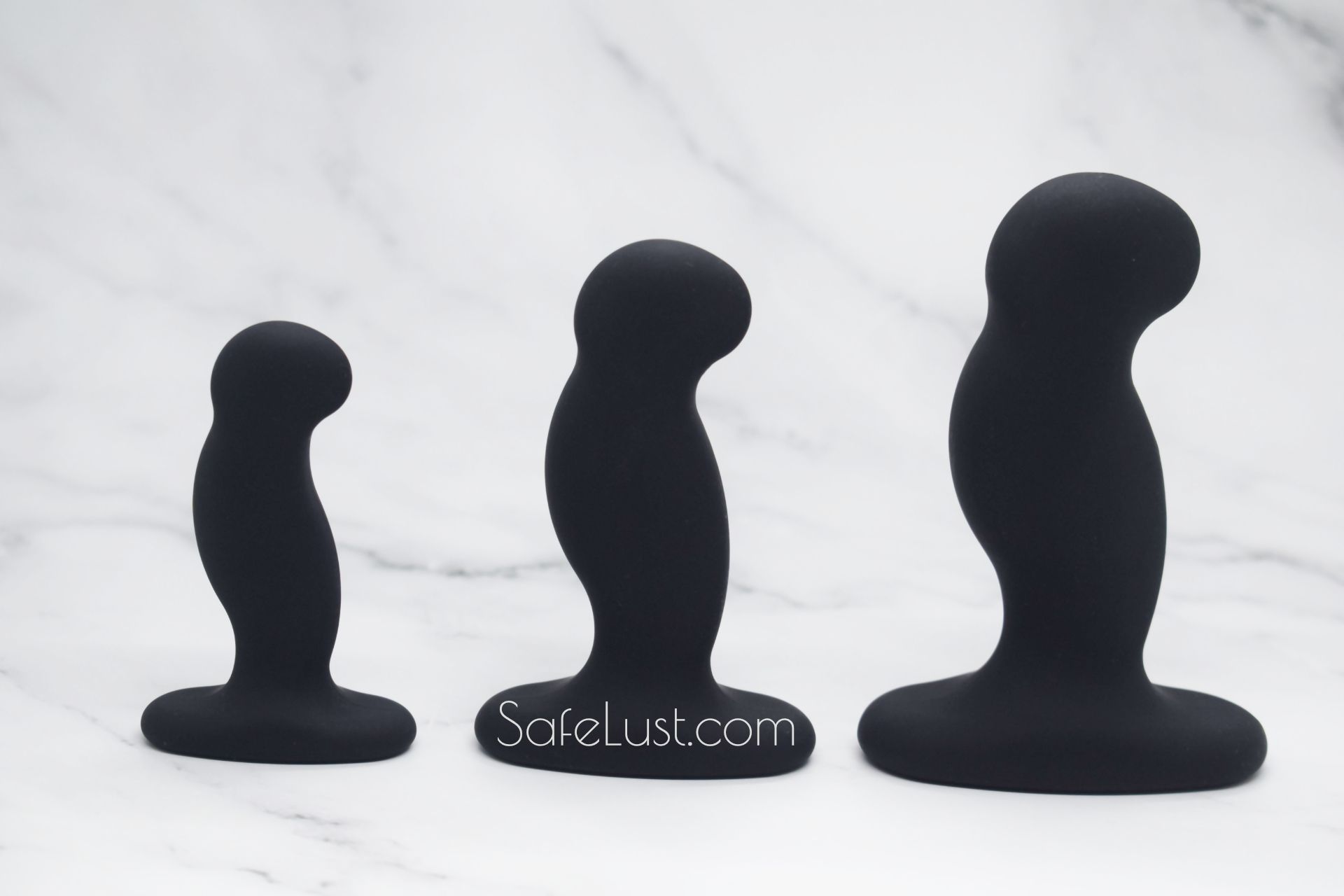 The Nexus Anal Starter Kit Butt Plugs are typical body-safe rigid silicone butt plugs. They're not flexible, and not very squishy. More rigid plugs are usually desired for g- and p-spot stimulation, so in that regard it makes sense.
As usual, body-safe silicone can be washed with mild soap, or even boiled for a deep clean! Silicone is one of the best materials for butt plugs.
How It Feels
The initial insertion takes a bit more effort, with the large bulbous head of the plug. Once the tip is inside, it will slide in quite easily, and the sensation around the p-/g-spot increases in a very nice way.
Once fully inside, you will definitely feel the butt plug being there, with the rigid silicone. It puts quite some pressure on the sensitive areas. The base is not too deep, meaning you can still sit while wearing it, there's no problem there. It feels good to keep it in while sitting, as you can rock your body to put pressure on the different sensitive areas.
This butt plug doesn't have a thin long neck, so it's harder to keep it inside and there's a chance of it slipping out. This is less so with the large size.
The p- and g-spot stimulation is strong, so keep in mind that focusing while wearing this butt plug is difficult.
Should you get it?
You should get this plug if:
You want a set of different g-/p-spot stimulators that really do their job
Any experience level, unless you want really big toys
You probably won't use the small version if you are more experienced
You want a rigid butt plug that makes its presence clear
You want a pure silicone plug that does not have any functions like vibrations and others
Who is it not for?
You should not get this plug if:
You are looking for a stretching challenge, as these butt plugs are not that large
You are looking for softer silicone butt plugs – these plugs are rigid
You are looking for vibrations or other extra features – these are just pure silicone
Alternatives
A good alternative is the Fun Factory Bootie Plug, which also comes in three sizes. This butt plug has an alternative shape that also pleasures the p- and g-spot while being very comfortable for long-term wear with a secure T-bar base. The Bootie Plug is more comfortable than the Nexus Anal Starter kit for long-term wear. For simple short-term play, both do provide slightly different sensations.
The Nexus G-Play Trio Set is a butt plug set which have the exact same shape as this set, but with rechargeable vibrations! This set also comes in colors. Or you could purchase the individual sizes separately, small, medium and large.
Another alternative if you are looking for less p-/g-spot stimulation is the Nexus Butt Plug Trio which takes the shape of the Nexus Ace butt plug, minus the vibrations.
Summary
Nexus Anal Starter Kit Butt Plugs Review Summary
Pros
Three different sizes fit the different experience levels
Silicone, body-safe materials with secure bases
The shape is perfect for p- and g-spot stimulation
Waterproof and easy to clean, as it's silicone
Cons
The small butt plug is, well, very small like a finger
No hygiene seal, no way of telling if the sex toys are new
Labeling the sex toys as "adult novelties" on the packaging
While it could work for long-term wear, there are better options as these butt plugs tend to slip out
No vibrations or other options, for this, look at the Nexus G-Play Trio
Final Score: 7/10
A great starter kit, also fun for more advanced players. Some improvements could be made in the packaging and the size options. These are very solid and great butt plugs you'll want to keep on using.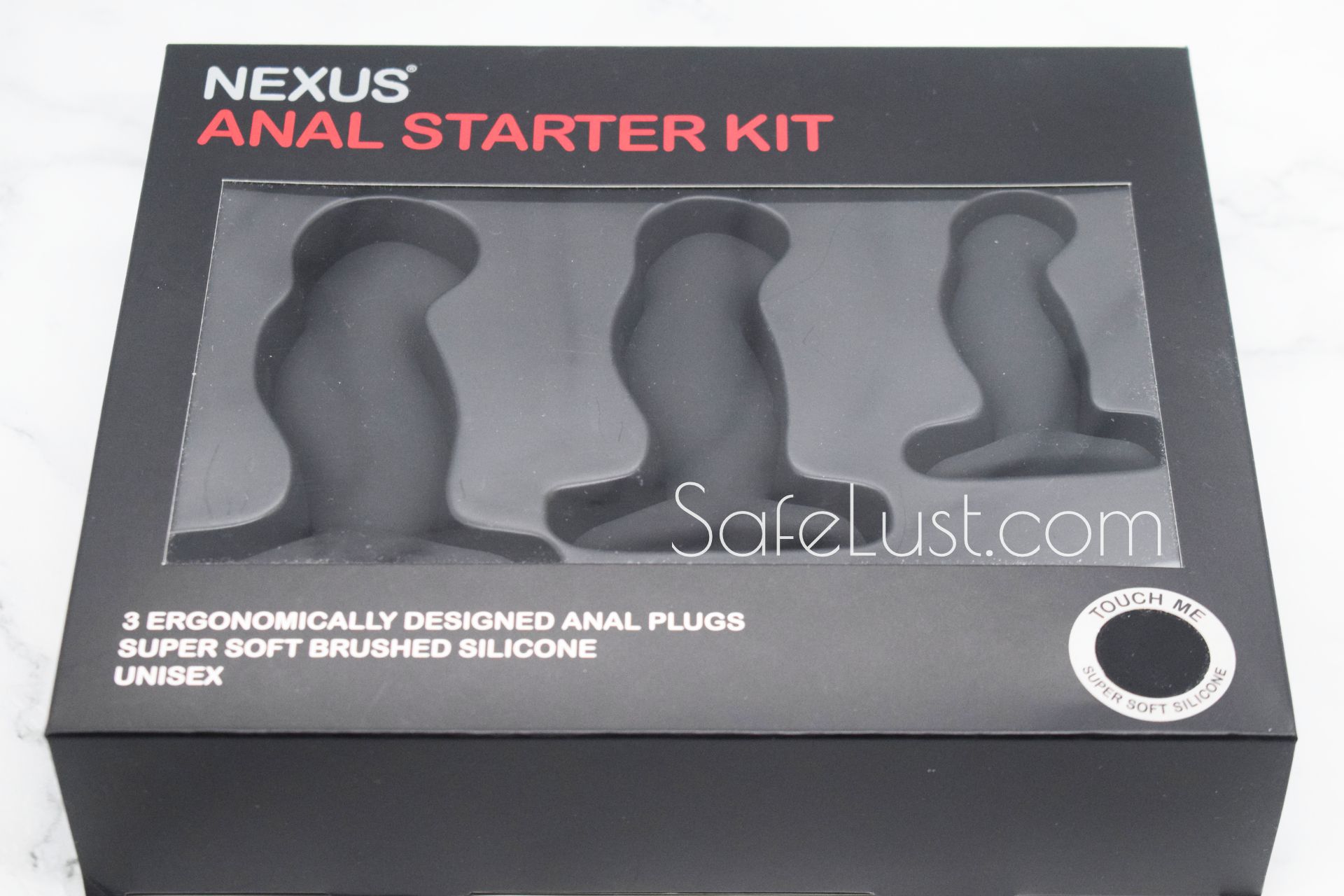 The Nexus Anal Starter Kit
An anal starter kit featuring 3 butt plugs of graduating sizes, targeting the p- and g-spots.
🚀 Never miss new toys 🚀
Sex Toy Reviews straight to your inbox
By subscribing, you agree to the Terms to receive Safe Lust promotional and marketing emails.

No spam. Unsubscribe anytime.