Mantric Rechargeable P-Spot Probe Vibrator Review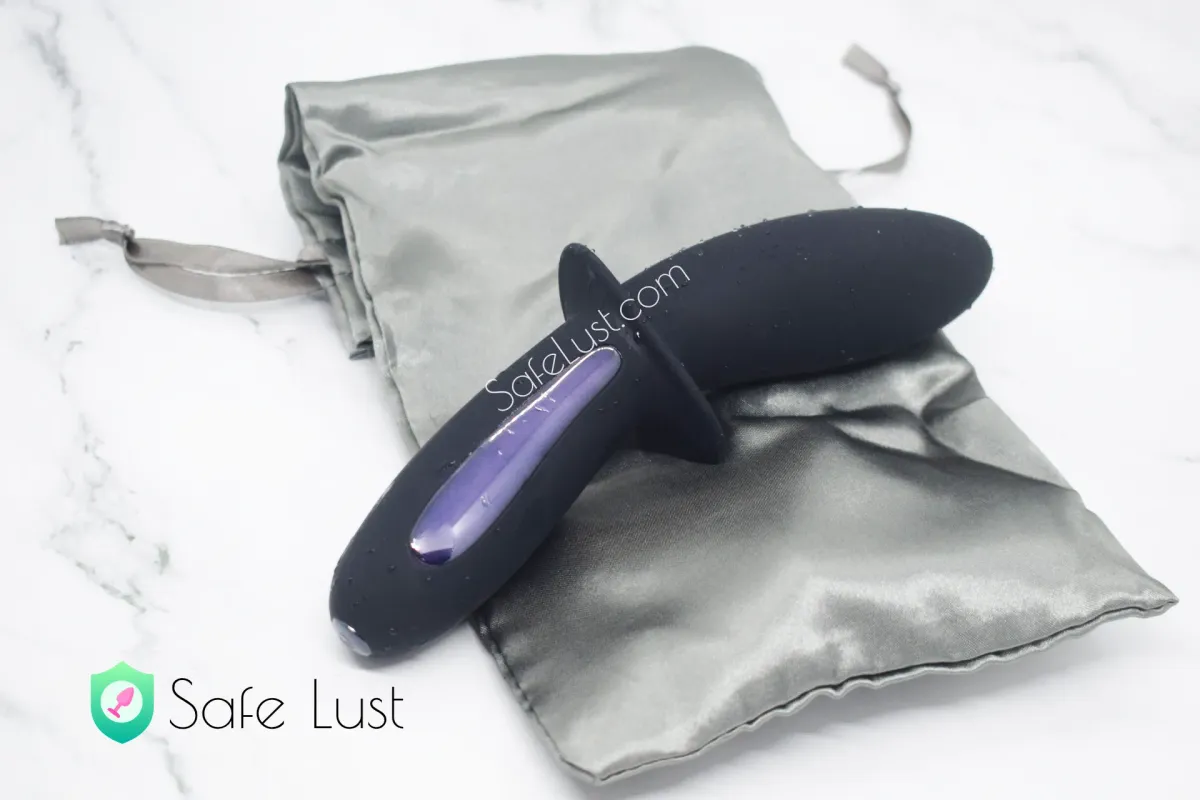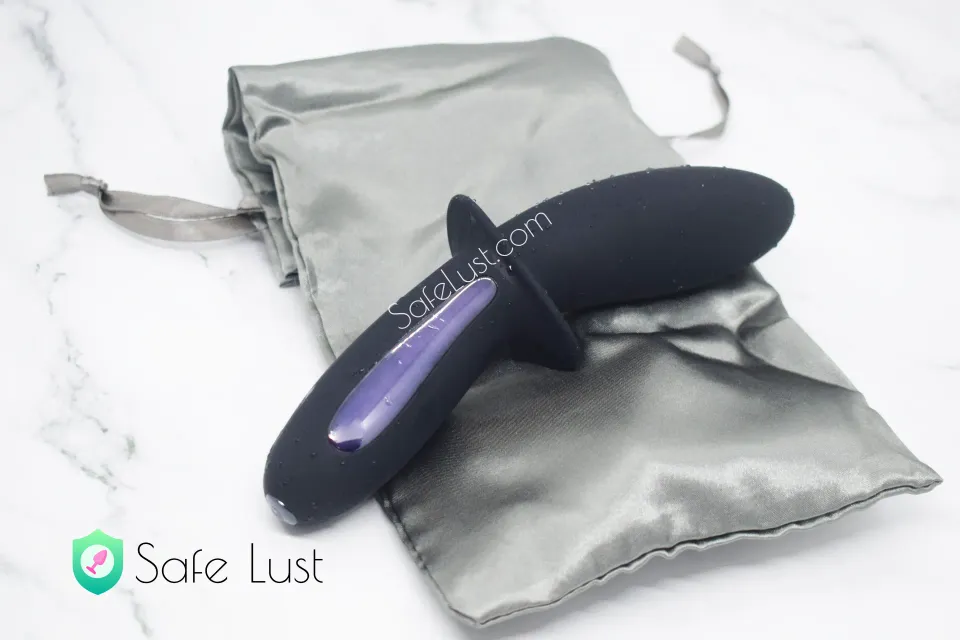 Prostate stimulation is underrated, and this p-spot probe does an amazing job at targeting the prostate! I recently noticed I haven't posted a p-spot vibrator review yet, now is the time to change that 😎.
Let's go over all the details of this toy so you can make an informed decision on whether the Mantric P-Spot Probe Vibrator is right for you.
Packaging
It comes in a neutral cardboard box with a hygiene seal! Kudos to Mantric for always including hygiene seals on their packaging – those are a great way to increase trust that the toy is definitely new. Unfortunately I don't have the box anymore so I can't show you a photo.
The vibrator lies inside the box between foam cushioning. The box is not oversized, so overall great packaging.
A note before we continue – this toy is a real dust magnet! I ended up washing the toy many times, the only solution was to take photos of it while it's still wet! Yep, this is what we sex toy reviewers are dealing with 😆.
Do note the silver pouch shown on the review photos is not included with the Mantric. This was just to get the toy at the right angle. Included, you'll get a USB charging pinhole cable and the Mantric toy.
Shape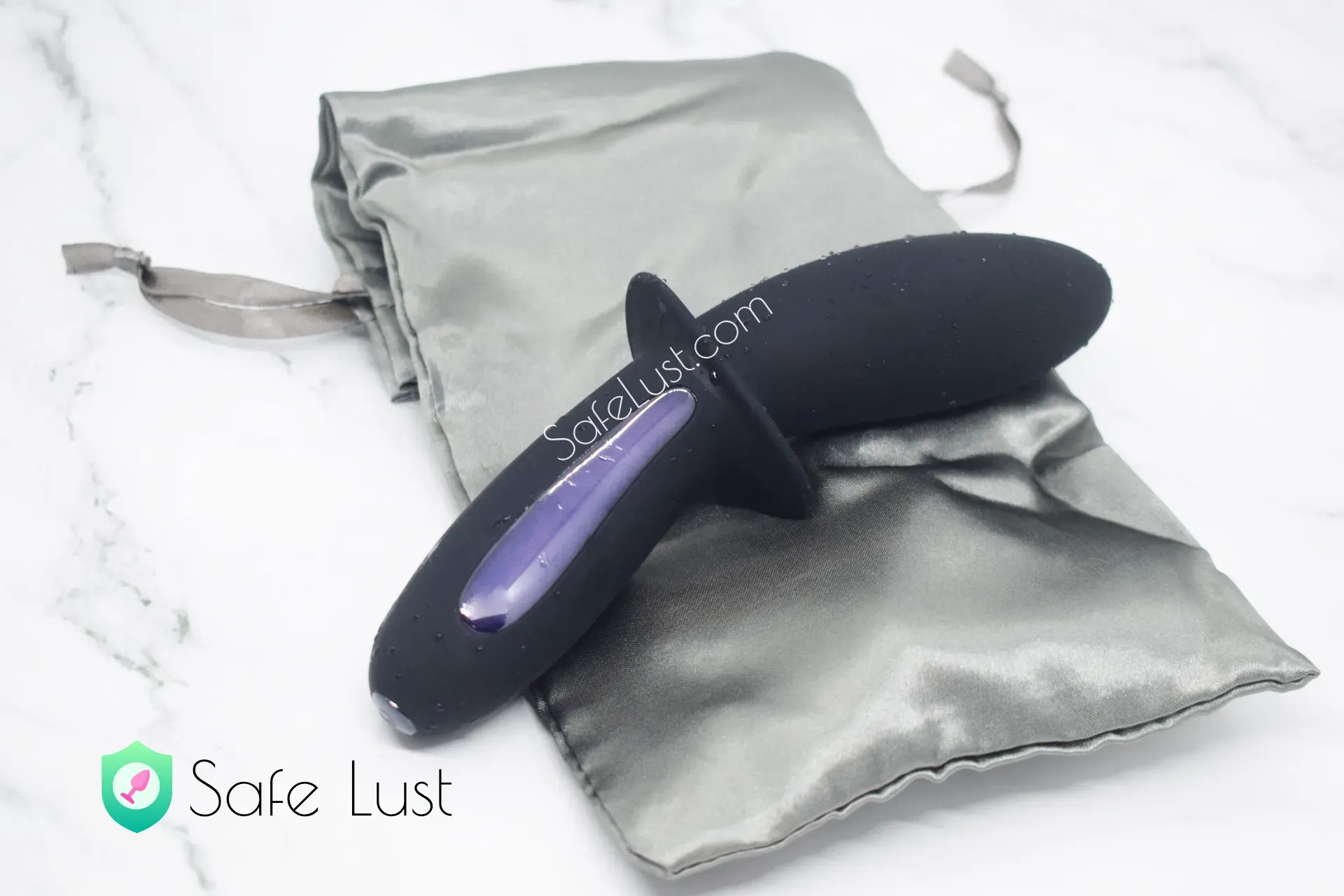 The best part of this toy is the shape. It is slightly curved to stimulate the prostate. Use it with the curve pointed toward your belly button during insertion.
This shape seems to always hit the right spot for me, it's like guaranteed prostate stimulation 🔥. Of course every person is different and it might not be the same for you, but in my case, this shape works wonders 🌟.
Since its primary function is to be used as an anal toy, it needs to have a secure base. The base on this toy is not the most secure. It's not very large, and the silicone at the base is super flexible, so the base does not really prevent this toy getting sucked in. Unless you are experienced with depth play, you shouldn't have to worry, as the long length of the vibrator avoids it from getting sucked in.
Size
The Mantric has an above average size, you can find the full details below:
📐
Insertable length: 3.94"/10cm
Full length: 7.09"/18cm
Max Diameter (approx): 1.38"/3.5cm
If you're a complete beginner to anal pleasure, this might not be for you just yet 🫢. Don't underestimate the diameter on this toy, as the material is very hard, you will need to warm up with another toy first. Take it slow and avoid injury.
I tested the Mantric out multiple times for this review, one time without warming up with another toy, and I can tell you – it is challenging, even for me! So don't copy me, warm up first and this toy will be much more fun to play with.
Material and Texture
This toy has an outer layer of smooth silicone. The toy itself is really quite rigid and it doesn't have much give to it. Let me be clear, you can squeeze it all you want, it won't budge – that's how hard it is. The rigidity makes it easier to pinpoint the p-spot, although it makes it harder to insert. As long as you warm up, you'll be fine.
There are a few pleasure nubs along the base of the toy. These aren't super obvious, but it does feel nice if you pay attention to it.
Long-Term Wear
Obviously this is not a butt plug you can keep in for long-term wear. There is still something I need to mention! This p-spot vibrators tends to pop out by itself, so if you want to keep it in you might have to hold it with your hand, or if you're lucky find the right angle for it to stay in.
Features
The Mantric P-Spot Vibrator packs a punch ?! It has strong, fast and aggressive vibrations. Aggressive is exactly the right word. Although the vibrations could be more 'rumbly', it still works out well.
Colorful Lights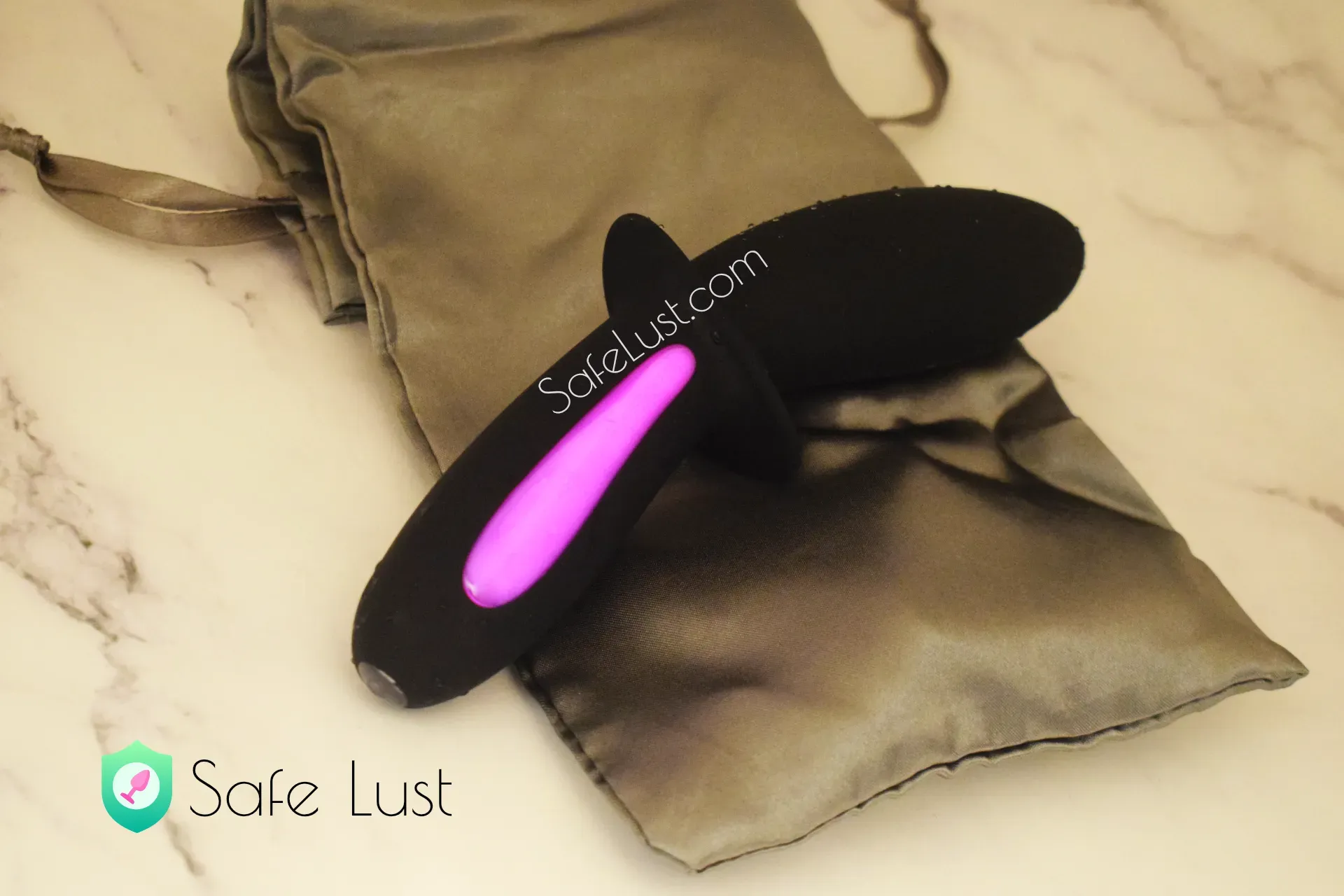 Next to vibrations, the handle also lights up in different colors as you cycle through the vibration patterns. When the vibrator is on, it smoothly changes from one color to the other gradually. It's a nice extra that makes it even more fun when playing with it as a couple.
Do note that only the left part of the handle has a light, the right part does not have any lights – so the toy is not symmetric in this regard.
Vibration Patterns
It comes with 7 vibration patterns, while these aren't explained on the product page, I've written them down for you:
Steady low vibration
Steady medium vibration
Steady high vibration
Pulsating (on-off-on-..)
Pulsating twice, then vibrating from low-to-high < this in a loop
Looping from low to high vibration
Pulsates fast 5 times in a row, followed by a longer vibration < this in a loop
It's not a huge range of vibration patterns, you actually get 3 steady vibrations along with 4 extra patterns. While these are fun, for this price range more vibration patterns could have been included.
There is a slight rattling sound during the vibrations, it doesn't affect the feeling or use of the toy, although it doesn't help make it discreet.
How It Feels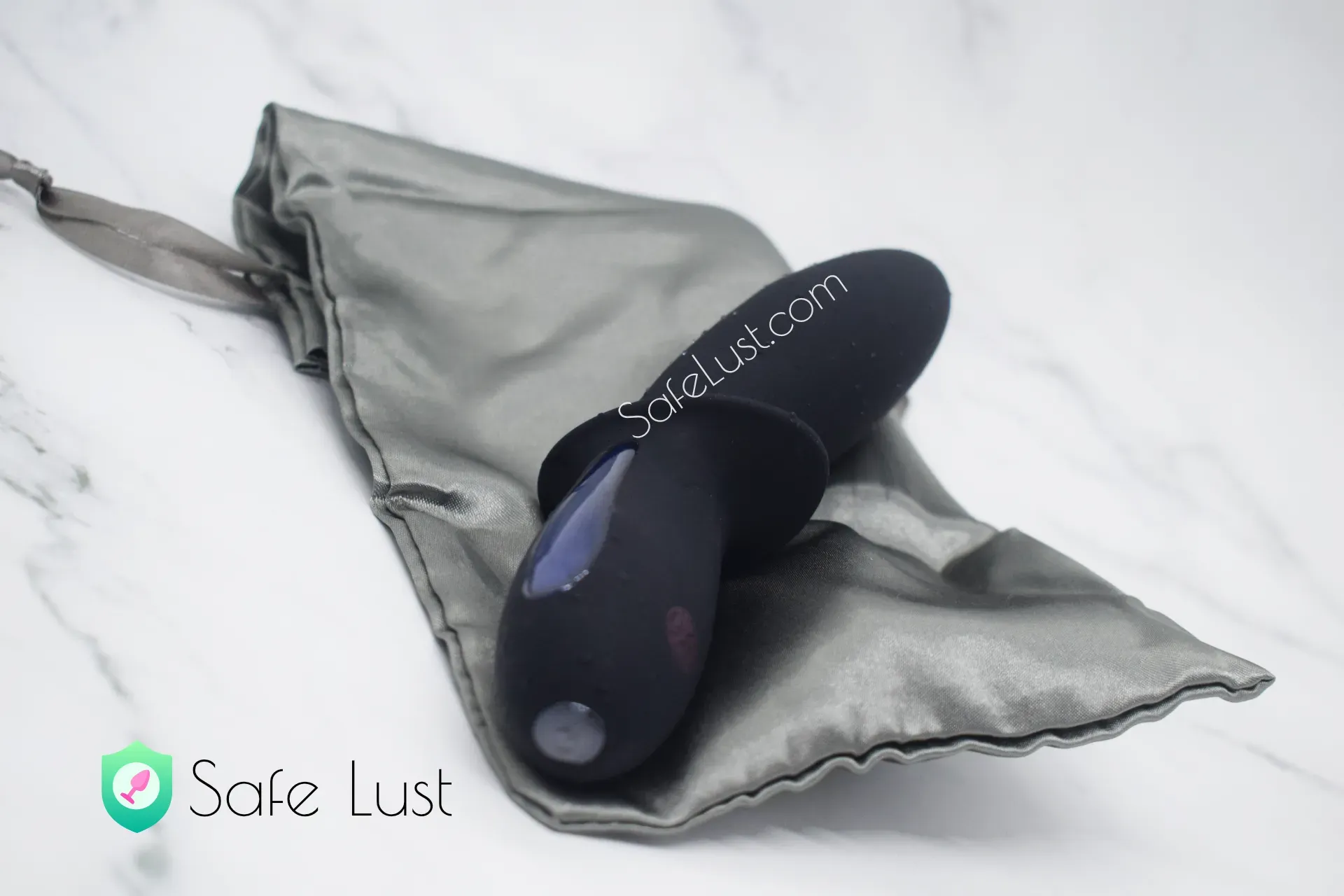 It feels very tight during insertion as it has a large -not so gradual- tip made out of rigid material. During the insertion of the tip, the rigid material is very obvious, while not being too sharp. Once the largest part of the tip is in, it slides in on its own which immediately gives a nice and full feeling. As it slides in I can feel the sudden and steady pressure it puts on my prostate. Even without the vibrations it is already very stimulating!
I found that it usually hit my prostate when lying down. When I'm standing it doesn't hit the same angle. In that case, using the handle of the toy to slightly adjust the angle still makes it easy to reach the p-spot.
Once I turn on the vibrations to the highest setting, it feels almost overwhelming. The strong vibration combined with the right vibration pattern make it difficult to last long, especially with the pulsating pattern as it alternates between no vibration and high vibration. The rigidity of the toy make the vibrations feel strong.
Playing around cycling through its 7 vibration patterns is fun, and I can quickly find which ones are my favorite.
I like to insert it fully, find the prostate, then use small in-out motions, so it rubs and stimulates the prostate area. As I do this, I'll go gradually faster as it feels better and better, until a strong orgasm.
The button to turn on and change vibration patterns feels cheap. It has a high-pitched click sound which isn't very sexy. I also don't like the location of the button, at the bottom of the handle? My fingers are never naturally in that position during use!
Noise Level
Sound level measurements right next to the microphone:
?
Background noise: 28dB
Lowest setting: 65dB
Highest setting: 75dB
These measurements can be useful to compare sound levels of different sex toys from our reviews, as these are all measured in the same way. It's not super loud, but it's not super quiet neither. I would say it's slightly louder than the average vibrating anal toys.
Since it's to be used more as a vibrator than a butt plug, the sound will be less isolated during use. You'll want to make sure you're alone when using it as it is not super discreet. You can compare its performance with other sex toys on the following page.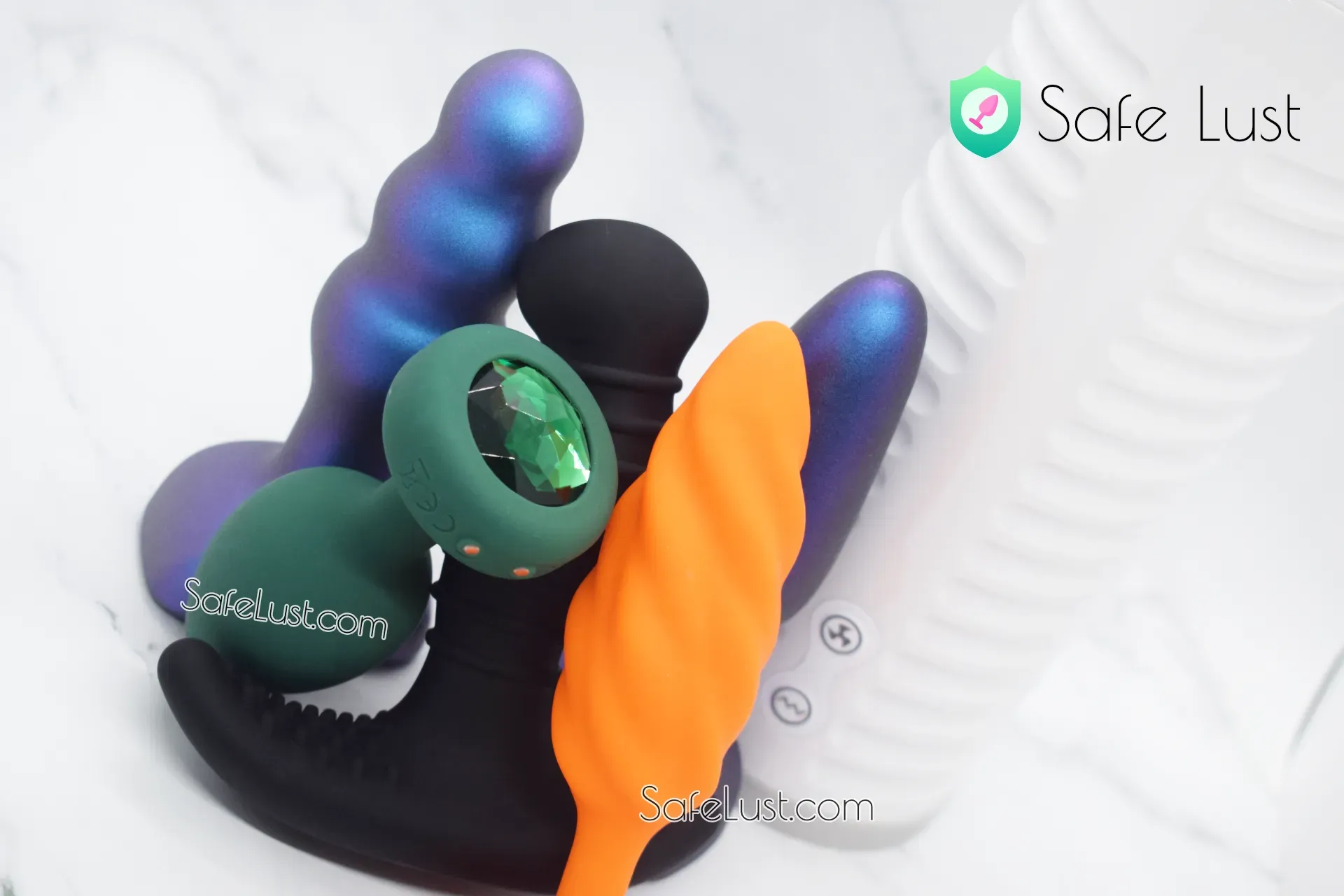 Cleaning & Maintenance
The Mantric P-Spot Vibrator is easy to clean as it is submersible waterproof. Rinse it with mild soap and you're good to go. As with all sex toys, it is best to wash it both before, and after use. You can towel dry it before storing.
Where is the charging port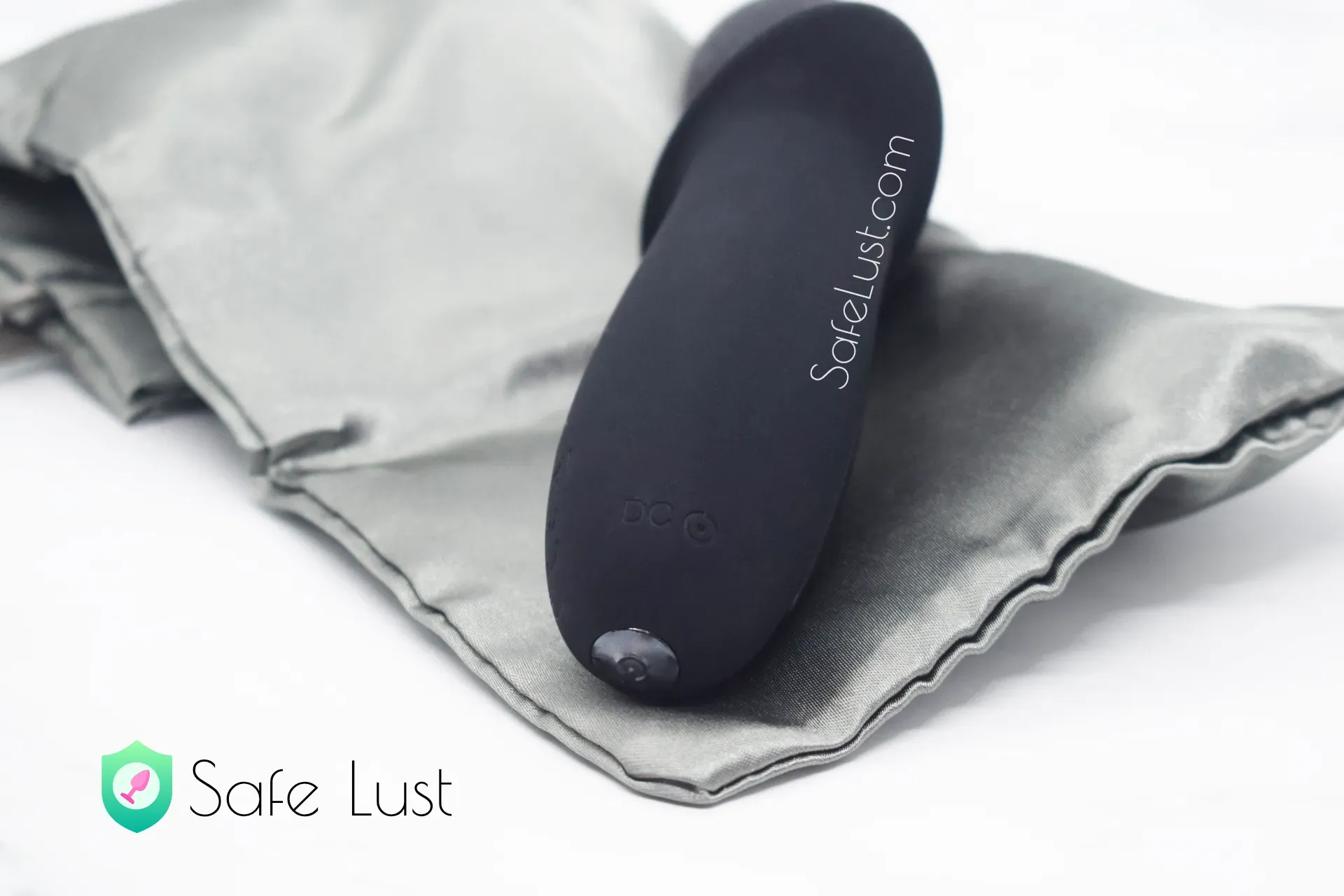 Reading other people's reviews of the Mantric P-Spot Vibrator, I've noticed that people are having trouble finding the charging port 😲. It's a small pinhole above the power button of the toy, on the handle. The image above should help you find it.
Simply push in the pinhole type charger and it'll fit inside 😉. I'm not the biggest fan of this kind of charging mechanism to be honest. The tight silicone is supposed to keep the charging port waterproof, and I'm not convinced that this won't break long-term.
Should you get it?
If you have some experience with anal toys and you're looking to really get pinpointed p-spot pleasure, this could be a good choice!
My experience is that this vibrator makes locating the p-spot easy, and the vibrations are strong.
One consideration will be the price. While the shape is great and the vibrations are strong, the price point of 59.95 EUR at Lovehoney is honestly quite high. For the same price you can find similar-shaped app-controlled vibrators from Satisfyer.
If you would like to purchase the Mantric p-spot vibrator, I highly recommend you to wait for some discounts. Lovehoney has a lot of holiday themed sales, and coupons. That way, you can get this sex toy at a more reasonable price. I was able to get this toy on sale for 35 EUR, which is a great deal.
Who is it not for?
If you're looking for a soft, squishy, discrete, quiet toy, this is not it. The vibrations are neither quiet nor very loud, and the toy itself is very rigid.
Alternatives
The Satisfyer Heat Climax is a very similar-shaped toy, and it is app-controllable, with a heating function. You can usually find it around the same price as the Mantric during sales. It's a great alternative, although I feel the Mantric is better at pinpointing the P-Spot than the Satisfyer.
Make sure to subscribe to our newsletter as the full Heat Climax review will be posted soon, you won't want to miss it!
If you're looking for a prostate-oriented butt plug kit, the Nexus anal training kit does a great job at an affordable price.
Summary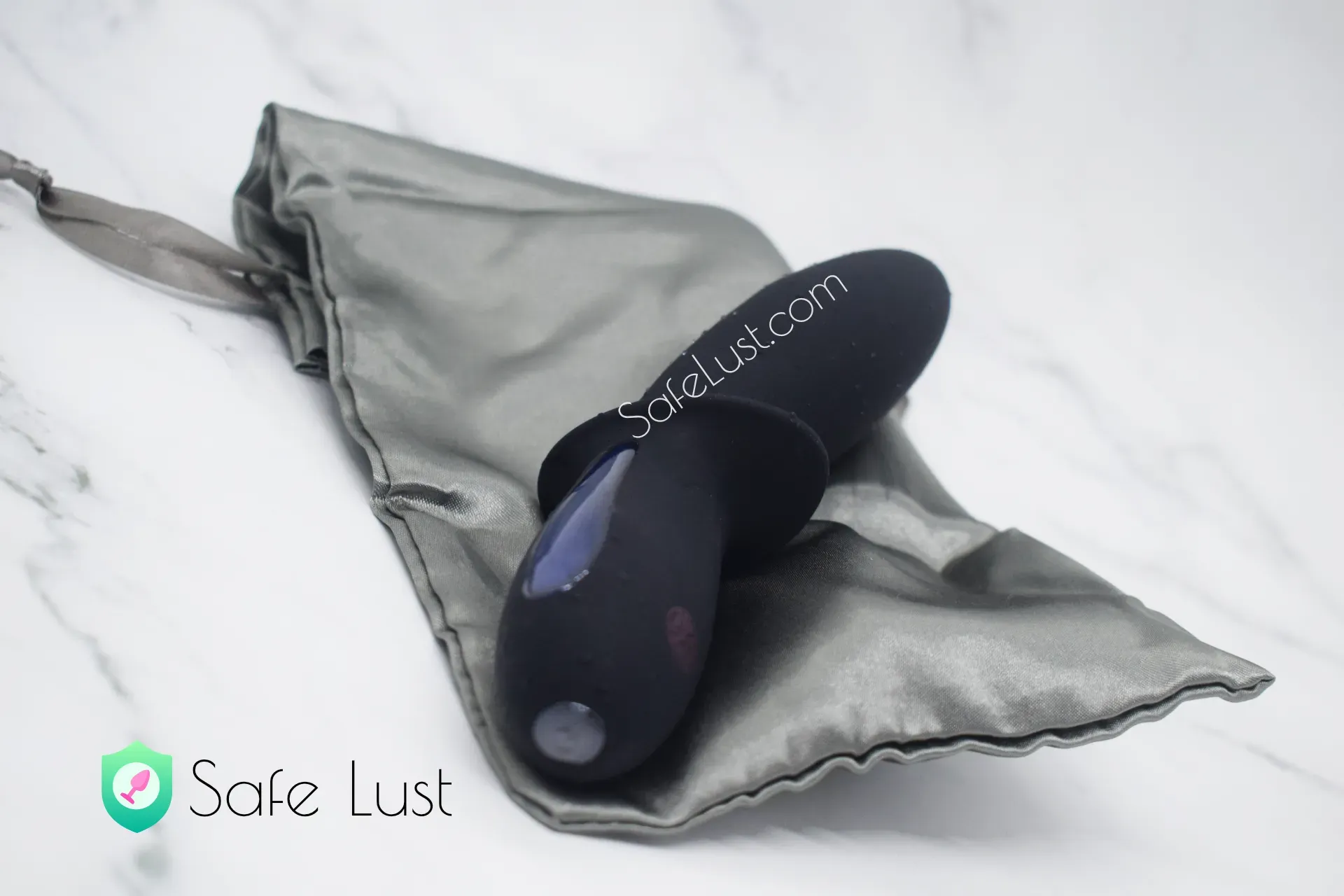 The Mantric P-Spot Vibrator is great at targeting the prostate and giving powerful vibrations. It is too pricy though at the retail price, so do wait for discounts! I'm not a fan of the pinhole charger – a magnetic USB charger would worry me less about it being waterproof.
Considering all this, the final score for the Mantric P-Spot Probe Vibrator is 7/10. The biggest selling point of the Mantric is its ability to target the P-Spot along with its vibrations. The vibrations are powerful and can feel overwhelming at first. It's a pity Mantric did not include more vibration patterns.
🚀 Never miss new toys 🚀
Sex Toy Reviews straight to your inbox
By subscribing, you agree to the Terms to receive Safe Lust promotional and marketing emails.

No spam. Unsubscribe anytime.