Strap-On-Me Dual Density Silicone Strap-On Dildo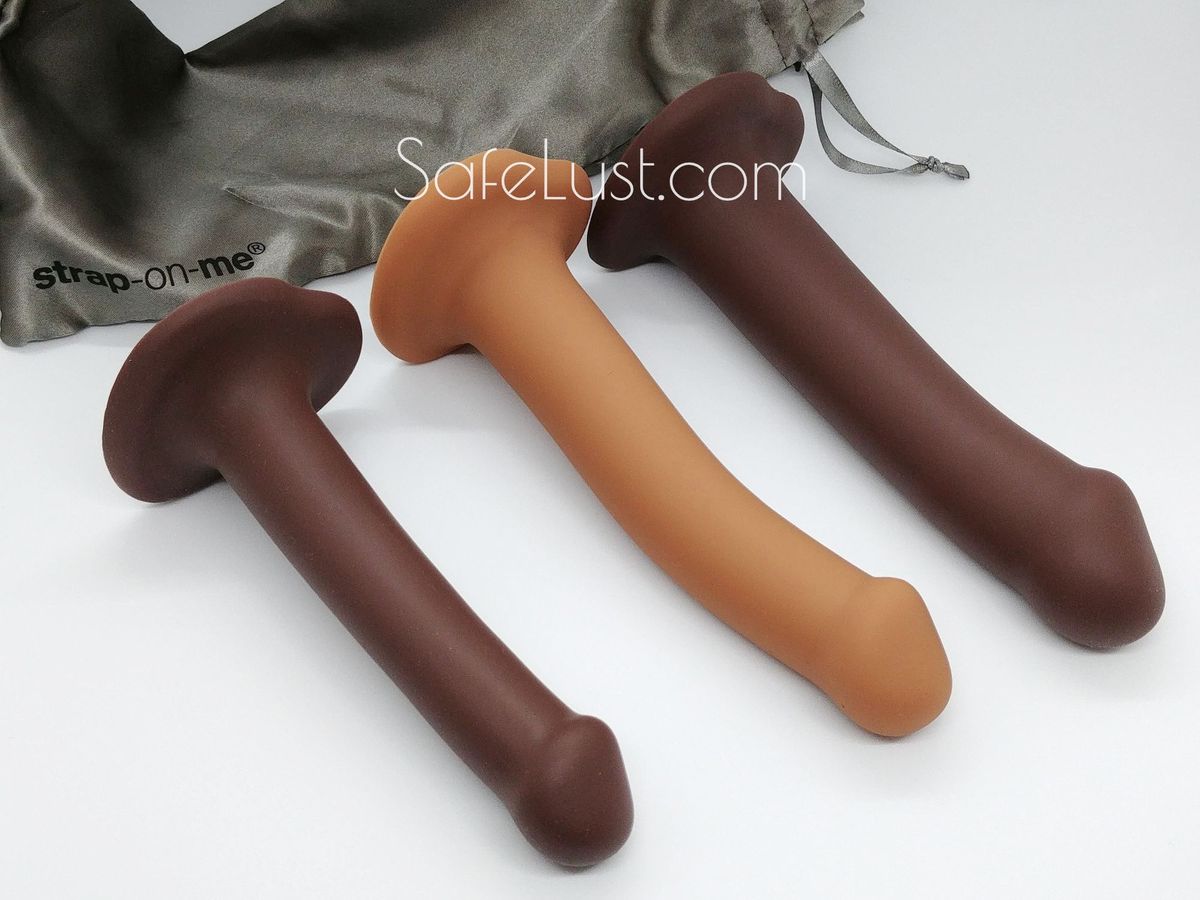 The Perfect Strap-on/Pegging Dildo?
Squishy bendable dildos which are meant to be used with strap-ons? Sign me up.
As you'll see in the following photos, the Double Density dildos from strap-on-me are super squishy and bendable! They come with a heart-shaped suction base which works perfectly for pegging.
Seeing the dildo being so squishy, it seems ideal for either vaginal or anal use.
That meant I had to try it out immediately and review it!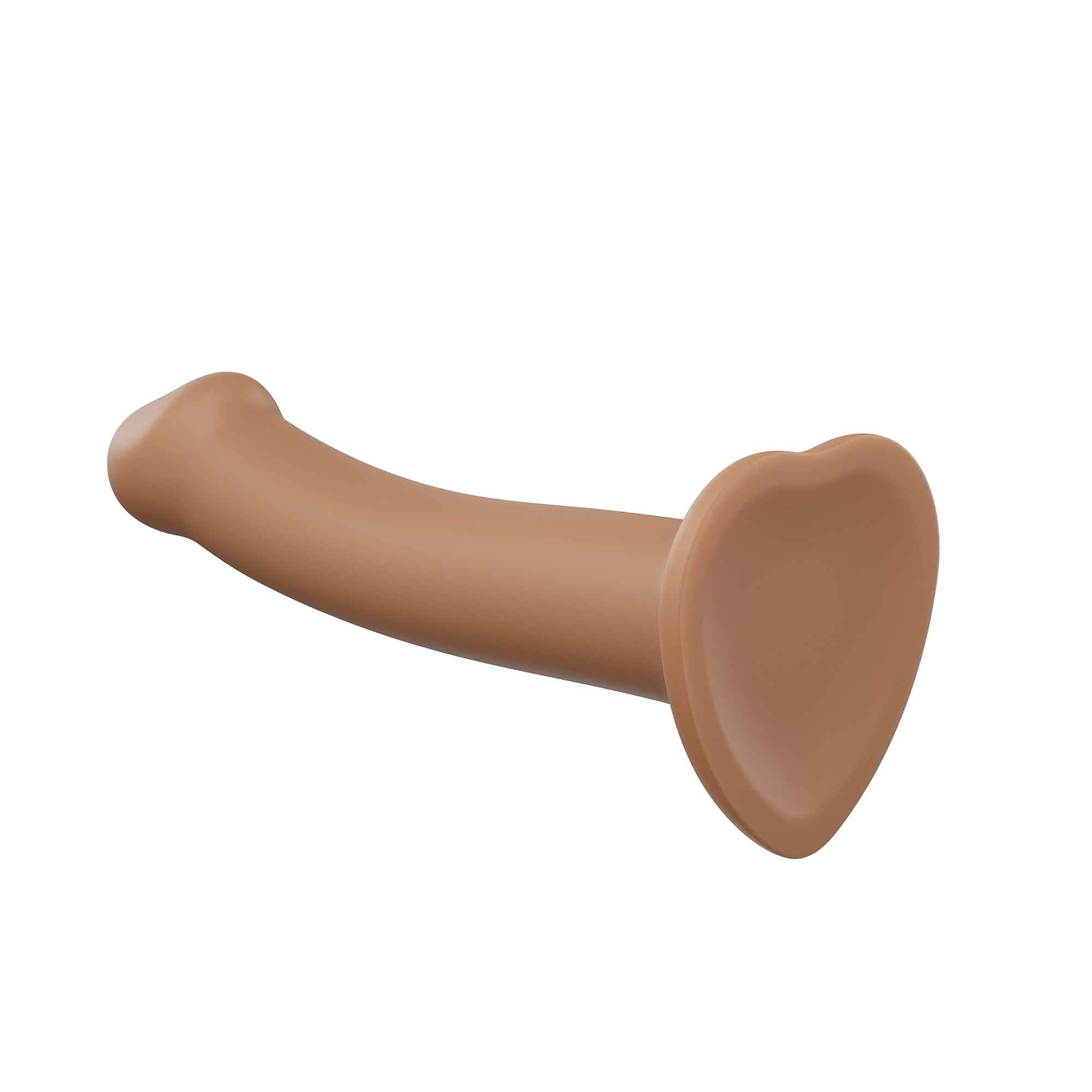 Size
The strap-on-me semi-realistic dual-density dildo comes in 4 sizes: S, M, L, and XL. The package introduces the sizes very well.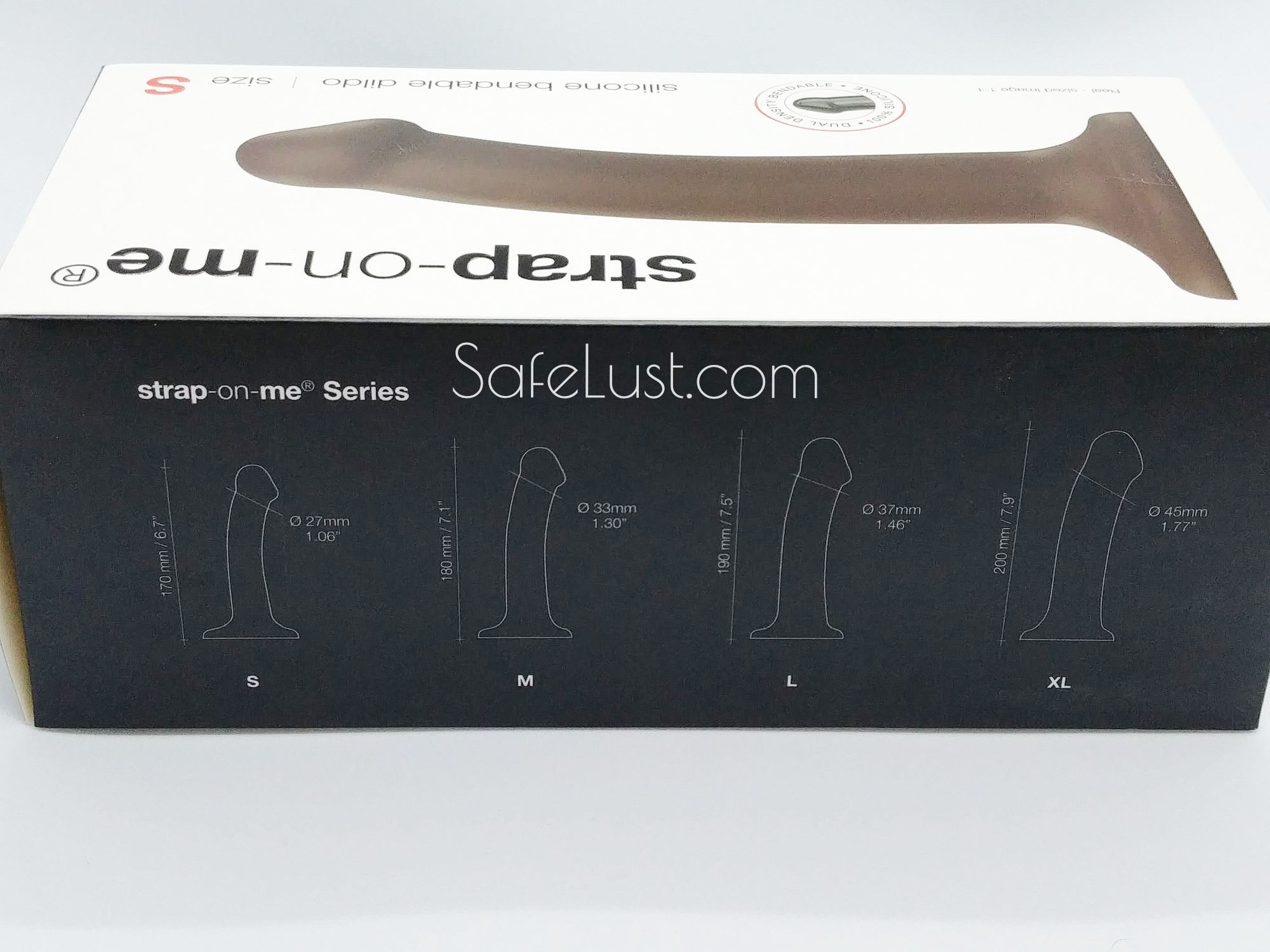 Here are the sizes for clarity:
S: diameter 27mm / 1.06 " - length 170mm / 6.7"'
M: diameter 33mm / 1.30 " - length 180mm / 7.1"'
L: diameter 37mm / 1.46 " - length 190mm / 7.5"'
XL: diameter 45mm / 1.77 " - length 200mm / 7.9"'
There's a wide range of sizes which should fit most people! If you're like me and are doubting which size is optimal, you might buy it in multiple sizes! The main reason for my doubt was due to the very squishy silicone. When it's squishy instead of rigid, you can usually take a size larger.
So.. I bought almost all the sizes! I have the S, M and L sizes, and here is how I experience them when used anally:
S: Good to warm up, easy to use, but you'll find you'll quickly want to move up to M
M: Great middle ground, not too small, not too large. Great feeling, this is my favorite.
L: This is for more experienced players. If you're doubting, you probably won't need this size. Don't underestimate this size, you'll feel very stretched unless you're experienced. The larger head of the dildo feels more pronounced on this size.
XL: I don't have this one so I cannot comment, but seeing the size, this would be too large for me in any case. Know your limits.
I'll describe how it feels in more detail in the next sections, first let's continue talking about its shape.
Length
You might have noticed, while the smaller dildos have a smaller diameter, their length is still quite long! The smallest dildo has a length of 170mm/6.7", this is a fantastic design.
Why you might ask? Because these were designed to be used as strap-ons. It's much easier to use strap-ons with longer dildos as you'll have more control. Even when using solo this is a great advantage.
Colors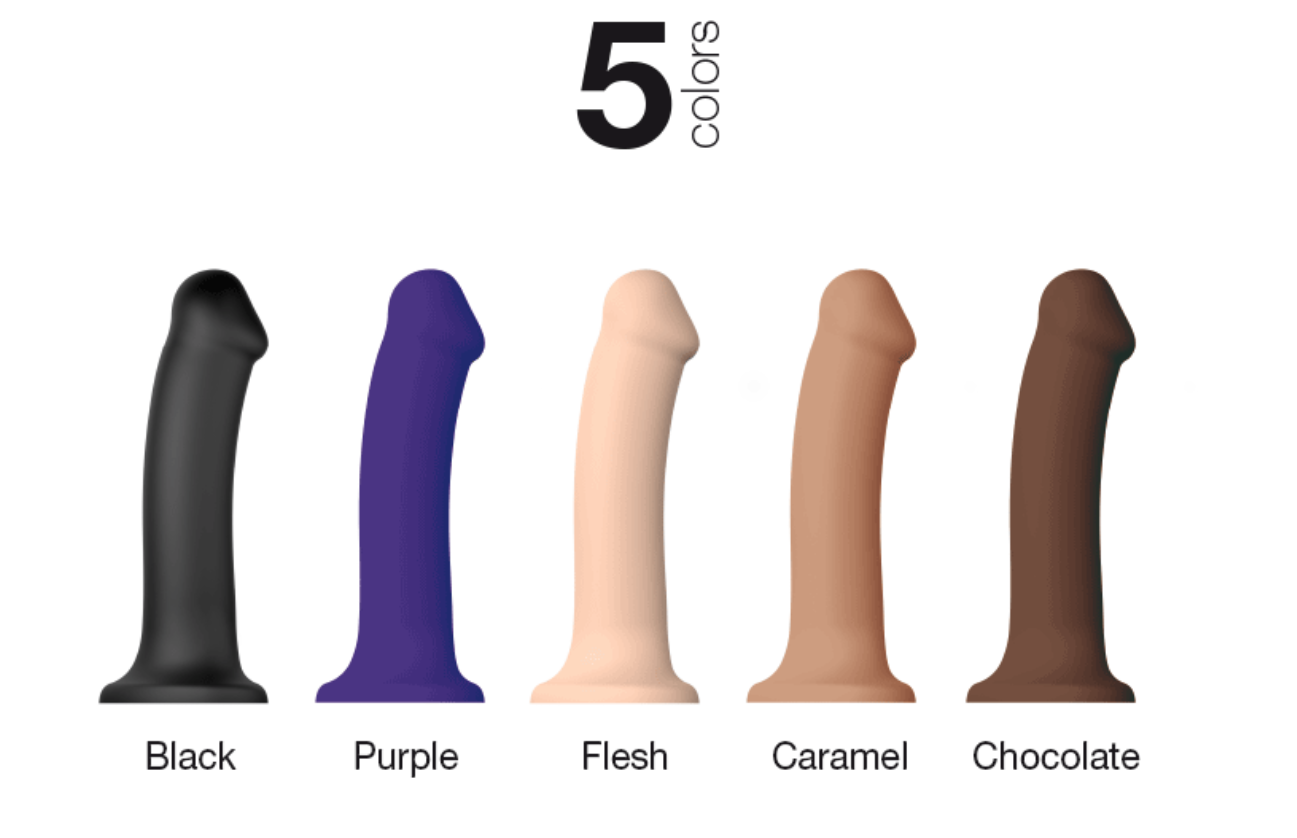 The dildos come in a range of colors. In my case, I have the S Chocolate, M Caramel, and L Chocolate. That's mostly because there was a sale on those colors, otherwise, I would have personally preferred black/purple/flesh.
Talking about color namings, I don't think Flesh is the most fitting name for that color, as not everybody's flesh is the same color and it could be considered offensive.
@Strap-on-me here's a shout to change the name of that color to be more inclusive!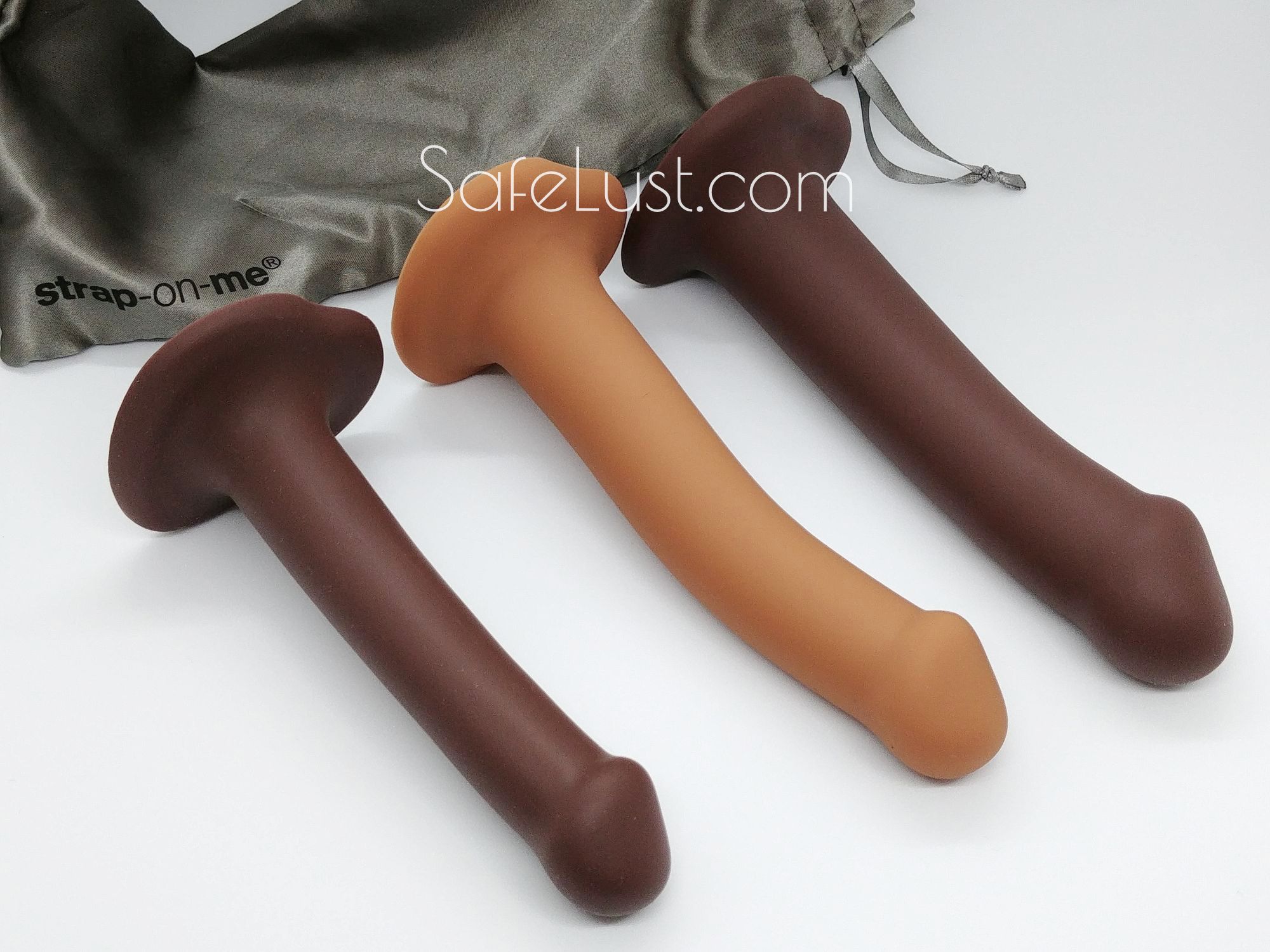 Is it bendy?
Yes! It is bendy. It might not be what you expect though.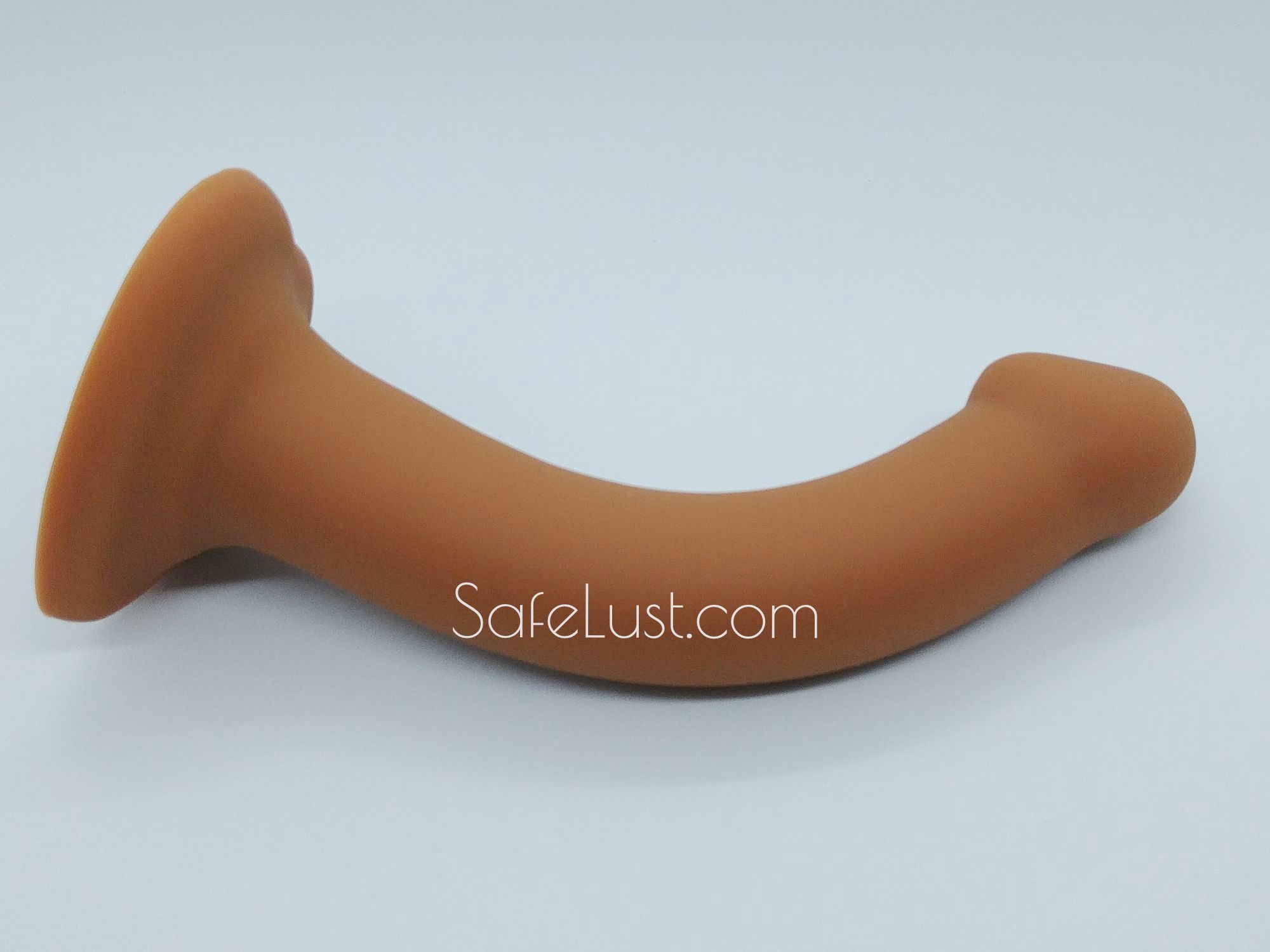 In my experience, especially with the S-size, the dildo does not retain this shape! If you are thinking you can make any shape dildo to play with, it's not the case. It's not a huge deal, but don't expect a dildo that you can make your own shape and use with that specific shape.
Is the bendiness useful?
Yes! The dildo will adapt to your body's shape, as it requires very light pressure to bend it. Instead of having a dildo poking your insides due to an incompatible shape, this is much better as it'll adapt to your body. It feels great and is very smooth in use.
Materials and Texture
The dildo is made with body-safe seamless, very squishy silicone. I hope we all know, silicone is one of the best body-safe materials for internal sex toys. I'll write another article about sex toy materials later on. In any case, kudos for the material, this is one of the best, most comfortable dildos I have so far.
The dildo has a slightly larger (semi-realistic) head than the shaft, which feels great during insertion, especially since the head is so squishy.
There is one thing you do need to know about this dildo. The shaft is very smooth and flat,  without any textures beyond the head shape. During insertion and penetration, you'll get the most feeling from the shape of the squishy head pushing in. The shaft itself is completely smooth and will give more of a 'full' feeling.
If you're into rough play or would like some more texture for added sensation, then this is not the dildo you are looking for. This is both a pro and con, this is great for pegging or strap-on use, as penetration is smooth and easy. It is also a con if you're looking for a bit more feeling, as this dildo will mostly provide the penetration and full feeling.
Strap-on-me recently released the hybrid collection which has more sex toys with nice textures, such as beaded dildos and more. I recommend taking a look as those are very interesting. I hope I get the chance to review them in the future.
Included items
The dildo comes with a small booklet and a high-quality, beautiful drawstring pouch. It's a bit hard to easily take the dildo out of this pouch due to the silicone rubbing on the pouch material, and the base of the dildo is quite big. Nevertheless, I really love this included pouch, you can tell it's high-quality. This must be one of the best pouches I've got included with a sex toy.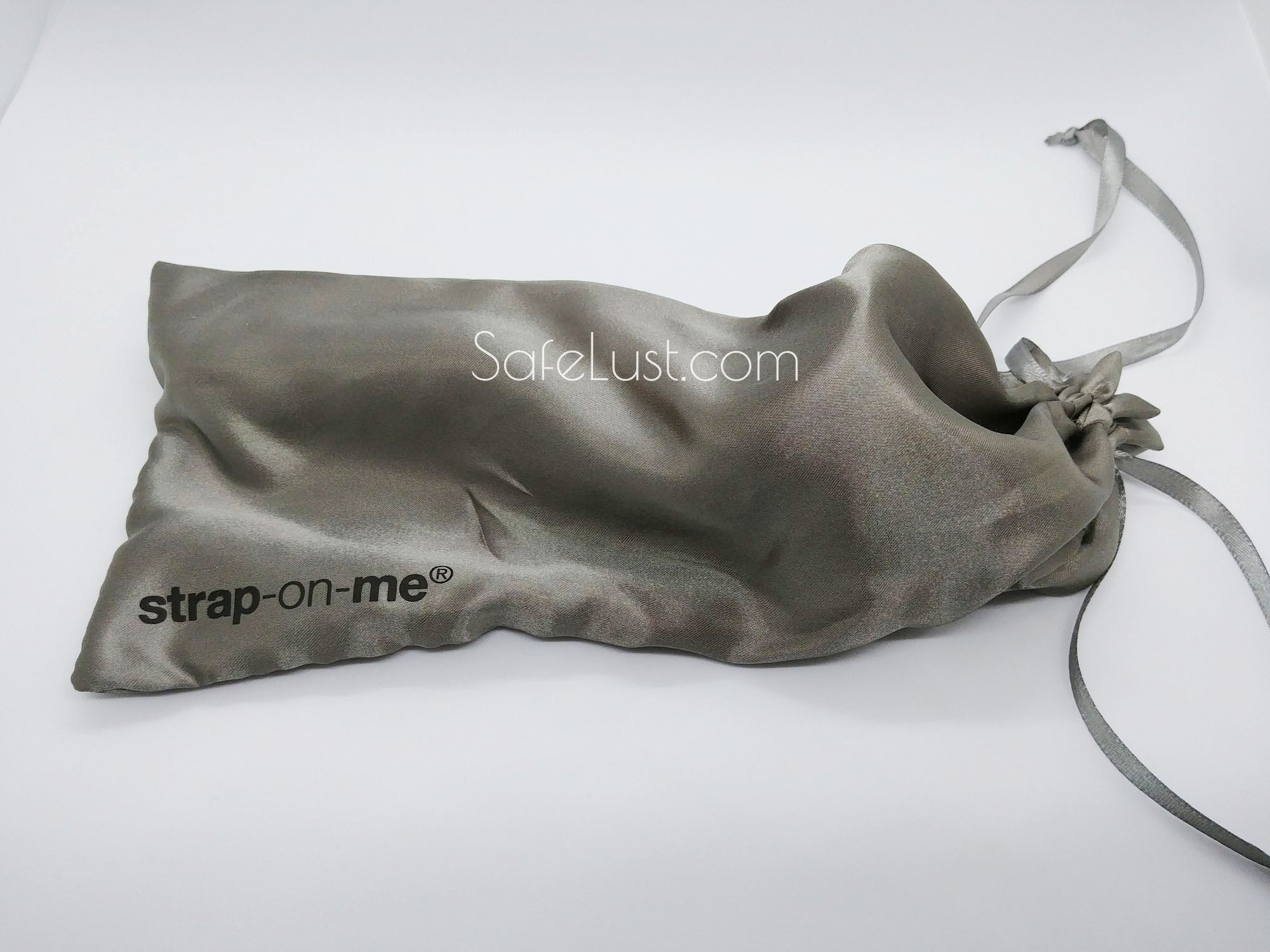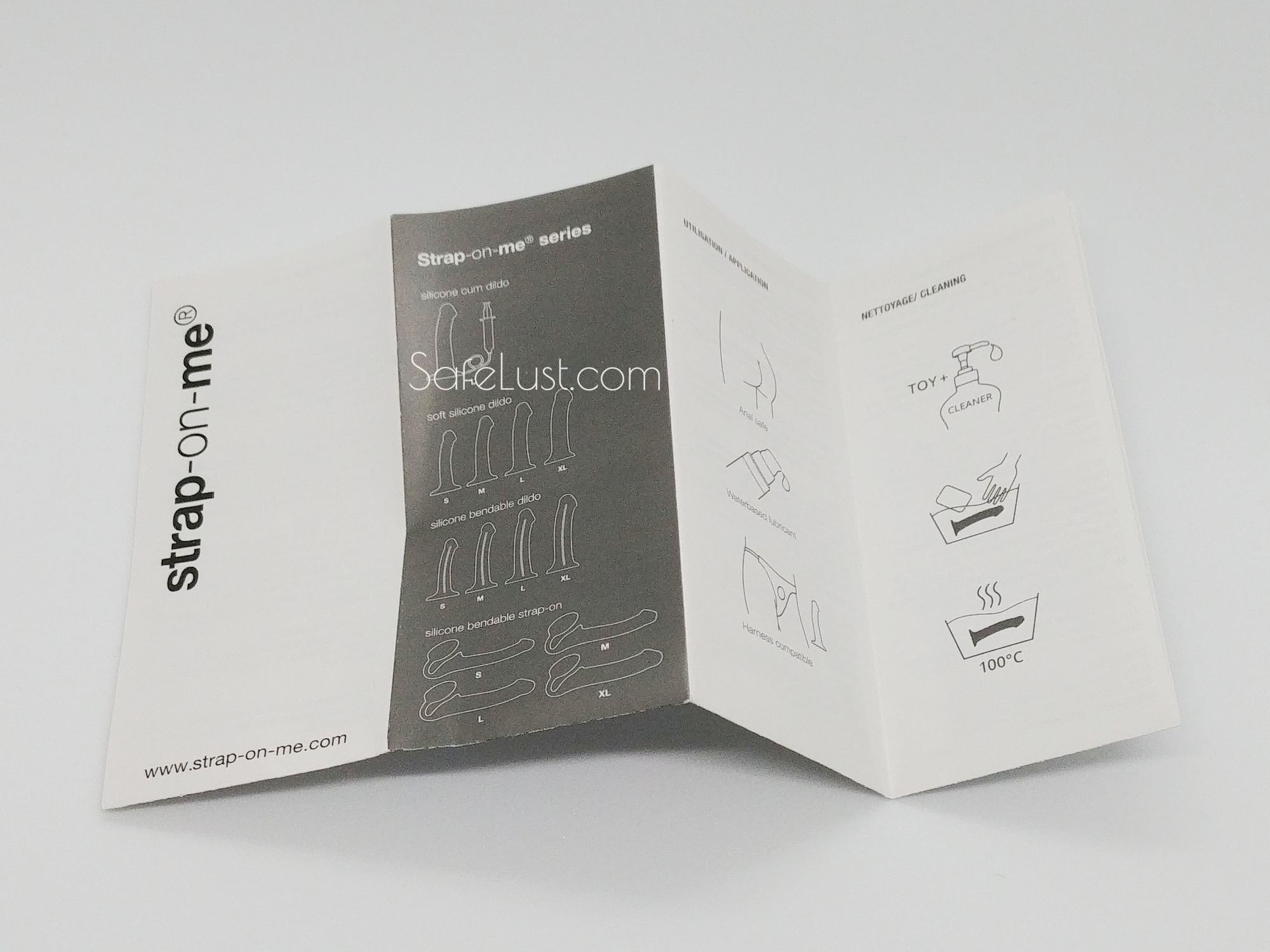 Included in my order I also got free creamy lubricant which is meant to imitate semen. I haven't tried it yet, I'll post another review once the time comes.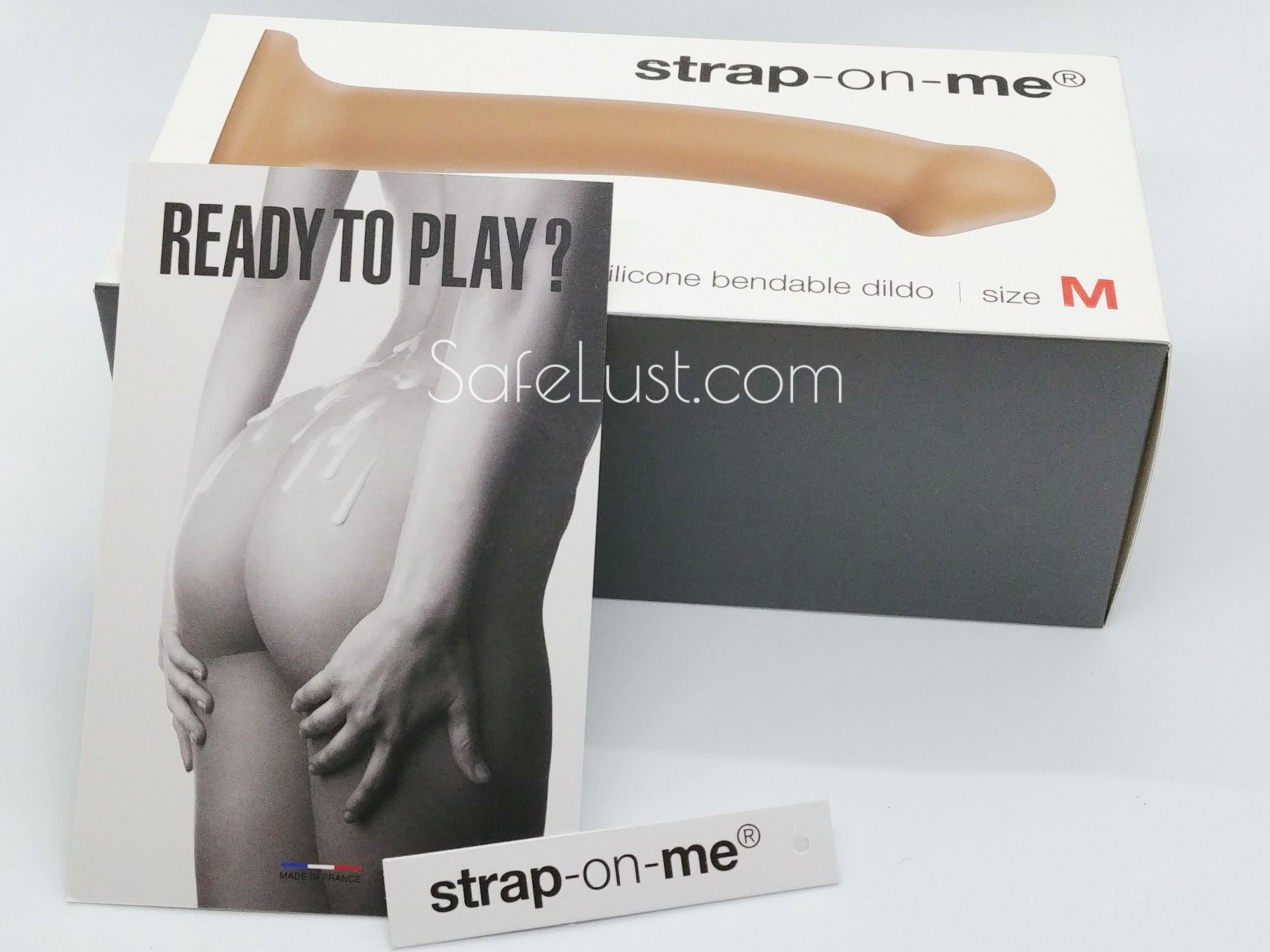 Summary
All in all, these are great dildos with high-quality materials, certainly in combination with strap-ons or when you're looking for a smoother dildo. They are definitely worth the price, especially during sales. I love the squishiness and comfort of the dual-density silicone. It's a great choice to get started with pegging, or other strap-on activities, thanks to its dual-density silicone you don't need to be that experienced to enjoy it.
I'm thrilled to see the next toys to be released from strap-on-me! Seeing their range of toys and their social media, I feel this is a brand that I can trust. They only use body-safe materials and care about making great sex toys.
Strap-on-me Dual-Density Silicone Dildo Review Summary
Pros
Very squishy dual-density silicone
Bends with the shape of your body
High-quality seamless body-safe silicone material
A good range of sizes and colors
Perfect dildo for strap-on and pegging
Very nice drawstring pouch included
Cons
The dildo does not retain its bent shape during use
Final Score: 9/10
This is a great choice for a less textured, smooth dildo that is squishy. Thanks to its squishiness, it's a perfect dildo to get started be it solo, or for use with a strap-on.
If you prefer dildos with texture, take a look at their new hybrid collection.
🚀 Never miss new toys 🚀
Sex Toy Reviews straight to your inbox
By subscribing, you agree to the Terms to receive Safe Lust promotional and marketing emails.

No spam. Unsubscribe anytime.